Are you willing to start a business but not able to brainstorm a catchy domain name? If yes, try our premium Domain name consulting service.
How This Works?
Once you buy our unique domain consulting product, you will be provided with a 60 minutes online consultation.
During these 60 minutes, our team of domain experts will talk to you in person over the call and will:
Understand your business requirements
Discuss your products, USPs, target market
Analyse the names used by competition
Once the discussion part is over, we will start our research and will suggest you a minimum of 5 unique and catchy domain name ideas.
Add Ons:
If you want, you can also avail a few Add ons like:
Expired domains negotiation
Booking a domain on your behalf and setting up the DNS, Nameservers
Getting it ready with CMS installation and web hosting setup, also see our VPS management services.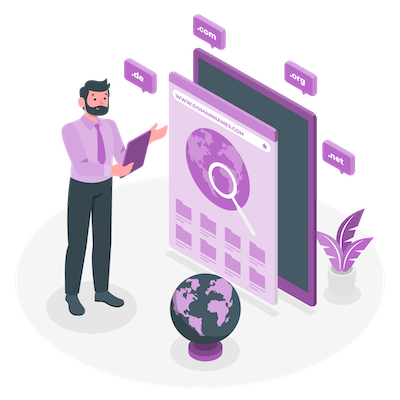 Domain Name Consulting
Our product is risk free, if you don't like the names, we will refund you your money.
Ask for sample reports.
Domain Naming Guide
What you should look at while choosing a domain name?
Your name should be in a local language that your audience speaks.
The name should talk about the products and services, means, it should be relevant.
Avoid controversial, seasonal, or pirated names.
Ensure the name is short, crisp and catchy.
Check the availability as well, as many a times we have seen that the name you shortlisted is not available.
Why Us?
We are in this business since 2020 and have helped over 50 customers across the globe with the domain names of their choice.
Be it a new domain or an expired domain, we have helped them with everything they wanted. If you are not happy with the services, we will rework or refund as per the requirements, so your money is absolutely safe.
Not only the domain name consulting for your business, we also help in getting it booked quickly and set up a website up and running so that you can start selling your services.
Once your project is live, we also help you with our premium uptime monitoring service.
Sidenote: If you are looking for discounts, offers and expert suggestions, check out the following guides:
We also recommend you to read our blogs that helps you choose the right products.