This Elementor Review for all those who are confused between Pro and Free versions. If you are looking for a Page Builder that is Free and will help you make Beautiful pages without coding – You will Love Elementor.
We promise if you read this Review on Elementor Pro, all your doubts regarding Elementor's Performance and Features will be answered.
Elementor's Free version will help Beginners in WordPress who are not satisfied by traditional Block Editor and are looking forward to exploring more customization options.
On the other hand, Elementor Pro is for next-level Bloggers who are seriously taking Blogging as a Career. Pro offers 50+ extra features, templates, designs, and customization options that you don't get in Elementor Free version.
It is a recommended tool for Bloggers and Website Designers of every level, be it a novice or expert.
Elementor Review 2022
Features

Pricing

Ease of Use

Templates and Designs

Customization Options

Support
Elementor Review Summary
It is Drag and Drop Page Builder
No Coding Skills are required
Elementor is Free however for more features, a Paid version is also available
Elementor Pro is a complete Page Builder with Templates, Pop Builders, and Email Optins
If you are using Elementor, you don't need separate plugins to create Landing Pages, Popups, and Subscription Pages.
Support is available for Elementor Pro Customers only.
What is Elementor: A Overview
Elementor is headquartered in Israel and started its operations in 2016. Within just a few years, it became widely popular.
We just checked the latest stat and found that Elementor has over 5 million active installations [Check the image below].
If you have created a WordPress Blog, you would have noticed how easy it is to make pages using Block Editor. But One thing we all would agree to is that WordPress Block Editor has very limited options to customize your posts and pages.
Information today is not only limited to content. In fact, the way it is presented matters the most.
Now, to overcome that problem, We would like to introduce Elementor as Blogger's Favorite Visual Page Builder which ensures ease of use and NO Coding.
Elementor is Free WordPress Plugin – all Visual [No HTML Editing] Page builder where you need to Drag and Drop the elements.
The best part is, if your content is all ready, you just need 5-10 minutes to publish a post.
Elementor's Features
We discussed Elementor's Overview above and shared a brief introduction about it. Now we will discuss all key Features of Elementor along with their importance, utility, and ease of use.
#1 Drag and Drop Widgets
As we have mentioned above, Elementor is a "NO Coding" Plugin that allows you to create or edit pages with "Drag and Drop" widgets.
In the Gif image above, you can see a small video of a live example where we have just clicked and added a Text Field. From the "Elements" section, you can select –
Heading
Text Field
Image Field
Videos
Buttons
Google Maps
Image Carousel and various others in Free Version.
Check the image above which has widely used elements available in the free version.
Now, let's note down some of the Key elements available in the paid version [Elementor Pro]-
Portfolio, Reviews,
Table of Contents
CountDown
Forms
Slides
Animated Headlines
Price Table,
FB Button and many others [Refer an Infographic below for complete list]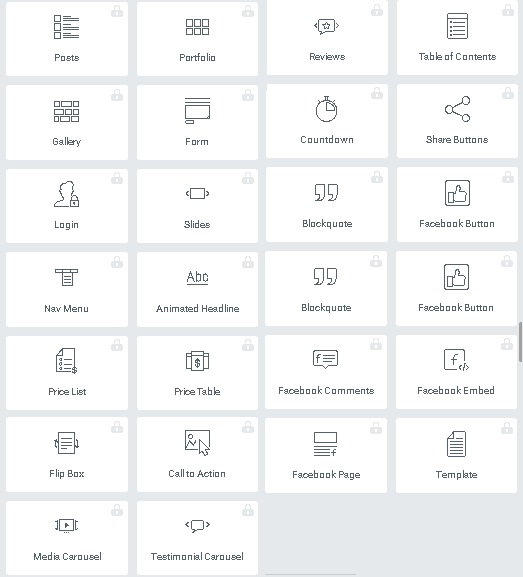 But, How to use them? So you just need to select the elements as per the requirement and simply click and drag to the page. It will be added there and the option to edit Visually will be activated.
#2 Free Responsive Templates and Blocks
When we create something on WordPress, we need Ideas in terms of
What Colour should be used,
Selection of Fontsin Text and Headings
Images we should choose,
Placement of Buttons or Links, and
Adding Columns/Rows, etc
So with Elementor, you have over 150 Designer Templates and Blocks which you just have to choose and add. All of them are fully editable and texts, images, and even spacing can also be adjusted. You can visit the Template Library Here.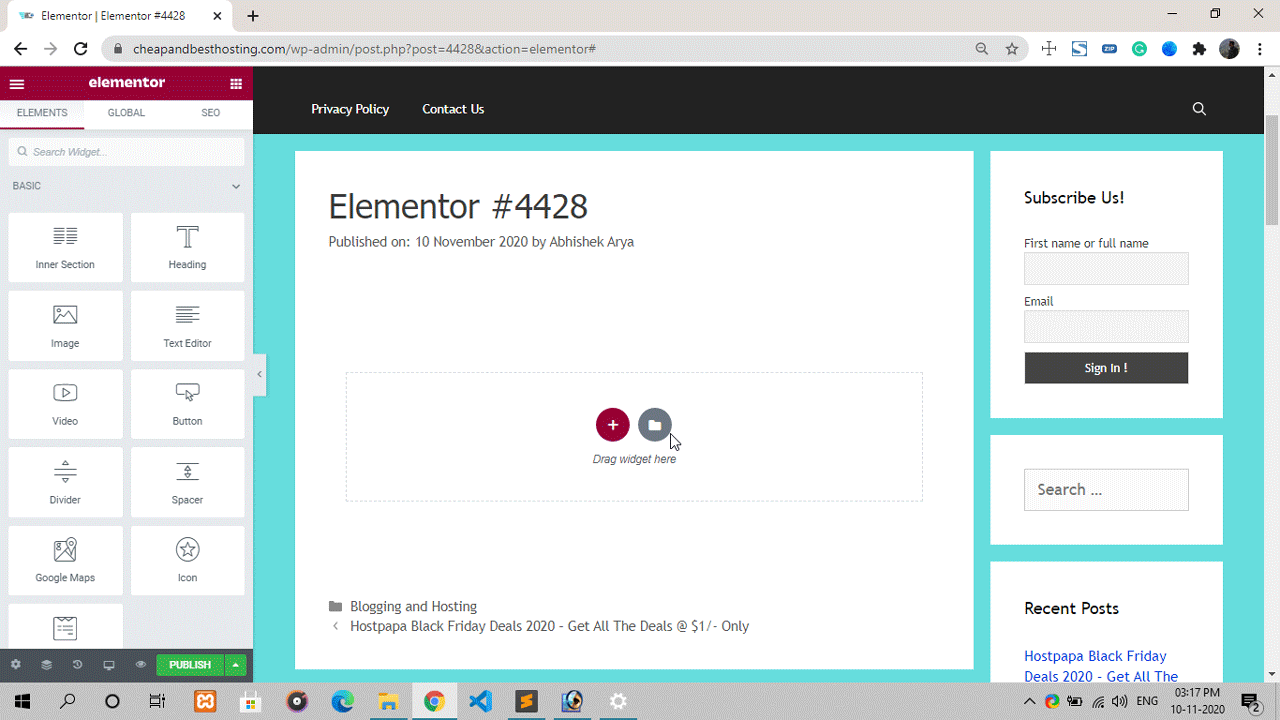 We have a Video Preview above which shows you How easily you can add and use Elementor Templates and Blocks.
Template Library
This library is useful if you want to create important pages for your blog. For example – you want to create an eye-catchy FrontPage or About Us page but not get Ideas about the overall design.
Now, with these Pre-Made fully customizable templates, you can create one for yourself easily.
Simply click the "Folder Button" and Elementor Library will be opened. Click on "Pages" section and select the one which suits your website design. Press "Insert" link and the template will be added to your page.
The entire Template will be split between multiple blocks or sections making it easier for you to manage.
Snapshot of Template Library –
Block Library
Now when the page is created, you might want to add a FAQ or Testimonial kind of section to it. Just follow the same process mentioned above and this time choose – "Blocks" section.
The block which you want to add can be inserted into a page with just one click. You can change Images, text, Icons, and Colours as per the Page aesthetics.
Snapshot of Blocks Library –
Note- Elementor has also updated the access rights in its Library where Free or Pro is marked. Needless to say, a Pro customer can access all of them.
#3 Shadows and Borders
Elementor is not a basic page builder. It is one of the advanced tools you have to create pages that are "Beautiful". You can add or change Colours, Shadows, and Borders to your text box or images easily.
A traditional Block Editor is there to create a basic layout. But if you want your content to look creative and attractive, you need to add a lot of effects. Thankfully, Elementor Passed this test.
This feature is also available for Free Users.
#4 Create your Own Theme
We reviewed the latest version of Elementor Pro and decided to cover it for you. This is one of the best features of Elementor that we liked the most. This add-on is available in Pro2.0 for just $49.
Previously, it was known only for content creation. Now you can create your own Headers, Footers, and various templates for Blogs. Customizing Fonts, Colours, Individual Blog Post formatting and a lot more can be added as you normally do in your Theme.
Elementor allows you to create your own Theme and make changes as your blog grows.
How to create a Theme with Elementor?
As we said, it's easy and simple to create and optimize Theme using Elementor.
Step 1- Select the Theme's Portion you wish to create.
Step 2- Relevant fields will be available for you to drag and customize.
Step 3- Drap and Drop fields like Title, Meta Data, Author Box, and Post Content. Place it accordingly and get going with it.
Try this and you will find it really useful for your blog.
#5 Create Reusable Blocks and Widgets [Global Widgets]
When your blog grows, you need a lot of templates and reusable blocks. Elementor allows you to create Global widgets so that you can re-use specific data elements. You need not create them again and again. Check out this guide to Create Global Widgets [We have added this in our Review of Elementor Pro as we found it useful for our readers].
Be it an Image, Text, or any form, you can add it to Global Widget and reuse hassle-free.
This feature is time-saving and helpful when you have a lot of tasks to do simultaneously.
#6 Visual Text Addition and Editing
With Elementor, you can Add and Edit Text Visually. Also, we found it possible to do Inline Text Addition and Editing which really helps save time. It is a convenient and quick way to create content.
With Visual Inline Text Editing, you can see the real-time look and feel of the page you have created. In case you are not satisfied, changing them – "On-Page" is possible. There are a few Pagebuilders where a Popup is generated and there you need to type the text.
This feature is better than other conventional types.
#7 Compatibility with other Plugins and Themes
We are using Elementor on our various Blogs and to this date, We have not found any issue in terms of compatibility or conflict with other Plugins. It is compatible with almost every Theme and Plugin.
In fact, Elementor is an open-source plugin, and various plugins we found in the WordPress Repository compliments the locked features of Elementor.
Yes, Plugins like Essential Addons works really find with Elementor and you can add Tables, Pricing Tables, and various Forms to your Elementor page, absolutely free.
Is these Elementor's Features Important?
Yes, Features like Templates, Blocks, and Visual Text Addition are key features of Elementor. In fact "Drag and Drop" is one of the most important elements of every page builder. Just pick the one you need from the list and start creating the posts,
What is the utility of Features available in Elementor?
We found every single feature useful and even helpful. Most of them simplify the tasks which otherwise would require a developer or coding expert. All Elementor Features are self-explanatory and help you build beautiful pages better than the competition.
How easy is to use all Elementor Features?
We would rate Elementor 5 out of 5 basic our own experience and findings. There is absolutely no confusion, no error and problem we witnessed in approx a year of use till now.
Our Review on Elementor's Pros and Cons–
We reviewed Elementor on various parameters like Features, Pricing, Utility, Ease of Use, and Overall Design. There are various competitors to Elementor like Divi and Thrive Architect.
Personally, after using it for more than a year now, we found Elementor worth its price and a great tool for WordPress users. However, as they say- "nothing is perfect in this world", the same saying applies to Elementor as well.
We will discuss Cons first and Pros later –
Cons of Elementor [What we don't like about Elementor]
Few competitors are offering more Free Templates [You will not like the design though]
For Developers- White Label options are not there,
Lack of Support for Free Users [Elementor Forums are useful]
Pros of Elementor [What we like the most about Elementor]
Free Version has more features as compared to Elementor's Competitors.
Global Widgets
Creative Templates and Blocks
Good Tool for Marketers
Helpful in creating Popups [ No separate plugin is required]
Advanced Theme Builder
Value for Money
Is Elementor Easy for Beginners?
WordPress Platform is largely used by non-techies and Elementor is Perfect for them. We started using it last year and today we use Elementor in most of our Blogs.
There is absolutely no issue in creating a Blog Post or a Page using Elementor as it is all Visual. Anyone who doesn't have any coding-related knowledge can also work without any training.
To create a post, you just need to Drag and Drop the Text or Image section. Click on it and start editing. Once done, you can save or publish the post. Once published, it will be live. For editing, you can easily click the "Edit" option and make changes. That's it.
So, Yes, We recommend it to New Bloggers as well simply because we found it Beginner Friendly.
Elementor Pro vs Free –
Elementor offers both free and paid versions to WordPress users. Its free version is sufficient if you are not looking for advanced customization and design options. We have a comparison table below which clearly defines the features of both Free and Paid Versions.
| Features | Elementor Free | Elementor Pro |
| --- | --- | --- |
| Visual Page Builder [Drag & Drop] | Yes | Yes |
| 24/7 Support | No | Yes |
| Mobile Responsive Design | Yes | Yes |
| 300+ Pro Templates | No | Yes |
| Custom Fonts | No | Yes |
| Motion & Mouse Effects | No | Yes |
| Carousels | No | Yes |
| Scrolling Effects | No | Yes |
| Customizable Animated Headlines | No | Yes |
| 15+ Advanced Design Widgets | No | Yes |
| Landing Pages | Yes | Yes |
| Responsive Popup Builder | No | Yes |
| Sticky Page Elements | No | Yes |
| Social Buttons & Integrations | No | Yes |
| Form Widget | No | Yes |
| 15+ Other Marketing Widgets | No | Yes |
| Header And Footer | No | Yes |
| Sticky Header | No | Yes |
| 404 Page | No | Yes |
| 15+ Other Theme Widgets | No | Yes |
| MailChimp Integration | No | Yes |
| ActiveCampaign Integration | No | Yes |
| ConvertKit Integration | No | Yes |
| Campaign Monitor Integration | No | Yes |
| HubSpot Integration | No | Yes |
| GetResponse Integration | No | Yes |
| Adobe TypeKit Integration | No | Yes |
| ReCAPTCHA Integration | No | Yes |
| Facebook SDK Integration | No | Yes |
| MailerLite Integration | No | Yes |
| E-Commerce | No Ecommerce Widgets | Yes |
| Forms | No | Yes |
| Advanced Dynamic Content | No | Yes |
Surely the table above will give you a detailed idea about Elementor Free and Pro versions. The difference between the two will help you choose the best one for you.
For example – Beginners who don't need a lot of features and integrations options can choose Free. If you're facing frequent problems and looking for quick support, Elementor Pro is a must for you.
For Advanced users or Bloggers- Elementor Free will not suffice. We have further reviewed the need for Elementor in designing the page below and checked its suitability.
Check our suggestions below –
Who should choose Elementor's Free Plugin
We would like to mention one saying here – " You either get free stuff or you get freedom. You cannot have both and you need to make a choice."
Elementor Free however is a little exception here. With Elementor, you can do almost every basic task in the Free version. In fact, we are also using Elementor's Free version in a few of our sites. If the page design is clean and simple, there is no need to choose a paid version.
But again, going back to saying – there is a reason why it is free. No dedicated support, Lack of Form building and Integration Options, No Animated Headlines and the list is huge.
Having said that, Here are our recommendations on who should opt for Elementor Free and for who it is the right fit?
If you are new to WordPress or Just started a Blog,
No need for dedicated support,
For those who don't need any advanced functionality on-page,
No need for Elementor's locked widgets,
If you don't need any customized CSS and Live code editor.
If you find yourself placed amongst the list mentioned above, you don't need Elementor Pro. The free version is good for you and there is no need to spend any money on paid plugins.
Let us now have a look at another scenario.
Who should choose Elementor's Paid or Pro Plugin
Now we will discuss and suggest the usability of Elementor Pro. Wandering who should use Elementor Pro Version?
Here is the answer–
Professional websites where advanced Landing Pages are required,
You need Popups, Forms, and Email Integrations,
If there is a requirement for a visual code editor and custom CSS etc,
For sites looking for Premium Templates and Blocks,
Highly Recommended for Ecommerce and Affiliate Marketing Sites,
If you often get stuck and need a prompt response from the service team.
No doubt, the Pro version is a great Page Builder tool with full functionality, no restrictions, quick integrations, advanced widgets, and beautiful templates.
Elementor Pro Pricing
One great thing about Elementor's Pricing is that it is affordable for everyone. If you own just a single website, you only need to pay $49. Check Elementor Black Friday Deals for more discounts.
Check the Elementor Pro variants and pricing difference –
Essential: $49/year – For 1 Website
Advanced: $99/year – For 3 Websites
Expert: $199 – For 25 Websites
Studio: $499 – For 100 Websites
Agency: $999 – For 1000 Websites
Best Themes Recommended for Elementor
Many of you asked on various forums about Which Theme is to be used with Elementor for faster page loads.
We checked various themes and found that "GeneratePress" loads really fast and is fully compatible with Elementor. On the basis of our own experience with this combination of GeneratePress and Elementor, we would like you to give it a try.
Following 6 themes are recommended by the Elementor team itself –
Hello Theme
GeneratePress [This site use GeneratePress and Elementor Both and loads really fast]
OceanWP
Zakra
Hestia
LayersWP
Besides this, You also need to ensure the page size and request count is low. Above all, good web hosting will help you get the best results.
5 Steps to Activate and Start Using Elementor
Using Elementor is very easy. You just need to follow 5 easy steps and you don't need any further setting –
Visit Plugin Section and click – "Add New"
Type – "Elementor" and press "Enter"
Click – "Install Now" and wait for around 60 seconds
Once the Installation is finished, Click "Activate"
Visit Post Section and click – "Add New"
To use Elementor, click – "Edit with Elementor"
We have a snapshot below for better clarity –

Please note that in most cases you don't need any further settings and should continue with the default configuration.
Feedback from Elementor's Customers
We checked various leading sites and social media pages and through a random sample, we found that –
>>98% of the customers loved the Designs and Customization Options,
>>96% customers rated Elementor as "easy to use" page builder,
>>89% Customers are satisfied with Pricing and rating it – "Value for Money",
>>3% Customers found issues with Customer Service Team [Elementor's FB Forum for Free Customers]
>>5% Customers highlighted the need for training to use all features and we added Video Tutorials for your help. [Visit Elementor Tutorial]
Final Verdict on Elementor Review
Our Elementor Review recommends it for feature-rich freemium options suitable for personal and business websites. Elementor is undoubtedly the best Freemium Page Builder powering over 5 million sites on WordPress today. It is further improving and will be a must-have plugin for 2023.
We used Elementor and tested it for over a year now and with our experience found it extremely easy yet powerful Page Builder. It has Re-usable blocks, Theme Builder, Templates, Popup Builder, Form Builder, Email Integration, and Affordable Pricing.
Landing Pages are required for various social media or advertising campaigns. Using Elementor you can create stunning pages for your visitors.
It is compatible with almost every Plugin and Theme and works fine without issues.
Regarding speed, a complex design with lot of Java and CSS might cause a slow loading page but that is something obvious and universal.
Elementor Tutorial [Must for Elementor Customers]
As we found few customers who highlighted the need for tutorials to be able to use Elementor, we have included a Video in our Review. This tutorial will also highlight Elementor's features, widgets, and options to create pages easily.
Recommended – Black Friday Hosting Deals 2023 | Hosting Coupons | Home | VPS Black Friday 2023 Deals | Dedicated Server Black Friday 2023 Deals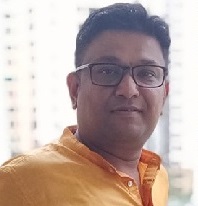 Seasoned Professional with 15 years of experience in Sales and Marketing. Entrepreneur, Consultant and Blogger helping people earn through jobs and blogging. Experienced Hosting Reviewer who likes to collect detailed info about existing players and share it with my audience. Previously worked with leading Banks and Telecom Companies.
I completed my Masters in Management with specialization in Finance and Marketing.
Visit our Hosting Review and Blogging Guide for more interesting articles.