We have this HostArmada review for website owners, bloggers and corporates across the world, looking to evaluate, how good is HostArmada?
We tested this Cloud SSD Web host and rated it 9.4/10. You will find our Expert Opinion and all useful information related to HostArmada Web Hosting.
This Review of HostArmada Web Host will enable you to judge its performance before buying it.
This is to date's most detailed review which has covered everything important for you to understand before buying it.
What you will get from this Review of HostArmada?
A detailed unbiased Review of HostArmada's performance and reliability keeping in mind the needs of beginners and advanced users both.
Live Test Reports where we checked HostArmada's uptime and speed before writing this review.
List of Alternatives and Competitors of HostArmada.
You will also get a 75% Off HostArmada Coupon Code [The latest promo to save Flat 75%]
HostArmada Review Bottom Line:
HostArmada offers cloud-based web host that is reliable, Ultra-fast speed with best-in-class uptime. It is affordable and provides 2GB RAM even with an entry-level plan.
One amazing thing about HostArmada is that it provides multiple tenure options: monthly hosting, annual, biennially, and triennially modes.
It provides free backup, email, domain, reliable security, and SSL. We also found its customer service excellent.
We rated it 9.4/10.
They have recently reduced the pricing and now you can get it for just $2.99.
Features
Remarks
Hosting
Shared, WordPress, Reseller, VPS, Dedicated, Cloud Hosting, Open Source Hosting, Development Hosting
Starting Price
$2.99/month
Current Running Offer
25% Off on VPS and Dedicated Hosting,
70% Off on Shared and WordPress Hosting
Additional Free Products
Domain, Daily backups, SSL certificates, Site migration, Site optimization
Speed
0.03s loading time, NGINX & Litespeed powered caching
Key Feature
PHP versions & manager, Cron Jobs, DNS zone editor, MySQL Databases, Git version, Unlimited FTP accounts, 1-click Softaculous Installer, Drag, and drop site builder
Security(Free)
Malware scan and removal, WAF, Fast patching, User account isolation, 0-day attack detection, 2-factor authentication, IP firewall, Cage FS, Directory password detection, Hotlink protection, Live monitoring, and Hardened PHP
Customer Support
Via Email, Instant Live Chat, Ticket Support, and Phone support
Payment method
PayPal, VISA, MasterCard
Server location
California, Texas, New Jersey, Toronto, London, Germany, India, Singapore, Australia
Refund
45-day Full Refund (no cancellation fee)
Read Detailed HOSTARMADA REVIEW
What is HostArmada?
HostArmada is a USA-based web host offering a variety of hosting options at affordable rates. In the year 2019, it started its operations as an independently funded organization. HostArmada is gaining popularity today for speed and power-packed security.
Let's evaluate the performance on various yardsticks one by one.
HostArmada Review Score on Key Parameters
| Review Parameters | HostArmada Review Score (9.4 of 10) |
| --- | --- |
| HostArmada Service and Options | 10/10 |
| HostArmada Features | 9.5/10 |
| Ease of Use | 9/10 |
| HostArmada Pricing | 9.5/10 |
| Speed and Uptime | 9/10 |
HostArmada Review [Editor + Users] - Affordable Cloud based host with excellent customer service, great uptime and speed.
Uptime

Pricing

Service

Features
HostArmada Review and Expert Opinion
Findings of HostArmada Review –
HostArmada is a Full Feature-Packed Budget Host. It offers server locations at 9 locations spread across 4 continents. Hosting Options offered by HostArmada are – Shared Cloud, VPS and Dedicated Servers Offers great uptime of 99.9%. Free Domain Offer plus Upto 70% Off on various plans.
Important Note – This is an unbiased review article for the benefit of our visitors. It's not a paid advertisement or a paid review. However, we get monetary compensation if any sale is made through some of the links on our website. You still get better deals at no extra cost. In fact, We also curated various coupons and deals to ensure you get the right product at even better rates. Contact us if you have any concerns or suggestions.
What Type of Hosting Does HostArmada Offer?
HostArmada offers you – Shared Hosting, VPS Hosting, Dedicated Servers, Opensource, and Development Hosting. The main key categories are Shared VPS and Dedicated only.
You can create your projects on all CMS like WordPress, Joomla, Magento etc. From a small blog to a large e-commerce site, options are available.
Shared Hosting Plans and Options
Let's evaluate the performance on various yardsticks one by one.
| Features | Start Dock | Web Warp | Speed Reaper |
| --- | --- | --- | --- |
| Pricing | $2.99 | $4.49 | $5.39 |
| Domain | Free | Free | Free |
| Websites | 1 | Unlimited | Unlimited |
| Ram | 2GB | 4GB | 6GB |
| Processor | 2 Cores | 4 Cores | 6 Core |
| Daily Backups | Yes | Yes | Yes |
| SSD Storage | 15 GB | 30 GB | 40 GB |
| Bandwidth | Unlimited | Unlimited | Unlimited |
| Email Hosting | Free | Free | Free |
| Optimized for WordPress | Yes | Yes | Yes |
Shared Hosting is the most popular plan with HostArmada. You get three variants namely – "Start Dock", "Web Warp" and "Speed Reaper". Just have a look at the table to understand the key differentiators between the plans.
Start Dock is the entry-level plan which supports one website. You get more than sufficient space, Ram (2GB), CPU (2 Cores) together, and Email Hosting. Even at this plan, you get Free Domain and CDN. You are also eligible for Free Loading Speed Optimization.
Web Warp Shared Hosting Plan offers you the flexibility to host unlimited websites. Powerful 30 GB Cloud SSD space, Ram (4GB), CPU (4 Cores) with features like Private DNS. You can request 3 Website Transfer absolutely free for this plan.email Hosting.
Their customer service team can also try to optimize site speed upon request for free. [We Recommend this Plan as it is value for money and has power-packed features]
Speed Reaper Hosting Plan is the most superior plan among the three shared hosting alternatives. We recommend this Plan for websites with high traffic. Plan configurations are 40 GB Cloud SSD Storage + 6 Cores CPU + 6GB Ram.
Advanced Dynamic Caching to boost the speed further. Geeks who already run 5 websites, can get them transferred with HostArmada for Free.
| | | | | |
| --- | --- | --- | --- | --- |
| Plans | Triennially | Biennially | Annually | Monthly |
| Start Dock | $2.99/month | $3.29/month | $3.59/month | $3.89/month |
| Web Warp | $4.49/month | $4.79/month | $5.09/month | $5.39/month |
| Speed Reaper | $5.39/month | $5.69/month | $5.99/month | $6.29/month |
VPS Hosting Plans and Options
HostArmada offers Managed Cloud SSD VPS Hosting with Free Cpanel, Free SSL for all sites, and SSD storage.
HostArmada VPS gives you the flexibility to choose from 4 plans. i.e. Web Shuttle, Web Voyager, Web Raider, and Site Carrier.
Web Shuttle VPS– Ideal for medium-traffic sites. The plan starts at $41.21 per month. 50 GB SSD, 1 Core CPU, and 2 GB Ram are what you get with this plan. Check out the infographic below for detailed offerings.
Web Voyager– The plan starts at $48.71 per month. 80 GB SSD, 2 Core CPUs, and 4 GB Ram make it perfect for heavy-traffic sites. You should also check all the features and must compare from the infographic below which has to plan wise comparative study.
Web Raider– This VPS plan starts at $63.71 per month. 160 GB SSD, 4 Core CPUs, and 8 GB Ram are sufficient to manage the traffic of multiple sites. A have a detailed comparison in the infographic below, please use this for a better decision.
Site Carrier– A little pricy but heavy-duty VPS plan which you can get in $101.21 per month. Site carrier provides 320 GB SSD, 6 Core CPU, and 16 GB Ram which is suitable for all large projects. Our comparison below will help you to understand the difference better.
Review of HostArmada's Features and Benefits
In this section, we will throw light on some of the critical features and benefits we observed about HostArmada. Let us understand them one by one.
Free Domain
One of the biggest breathers for new entrants as a TLD will cost you around $10-$15 for a year. With our exclusive coupon, you can save 75% on yearly costs and this Free Domain too.
Free CDN
CloudFlare CDN is easy to configure and one of the fastest content delivery network today. With HostArmada, you get seamless integration and configuration free of cost.
Hands Free Migration
If you are not happy with your existing host and planning to move your website, HostArmada will help you here. They are offering zero-cost website migration to their servers. This facility, however, most of the Top Hosting providers are offering today.
SSD Storage
SSD or Solid State Drive is a new and fast storage device that is known for quick data retrieval. SSD stores the data on memory chips that are instantly accessible to the processor and reduces page load time.
Website Security
With HostArmada, we found that the company is serious about the security of its servers. They have implemented User account isolation on shared servers so that if one site gets infected, other sites are safe.
HostArmada provides you with Server level "firewall protection and fast patching" in case they detect any malware.
Malware Removal
HostArmada is one of the few budget web hosting companies that also provide free malware removal at the website level also. Over 30k websites are hacked every day. Any such unforeseen event can wipe off your years of data and efforts.
With HostArmada, this service is free.
Cancellation Policy – 45 Days
This is awesome as you get 15 extra days to evaluate HostArmada. In case you don't find them suitable for your requirements, you can ask for a refund and cancel the hosting subscription plan anytime within 45 days.
Customer Service Options at HostArmada
Refer to the snapshot and details below, HostArmada promises to offer instant support over the call, email, ticket, and chat. All support options are available 24×7.
What is our experience with HostArmada's Customer Service?
We just booked a domain and hosting with HostArmada to test its claims. Customer service to be honest is the first thing you need when you are a new customer.
To check the service team's "readiness to help" and "response time", we initiated a chat. This will also confirm the Ease of Use. [Proofs attached]
Observation 1- We just had to wait for 5 seconds, and the customer service representative was available.
We requested them to help us with WordPress Installation and SSL configuration. Although we are really good at it this HostArmada Review we are doing for the customers, and they may need this kind of help.
Without any further questions, the Customer Service Executive asked for WordPress Username and Password we want them to configure [It is important to install WordPress].
In almost, 3 minutes, the WordPress Account was successfully set up and started working.
Again, I noticed that SSL was not working and I requested the executive to ensure the requests load through https only [This means, SSL is functional and free]. Within a few seconds, that was also taken care of.
Observation 2- Our experience with HostArmada says that its customer service team is helpful and beginner-friendly. They helped us with WordPress Installation and setup with SSL in just 3-4 minutes.
This test is extremely useful for our visitors and will help in judging the HostArmada customer service team's readiness to help and resolution time both. You will not find this kind of test and review anywhere else.
Review of Page Load Speed
In our latest test, We booked HostArmada's Speed Reaper Plan and connected one of our domains with this hosting. The server location we chose is Mumbai for this Speed Test, No optimization, and no CDN is used.
The tool used is Bitcatcha. Let us see the results of HostArmada's speed from global locations.
The Server Response time as you can see above is "Exceptionally quick" as declared by the Bitcatcha tool.
Our server location was Mumbai and if you will see the response time from Bangalore, Singapore, and Japan, it's just 23ms – 124ms. Without CDN, the server response time in the US, Canada, and London are also 210ms, 259 ms, and 148 ms respectively.
In this HostArmada Review, we also measured live speed on an unoptimized site for you. Host Armada offers good speed even on heavy sites. We tested it on an unoptimized 1.9 Mb page with 150+ requests.
The tool used to review its speed was Pingdom from its USA and UK Server.
The first snapshot below is from Washington DC – USA where a 1.9 MB with around 162 requests loaded at just 1.53 seconds. Next, you will see the same test on the same site conducted from Pingdom's server of London. There it took around 3.78 seconds to load.
Why this speed is good?
It's Good because the page size is really very high, i.e. 1.9 Mb, Number of requests too is around 160. Moreover, the page is not optimized and cached for optimum performance.
If this is the speed on a heavyweight raw page, you can imagine the speed on well optimized from various locations.
Pro TIP- You should also enable Cloudflare CDN which comes free with HostArmada hosting so that global visitors can get almost equal page load speed.
How Good is HostArmada's Uptime?
We used "Uptime Robot" to test the Uptime of HostArmada. We checked its uptime at a frequency of every 5 minutes. We found 100% Uptime in the last 45 hours.
With this study, to this date, we are now satisfied with the uptime performance of this Web Host. Note – We are displaying the Test results below in the form of a snapshot taken from a live monitor.
HostArmada's Server Locations
It's good to see that HostArmada is not a host which is only confined to one country or region. In fact, they are everywhere. Checkout, Where do HostArmada have its servers?
From the image above, it is clear that the HostArmada Servers are in the USA, Europe, Asia, and Australia. Total of 9 servers spread across 4 continents. With Cloudflare Integration, users can further increase the spread.
HostArmada Pros and Cons
To understand the performance and features well, we have decided to split them between Pros and Cons and explained them in a tabular form below –
| Pros | Cons |
| --- | --- |
| Affordable pricing | Seller Hosting Option not available |
| Offers Loading Speed Optimization | Plans available for minimum Annual term. |
| Advanced Cloud SSD storage to boost Speed | While discounted rates are good, normal rates are high. |
| SSL for All Sites – Free | |
| 45 Days Money Back Guarantee | |
| Multi Continental Data Centers | |
| Daily Backups | |
| Free Domain Registration or Transfer | |
| Quick Website Transfer Free | |
| 24x7x365 Support | |
| Free of Cost Migration of Existing Website | |
| WordPress Friendly [Also supports Woocommerce, Drupal, Joomla, and various others] | |
Which HostArmada Plan Is Good For You?
Now, let us help you choose the right plan. HostArmada provides you with a variety of hosting solutions.
The type of hosting you should choose depends on your specific needs and resources. Here is a brief overview of the main types of hosting available:
Shared hosting: This is the most basic and affordable type of hosting. With shared hosting, your website is hosted on the same server as many other websites, and you share the server's resources with these other websites. This can be a good option for small personal websites or blogs that do not receive a lot of traffic.
VPS (Virtual Private Server) hosting: VPS hosting is a step up from shared hosting. With VPS hosting, your website is still hosted on the same server as other websites, but you have your own dedicated resources (such as CPU, RAM, and storage). This can be a good option for websites that receive moderate amounts of traffic and require more resources than shared hosting can provide.
Dedicated hosting: With dedicated hosting, your website is hosted on its own dedicated server. This means that you have complete control over the server's resources and do not have to share them with any other websites. Dedicated hosting is the most expensive option, but it can be a good choice for websites that receive a high volume of traffic or require a lot of resources.
When deciding which type of hosting to buy, you should consider your website's traffic and resource needs, your budget, and any specific features or capabilities you may require.
3 HostArmada Coupons with 1 Exclusive 75% Off Code
We will first disclose the Exclusive Coupons for our Visitors and then we will share the Detailed HostArmada Review results with you.
Alternatives of HostArmada?
How we Reviewed the HostArmada?
Look at the process we followed during the Review of HostArmada-
a) We created our own test site on HostArmada's Shared Hosting plan to check speed and uptime.
b) To make an overall opinion, we also take other reviewers' findings into consideration just to double sure the information we have gathered.
c) We scrolled hundreds of pages over social forums like Reddit, Quora, Facebook, and Twitter to find what users are saying.
d) We created several polls on various platforms to gather the user experience about its overall performance.
e) Finally we tried to perform the Uptime test through UptimeRobot. We used a heavyweight dummy site. So, you can trust on our Hosting Review Platform.
f) We spent around 6 hours reading the product features, pricing, and various offerings by HostArmada and compared it with its peers.
---
How to Start a WordPress Website on HostArmada?
Hosting WordPress is as easy as you host on other hosting websites. You can easily host your WordPress website on Hostarmada in a few steps.
We will show you how you can get your WordPress Hosting from Hostarmada and then Host your WordPress Website.
Here are the steps of getting a Hostarmada WordPress Hosting. You can follow these steps to buy WordPress Hosting without getting into any type of trouble.
For country-wise reviews, visit: Best Hosting for South Africa | Best Hosting for Australia
Step 1: Choose a Plan among three different WordPress Hosting Plans that perfectly suits the needs of your WordPress website.
When you click on the Select Plan button, you will be asked for the domain.
Step 2: Pick a Domain name for your WordPress site.
If you have already a domain then you can select that option below there.
Step 3: Once you have done this, you will be asked to choose the time period of the domain.
Pick a time plan and proceed with this.
Step 4: Now, it's time to pick a billing cycle for your WordPress hosting.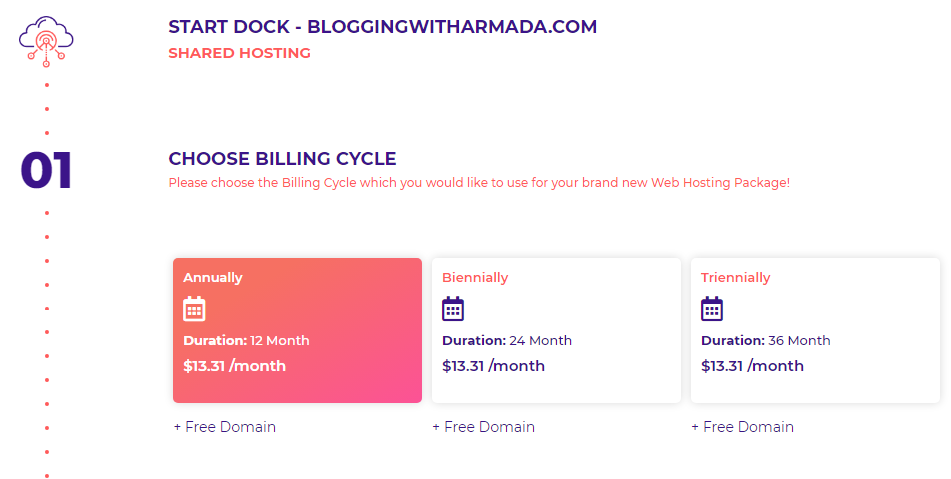 Choose a plan and go ahead.
Step 5: Here you will see the different data centers, you have to choose the nearby data center of your country/state.
Note that a nearby data center means a faster speed.
Step 6: Now, here are some basic Domain Configurations, set these all and proceed.
Step 7: After this, you will see the Order Summary of your purchase, check it, and click on the Checkout button.
Step 8: Okay, so this is the final step of getting your WordPress Hosting.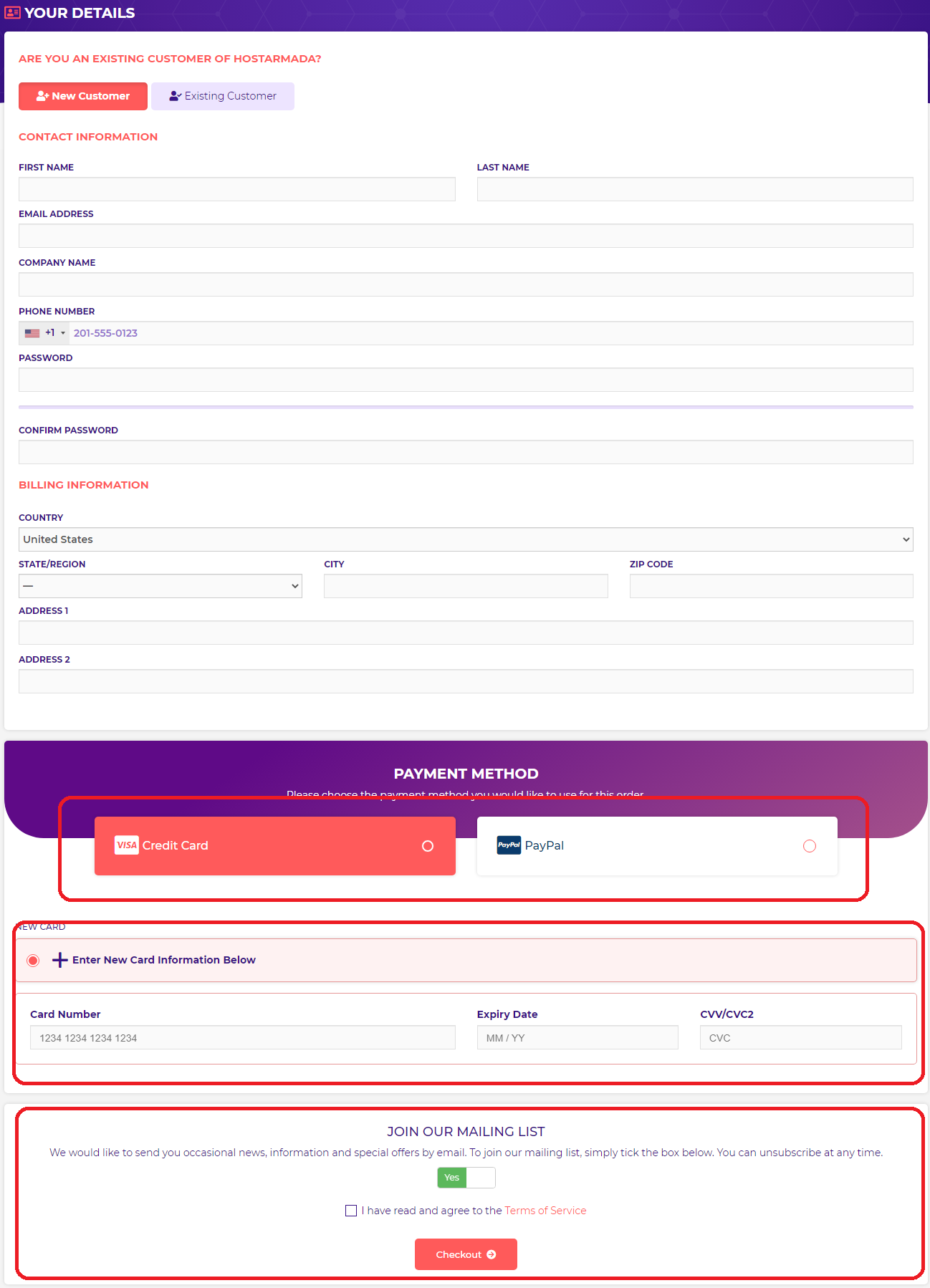 Enter your details asked, go to the billing section and enter your payment details and go further and that's all, You have successfully purchased a WordPress Hosting. Now you can Easily host your WordPress website here.
Verdict – Should you Buy HostArmada?
Is this newcomer in the hosting industry worth it?
Yes, HostArmada offers advanced security like daily backups, malware removal, SSL, etc at the cheapest possible rates. All hosting solutions are backed by a Cloud environment for better uptime. You also get a choice of servers between NGINX and LiteSpeed.
Our findings and test results during the HostArmada Review show that it is worth recommending. We found a quick and helpful Customer service team. We checked the speed and the results are awesome.
In a nutshell, HostArmada is a budget-friendly Web Hosting offering a variety of features even in its basic plan. It claims to offer 99.9 % uptime.
Hence, we recommend HostArmada to our visitors.
Checkout our HostArmada Black Friday Deals.
Frequently Asked Questions
Summary and answers of questions asked by Visitors –
What is HostArmada?

HostArmada or Host Armada is a USA-based web hosting provider. A budget host which offers popular plans like Shared, VPS, and Dedicated Hosting.

Are there any HostArmada Coupons to get a discount?

Yes, HostArmada offers up to 70% off on their shared hosting plans.

Is HostArmada any good?

Yes, HostArmada promises 99.9% uptime with multi-continental server options. All plans come with a 45-day money-back guarantee.

Does HostArmada offer on-call support?

Yes, HostArmada offers on-call, email, and chat support.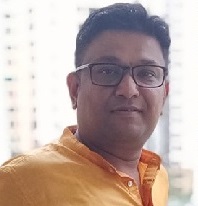 Seasoned Professional with 15 years of experience in Sales and Marketing. Entrepreneur, Consultant and Blogger helping people earn through jobs and blogging. Experienced Hosting Reviewer who likes to collect detailed info about existing players and share it with my audience. Previously worked with leading Banks and Telecom Companies.
I completed my Masters in Management with specialization in Finance and Marketing.
Visit our Hosting Review and Blogging Guide for more interesting articles.