How to Learn Blogging with Free Course? Looking for a detailed easy guide on Blogging? What is a Blog? How to create your first blog in 2023 from scratch? How to start a blog?
Do bloggers get paid? If some or all of these questions are bothering you, You are at the right place.
Your journey towards passive income is about to begin if you are serious about it. We have included everything you need for Blog writing.
Read this guide till the end if you want to pursue Blogging as a Profession.
Easy 8 Step guide with bonus steps where you will learn Blogging for free and can create a blog in just 15 minutes.
Do you know how to become a blogger? Don't worry, I will teach you and guide you on how you can create your first blog. This is the way, I started my first blog.
So lets search the answer to your first question – What is a Blog?
As per dictionary –
A website containing a writer's or group of writers' own experiences, observations, opinions, etc., and often having images and links to other websites.
Today, people are writing and sharing their experiences, on platforms like Blogger.com or WordPress. It has become a huge source of income for many today.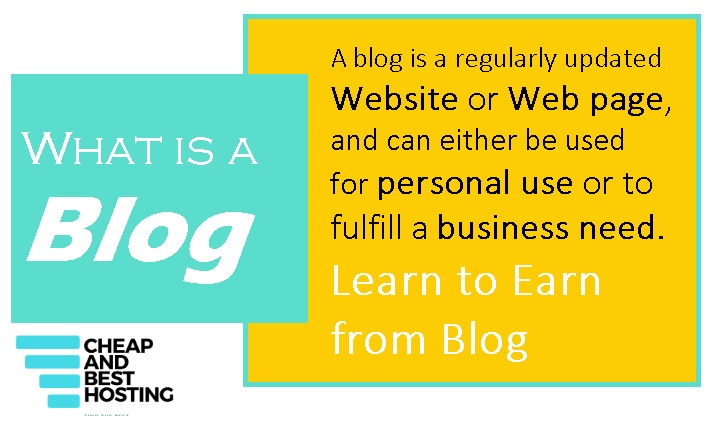 So, What exactly is a blog? How does it work?
In this Blogging Tutorial, you will learn everything about Blogging.
So, When you write your passion or anything of interest or expertise, share it online with your readers, it's eventually a blog.
You create content for others to read which are the basis of your knowledge, interest, and experiences. A Blog in simpler terms can be like an online diary or journal with pictures, graphics or videos may be.
You can earn huge from a blog, but it's completely your choice, you can keep it personal or for limited users with no income objective.
A blogger in most cases is an individual, which means it is not necessary to be a company to start a blog. Every individual can create his blog.
You keep writing Blog posts (it's an entry or a proper article which you share in your blog for your readers. A blog post will have texts, images, and videos according to the purpose it is written. It should be engaging so that your readers visit it again and again.
20 Examples of Blog and World's renowned Blogs-
Blogging is easy for beginners with our step-by-step guide here on this page. We are now covering a few examples of blogs that are insanely popular in the world. They have traffic in Millions and are a huge source of passive income for their owners.
ThisisWhyImBroke – A Gifting Blog, Blog will Uncommon and Unique gifts.
VegRecipesofIndia – Indian Blog with Million of traffic, A Recipe Blog.
MissThrifty – Blog for cool money-saving tips.
SureJob – Blog which gives you money-making tips and career guidance.
MissMalini – A Bollywood, fashion, and beauty-related blog.
Shoutmeloud – Technical tips about WordPress, plugins etc.
YourStory – Blog to feature Startups and entrepreneurs.
SmartPassiveIncome – Popular blog which gives you Passive income ideas.
MyWifeQuitHerJob -See how a lady quit her job and started an online store.
WeTheParents – A Parenting Blog.
ShopThisNow – Blog focusing on Amazon Affiliate Marketing.
IamAFoodBlog – Blog for Foodies.
WPbeginner – WordPress tips and tricks.
WellnessMama – Blog about wellness tips. Home-based health ideas.
Fatherly – Blog by a Dad about parenting and money-saving tips.
Kitchn – Again a very popular blog for foodies.
JagoInvestor – Blog which teaches you to get financial independence.
FoneArena – A Tech Blog which is focused on new Mobile Reviews, Unboxing, etc.
PhoneRadar- Again a tech blog.
NextBigWhat – Blog selling courses, doing Interviews, startup info, etc.
So we have explained to you the definition of a blog and blogging with examples of some successful blogs. These examples will help you learn the best practices and avoid Amateur Blogger's mistakes.


Next Question – Can you make money blogging? Do Bloggers get paid? The answer to this is Yes. We will discuss this in detail.
CLICK HERE FOR STEP BY STEP GUIDE TO CREATE YOUR FIRST BLOG
History of Blog-
The term "weblog" is the brainchild of Jorn Barger. He first used the word "WEBLOG" on December 17, 1997. Peter Merholz once jokingly used its short form as "blog"(broke the word "weblog" as weblog) in his blog Peterme.com in 1999.
Blog- This word then was used by Evan Williams at Pyra Labs. ("to blog", meaning "to edit one's weblog or to post to one's weblog"). As the word became popular, there came another word – "blogger" after the Pyra Labs' Blogger product. Both the words Blog and Blogging became insanely popular since then. [Ref]
Benefits of Blogging : Why you should start a blog?
People don't just start a blog to earn. In fact, there are many benefits to blogging. There are many benefits you will get once you start your own blog or Personal Website –
Blogging helps you to enhance your writing and thinking skills
Your blog gives you fame and identity on the internet.
A blog is an opportunity for you to share your expertise with the world.
Obviously, this increases your self-confidence
You make money through blogging.
Not only for individuals, but blogging is also beneficial for businesses as well.
Blogging where to start? Available alternatives and Platforms-
Where to start blogging? If this is the question in your mind now, we will let you know the available blogging services, resources, and platforms. Blogging where to start from and operate is a common question for beginners. This Self Learning Free Course will help you in creating the first blog in just 15 minutes.
Well, the answer to this is simple, you can start blogging at –
Blogger.com,
WordPress,
Medium
Tumblr
Livejournal etc
But if you will ask me, on the basis of my experience, I will only suggest WordPress. The next option can be Blogger by Google. These platforms help you with lots of monetization options and complete flexibility.
So let's discuss 8 easy steps to help a beginner to create a blog in 2023.
As per Builtwith, in the USA, almost 96% of the blogs are using WordPress. 2.79% of bloggers are using Blogger.
Step by Step Guide to Setup Blog – 8 Easy Steps-
Till now we have covered "what is a blog?" and Blogging where to start and the platform to be used. Now let us teach you 8 simple steps suitable for beginners and experts both. We are going to mention below that will guide you on – How to start a Blog?
It's a complete step-by-step guide for beginners who are interested in creating their first blog. Creating your first blog is easy today – thanks to WordPress and Blogger. Yes, I was a banker with a commerce background.
I was never a tech guy. Today I own 4 blogs and all of them are 100% created by me. It's like drag and drop, click, and write today. Anyone and everyone, even an undergraduate with no technical background can start. We will help you.
Steps to create and start a Profitable Blog in 8 easy steps –
1st Step – Setup an objective and conduct preliminary research
2nd Step – Choose your Niche
3rd Step – Choose and Book a Domain Name
4th Step – Select a Good Web Hosting (Don't worry, we will help you there)
5th Step – Install WordPress and setup your first blog (It's just a one-click job)
6th Step- Install basic Plugins and a Fast theme
7th Step – Write your first Blog
8th Step – Monetize your Blogs (Google Adsense, Affiliate Marketing, etc)
[Bonus] Search Engine Optimization and promoting on Social Media
Let's discuss each step in detail below.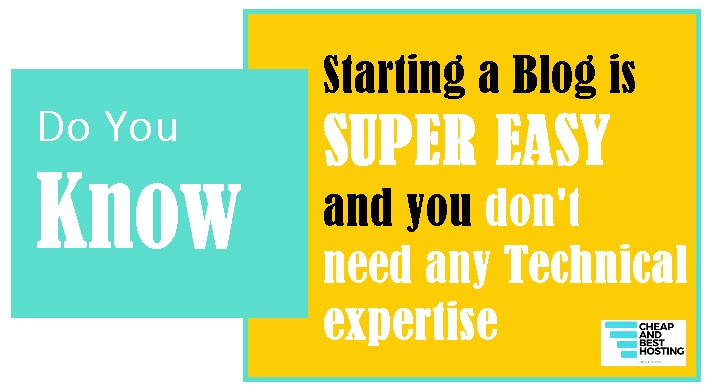 #1- Setup an objective and conduct preliminary research
At this step, you need to start thinking about your first blog. This is the first step towards your ultimate objective of becoming a successful blogger.
So let's first figure why you want to start a blog? It can be just to share information, get publicity, or to earn from it. Yes, Blogging is a great source of passive income.
You can ask these questions to yourself –
> What is the purpose of your blog?
> Your target audience
> Target market or geography you are going to target
> How you are going to monetize it? It can be advertisements, selling your own product, etc.
> Also it is advisable to set up your goals and give yourself a deadline to reach there.
You need some preliminary research at this step to chalk out a broad plan, understanding the market, your core competencies, and define a simple strategy or a plan. Everything is simple when it is systematic.

Want to discuss this further? Ask for help in the comment section 🙂
#2- Choose your Niche
Once you have decided the purpose of your blog, targeted geography, and audience, etc. Now you need to work on this very important step. You now need to decide on what type of blog or Niche you will start working on.
A Niche is basically a "specific topic" or subjects your blog will be focused on. Going back to step 1, this Niche selection will further help you to decide on your target audience and geographies.
Some of the popular niches are Finance, Pets, Health, Shopping Ideas, Gifts, and Recipes, etc. We have prepared a separate comprehensive list on this subject for your ease. You should definitely visit our detailed list of blog types curated for beginners.
How to select a profitable niche for your blog? Some tips which will help you start your blog and Niche selection are –
> Whatever you love and are well informed about can be your Niche.
> Find out what you are good at, evaluate your hobbies, etc.
> Choose a topic on which you can write better articles than your competition or existing blogs. Also, you should be able to write on regular basis on the subject.
> Evaluate the market and find out the low competition and high potential Niche.
> Check out Google trends also to get the idea of what's being searched across the globe.
What else you should keep in mind while choosing your niche –
> Your blog works best when it helps the audience.
> Blog will become popular when visitors will visit your blog regularly.
> Is the information you have shared on the blog worth sharing? Will your audience find it interesting enough to share on social media?
> Do you have enough content or does the Niche have the potential to scale up?
Focus on your hobbies, passions, and knowledge. Evaluate the earning potential of your blog. Check out the list of blog types.
These suggestions are important to keep in mind if you are seriously taking Blogging as a Career. Still, have questions? Ask in the comments section.
#3- Choose and Book a Domain Name
If you don't know what is a domain name, let's find it out here. The domain name in simple words pertains to your blog name or business name. For example, we use Gmail for our emails. Similarly to search for something on the internet we use Google. To reach out to their websites, we type www.gmail.com or www.google.com.
Here these gmail.com or google.com are domain names. Check out our Domain Name Suggestions and Ideas and choose one of the catchy names there. Note that you can buy a domain for a minimum of one year and later on renew a domain.
So, the Domain name is your identity on the internet (the name by which you will be known online). A domain name is basically a unique address on the Internet that you use will type on the browser to reach your blog.
Let's get into action now and let's start your blog in the next 15 minutes. Actually, once your groundwork is ready, we can now launch your first blog in just 15 minutes by watch. Yes, it's that easy on WordPress.
Till now you already know – what is a blog? How to select a niche to start your first blog? and you have already done your preliminary work till now.
Let's book a Domain name now.
Alternatively, you can also book your domain on Namecheap. They are the world's leading domain registrar and offer free Whoisguard. If you want to start blogging for business, choose a domain as per the business name.
Tips to select a perfect domain –
Select a Short & easy name – Your blog name should be short, easy to remember, and eye-catchy.
Should tell about your Niche or Business – Your domain name should convey the business you are into or the niche you are catering to.
Include Keywords in your domain name – It's easy for search engines to rank your domain if the keyword is included. Which ultimately helps you in SEO (search engine optimization. For Keyword research – Get Semrush free trial.
Avoid Numbers – Computers can remember numbers but humans don't find it easy. Use only alphabets for users to remember it easily.
Use Top level domain extensions – .com or .in or .org are the domain extension which you can use subject to availability.
#4- Select a Good Web Hosting
If you don't know what is hosting, please check out our Hosting definitions and types section.
Web hosting is a service that offers you space to keep your website or blog files. An when a user types a domain name on browsers, the browser will contact your host, and your blog will be displayed. It's like buying a server space for rent.
Wondering which is the best WordPress hosting you should buy?
Well, we will recommend SiteGround and BlueHost based on our research, survey, and personal experience.
How to Buy BlueHost Hosting with discount in 6 easy steps? –
Click here to get a 51% Discount today and proceed further.
Choose your Plan – Basic or Plus as per your budget. (Get Free Domain for 1 year)
Choose and register your preferred Domain name
Fill in all the basic details like email id, name, address, etc.
Select the options there, 1 year or 3 years again as per your budget.
Make payments through any of your convenient option given there. Good luck!
How to Buy Siteground Hosting with discount in 5 easy steps?
Register the domain name you have chosen already.
Enter the basic details like email id, name, address, etc as per the form.
Make payments through any of your convenient option given there.
Click and accept the terms and conditions and there you are. Good luck!
GET 69% DISCOUNT COUPON FOR SITEGROUND HOSTING –CLICK HERE
Pro Tip: What factors you should consider before selecting your web hosting?
Customer Service – First and foremost, for a beginner. You need help at every step for the first few days at least.
Speed – No website can rank on search engines if it takes a longer load time.
Uptime and Reputation – Uptime means % of the time your website or blog is accessible. Poor web hostings have low uptime leading [Check Uptime Calculator] to poor user experience and loss of traffic.
Pricing – Don't only choose the cheapest, also consider the price along with features. It's obviously costly if it's not offering you any basic feature.
Features – checkout for features like free SSL, email hosting, data backup, etc.
Scalability – You may opt for a cheaper plan today, but if the website traffic will increase, you will have to upgrade it.
Check all these details in our Web Hosting Review Guide.

#5- Install WordPress and setup your first blog
Your blog is almost ready for the big show. Let's install WordPress Now. Don't worry, it's just a one-click job. Installing WordPress is super easy. Log in with your username and password. Refer to the snapshots below for your respective hosting.
Just click – Install WordPress option and install it. Boom. You are done! Congratulation on entering the beautiful world of Blogging. Just after installing WordPress, you are all set for blog writing.
Don't hesitate to contact customer service which will be happy to help you whenever required.
In-case you still need any suggestions, contact us through comment section.
#6- Install basic Plugins and a Fast theme
Once your WordPress is installed, you need to make it work. For this, we recommend you to use a few plugins and themes. This will make your job easier and you can beautify your blog easily.
Which is the most recommended Theme in WordPress for beginners? –
Let's first start with our most recommended WordPress Theme for beginners who are setting up their first blog. We strongly recommend GeneratePress.
You will be glad to know that GeneratePress is active on approx 2 lakh websites and 900+ 5 Star ratings. We also use this theme in our blogs. [GeneratePress is a free theme but has a premium option as well for advanced users, read our GeneratePress Review.]
For more theme options, visit our FAQs about blog section.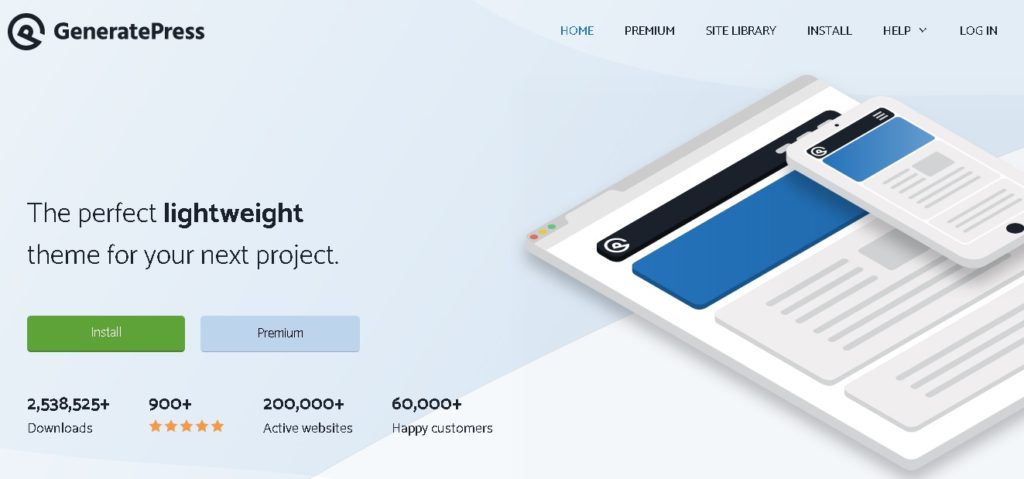 Once you are finished installing the theme. You need to add a few plugins. Plugins are like small software which are installed in WordPress and they serve their specific tasks.
Refer to Image below – Click Dashboard -> Plugins -> Add New
For example – You need Elementor for designing your page easily. UpdraftPlus to back up the data in one single click.
What are some basic plugins beginners should use for blogging? –
We recommend 20 must have Plugins which you should consider installing –
Elementor for designing your page easily.
UpdraftPlus for easy backup of the data.
Jetpack – It's a basic security and site accelerator plugin.
Akismet – Anti-Spam
Wordfence – Creates a Firewall and secures your website easily.
Yoast SEO or RankMath – These plugins helps you to rank your site easily on Google and other search engines.
AddtoAny – It's a great social share plugin so that your users can share your webpages on social media.
WP Total Cache – My favorite plugin to speed up the website. A Cache plugin basically.
For more Plugin options, visit our FAQs about the blog section.
#7- Write your first Blog
Are you excited to write your first blog post? Let's now start publishing your blog posts. Prepare your content, a simple word file, write a detailed article with headings and sub-headings.
Create some cute and attractive images from Canva which you can use in your articles or blog posts. When you are done with it, check for final corrections (proper proofreading of the entire content).
Now let's post your content in WordPress-
Dashboard → Post → Add New (Refer to Infographic below for step by step process to create your first blog post)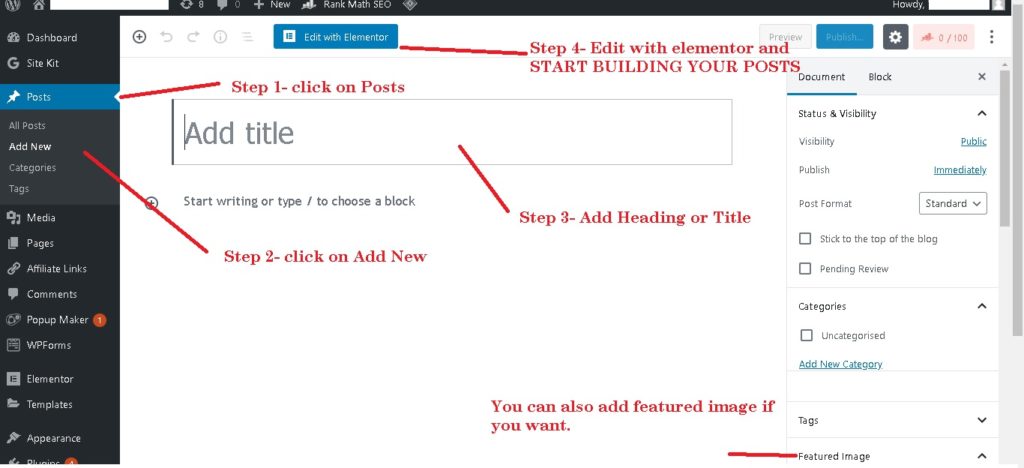 Pages you must create in your blog –
a) About Us– Describe who you are and the purpose of your blog. It helps your audience to know about yourself, believe you, and ultimately follow you.
b) Contact Us – Your audience should know how to contact you should they have any queries or suggestions.
c) Privacy policy and disclaimers- Through this page, you let your audience know how you keep their information safe. In case you collect their emails or contact details, Is it safe for them to share with you or not?
Hope this step-by-step guide would have helped you a lot in your first blog post writing. Do let us know through comments.
Tips for writing Excellent Posts: Things you should avoid while publishing your blog Posts –
Let's discuss some tips and tricks (which no one will tell you) you should follow while writing the article. As a beginner, you must follow this advice and avoid common mistakes done by a beginner.
a) Ensure No Plagiarism– I think it's easy for you to understand. Do not copy-paste someone else's content on your website. Create your own, original, and quality content for your visitors.
b) Always use copyright-free images – Don't worry as we have excellent copyright-free images available at Pixabay and Canva. Find relevant images, edit in MS Paint, or at Canva itself, and use it without any issues. Never use someone else's images without the permission of its owner.
c) Use proper Headings and Sub-Headings– Ensure you have one main heading (H1) and then subheadings (H2, H3..). If you will see this page, it has One main heading on the top and then the entire content is broken into sub-headings. It makes visitors feel comfortable reading and understanding your blog post or article.
#8- Monetize your Blogs
So you have started creating the content of your blog. You are creating a blog to share knowledge, your expertise, or something interesting for your readers.
Isn't it a Good Idea to earn something as a reward for your hard work? Yes, Of course, you can always Monetize your blogs and earn a decent passive income out of it.
You don't know how to make your blog making money for you? We will let you know and help you out in creating a money-making blog.
Lets discuss some common options you have –
a) Google Adsense– You must have seen various advertisements on various websites or blogs. Those are the ads served by Google in most cases. There are a few alternatives as well but nothing works better than Google.
It's free, you can apply for Google Adsense through the link, get your Adsense account approved, and start serving ads to your visitors. You will get paid for clicks and impressions.
b) Affiliate Marketing – This is one of the most popular ways to earn a decent amount of money. There are various marketing companies like Cuelinks or Admitdad which act as a bridge between advertisers and publishers.
You get a sales commission of up to 90% on certain products. When your visitors visit your page, they might see some relevant ads useful.
They will click on those links and will be directed to the website of the Advertiser. There they may purchase the product of that advertiser and in this case, you will get the agreed commission.
c) Sell your own courses or In house products– Various blogs today have started publishing their E-Books and are selling them to their audience. For example, You may have a recipe blog where you can sell recipe courses.
There can be an endless list of such scenarios and totally depends upon your creativity. You have a Blog and now you can use it the way you want.
[Bonus Step] Search Engine Optimization and promoting on Social Media
You would not have heard of Search Engine Optimization or may have a little bit idea of the same. But once you will start your blog, you will also have to focus on promoting your blog. But how to promote your blog? Creating a blog is just a half job done. The most critical part is to promote it as well.
You need to optimize your content in such a way that search engines like Google or Bing can easily understand the purpose of your blog. With this, they will be able to serve it to those who are searching for relevant information on the internet.
This is Search engine optimization or SEO. But don't worry, with a variety of tools today like Yoast, you can fix your SEO in a few clicks. While this may take time for your blog to rank on the first page of search engines, you have alternatives methods to promote your blog.
For example, you can have your Facebook page, Twitter handle, a Pinterest account, or Reddit. You can simply start sharing your pages on Whatsapp or other messengers. If your blog has that content which is interesting or useful for your audience, they will definitely promote it further. Read more about Content optimization or SEO content and tips to write high quality content.
11 "Important" Things I Wish I Knew Before Starting my first Blog
So, we all are beginners at least once in our careers. I was no exception. We all make mistakes and learn from them.
In this Blogging guide, I have tried sharing the 11 Important Commandments that every Blogger must know. We wanted to share it with you so that you can easily find success in your blogging careers.
These are the crucial items you all must adhere to.
#1 Blog Name Matters
How many website or blog names do you remember? Figure out a few and Try finding the reasons why you remember the names.
Aren't these blog names catchy and easy to remember? Yes of course.
Tip 1- The Blog name must be short and easy to remember.
Tip 2- Find a Catchy and Attractive Name.
Tip 3- Choose a name that conveys the Niche. Like WebMD.Com name automatically lets you know that it is a blog related to Health Niche.
Tip3- It is always beneficial [But not mandatory] to use a Keyword in Domain. Like a Hosting Review blog should have the keyword "Hosting" in it. The best example of it can be Hostingadvice.com.
#2 Focus on One Blog at a Time
I made this mistake when I started my Blogging Career. This usually happens when either you make mistake in choosing a Niche or you have a long list of Niches that you want to start together.
But, this is not at all a wise strategy. One Blog at a time is good for beginners as they don't have a team at the initial level. Either they don't find a need or they don't have a budget. Both the situations are but obvious.
Therefore, It is always experienced that new bloggers are not able to do justice with multiple blogs simultaneously.
Blogging is like a Business today as it also has competition. Every search engine has 10 slots on Page 1 and we all compete with each other.
Finding Profitable Keywords, writing detailed content around that, sharing it on social media, building links, and a lot of promotion are required to get some traffic initially. While all this is not tough at all, but yes, all of them take time.
Tip 1- Start with one Blog if you are a first-timer.
Tip 2- Make it grow and take it to autopilot mode before starting a fresh second Blog.
Tip 3- If you realize that you made a mistake in choosing a Niche or the particular Niche is not able to generate enough traffic, you should consider dropping it to find another. Experiments works and the first attempt is not always successful. But give each blog your full dedication and a respectable time to grow.
#3 Team Building is Important
As I mentioned above, being a first-timer, often less on budget, you do not have a team initially. But It is always good to invest the first few earnings on building a team. Business is all about Land, Labour, and Capital.
Fortunately, Blogging is one business where you don't need Land, However, Labour and Capital are required to scale it.
Tip 1- Invest your first few earnings on building the team for your Blog.
Tip 2- Always Hire quality staff who can support you the way you want.
Once you start building the team, you must ensure that you have defined clear-cut KPIs for them so that there is absolutely no confusion.
Pen down the total number of tasks you were doing all along. Keep the key activities like Content writing with you. Delegate the Non-Key activities which are time taking but less important at the initial level.
For example – Designing a Page on Elementor or a Block editor is a time taking process and can be delegated easily. [Read Elementor Review]
#4 Outsource Non Priority Items
We discussed the importance of building your team above for a successful blog. But, just in case you are not comfortable hiring a team at this point in time, don't worry, we have another recommendation for you.
There are various platforms like Fiverr and Freelancer.com. There you will find many expert Freelancers for as low as $5.
We always recommend you prepare a weekly calendar and divide your time efficiently. You focus on Key Items and delegate the tasks like Link Building, Blog Banner Graphic Design, etc to freelancers.
Do not hesitate to buy tools like Adobe's free online banner maker as it saves a lot of time. Creating catchy stuff without wasting the time and money is the first step toward success.
You need to find out the hours you are spending on all core items. Fix your own hourly cost. Outsource the list which you can get from the market at cheaper rates.
#5 Choose your Blog Topics Wisely
I often wrote the articles which I saw others writing about. Not because I wanted to copy them, but because I thought those topics must be interesting enough for the audience and that's why they are picked by professional bloggers.
Do I know the exact purpose? Obviously No. So I recommend you the best way of doing it.
Reach out to your FB page, Use the Comment section, send mailers to subscribers and ask your audience what they want.
Go to Quora and check the questions asked by forum members.
Pick the one which is best for your audience and suits the Niche as well.
Writing on random topics which are irrelevant to Niche will only harm your blog. You must avoid copying others.
Use Keyword tools, Forums, Social Media and find out the buzz around matching to your Blog Interest.
#6 Write Catchy Headlines and SEO Titles
Traffic is required to make money from the Blog. You use social media, Google or Bing Ads, and various other techniques to get some initial visitors. But do you think your visitors will click on each advertisement Google or Facebook are showing to them?
No for sure. If your Headlines and SEO Titles are not creative, they will not get the user's attention.
Tip 1- Write a Problem Solving Sentence.
Tip 2- Mention month and year in your SEO Title.
Tip 3- Write a Number that gives data your audience wants to see.
Tip 4- Use words that show confidence, like- A Definitive Guide.
Tip 5- Ask Questions wherever possible.
Tip 6- Create a Surprise, Like "Do you know this Place?"
Example of Creative Blog Post Headlines that are guaranteed to get clicks –
Get your Cough cured in 5 minutes [ 10 Proven Remedies for 2023]
Why your business is not growing? 5 Easy Tips [2nd one is my favorite]
5 Tips [You Don't Know] to get more visitors in 2023 – Results Guaranteed
#7 Page Load Speed and Overall User Experience is Important
Do you have time to wait for 10 seconds for a page to load? Obviously not. We all love fast-loading sites delivering information in just 2-3 seconds. We all quit the pages if it takes a long to load.
It is all about a user experience and the wow factor. As a Blogger, you must ensure that all your visitors are not abandoning the pages because of slow speed.
Check out this report by Google.
Mobile and Desktop are two ways your visitor accesses your website. While in most cases, the Desktop version of your site loads well within time, the Mobile version still loads pretty slowly.
With this, another point of "Mobile Friendliness" is worth noting here. If your website is not mobile-friendly, it will hardly rank in Google or any other search engine.
Ensure your themes and the entire content is mobile responsive and must honor Google's recommended "core web vitals".
Google has recently added a page experience report to help bloggers understand how their pages are performing in the real world.
#8 Email List Building is Important
The biggest mistake we all do as a blogger is that we don't give a proper welcome to our daily visitors. Are you doing enough to retain them as your regular visitor? If no, you must do it from day 1.
Social media used to be one of the popular ways a few years back. But email marketing is proving to be the best way to generate revenue by increasing user engagement.
Ask your visitors to signup for newsletters or your email list to get new post updates and various offers. Keep them updated about your recent posts, updates, and offers.
Pro Tip – While everyone will like and acknowledge one or two mails in a month, but they will surely unsubscribe to your email list if you will start "Spamming".
#9 Technical SEO
We discussed above that Search Engine Optimization and Social Media Marketing are two techniques that all bloggers should master. SEO helps you to get free website visitors on your "targetted keywords".
SEO has three variants – On-page, Off-Page, and Technical SEO.
We all are well aware of On-Page, Offpage but Technical SEO is often ignored.
What is Technical SEO?
Technical SEO helps you to optimize various technical factors of your site like speed, making your site crawlable by search engines. It also helps search engines to understand your site structure, the purpose of the site, pages, and overall hierarchy.
#10 Update your Content Regularly [No one likes stale Content]
The content you wrote in 2015 cannot be considered fresh for someone visiting it in 2022 until and unless it is updated in the recent past.
Technology changes very fast, sometimes twice a day. Update your pages regularly. Ensure the information provided is still accurate and relevant. Include the latest stats, figures, and numbers.
Don't hesitate to delete the stale or outdated stuff which is irrelevant today.
Everyone including search engines respects content creators who are serious about what they are delivering through their blogs.
#11 Analyze Google Search Console Performance
Today when I ask new bloggers that when was the last time they opened their "Google Search Console"?, I find only 50% of them doing it in the last 1 month.
Most of the freshers, just submit their sitemap on GSC and never open it.
GSC helps you improve your rankings in search results. You can track your keyword movements country-wise and device-wise.
Visit it at least once a week to understand the keywords which are working well for your site. Check the countries where your blog is performing well and figure out the improvement areas.
It also tells a lot about technical performance as we discussed above. You can check various core web vitals of all your blog posts. Is it loading well within the time in the real world? You must figure it out today.
GSC is also helpful in understanding the links you are getting from other sites. You can disavow the links which are Spam. Check out your Robots.txt if it is blocking search engines from crawling your site.
You will find endless opportunities and improvement areas, which if taken care of properly, your blog will grow for sure.
Finally, What we have learned from this Blog Guide?
What is a Blog?
The blog is a structured online journal or a web page you create for your audience and update it regularly. It can be a Personal Blog or a Professional Blog or a mix of both. You don't need to be a web expert or a writer to start it. Casual and easy-to-understand local use of language is preferred.
What is a blog used for? 
A blog can be used for a variety of purposes and that totally depends on someone who has created it. You can share your expertise, knowledge, and even beliefs with your audience. It can be any engaging content that is liked by a set of people. It can be a recipe blog, sports blog, finance blog, or automobile review blog. If you have a vision and passion, you can earn with Blogging decent money and fame by regularly publishing the content to grow your blog.
What are some free blog sites for 2022?
You can start your blog on various sites today. Mostly all Blog sites have free and paid options both. You can choose which option works best for you. Paid options are advisable if you want complete freedom and no restrictions. 8 Blogging platforms are listed below – 
1. Blogger.com
2. WordPress.com
3. WordPress.org
4. Medium.com
5. Tumblr.com
6. Wix.com
7. Squarespaces.com
8. Reditt.com
Is it profitable to start a blog in 2022?
Yes, of course, with the continuous rise in population and advancement in internet technology like high-speed Wifi, 4G, etc, the number of Internet users is bound to increase. With more and more people preferring the internet as a medium of entertainment, learning, and engaging with everyone, the requirement for content will also increase. 
Is Blogging advisable for Beginners?
As I mentioned above, you don't need to be a web expert or designer today. Various platforms like blogger or WordPress offer a simple drag and drop type of option to create a blog easily. In case you are still not sure, I would advise you to start with a free version.
You will have limited flexibility there but still, you will not have anything at stake except for your time invested. In case there is no budget issue and you have an optimistic approach towards things, start with the low-cost paid options, Mentioned above.