WPX Hosting Review to help you understand its features, plans, pricing, pros, and cons. Expert Reviews along with customer feedback evaluating WPX web hosting supported by live tests.
WPX is a very good hosting for all types of small and large businesses. WPX is one of the fastest Hosting [offering in-house CDN] as WPX has its own CDN servers.
Let's discuss more in detail about why the user should go for WPX Hosting and what are the main features and facilities that are provided by this famous WordPress Host.
Overview! What is WPX?
WPX hosting is one of the best hostings that offers you Managed WordPress Hosting since 1998. WPX is the hosting website that focuses on the speed and reliability of the Website.
The WPX Hosting is based out of Bulgaria, Europe.
They started focusing on Speed, Simplicity, and fast customer support in 2013 because they don't want their customer should face any problem regarding their hosting plan.
Fast Speed comes with CDN. So when it comes to CDN, you will glad to know that WPX has its CDN where other cheap hostings use Cloudflare CDN servers.
In this modern era of the internet, your website plays a vital role in your success. You can earn a lot from these websites in this era if you have the proper knowledge and know-how to use available resources.
It doesn't matter what the purpose of your website, your website should be fast and meets the user requirements in a short time.
When it comes to fast hosting websites, the one word that comes into our mind is WPX HOSTING.
Wpx Plans and Pricing
Every company wants to put its product neat and clean in front of their customer, that what Wpx Hosting does.
WPX doesn't want to make it complicated for the customer to be confused between the different types of plans.
They have only three simple and best plans, the difference is in these plans are the number of websites you can host, bandwidth, and the access of storage you're getting.
The three hosting plans of Wpx hosting are explained below: –
1.

Business Hosting
WPX Business Hosting is the best hosting for those users who have less number of websites and have a decent amount of traffic.
This Hosting Plan gives you 5 Websites, 10GB of storage, and 100GB Bandwidth.
The Business Hosting Plan is for $20.83/month(if you buy a yearly pack) otherwise $24.99/month.
2.

Professional Hosting
As the name says Professional Hosting, this hosting plan is for the big websites that have a large amount of traffic.
The user should go for this hosting when they are going to run heavy websites.
Professional Hosting Plan offers you 15 Websites, 20GB of storage, and 200GB of Bandwidth.
The Plan is like $41.58/month(when paid yearly), otherwise $49.99/month.
3.

Elite Hosting
Elite hosting a very expensive hosting plan in comparison to all other hosting plans.
You should only go for this hosting plan when you have to run a very big and large website and also having a high amount of traffic daily.
This Hosting plan is so expensive because under this you are provided with 35 Websites, 40GB of Storage, and UNLIMITED BANDWIDTH.
As I told you that Elite Hosting is an expensive hosting plan, this hosting costs you $83.25/month(if you paid yearly), otherwise $99.00/month.
Business

Professional

Elite

$20.83/month,


When you pay yearly or

$24.99/mon.
$41.58/month,


When you pay yearly or $49.99/mon.

$83.25/month,


When you pay yearly or $99.00/mon.

5 Websites
15 Websites
35 Websites
10GB Storage
15GB Storage
40GB Storage
100GB Bandwidth
200GB Bandwidth
Unlimited Bandwidth

WPX CLOUD CDN

WPX CLOUD CDN

WPX CLOUD CDN
One of the key points of Wpx hosting is that it offers 30 Days Risk-free trial, so the customers can check and examine their service before purchasing a complete package of hosting plan.
This directly points that how transparent the WPX wants to be with their Customer. You can check the trial version and then go for the full package.
Wpx Features
Wpx hosting provides you every single feature that a Hosting Website should provide.
Here for your information, I am highlighting some of the features that are provided by Wpx : –
Page Load Speed

99.95% Uptime Guarantee

WordPress expert

Hack protection and removal

Daily backups

DDoS Protection

24/7 Quick Support

Inhouse CDN for FREE

Confirm Daily Backups

FREE SSL

Unlimited Site Migrations

Staging Area

30 Seconds Average Support

Free Email Setup

Daily Malware Scan
Let's discuss some of these features in detail so you can easily understand that what exactly the WPX hosting offers you.
1. Page Load Speed

:
For marketing purposes and showing them best, every Hosting site says that they provide the best page loading speed.
But how many of them do that, so here I am attaching the speed test of Wpx hosting.
Our finding using tool bitcatcha.com, we have found that the average response time of WPX Hosting is 5ms, which is not even 1/100th of a second.
So there is no doubt that WPX hosting provides you the fastest Page Loading Speed on all their servers or datacenters.
Bitcatcha tells you the response time from the server and gives you the information.
We also tested the same site on pingdom.com to get the full page load time and we found that the full page is loaded in approx 1 second, which is not so much time.
Here I attached the image of the test result for you.
2.

99.95% Uptime Guarantee:
The WPX commits for 99.95% Uptime Guarantee. Before discussing this feature, let's have some knowledge about what is the actual meaning of Uptime here.
Uptime means is simply that how much time does your site's server up or active. You can check how Uptime impacts your site's performance using our Website Uptime Calculator.
3.

WordPress Expert:
Wpx hosting is also known for its expert support services in WordPress. This hosting supports WordPress very smoothly. The user will not face any lag while using it in Wpx hosting. It gives you a very clean and simple dashboard so you can easily understand that and can create your pages in a few steps.
4. Hack Protection & Removal:
Security is always the priority of any hosting provider. A customer always wants that their data is secured and cannot be attacked by someone. Wpx provides its customer with the best security services that protect the data of their hosting from hackers and other malicious activities.
5.

Daily Backups:
As the Wpx hosting provides you the security services, you should not worry about the security of your data.
But if once in a blue moon, you need to restore your site, then Wpx provides you the full daily Backups so that something happens then we are ready to restore the site data.
6.

DDoS Protection:
You might have seen everywhere that every good hosting provider provides you the DDoS protection, but the question is How it works?
See, DDoS means Distributed Denial-of-Service. WPX protects your website by using tools and techniques to overcome or protect your site from DDoS attacks.
7. 24/7 Quick Support:
I have to say that WPX Hosting provides you the 24/7/365 Quick Support. You can contact the representative via Live Chat.
They are always ready to help you, I can say that they will be there before you start typing your Query.
Here I asked some basic questions from them and they replied very quickly in comparison to many other hosting websites.
8. Inhouse CDN (FREE):
You will be shocked to know that WPX hosting does not provide you the Cloudflare CDN because they have their own CDN's in different countries.
Now the question arises, how it is good for us? So, WPX is not using any other's CDN service. If they use, then maybe the charge of their plan may be higher as now available, as they also have to pay for CDN to that company.
9.

Staging Areas:
Now, maybe this is something new that you heard. Most of the hosting companies do not provide Staging Areas for your web pages.
The staging area is a separate trial domain for your page so that you can test your website in its alpha version.
The user can create their pages and can test them before keeping in front of the public. So that the owner can check the speed and reliability of the website.
10.

Daily Malware Scan:
The WPX Hosting offers you the daily malware scan under their plans. What it does that your website is scanned daily for checking for any malicious activities, which is good for you and your website.
We have covered this key point in detail below.
Free Daily Malware Scanning & Removal
With WPX hosting, you are tension free as far as virus and malware related tasks are concerned. They will take care of malware scanning and removal every day free.
If you will not choose WPX hosting, ideally you should choose one of these Malware Removal plugins like – Malcare, Sucuri, and Sitelock.
But, how much cost do you think you will have to pay extra for these plugins.
| | | | | |
| --- | --- | --- | --- | --- |
| | WPX | Malcare | Sucuri | Sitelock |
| Cost of Malware Removal (1 site) | FREE | $99/year | $199.99/year | $149.99/year |
| Cost of Malware Removal (5 sites) | FREE | $259/year | $999.95/year | $749.95/year |
For your satisfaction, I am attaching some of the images which will tell you the exact rate of their hosting plans.
This price plan is of Malcare, you can read and check the prices and facilities under this image or from here.
Now, Here is the Sucuri Price List, you can check the detailed information about the plans from here.
At last, here is the price plan for sitelock, you can get the full detailed information from here.
So, when you buy a WPX hosting plan, then you get the FREE DAILY MALWARE SCAN facility that saves your lots of money and secures your website for free.
This is one of the best key points for why you should go for WPX Hosting because other Malware Removal Plugins charge you a lot of money for doing the same thing.
Why you should go for WordPress Hosting?
We know you are searching for the Best Web Hosting and most of your friends and colleagues have definitely advised you for Managed WordPress Hosting.
But by listening to others only, you should not choose a decision, you have to do your own research regarding every decision of your life and the tasks you perform.
So here we will discuss some main reasons for purchasing Managed WordPress Hosting.
Automatic Backup for Data Protection
Choosing a Managed WordPress hosting is good for you as you get the daily Automatic Backups of your Website. What in case, if you lose your all website's data and you don't have a backup.
So for those crucial situations, Managed WordPress hosting provides you the automatic daily backups of your websites.
Security is Always On
Just think like that may be in the future your website is attacked by hackers and you get some malicious malware on your website.
So for that critical situations, Managed WordPress Hosting automatically secures your website from those attacks and activities.
Managed WordPress means Fast Performance
We can say that Managed WordPress Hosting means higher performance.
The word itself says Managed, the WordPress hosting you will buy is designed by keeping the needs and comfort of the customers.
Managed WordPress Hosting is so user friendly so that the user can easily work with WordPress.
Test Your Site Before Publishing (Staging)
As we discussed above in the features, Staging is a feature through which the user can test the website in the development stage.
Managed WordPress allows you to perform Staging. You can test your site before launching it in front of all users of your website.
How your Hosting affects your Website?
To deal with one Hosting from the number of Hosting Providers is not an easy task. So there is a number of Hosting Providing Companies are available in the market that offers the hosting at very cheap cost and some are of the very high cost.
But here the question arises that why some of them are cheap and some of them are very costly as they are providing the same number of websites to host.
Your hosting affects a lot on your future websites. Whenever you opt to choose a hosting plan you should check all the features that your hosting provider offering you, either it comes to CDN, SSL, Bandwidth, security, backups, and many other important things.
These things affect a lot in speed, reliability, and flexibility of your website. So, in the future whenever you are confused between choosing a plan for your website, please read all the features that are provided by that Hosting Provider.
WPX – Pros and Cons
We know that WPX is a very good hosting website and providing its users with very good facilities. But as I always say, A coin has two faces.
So, let's discuss the pros and cons of WPX Hosting.
Pros of WPX Hosting
WPX provides a Free SSL service to all the users.
The User has the option of the staging area, which means the user can test the page or website before publishing it live.
WPX commits for 99.95% Uptime Guarantee.
WPX has its CDN servers for better performance and speed.
The fastest 30 seconds average quick customer support is provided by the WPX.
You get the daily Malware Scans of your full website.
Cons of WPX Hosting
WPX is the best hosting but expensive. So for those who want to have WPX hosting but can't afford as the hosting plans are so expensive.
Email and Telephone support is not available.
WPX provides you its dashboard, and you do not have the option of cPanel for managing your sites.
No single site hosting, WPX does not provide you a single website hosting plan, which is not good for some customers because multiple hosting of websites increases the cost of the plans.
Free Professional Email by WPX
Yes, it's true. WPX provides you the free Professional Email support. A professional Email includes the name of your business in it.
If you are running an online business and you don't have a professional email then you may face a problem in your business profiles.
Let's understand this with an example: –
So, raj@hindshoes.com is a professional email, here Hind Shoes is the name of his business. These types of emails create a positive image of your business in front of your customer. Needless to say, they look professional and make sense for all business-related communications.
Most of the Hosting providing companies does not offer you the FREE Professional Email service but, WPX gives Professional email service to you for absolutely FREE of cost.
WPX Hosting and its Alternatives
WPX is one of the best hosting providers and it provides you several awesome features like,
24/7 Customer Support

Inhouse CDN

99.95% Uptime Guarantee

Daily Malware Scans and many others.
So here, please check this out that what WPX offers you in comparison to the other hosting providing companies.
| | | | |
| --- | --- | --- | --- |
| | WPX Hosting | Kinsta | WP Engine |
| Monthly Cost | $20.83 | $30 | $25 |
| Free CDN | Yes (Inhouse) | Yes (but 3rd party) | Yes (but 3rd party) |
| Effective Support | Excellent | | Average |
| No. of websites | 5 | 1 | 1 |
| Full Backup Manager | Yes | Yes | Yes |
| Staging Area | Yes | Yes | Yes |
| Domain Transfer | Yes (unlimited) | Only 1 | No |
| Malware Scan | Yes, Free and Daily | Yes | No |
| DDoS Protection | Yes | No | Yes |
| SSL Certificate (Free) | Yes | Yes | Yes |
| Website Load Time | 1.28s | 1.29s | 2.02s |
| Trustpilot Rating out of 5 stars | 4.9/5 | 4.7/5 | 3.3/5 |
InHouse CDN of WPX
WPX offers you the free Inhouse CDN. Now the point is every Hosting Provider is offering you the free CDN but what's new in this FREE Inhouse CDN.
So for your kind information, if you are looking for the best transfer speed using CDN, then you should know that WPX has its own pre-configured highly optimized, and synchronized CDN servers across the world.
Benefits of InHouse CDN: –
Having its CDN means that they have full control over the CDN, so when our hosting controls our CDN then definitely we will get better performance through CDN's.
More Secure Network, most of the website hosting providers use third-parties CDN's to provide you the better performance, but when we have our own CDN's then the chances of security raises by 10%.
WPX – Customer Support
As of 2013, WPX is focusing on its customer support service and yes they are very excellent in that.
They provide their customers the quick and informative support. The live chat support is available in WPX hosting, and yes the representative is ready to answer you within 30 seconds.
I am attaching a chat that I have done with their representative, there you can see how quick and efficient the answer is.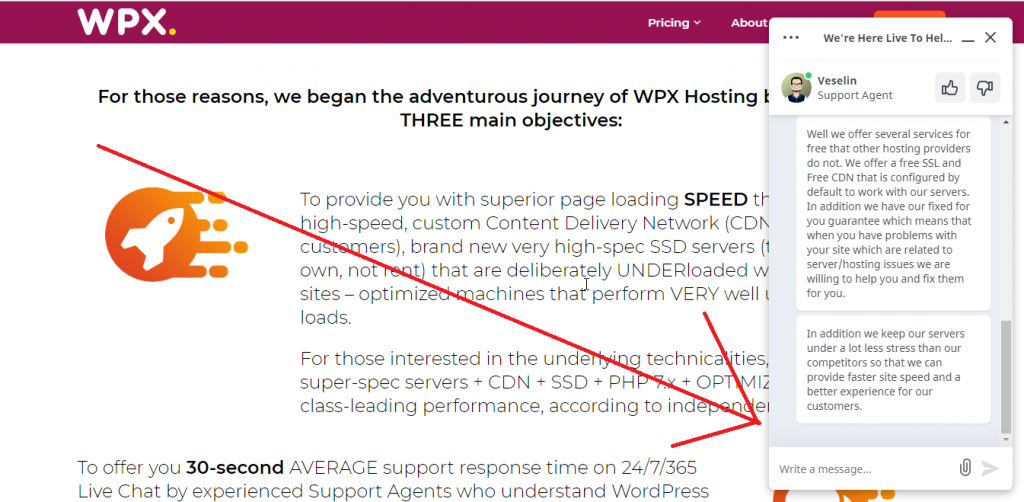 I must say that the user will not face any type of problem with their customer service support.
They are very helpful, knowledgeable, fast, and kind. If I have to rate their customer support service, then I will give them 5 out of 5 stars.
What users say about WPX?
WPX always tries to satisfy its customers by providing the best and top facilities so that they can fulfill the customer's needs.
Approx 98% of WPX users are satisfied with the service of WPX Hosting and rated them best for the Hosting Provider.
Here I am attaching the user's rating and reviews for your satisfaction so that you can read and opt to go for WPX Hosting.
These reviews are from Trustpilot.com, you can also check these reviews from this website.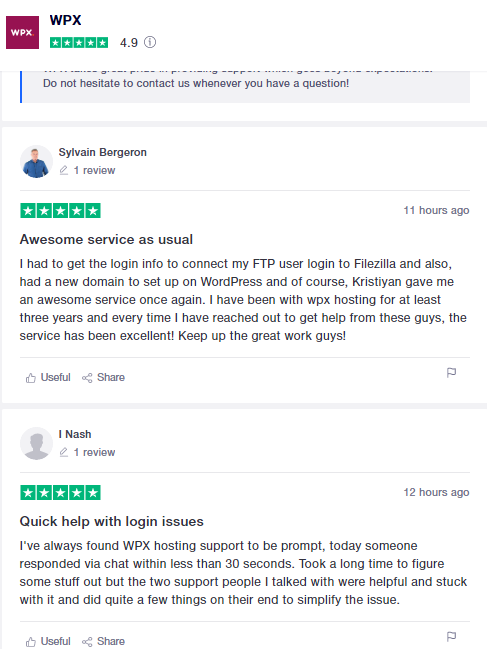 So, after going through all these ratings and reviews, we need to say that WPX is one of the best hosting websites providers in this world.
As that rating chart shows that 97% of users give Excellent rating 1% for good and 1% on average, which is very excellent for us.
FAQs – WPX Hosting
Although, now we know all about WPX hosting, let's go through the most asked questions by the users about WPX Hosting. So, without wasting more time on reading let's directly jump into the FAQs.
What is WPX Hosting?
WPX Hosting is a complete box of a bunch of top and best features that are very very beneficial for both the small and big business owners or entrepreneurs. WPX protects your website for DDoS attacks for free and has its CDN that they provide free to their customer under their Hosting plans.
Is Wpx hosting good?
Yes, Of course, WPX Hosting has all the top features, and they provide you the personal free CDN in their plan, free SSL, minimum 5 websites to host, and full free daily backups and malware scans.
WPX Hosting Pricing?
WPX gives you a bit expensive plans but you get the value for your money with their features.
| | |
| --- | --- |
| Name | Pricing |
| Elite | $99/month |
| Professional | $49.99/month |
| Business | $24.99/month |
WPX Hosting Coupons?
We understand that it is not so easy to build a WordPress website with a low level of budget. So, for your comfort, the WPX also provides coupons to help you.
Here I am sharing with you the Monthly Coupons of WPX Hosting: –
2141#changeseeker (90% Off on all Monthly Plans)
BloggersPassion (50% Off on monthly plans)
2MonthsOff (Pay for 10 Months and Get 12 Months Hosting)
BlackFriday (WPX- Black Friday- Get 6 Months Off on 2 years Hosting Purchase)
166OFF (Save $166 [2 months Free] on WPX Elite Hosting. Also available on Professional and Business plans.)
82OFF (Save $82 on WPX Professional Hosting [2 months free on Annual Plan])
Does WPX Hosting Provide CDN?
Yes, of course, WPX Hosting provides CDN to their customers even the WPX has their CDN servers, they do not use any 3rd-party's CDN for their customers.
When your hosting company provides you their own InHouse CDN, then the speed, reliability, and security are automatically increased.
Conclusion about WPX Hosting
WPX Review Summary: WPX is beginner-friendly, highly secured and affordable managed WordPress Hosting. Its customer service offers quick 30 seconds response time. We tested it and found it as one of the fastest host with inbuilt CDN and automated backups.
After going through all the above information and my research on WPX hosting, I must say that WPX is one of the best hosting providers that is built for WordPress.
Starting a new WordPress website for the beginner is not easy, the three simple plans make the customer easier for you to choose the best plan as per your needs.
If you want to start a new online business or offline business and want to create a website for your business in 2021, I will suggest WPX hosting because of its best features and facilities.
There are some reasons why you should choose WPX hosting like you get several websites to host according to your hosting plan. You also get InHouse CDN (i.e., WPX's CDN servers which increases the reliability and speed of your website), and a lot of facilities like Free SSL that WPX provides you.
As compared to starter shared web hosting, WPX hosting not comes in cheap hosting. Yes WPX is expensive and comes with a minimum price plan of $20.83/month that allows you to host a maximum of 5 websites.
If you want to improve your website speed and overall user experience, you should go for WPX Hosting.
More for you – Hosting Reviews | Hosting Discount Coupons | Black Friday Hosting Deals | Home | VPS Black Friday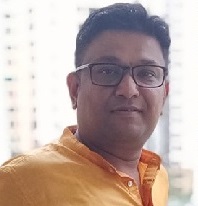 Seasoned Professional with 15 years of experience in Sales and Marketing. Entrepreneur, Consultant and Blogger helping people earn through jobs and blogging. Experienced Hosting Reviewer who likes to collect detailed info about existing players and share it with my audience. Previously worked with leading Banks and Telecom Companies.
I completed my Masters in Management with specialization in Finance and Marketing.
Visit our Hosting Review and Blogging Guide for more interesting articles.