If you are looking to compare Detailed VPS vs Shared vs Cloud vs Dedicated Hosting, you must read this article. We have elaborated on the definition, Pros, Cons, and Key Players in the market.
As we know for every online business, Web Hosting plays a vital role. You may be looking at creating a Blog or a Personal Website, you will have to buy hosting that suits your requirements well.
Shared, Cloud, VPS, or Dedicated Hosting basically are the server configuration types where the configuration, features, and server access rights are different. So is the difference in their Pricing.
Be it any hosting type, each of them has its own Pros and Cons. For example, shared hosting is the best fit for low-budget and low-traffic websites, but a misfit for heavy-traffic sites.
Similarly, Dedicated Server Hosting is one of the best hostings, but it is not an affordable solution for everyone and is suggested for large projects only.
Let's take a deep dive and look at the comparison between VPS, Shared, Cloud, and Dedicated Hosting.
What is VPS Hosting?
VPS is a Virtual Private Server that gives you complete control over server resources Virtually. Most of the VPS hosting providers offer you a dedicated slice of resources like RAM and CPU with access to root.
When you have root access, now you can install and operate any Operating System [Linux or Windows] as per your needs.
Please note the other tasks like server's physical management, electricity, and hardware-related tasks are performed by the hosting provider only. They ensure that the server is physically up, live, and running as per the SLA.
Pros of VPS Hosting
Dedicated RAM
Dedicated CPU
Dedicated IP
Server Control
Reliable
Cons of VPS Hosting
Costly as compared to Shared Hosting
A bit tough to configure and handle for beginners
Whom do VPS Hosting is recommended?
This may be the next level of Shared Hosting. If you wish to upgrade the plan due to the Shared Hosting plan's limitations, go for VPS. Also, if you are looking at higher resources in terms of RAM and CPU, VPS hosting will be the right choice.
If you are just starting a new website project, we recommend starting with Shared Hosting.
Best and Affordable VPS Hosting Providers
This is a tough task although to define the words like Best and Affordable when it comes to related them when Web Hosting. Every user will have different requirements and budgets.
Similarly, every web hosting will have several features that might be useful or useless to many.
Still, the Best and Affordable VPS web hosts as per our research are as follows –
Liquid Web – The Best VPS Hosting [Starting Price $35 per month]
HostGator – Affordable yet powerful VPS Hosting [Starting Price $19.95 Per month]
Suggestion- VPS is suggested for professionals or established sites as it is a bit tough to manage if you are not a technical expert. If you are just starting a new project, start with Shared Hosting. We have discussed shared hosting next.
To understand VPS even better, we recommend you to read VPS unlimited bandwidth, VPS pricing and Cheap VPS providers
What is Shared Hosting?
Shared Hosting is a beginner-friendly fully managed plan where multiple websites access the same server resources and hence the cost is split between many.
In simple words, your website files will be saved in a server where already multiple sites are hosted and all of them are using the same RAM, CPU, SSD etc.
Since the server is used by multiple website owners, you get its advantage over the cost parameter. It is the cheapest web hosting solution.
But, the flip side is speed, security, and uptime. For example, if someone else's site on your server witnesses sudden traffic spike, your website's speed will also get impacted negatively.
Largely, if you will see, Shared Hosting is a budget-friendly option good for low-traffic sites and startup businesses.
Shared hosting as compared to VPS and Dedicated Server, is quick to start, cheaper to own, and easy to manage especially for someone who is not a geek and doesn't need too much of resources.
Today if you will opt one of our recommended Shared Hosting Providers [See the list below], you will still get unlimited bandwidth, higher RAM and CPU, with almost 99.9% uptime.
Pros of Shared Hosting
Highly Affordable
Easy to managed
Quick to start [kind of Plug and Play, Just buy and start]
Scalable [easier to upgrade without any downtime]
Freebies like Free Domain, SSL etc are available.
Same level of customer service as it is in other plans.
Cons of Shared Hosting
Shared resources may sometime negatively effect the website speed.
No possibility to increase a individual resources like Ram or CPU.
Prone to get Virus Infected if any of the site on the server gets impacted.
Whom do Shared Hosting is recommended?
Shared hosting is good for personal blogs, new projects, and all low-traffic sites where too many resources are not required.
Many of the bloggers use WordPress today, simply because they don't know coding and technical stuff. Entire server and day to management-related tasks are managed free of cost by a Shared hosting provider making it easy for non-technical users to operate without any issues.
Obviously, it's good to start with a budget-friendly web host. Just build your project and scale it to VPS or Dedicated server when you start getting some traffic.
Best and Affordable Shared Hosting Providers
We have chosen one of the fastest and most reliable Shared Hosting providers where you will get all the basic features with great uptime and page load speed.
Our recommended Best and Affordable Shared hosting are –
FastComet – The Best Shared Hosting with almost everything you need.
GreenGeeks – Powerful hosting with free domain
Suggestion- Shared Hosting is good for non-techies and startup websites. If the traffic is low, you don't need to buy an expensive hosting plan, and hence Shared Hosting suits the best. Once your traffic starts growing, consider Cloud or VPS plan for an upgrade.
For admin-related tasks, you can easily manage through cPanel for WordPress that comes builtin usually.
We also recommend you to read blogging for small business guide.
What is Cloud Hosting?
Now we will discuss Cloud Hosting. Once you will read it you will get to know the difference between Shared, VPS, and Cloud Hosting Plans.
So, Cloud Hosting is the latest and one of the most reliable web hosting solutions where multiple servers are pooled as a cluster and operate as single units. In the case of a particular server malfunction, there is absolutely no impact on the website performance as other servers take control. This helps in load balancing as well as improved uptime.
Cloud Hosting can be managed and unmanaged both. Google and AWS offer cloud computing which is a bit difficult for beginners to operate. However, third-party companies like Cloudways offer you managed solutions.
You get 100% managed and hassle-free Cloud Hosting from Hostinger.
Pros of Cloud Hosting
Excellent Uptime
Load Balancing, to offer fast page load time
Good for sites where sudden traffic spike is expected
Dedicated IP address
Dedicated Resources – Memory, CPU, Storage etc.
Scalable – It's easy to add individual resources like RAM, etc as and when required.
Cons of Cloud Hosting
Not every Cloud Hosting is secured. If the server is overcrowded, safety is still a concern.
If it is unmanaged, it is not easy for new website owners to configure the server.
Not all plans are budget friendly.
Whom do Cloud Hosting is recommended?
Irrespective of size, for better uptime and speed, any website can use Cloud Hosting. Yes, If budget is a concern, you may find it slightly out of pocket but otherwise, it is a go to solution for every blog or website.
If your business is dependent upon the website, choose Cloud Hosting. It is always an argument between the users regarding VPS and Cloud hosting, to find which one is better.
We would rate it slightly better than VPS as the benefit of Cloud with Cloud Hosting is always better. Depending upon the knowledge, need, and experience, you can pick the one for you. Compared with shared Hosting, definitely Yes, Cloud Hosting is far better.
Websites like E-Commerce stores, Affiliate sites also use Cloud Hosting.
Best and Affordable Cloud Hosting Providers
Our recommended Best and Affordable Shared hosting are:
HostGator – Managed Cloud Hosting which is a trusted solution, affordable and easy to operate even for beginners.
Hostinger– Choice of multiple websites in a single plan with affordable rates. [Free domain]
Suggestion- If your website is critical for your business to function, choose one of the two web hosts. Prices are obviously higher as compared to VPS and Shared hosting but managed Cloud Hosting will offer seamless performance to your project.
Read best cloud business hosting to learn about the popular server providers in this category.
What is Dedicated Server Hosting?
Dedicated Server Hosting is exactly the same as its name suggests. The entire Server both physically and virtually is allocated to you and works exclusively for your websites.
There is absolutely no confusion about your access rights over the server resources. All you have on the server is all yours.
With Dedicated Server, you get full root access, choice of resources you want to deploy, choice of OS like Linux etc.
To Summarise, one server is operated by one business customer only.
Pros of Dedicated Hosting
Full Root Access and Control
Highly stable and secured
Customization related to Hardware and Software is possible
Dedicated IP address is included
Resources like Memory, CPU, Storage etc are not shared
Reliable, Scalable, and Fast
Cons of Dedicated Hosting
Expensive, however, cheap Dedicated Hosting plans are also available
If it is not managed, it is not easy for beginners to manage the entire server
Whom do Dedicated Hosting is recommended?
We recommend Dedicated Hosting for business websites or Ecommerce sites generating 20k plus daily traffic. Traffic below this can be managed easily with VPS as per our experience.
Sites, where the demand for uptime, speed, and security is high, should choose Dedicated hosting.
Corporate sites always look for full root access and complete control over the physical server. Simply because they can decide the time to upgrade, perform security check on their own and choose the preferred operating system.
We would rate it one of the best hosting solutions available today to host a website. If you have a team or know-how yourself, choose a bare metal server that offers blazing fast speed.
Best and Affordable Dedicated Hosting Providers
Our recommended Best and Affordable Dedicated hosting companies are –
Liquid Web – World Class Dedicated Hosting starts at $169 a month
Namecheap– Offers affordable Dedicated Hosting starting just $48 per month.
Suggestion- Once the website starts getting traffic and you need higher resources to meet traffic requirements, Dedicated Hosting is the last resort for you.
We are sure that our doubts about Hosting are now clear. The difference between Shared, VPS, Cloud, and Dedicated Hosting is no more a puzzle for you.
Note – In case you still have doubts or you want any suggestion on which type of hosting you should choose, just ask us using the comment section below.
Related – Web Hosting Coupons, Web Hosting Black Friday Deals, Web Hosting Reviews, Home
Quick Comparison: Shared vs Cloud vs VPS vs Dedicated Hosting
We discussed all the web hosting types above in detail. Now we will understand the difference between shared, cloud, VPS, and dedicated hosting through this easy table below:
| Hosting type | Speed and Uptime | Price | Security | Control |
| --- | --- | --- | --- | --- |
| Shared Hosting | Low to Medium | Low | Medium | Low |
| Cloud Hosting | Medium to High | Low to Medium | Medium to High | Low |
| VPS Hosting | Medium to High | Medium to High | Medium to High | Medium |
| Dedicated Hosting | High | High | High | High |
Hope this table will clear all your doubts and confusion about the different types of hosting.
Is WordPress Hosting Different from Shared or Cloud Hosting?
WordPress Hosting is for those who are looking to start Blogging with WordPress. It may be one of the two – Shared or Cloud Hosting but highly optimized for WordPress CMS.
Biggest advantage is that most of the services like Plugin or Theme update, Core update, etc, that is managed centrally by the hosting company.
Depending upon the plan, the server however may be Cloud or Shared.
Summary: Shared vs VPS vs Cloud vs Dedicated Hosting
So as we have detailed in the article above, Shared hosting, VPS, Cloud, and Dedicated Servers, all are different from each other on the basis of resources they allocate to you. Also, they are different on the basis of server access rights provided to the user.
Shared Hosting gives you a fully managed environment but limited resources and that too is shared between multiple users.
VPS Hosting gives you the rights overs fixed server resources sliced virtually as per the package. You own full root access rights but mostly it is not managed centrally [Managed VPS Plans are available separately]
Cloud Hosting is however differs in its features from one hosting to another. For example- Google Cloud hosting offers a cloud computing environment that is highly reliable as multiple servers act as a single machine giving you more safety and speed.
If you will see the Hostinger's Cloud Plan, it is a kind of hybrid hosting which has both the features of Shared and VPS hosting. Server type is shared there but you get virtually split fixed Ram and CPU.
Dedicated Hosting is one of the costliest hosting types but highly reliable. You own a server both physically and virtually. Enter server rights that belong to you and no other user or website uses that.
One of the fastest hosting types with the highest security and uptime.
Don't forget to read out web hosting comparison page.
Related: Rust Server Hosting For Gamers | Ark Server Hosting For Gamers | Best Minecraft Hosting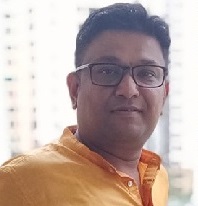 Seasoned Professional with 15 years of experience in Sales and Marketing. Entrepreneur, Consultant and Blogger helping people earn through jobs and blogging. Experienced Hosting Reviewer who likes to collect detailed info about existing players and share it with my audience. Previously worked with leading Banks and Telecom Companies.
I completed my Masters in Management with specialization in Finance and Marketing.
Visit our Hosting Review and Blogging Guide for more interesting articles.