Are you looking for a Catchy Business Name or an Exciting Name for a Blog?
Find Best Domain name Ideas and Name your Blog for Free accordingly as per availability with our Blog Name Generator Tool in 2023.
Unique Business and Blog Name Ideas. Simple, Creative, and Easy tool to generate 1000+ Blog and Business Names quickly and for free. As per availability, It automatically generates domain name suggestions for you. Be it a Personal Blog, a Blog for Business, or an Online shop or store!
Scroll below to meet the Coolest Tool to generate over 1000 Blog and Domain Names!
Planning to start your Website and need a Unique Name Idea? This Blog Name Generator Tool will help you find Catchy and Attractive Blog Names [As per Available Domain]. A Catchy company name generated by our free tool will surely get you a lot of popularity.
If you are planning to launch your new Blog or Website, you need a Name that is easy to remember and tells everything about your blog. It also helps you book your domain in easy steps. 
Our Tool allows you to check your blog name on the basis of your Personal Name, and existing business with suffixes, prefixes, and automatic options. Simply select Language and Domain extension. 
Note – Our Blog name Generator tool supports 10 languages (Also – TLD and SLD for unlimited Ideas).
Best Blog Name Generator to get Catchy Domain and Business Name Ideas in 2023
Here is your Free Tool, START PLAYING
Automatic Suggestions
Results
Simple Process to Generate Blog Names -
a) Choose any of the 5 options given below - Automatic Suggestions, Existing Business, Lets Spin, Prefix- Suffix Ideas and Personal Name Ideas
b) Mention the domains extension (TLD or SLD) you are looking for. For Example - .com, .org, .in etc
c) Choose your preferred language. We have over 10 Languages.
d) Click on Search
e) Register with the second tool below.
Your Blog name should be the best. Finding the best name for your blog or website is often difficult. But with this tool, you can generate multiple names. Once you get the desired Blog or Brand Name Ideas, just choose the one and book it quickly with our second tool on this page. Finding the name is useless if it is not booked on time.
This tool will display all available names which you can register easily for your blog.
Check Blog Name or Domain Name Availability
HOPE YOU HAVE CHOSEN YOUR A CATCHY NAME FOR WEBSITE AND ITS TIME TO BOOK YOUR FAVORITE DOMAIN.
TO BUY IT, SIMPLY ENTER BELOW AND CLICK ON SEARCH TO GO TO PAYMENT PAGE.
NOW BUY a domain starting at $0.88
How to Name a Blog 2023? | Tips to Select a Catchy Blog Name or a Business Name
We have a great tool on this page that automatically generates up to 1000 free and Unique Catchy Names for the Website. You can easily add Prefix, Suffix, Spin, and even find automatic Name suggestions for your New Website. With these Website Name Ideas, you also get a free tool to check the Domain Name Search and Availability. You can easily book your new domain starting at $.88.
Few Tips:
Select a Name that is close to your Business Type or Industry,
The website or Domain Name should be short and easy to remember.
Prefer Top Level Domain extensions like -.Com,.Org, .Net as per your country and niche.
Always choose unconventional names but the name should tell about your business too.
Cute and Catchy Names for - Websites, Business, Brands, Blogs like Travel, Lifestyle, Online Shop or Boutiques, Jewelry or any blogging site.
Best Domain and Hosting Offers to Launch your Blog
Once you are done with selecting the best name for your blog or website with the help of our tool, now the time is to book the Domain and Hosting.
Use the following articles which will save you cost and are helpful in setting up your first blog -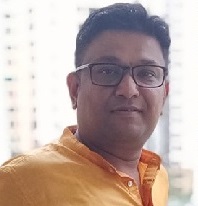 Seasoned Professional with 15 years of experience in Sales and Marketing. Entrepreneur, Consultant and Blogger helping people earn through jobs and blogging. Experienced Hosting Reviewer who likes to collect detailed info about existing players and share it with my audience. Previously worked with leading Banks and Telecom Companies.
I completed my Masters in Management with specialization in Finance and Marketing.
Visit our Hosting Review and Blogging Guide for more interesting articles.