But Do you know how to name a blog? Many people dream of becoming a blogger. To write about things they like, they are passionate about doing or even the ones they are learning. The reason could be any but the ultimate destination is to become a blogger.
Not too many gather the courage to start. But you are here thinking of executing this dream or plan of yours. You might be ready with all the ideas and content that you might want to publish but the question is where we all get stuck in deciding the name for the blog. The title of your blog is extremely important no matter if you find it or not.
There have been times when some of our readers asked us about the lack of clicks their post gets from ranking in the search engine. Surely the reason could be the name of your blog.
You might work hard for writing and creating content that is highly impressive and it still won't get any audience because your title was not attractive enough for the viewers. Don't let all your effort go to waste just because you did not put in crafting a title that could take up anyone's attention.
A quick list of Do's and Don'ts to follow to decide a good name for your blog:
| | |
| --- | --- |
| DO's | DON'Ts |
| Short | Long |
| Easy to speak | Complicated |
| Easy to read | Not related to topic |
| Niche keywords | Ordinary |
| Take a good dig | Not searching enough |
What Qualifies as a Good Blog Name?
Before starting up with your blog name search it is necessary that have a look at the criterias that qualifies for the blog name:
The one which gets everyone's attention
For you as a new blogger or writer, you don't have a dedicated audience that will wait for your weekly boog post. You will need to post content that is needed. But before that, you need to focus hard on creating a blog name that craves attention. This doesn't mean to end up making any random name. But an eye-catching name.
This will give you new viewers even if you are a novice in this game. Take inspiration from everywhere. Analyze yourself which kind of blog name took your attention from the first gaze. This is how you can get more clicks. Because without the clicks your blog will go unnoticed and your efforts in creating valuable content will go to dust. 
The one which doesn't twist the reader's tongue
I know people are saying it makes it unique, try adding weird or different vocabulary that is entirely alien to people. This does help you in becoming the center of their thoughts quickly but it will blow out sooner than anything. The reason is that you chose something which was not unique but difficult.
Don't try too many things on just one blog name because that will create a mess. You need a blog name not a new addition to the tongue twister examples. You should never use lengthy titles for your blog name. But the easiest one is accessible and searchable
Check what others are reading- Top 10 Free Blogging Courses
The one which will be easier to read and pronounce
Have you ever noticed that no matter how attractive or catchy something is we will choose something that will seem easier and simpler? The same is the case with blog names. You can find some complicated spelling or typical words appealing but it poses its charm when the reader cannot read it in one attempt.
Chances are they might not try twice and go along skipping it. Also, note if it is difficult to pronounce then you will have a hard time getting the marketing with word of mouth. Because you might have seen things or content getting famous just with spreading words. 
The one which expresses everything a reader would want
If your blog name is appealing and inviting then you will be able to bring more audience to your blogs. You can try many names but if it is not what your readers would want to see or hear then this will be an unsuccessful path. When a reader or viewer comes to your platform or gets your blog as a result of something then your efforts are going in the wrong direction.
Analyze what your reader's search and necessity talk about and include that in your blog name for a successful attempt. I have seen many new bloggers going up creating innovative names but their readers do not find it useful and it all goes to waste.
Points to Keep in Mind While Naming Your Blog
You might be putting a lot of hard work into generating the perfect blog name. Chances are that you might skip certain important factors that can influence the decision. Or might lead you the wrong way. So, here are some points that you should not miss at any cost:
Don't miss out on your audience's brain
You might be wondering that you are on your way to creating a new blog name which certainly means that you are new to this industry and you don't even have an audience. Then how am I to focus on my audience? Well, it's simple and you do it every day. You analyze your next travel destination or even your dress this way, that is, by watching other people's feeds.
There have to be many blogs out there of the same core you. See what the audience is talking about. The matter of their concern or question will lead you to the answers that you have been searching for. 
You might also like – 24 Lifestyle Blogs For Women
Don't miss out on your and your write-up's personality
You might be a new blogger but you must be blogging for someone else for a long time. Or even writing for your company or clients. This is the time that you are writing for yourself about the things you love, about your passion or learnings. Then it is necessary that your boog name also indicates the same. Yes, your style and personality.
This entirely covers your persona and your way of writing. There are many tones, voices, and types. Keep that all in your mind and make the name that represents both at the same time. This will help you connect better with your audience and they might get to know more about you with your content and as well as your blog name. 
Don't miss out on the main focus of your niche
This is one thing that we have noticed many newbies making. In their search of finding a beautiful and unique boog name for their blogging site, they end up losing the track of their niche. It is not new because the thoughts drag you from one point to another sooner than you think.
This is why you must focus only on the words and names that are related to your domain. Try making it more specific so that your blog name does not get a post in the crowd of random names or where your write-ups do not belong. You can simplify your process by only going for keywords that are related to your blogging niche. 
Steps to

Name a Blog

: 15 Simple Pointers to Ease the Process
Below I have mentioned some pointers to keep your process easy:
Treat it like your baby
This point might sound weird to you but believe me, this will help. Have you ever seen new parents searching endlessly for the name of their child? Yes, now you can relate. Your blog site will be your baby as well. The baby that you will nurture with hard work and love. So it is necessary that you also treat it like your baby.
The name will express everything that you want that blog to be. This is why people give in all the efforts in naming their baby because they will be known for and with that name. Treat it like your own child and you will justify the process.  
Our popular articles- Is WordPress Free In 2021?
Go traditional
Traditional is always classic. So here you can try out many classic ways of finding a new name. Like, bring that old dictionary of yours which you haven't used after your high school or the encyclopedia which can broaden the choice. But mostly the answer is read, read and read.
Because the more you will read the more words you will find that will be soothing to both your ears and eyes. You will find many books that only suggest names. But I will suggest going for the books that are related to your domain niche and you will find faster and better results for your labor.
Try making it funny
I know this might not make sense, but, this is what everyone thinks of funny things. That they are not sensible while these only are the things that make the most sense. Adding a bit of fun and charm to your blog name will only make people smile and click on your blog which is the ultimate goal of your journey.
Here, I am not suggesting to bring a joke to your blog name but try adding a tint of humor to make it more appealing to a wider part of the audience. At the end of the day, we all go for sitcoms and not documentaries.
Learn from the achievers
You have your own journey to cover and you're on a destination to reach. But you don't have to repeat the same mistakes that some of the successful bloggers made. Many have shared their experience of blog names which they regret now. Also, they will provide you inspiration for many ideas and thoughts. You can experiment with some of the existing blog names and create your own unique boog name with that source.
Other articles related to blog – How To Start A Blog in 2022?
Alliteration always works
If you are aware of this method then you know how well it works. Alliteration is something which in simple terms is a set of rhyming words. Not always with the sound but sometimes with the initials as well. This is good on the ears and is more tended to be remembered by anyone. The rhyming names sound like – easy-peasy or tall-doll.
The ones with initials are more professional and trending. It is used by many big brands and successful attempts.
The one example is "bugs bunny" both the words start with the same letter. This trend goes a long way back and still has its significance. Some simple examples for it are – lazy lad or tiny tales. You can use these for your blog name as well.
Write it all out
For someone new to blogging I won't suggest creating an excel sheet or do it digitally. Rather I recommend using a pen and paper to ease the process entirely. There might be many apps on our phones but when you use these pen and paper as tools again you can feel the difference.
You will find it more comfortable and easier. So every name or thought you have in your mind starts flashing it all out on the paper. These notes will take you to the name of your blog.
Follow the trend
Following the trend does not mean picking the viral thing. That could be a way for your blog's content creation but not for your blog name. The viral content might go off the track but a trend stays for a while. Use the trendy methods and names for your blog. With time after it is already in people's minds because of being with the flow, the name won't matter because then only the content and consistency will.
Change the trend
You might think that I am violating my suggestion from the previous pointer but this is a whole different suggestion. With this point, I am trying to explain not just follow the trend blindly but set it. If you pick something too trendy then your blog name might get lost in the crowd. Set apart your blog's name from them. But do pick the inspiration from the trend so you are not washed out.
Other blog related to blogging – 90 Awesome Blog Post Ideas
Try making it flexible
When you start a journey you will face many changes in your choice and interests. There can be chances when you would want to shift from your current niche to something else. This can change the game if your blog name is too specific. You might like painting and name your blog as coloring the world and now you want to become a book reviewer. Do you see how badly it impacts the impression on the viewers? So keep it flexible and think in every way before you name your blog.
Check if it goes with URL as well
You might decide on a blog name that is standing strong in all the aspects then you find that with the URLs it doesn't work well. That would be a hell of a waste of time and effort. You will be starting the whole process again. Instead, try it out with different URLs and domain extensions in advance so you don't regret it later
Use engaging keywords
For your blogging site, it must have the most used keyword in the name. This makes it searchable and more appealing to the viewers. The search engine results will also be affected by this step. Use the most usual and common keyword that is searched for your domain niche.
Try your own name
When you are putting so much effort into creating a blog site and finding the perfect blog name how can you even miss out on your name from the list. It can be both easy and tricky to find your blog name but if the luck is right you will find your name for the blog name as well.
Check what others reading – How to Start News Blog in 2022 
Bring in different languages
If you want to create then you can try out different languages as well for your blog name. This will make the name appear more mysterious and attractive. You should not go for uncommon words but familiar phrases or words from different languages that are commonly used.
The focus of your blog
The name's center's purpose is to fulfill the need to be expressive enough for your blog's style, tone, and gist. Whatever you are writing about the blog name must represent that. For example, if you want to be a gaming blogger then adding wanderer or lost in your boog name would be misleading for the viewer and audience. Words like tech, play, or field.
Take help from the experts
After all these efforts we are hopeful that you will find the perfect blog name. But if not then you just face the name creators or idea givers that will help you in generating a new blog name. There are many applications and tools available that can help you with it.
How to Generate Multiple Name Ideas for Upcoming blog or website?
Now, once you are done with the entire process explained above to brainstorm the blog name ideas, Here is the scientific method developed by us.
We have developed an in-house – Free blog name generator tool that will help you generate over 1000 unique names.
This blog name generator which is created by our team is completely free and helps new bloggers to choose creative names that are easy to remember. Not only this, our tools help you generate unique and creative names in multiple languages like English, Hindi, Spanish, Italian, German and various others.
Final Verdict: How to Name a Blog
We know that it's not simple to finalize a blog name because that is all your work and result but by following all these steps and guidelines you will have the luck of finding the right blog name.
Don't forget to include all the mentioned points and brainstorm as much as you can and you will find the right answer to this search.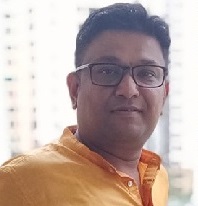 Seasoned Professional with 15 years of experience in Sales and Marketing. Entrepreneur, Consultant and Blogger helping people earn through jobs and blogging. Experienced Hosting Reviewer who likes to collect detailed info about existing players and share it with my audience. Previously worked with leading Banks and Telecom Companies.
I completed my Masters in Management with specialization in Finance and Marketing.
Visit our Hosting Review and Blogging Guide for more interesting articles.