Check the Detailed Performance Review on Rocket Web Hosting which offers unmatched "Managed WordPress Hosting".
In this Rocket.net Review, we have covered everything about the Rocket's features, plans, pricing, and overall performance.
Surely, after reading this, you will be able to decide about it without any further doubts in your mind.
Get detailed information on Rocket's Hosting plans [Rocket.net] for WordPress with key differentiators as compared to its peers.
Bottom line: Rocket.Net Review 2023 (Our experience of 2 years)
Rocket.Net is a premium hosting for WordPress websites that focuses on speed, security, and service.
For speed, they have full page caching through enterprise Cloudflare CDN that comes free.
For security, they have multi-level firewall protection powered by Imunify360. You also get hack protection and a recovery guarantee.
Service is instant, just log in and you get instant support 24×7.
If you are already hosted somewhere else, get an unlimited free migration now.
Get free daily backups this month.
Overview – Rocket Managed WordPress Hosting
Rocket.net is a Florida (United States) based specialized WordPress Hosting Provider promoted by seasoned Industry specialists like Ben Gabler (Ex Stackpath, Godaddy & Hostgator) and Aaron Phillips (Ex CPanel). So, as a company, they are new in the space but as a team of founders, they are veterans.
Now, as a company, Rocket offers a superfast Managed WordPress Hosting platform that is affordable, scalable, and secure too. They have designed their plans keeping in mind the size and requirements of new as well as high-traffic websites. You get a panel to control all most everything you want. For everything else, they have a 24x7x365 team available on call, email, and chat.
While creating this Rocket.Net review, we found that everything from installation to optimization is managed and hassle-free.
The infographics below confirm that with Rocket, you don't need to optimize anything in WordPress. All updates can be automated. In case you further need any help related to any installation, upgrade or optimization, you can reach out to the helpdesk.
Latest update: Rocket.net has got strategic investment from HostPapa. They are now more strong with experienced companies showing interest in their infrastructure and growth. Check out this official page as well as detailed news.
Review of Rocket.Net's Plans & Pricing
Check Rocket Hosting's Plans, Features, and Offers. We made a detailed comparison and our findings to make you understand which plan is good.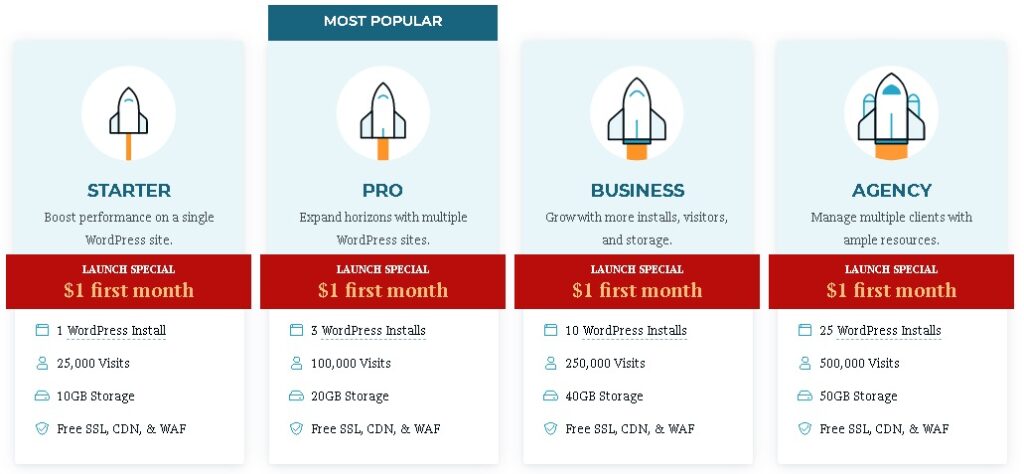 Starter – The entry-level plan supports 1 WordPress Install. You get Free SSL, CDN, WAF, and 10 GB of Storage. This plan can easily handle 250000 monthly visits which are sufficient for a new project.
This plan will cost you $25 per month. [Current Promo is $1 for the first month].
Pro: Next to Starter is Pro which is a deal for 1000000 visits per month. Supports 3 WordPress Installs in a single plan. Talking about storage, 20 GB is sufficient space allocated in this plan.
Pro is priced at $50 per month.
Business: This plan is for comparatively large projects as it allows us to host 10 websites in a single plan. 2500000 monthly visits are allowed. Seeing the requirement of 10 sites, 40 GB of space is allocated to the Business Plan's customers.
Priced at $83, we recommend it only for high-traffic websites.
Agency: This is the biggest plan by Rocket.net supporting 25 websites and 5000000 monthly visits. Space allocation is 50GB which may not be sufficient for 25 websites. It is around 2GB per website which will be okay for most customers, but not for everyone.
The Agency plan is priced at $166 per month.
You can try all the plans using $1 Coupon Here.
Apply Rocket.Net Coupon Code – CBH50 to get 50% Off.
Pros and Cons of Rocket.Net
For a better understanding of its suitability for your web hosting needs, we have now listed below all positives and negatives of Rocket Web Hosting. Let us have a quick view through our table below –
| Pros | Cons |
| --- | --- |
| Highly optimized Managed WordPress Hosting | Monthly Plans are costly however, the Promo offer of $1 covers that. Still, it's not a cheap host. |
| Global CDN caching with 200+ edge locations | The learning section or knowledge base needs improvement. |
| 3X faster page load speed | On-call support is not available to base plan customers. However quick chat and email support are more than enough. |
| Guaranteed Resources | – |
| 99.99% Uptime Guarantee | – |
| Web Application Firewall [No need of extra plugins] | – |
| Malware scan and Blacklist Monitoring | – |
| Daily Backups | – |
| Free Staging Installs | – |
| Free Website Migration and Malware removal for infected sites. | – |
| Enterprise-level CDN | – |
| 24×7 call, chat and email support | – |
| 30 days Money Back Guarantee | – |
| Automated Plugin, Theme and Core update | – |
Ease of Use: Mission Control
Look at the snapshot below. Rocket.Net offers easy to use customized Control Panel, which they call – Mission Control.
You can Launch WordPress, add domains, check traffic, Manage Themes, and Plugins. Other tasks like One-Click Staging, User management, Back and Restore, are just a click away.
Will give 9/10 for the overall interface and usability.
What Unique features does Rocket.Net's Mission Control Panel offer?
So, let us now have a look at some of the unique features of the Mission Control Dashboard.
BackUp Facility:
Creating a Backup is important to avoid any unforeseen event. In fact, you cannot avoid it but can reverse it by simply restoring the last known good backup.
With Rocket Managed WordPress environment, Automatic Backups and Manual Backups both are available on the dashboard.
Just click on "Create Backup" and the entire site as you can see in the image will be converted into a compressed zip Backup file.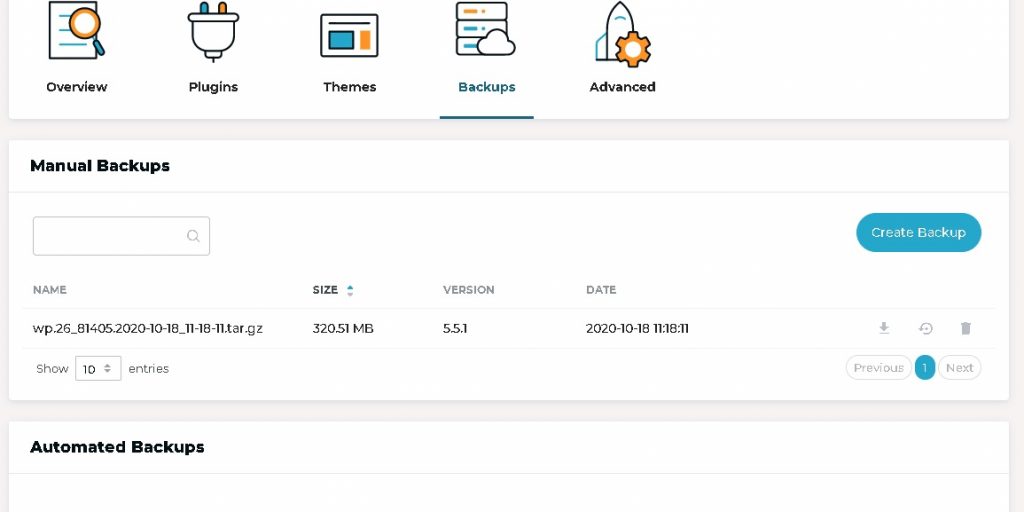 One-Click Staging:
This is a unique feature you only get in premium hosting services. Rocket.Net offers this service even in its basic plan free of cost and hassle-free. An Image below will tell you how quickly you can configure it with just one click.
For those who don't what is staging, we would like to describe it in brief here. The staging environment is basically a dummy environment to test the functioning of Plugins, Themes, or any changes you want to make on your website.
Sometimes, a plugin update can break your site, Hence, it's better to test the update in a staging environment first before going live with it.
Plugin Management:
Refer to the snapshot below, you can add, update and delete plugins from the control panel directly without any hassle.
Visitor Analytics:
You can check your daily visitors direct from the dashboard. There are three options, the Last 24 hours, 30 days, and 60 days. Knowing your traffic is a must today and many times we don't want to get into details.
This is a good tool to monitor the trend.
Server Locations and Network
During our research, we found that Rocket Hosting has 20 edge locations and around 200 Cache POPs. Rocket's own server locations are in North America, Europe, Australia, and Asia.
In order to get your site speed blazing fast, they further utilize CloudFlare Enterprise CDN which optimizes your site for speed and caches every single page to over 200 locations. The company claims that its platform is optimized for WordPress in such a way that you don't need any cache plugin.
From the image below, you will see the global map marked with its own edge locations and cache locations as well.
In order to get your site speed blazing fast, they further utilize CloudFlare Enterprise CDN which optimizes your site for speed and caches every single page to over 200 locations.
Do you know? Rocket.Net provides you premium "Argo Smart Routing" that detects the network congestion automatically and delivers your dynamic content 60% faster.
World's Best CDN Plan Comes Builtin
As we discussed above, Cloudflare comes built-in with Rocket. But do you know, you get Enterprise Plan by Cloudflare that costs $500 or upwards?
Rocket provides you with that for free which means:
Full page caching, Including HTML
TTFB less than 100 MS
Auto image optimization
Local caching of Google Fonts
Instant purge and update
Google has already stated that fast sites get priority in ranking. Using Rocket.net, you will get it for sure, else, you can ask for a refund.
Optimization by Experts for Speed
We all know the importance of speed in search engine rankings and overall visitor experience.
At the infra level, there is an option to choose between 20 server locations nearest to your major traffic. Above this, 200 cache locations by Cloudflare enterprise plan together with super-fast NGINX Servers + PHP7.4 support.
Now at the site level, with Rocket, you get expert help in stuff like theme optimization, Plugins related troubleshooting, and advanced troubleshooting. From the infographic below, you will see how they apply all the best practices to ensure your site loads faster than ever.
The result of the Speed Test Conducted Independently by us shows that its servers are super quick.
How we checked the speed of Rocket Web Hosting?
To check the speed, we used three tools. Bitcatcha. GTMetrix and Pingdom. We used all three techniques to be sure of accuracy for our visitors.
Our Findings from Bitcatcha speed test
We checked the server response time from one of our test sites and found that the servers of Rocket are "Exceptionally Quick". You can see the test results below where the response time is checked from the US, London, Singapore, Sao Paulo, Bangalore, Sydney, Japan, Canada, and Germany.
While the best response time recorded was 1ms from the US, the highest response time 6 ms was from Germany. The average response time is 2.6 ms. These numbers are now satisfactory enough to declare it one of the fastest hosts today in the world.
Page Load Speed Test Results from GTMetrix
The same site we checked [without any optimization] from GTMetrix's Canada location. Our site's server is in Europe, still, it managed to open within just 1.1 seconds. Without any effort, the PageSpeed score and Yslow Score are also 98%.
These results are awesome and far ahead of basic shared hosting.
Final Page Load Speed Test: Pingdom
Now comes the turn of our favorite and easy tool, Pingdom. We checked Asia's Tokyo location this time. The same page as the original server in London Europe loaded fully in just 173 Milliseconds. In case you still have any suggestions or doubts, please feel free to share using the comment section.
Uptime Test Results
We are monitoring Rocket's Managed WordPress Hosting for the last year and we are glad to share the 100% Uptime Result.
We are monitoring the uptime through Uptimerobot which is checking the servers every 5 minutes. This is what a good host is paid for.
Don't know how Uptime Impacts your website? Check out our Uptime Website Calculator to see what it means when your site is down even for .01%.
On Uptime, will give them 10 out of 10.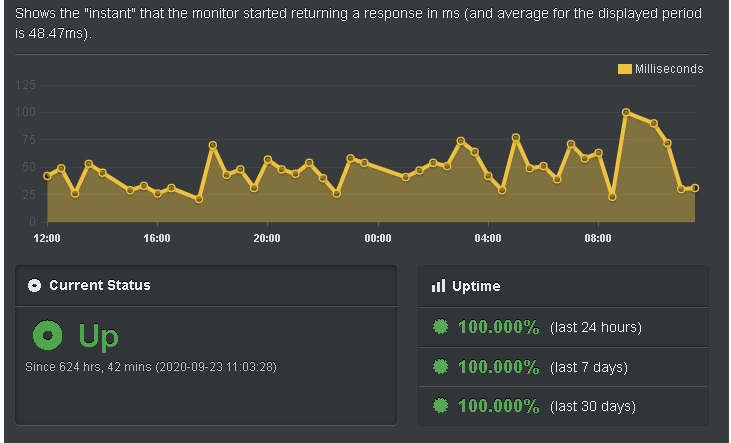 If you are in an affiliate or e-commerce business, you would not want even a minute's downtime during your sale
Get your Rocket.Net's web hosting trial now.
Review of Security Features
We are into the web development business for over 5 years now. If your website gets hacked, you either have to restore the backup resulting in data loss, or shell out up to $200 for hack recovery. Rocket provides you with malware patching for free.
Rocket hosting environment is highly secured. They use enterprise-level Cloudflare which is known for Advanced DDOS and Firewall protection.
With Rocket, your website is safe as the company claims to scan malware regularly and patch it too.
For security-related tasks like Bruteforce protection, firewall protection, etc, you don't need any extra plugins. This ensures better security at no extra cost.
FAQs about Rocket.Net
Let us now answer some important questions about Rocket.Net that our visitors asked us on social media platforms.
Is Rocket.Net a Managed WordPress host?
Yes. Rocket.Net provides managed WordPress hosting services and as per our experience, they are extremely easy to manage.
Is Rocket.Net better than Kinsta and WPX?
We are using Rocket.net for the last year now and we didn't experience even a single minute of downtime. Their service team is knowledgeable and helpful. Cloudflare enterprise version used by Rocket.Net provides better speed and uptime.
Verdict of Rocket.net Review – Do We Recommend this Web Host?
Honestly speaking, we are using Rocket.Net since last October and are extremely happy with their services. Our review results are positive about Rocket Managed WordPress Hosting.
We found in our Rocket.Net Review that the price you pay is reasonable for a fast and secure Managed WordPress suite.
If you look at its speed, uptime, security feature, cache and optimization support, etc, you will not mind paying $25 a month for it. There is no harm in experiencing the environment for just $1 for the first month.
We suggest you compare it with premium services like WPX, SiteGround's Managed WP, Kinsta, and WP Engine.
Final Verdict- Yes, We will Recommend Rocket Web Hosting.
Alternatives of Rocket.Net :
WPX Hosting [Read WPX Review]
FlyWheel Hosting [Read FlyWheel Hosting Review]
Bionic WP [Read BionicWP Review]
What else you can visit now?
Home | More Reviews | Hosting Coupons and Deals | Hosting Discount on Black Friday
---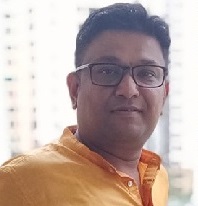 Seasoned Professional with 15 years of experience in Sales and Marketing. Entrepreneur, Consultant and Blogger helping people earn through jobs and blogging. Experienced Hosting Reviewer who likes to collect detailed info about existing players and share it with my audience. Previously worked with leading Banks and Telecom Companies.
I completed my Masters in Management with specialization in Finance and Marketing.
Visit our Hosting Review and Blogging Guide for more interesting articles.
What others are reading: Best Managed WordPress Hosting | Best Hosting Affiliate Programs