Looking for Best Godaddy Review for 2023? We have reviewed GoDaddy's Hosting, WordPress Plans, and Domain performance. Check GoDaddy's product reviews.
GoDaddy is known as a Domain Registrar but they have started selling web hosting a few years back. But, most of our subscribers asked about Godaddy's review of hosting plans, especially, WordPress Hosting.
So we are here with GoDaddy Review that will solve all your queries and questions.
If you find any difficulty or you have any suggestions regarding this post, please write down the comment below. We will modify this article by giving credits to you.
Okay, so not taking a long time here, let's get into the detailed analysis of GoDaddy Products.
GoDaddy Overview – A Domain Registrar and Hosting Provider
GoDaddy is not just only a web hosting provider, even GoDaddy is also the world's one of the biggest Domain Registrar.
GoDaddy is an American Internet domain registrar company that also provides web hosting services.
Even if you are new to the blogging industry, you would have heard the name of GoDaddy as one of the best domain registrars in the world.
The Headquarters of GoDaddy is set up in Scottsdale, America, USA and the organization is consolidated in Delaware.
GoDaddy has been serving since 1997 and was founded by Bob Parsons. Today, they are growing really fast as it has more than 20 million+ users [As of June 2020].
The organization works with more than 7K employees around the world.
In this article, we have reviewed GoDaddy's Domain, Hosting plans, and Website builder.
If you want to search for other competitors of GoDaddy, then you can look for Bluehost, SiteGround, Hostgator, and HostArmada.
Products of GoDaddy
GoDaddy offers a long list of products today, from Domain availability to Hosting Services.
Our favorite GoDaddy product is their Domain Service and a few basic hosting plans. Their entry-level plans are affordable and make every sense for new sites and blogs.
Let's have a look at Godaddy's products and our review and opinion about them.
▬ GoDaddy Hosting
GoDaddy is also a website hosting platform where you can host your site and put your ideas and imagination in front of people. Their startup bundle is widely popular.
GoDaddy offers you five different web hosting platforms that are as follows: –
Web/Shared Hosting
Business Hosting
Reseller Hosting
WordPress Hosting
VPS Hosting
Dedicated Hosting
Let's discuss these hosts in a little brief detail, so let's continue…
→ Web Hosting
A Web Hosting or Shared Hosting is a hosting where you get a physical server that is used by multiple users of that server. Shared hosting is the cheap hosting that is recommended for starters or small websites and business users.
GoDaddy Shared Hosting has four different plans that are: –
Economy ($5.99/month)
Deluxe ($7.99/month)
Ultimate ($12.99/month)
Maximum ($19.99/month)
→ Business Hosting
As the name introduces itself. Business Hosting is the best hosting for high traffic websites which comes with high speed and faster performance. You can further enhance the speed by using cache plugins like Cachify.
GoDaddy offers four different plans under Business Hosting, which are as follows: –
Launch ($19.99/month)
Enhance ($34.99/month)
Grow ($44.99/month)
Expand ($59.99/month)
→ Reseller Hosting
If you are the one who wants to grow your business in the hosting industry, then GoDaddy brings its Reseller Hosting for you where you can buy and serve the hosting to the users.
There are four different Reseller Plans of GoDaddy: –
Enhance ($39.99/month)
Grow ($49.99/month)
Expand ($64.99/month)
Established ($89.99/month)
→ WordPress Hosting
So, here we are on WordPress Hosting. WordPress hosting is a perfectly optimized hosting for WordPress. This hosting is the perfect hosting for those users who are bloggers and want to start their business website with WordPress Hosting.
GoDaddy comes with four different plans under WordPress Hosting: –
Basic ($6.99/month)
Deluxe ($9.99/month)
Ultimate ($12.99/month)
Ecommerce ($15.99/month)
→ VPS Hosting
If you want a virtual server that is fast and flexible, you should go with VPS hosting. Under VPS Hosting, a virtual server is virtually divided into different users and each virtual server runs its operating system.
GoDaddy offers you four different VPS hosting plans that are: –
1 vCPU ($4.99/month)
2 vCPU ($19.99/month)
4 vCPU ($39.99/month)
8 vCPU ($69.99/month)
→ Dedicated Hosting
Some so many users want their server for their website and it is possible with dedicated server hosting. Under this dedicated hosting, a separate server is dedicated to the user and the user has full control over the server.
As always, GoDaddy provides you four different option to choose dedicated server hosting, and here they are: –
DS-32 ($129.99/month)
DS-64 ($169.99/month)
DS-128 ($299.99/month)
DS-256 ($399.99/month)
Alternatives of GoDaddy Hosting
If you are looking for some alternatives to the GoDaddy hosting, then don't worry, here we bring this for you. These are the top best alternatives to the GoDaddy Hosting, look at below.
Also read: GoDaddy vs HostGator, GoDaddy vs Bluehost
▬ GoDaddy Domain
GoDaddy offers the best domain service as compared to other domain registrars. As you know all your website starts with a domain and a domain allows people to know why you are on the internet and what you are serving them. So having a good domain lets people know about you and your business.
→ Find your Domain
GoDaddy offers different domains at affordable prices for every type of branch, organization, and business.
Just look at these domains and their prices, that how cheap and affordable they are, and let us tell you one more thing, GoDaddy provides you the best domain services regarding security, high discount at the time of purchase, if you want to sell the domain, you have the option to do that.
Under the Security option, GoDaddy redacts your information from the WHOIS directory, which means your personal information(name, address, phone, and email) is protected and encrypted from others.
Here are the other services that are provided by GoDaddy under finding your domain: –
Domain Name Search
Bulk Domain Search
New Domain Extensions
Domain Broker
Domain Name Generator
→ Domain Services
Have a look at these domain services that GoDaddy offers you: –
Domain Transfer
WHOIS
Domain Value Appraisal
→ Domain Investor Tools
GoDaddy provides some domain investor tools where you get these two tools, are below: –
Domain Backorder
Domain Investing
The first one is Domain Backorder when you search a domain on GoDaddy and someone else already purchased that domain. There are so many domains that are trash, which means users do not renew that domain for one reason or another, so GoDaddy picks that domain like .com, .in, .buzz, .info, .org, etc and makes that available for you.
Another Investor tool is Domain Investing. Under this, you have to purchase a domain and regularly renew it, and when your domain prices are high in the market, you can sell it, which means buy low, sell high. It is like investing in mutual funds and others, but here you are investing in domains.
Some of the domains like laba.com sold for $99,000, and 5111.com sold for $50,002. Yes, it is true, you don't believe it right, we also don't, but you can check it on their official site.
→ Domain Auctions
Getting a domain from the Auction can be nuanced, but yes it is. GoDaddy created a platform for the buyers and sellers of the domain and this is the platform where you can sell your unusable domains. As we all know, the thing which is not important for us may be important for someone else.
Alternatives of GoDaddy Domain Registrar
The best alternative to the GoDaddy Domain Registrar is the Namecheap. With our research and study, we found that the Namecheap is the only best alternative to the GoDaddy Domain Registrar.
You can also try Google domains service if you want consistent pricing and advanced features.
▬ GoDaddy Website Builder
GoDaddy Website Builder is an online website editing and publishing tool. You can create your design and put your imagination and knowledge in front of the world. The GoDaddy Website Builder helps you make a fully responsive website with no technical or programming knowledge required.
Now the question is how you can create a website with the GoDaddy Website Builder tool?
So, here is the answer that we recommend you to do: –
Create an account on GoDaddy.
Next, select a template or design and use the Builder's drag-and-drop feature to add your custom images and text.
Create a contact form if you think it is necessary.
And with the GoDaddy Website Builder, you can create as simple as or a complex website, it is up to you.
The last is, Publish your website and let the people explore it.
Now till here, you know what is GoDaddy website builder and what you can do with that. And in the next topic, we will see some features of GoDaddy Website Builder.
Features of GoDaddy Website Builder
Here are some best features that are provided by the GoDaddy Website Builder, let's have a quick look at these features.
Customizable Themes
Email Market
SEO Optimized
Track your Search Ranking
Mobile-Friendly Website Builder
Rapid Page-Load Performance
Drag-and-Drop Builder
Backup and Restore
Drop-Down Menus
Promo Banners
Call to Action
Password Protected Pages
Review of GoDaddy WordPress Hosting
Now it is time for GoDaddy WordPress Hosting Review. Is GoDaddy WordPress Hosting good for you or not?
As per our findings and research, we found that GoDaddy WordPress Hosting is a Managed WordPress Hosting that will help you in automatic updates and more security. GoDaddy offers you features that are important for every website owner like, Free 24/7 Customer Support, Free CDN, 99.9% Uptime Guarantee, one-click migration tool, and more.
Here we will know what are the features and plans GoDaddy offers under its WordPress Hosting plan.
WordPress Hosting is a highly optimized hosting only for WordPress Websites. The meaning of WordPress Hosting is, that particular hosting is best for WordPress Hosting.
Features of WordPress Hosting
99.9% Uptime Guarantee
30-Days Money Back Guarantee
Free 24/7 Customer Support
Free CDN
Free Domain
Website Builder
Free Business Email
Automatic Security and Software updates
1-click Migration Tool
Plans and Pricing
Time to have a look and discuss the plans and pricing of WordPress Hosting. GoDaddy offers you four different plans under WordPress Hosting.
Have a look at the table below that shows the plans and noticed features of GoDaddy's WordPress Hosting: –
| | | | | |
| --- | --- | --- | --- | --- |
| Features | Basic | Deluxe | Ultimate | Ecommerce |
| Price | $6.99/month | $9.99/month | $12.99/month | $15.99/month |
| Website | 1 | 1 | 1 | 1 |
| Storage | 30GB | 75GB | Unlimited | Unlimited |
| Free SSL | – | – | Free | Free |
| Monthly Visitors | 25,000 | 100,000 | Unlimited | Unlimited |
| Domain | Free | Free | Free | Free |
| Business Email | Free | Free | Free | Free |
| SEO Optimizer | – | Yes | Yes | Yes |
| One-Click Testing Site | – | Yes | Yes | Yes |
→ Basic Plan: – The Basic Plan is for the starters who are just starting their business and it is a great way to start a website worth $6.99 per month.
→ Deluxe Plan: – Deluxe Plan brings more visitors and more storage with SEO Optimizer and One-Click Testing option. If you want to increase the number of visitors on your site and need some better performance, then we recommend you choose the Deluxe WordPress Hosting Plan.
→ Ultimate Plan: – Ultimate Plan offers you all the premium features that will provide you with more storage and more security. This hosting is the best GoDaddy WordPress Hosting that also brings Free SSL with it.
→ Ecommerce Plan: – Here you get all the necessary and important features that you need while starting an online store or eCommerce website.
Other Recommended Reads – Web Hosting Coupons | Web Hosting Reviews
Should You Go With GoDaddy's WordPress Hosting?
Yes, we recommend you GoDaddy WordPress hosting if you are starting a new blog or having a small business website. We like them for basic and medium traffic sites. GoDaddy offers you Managed WordPress Hosting which is highly optimized hosting for WordPress.
They offer you a very affordable and reasonable price that starts from $6.99 per month and end up with $15.99/month with its eCommerce WordPress hosting. You get a 99.9% of uptime guarantee, 24/7 free customer support, etc.
Premium WordPress Hosting Reviews – Rocket.Net Review| WPX Hosting Review
Why GoDaddy?
We can commit for sure that still many of you might be thinking that why you should choose GoDaddy as there are so many other hosting providers like Bluehost, HostArmada, Greengeeks, etc., then why you should go with GoDaddy, so for this question, we will discuss some of the features and benefits of the GoDaddy Hosting.
Benefits of GoDaddy Hosting
Here we will discuss some benefits of the GoDaddy Hosting services and without wasting much more time of yours, it's time to have a look at the Benefits of GoDaddy Web Hosting.
→ 99.9% Uptime
GoDaddy offers you a 99.9% uptime guarantee. As per the industry, it is a decent commitment you get from any web host.
We analyzed GoDaddy's uptime since April 2020 and the following is the uptime result:
| Month | GoDaddy's Uptime |
| --- | --- |
| April 2020 | 100% |
| May 2020 | 99.89% |
| June 2020 | 99.99% |
| July 2020 | 99.99% |
| August 2020 | 99.99% |
| September 2020 | 99.84% |
| October 2020 | 99.96% |
| November 2020 | 99.82% |
| December 2020 | 99.93% |
Source – HostingFact's Pingdom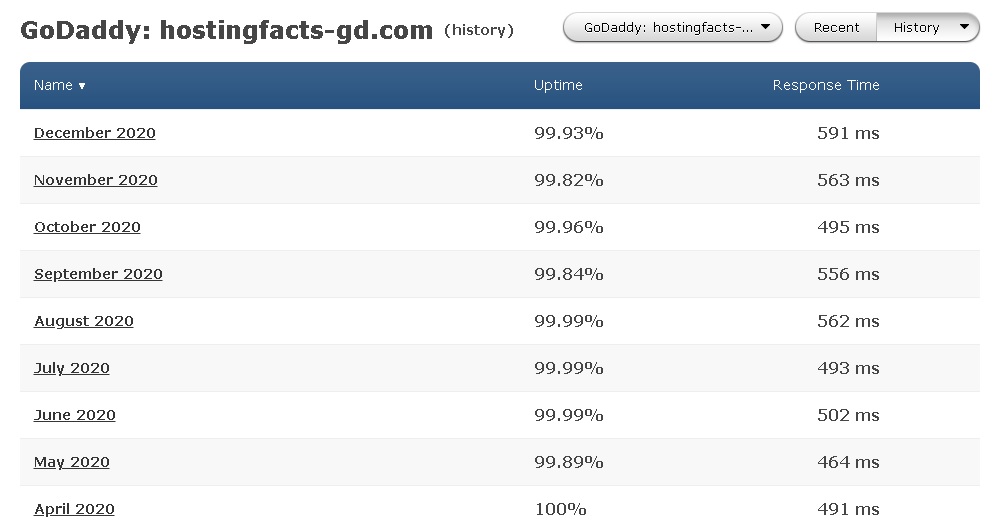 But practically, If you calculate with our Uptime Calculator, 99.9% uptime still means that monthly your site will go down for 43 minutes and 12 seconds, and per day it is 1 minute and 26 seconds, which is not good for the developers and a serious website owner.
Still, 99.9% uptime is a decent number to consider.
→ Fast Page Load Speed
GoDaddy also put the hard step in the page loading speed and we can say for sure you have heard about this. GoDaddy pages load fast and we can say that their page load time is good.
How GoDaddy's hosting performed on the Bitcatcha Speed Test?
As per Bitcatcha, the findings are surprising. We checked GoDaddy's server response time on the Bitcatcha tool from 8 different locations like the US, London, Singapore, Sao Paulo, Bangalore, Sydney, Japan, Canada, and Germany.
The result – "Exceptionally Quick or A+". Refer to the snapshot below with response time in milliseconds.
How well GoDaddy's hosting performed on the GTMetrix Speed Test?
The second test we did use the GTMetrix tool. Now the server location was Canada. We have attached the live snapshot below.
The result – GT Metrix Grade "A". Refer to the snapshot below. All web vitals are perfectly in line. LCP was 1s and TBT is 0ms.
→ Price
GoDaddy prices make our article more weighted. With the starting of hosting at just $5.99 per month, GoDaddy offers you all types of web hosting services at affordable prices. Check Godaddy Coupons and Promos.
And under $5.99 per month, it is good that we are getting fast page-load times and 99.9% uptime.
Features of GoDaddy Hosting
GoDaddy offers you the best features with their hosting services, but we will not discuss all those features. We will discuss some major and important features that are very important and very useful for every hosting user. So here they are as follows: –
→ Includes cPanel
We are happy to tell you that GoDaddy offers you an Industry-level cPanel for the better management of your web hosting.
The cPanel helps you to install apps, manage backups, and security of your websites.
→ 24/7 Network Security
GoDaddy performs a regular checkup of your website so that it can protect your website from malicious activities and DDoS attacks.
So many other hosting providers do not offer you this feature, but GoDaddy does.
→ Free Application
When you create a website you need some additional tools and plugins to set up your final website.
So, with the GoDaddy Website Hosting service, you can install over 125 free applications with just a one-click install.
So, you will not face any problem regarding installing the 3rd party apps on your website and you are free to install the apps.
Pros and Cons of GoDaddy Hosting Products
Here is what we got with our research and study at various platforms about GoDaddy Hosting. So these are the Pros and Cons of the GoDaddy Hosting service.
Pros
24/7 Network Support
Unlimited Bandwidth
Get free WooCommerce Extension on E-commerce plans
Windows and Linux-based servers
Managed WordPress Hosting
Cons
You don't get free SSL with every plan.
Single Website Hosting
Fair Customer Support
Cloud Hosting is not available
Average Performance
User Reviews

Here we are going to look at the reviews and ratings of the users of GoDaddy, so here we go.
In the above image from Trustpilot, you can see that a total of 71% of people rated 5-star out of 5 to GoDaddy.
And let's have a look at the user reviews, what they say about the GoDaddy Hosting service.
GoDaddy Review Verdict: Do We Recommend GoDaddy Hosting?
Yes, We recommend GoDaddy basis our review. We found Godaddy a good web hosting and a popular domain registrar. Good Uptime, Speed, and the trust that comes from a global brand make the deal even sweeter. It is a go-to solution for beginners or new sites. They have all-in-one hosting plans where you get Free Domain, Good Customer Service, SSL, and everything else under one roof.
For old blogs or heavy traffic sites, we recommend having a look at GoDaddy Alternatives.
Make sure to visit our Hostinger Review 2023, Interserver Review 2023, and Bluehost Review 2023.
FAQs About GoDaddy Reviews
Is GoDaddy Hosting good?
GoDaddy is the best domain registrar and a good web host. In our GoDaddy review, you already know about GoDaddy Hosting. Although GoDaddy hosting is good but lacks some features like uptime, backups, SSL, and Staging areas.
Is GoDaddy better than Bluehost?
Bluehost ranks higher than GoDaddy in our research. Bluehost is better than GoDaddy in terms of backups, uptime is value for money. GoDaddy is the best in domain registration and its website builder tool.
How much does GoDaddy charge for Hosting?
GoDaddy Hosting service starts from $5.99 per month. This is the lowest package of the GoDaddy hosting that it offers you in their Web Hosting Plans.
How long is GoDaddy's free trial?
GoDaddy offers you a free trial plan for hosting. The free trial is for a month or longer. Once your free trial plan expires, your site goes down. The site is still under your account as GoDaddy does not delete it, you can activate your website again by payment.
Other Popular Posts and Reviews
Did you know that traditional paper resumes might not be enough to make you stand out in the competitive job…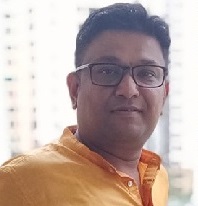 Seasoned Professional with 15 years of experience in Sales and Marketing. Entrepreneur, Consultant and Blogger helping people earn through jobs and blogging. Experienced Hosting Reviewer who likes to collect detailed info about existing players and share it with my audience. Previously worked with leading Banks and Telecom Companies.
I completed my Masters in Management with specialization in Finance and Marketing.
Visit our Hosting Review and Blogging Guide for more interesting articles.
GoDaddy Review 2023: Good For Domain Or WordPress Hosting?
Looking for Best Godaddy Review for 2023? We have reviewed GoDaddy's Hosting, WordPress Plans, and Domain. Check GoDaddy's product reviews.
Product SKU: GoDaddy WordPress
Product Brand: GoDaddy Hosting
Product Currency: USD
Product Price: 5.99
Product In-Stock: InStock