This page has everything you need to know about Google Domain. Do you know Google is one of the best GoDaddy alternatives for a domain? Yes, In this Google Domains Review, you will understand all its features, pricing, pros, and cons.
Here is what you will learn in this Comprehensive guide about Google Domains:
2. How I booked my Domain from Google Domains [with step by step guide]
3. Key Features of Google Domains
5. Pros and Cons of Google Domains
6. Google Domains' User Reviews
7. Top 5 Alternatives of Google Domains
9. Namecheap Vs Google Domains
10. Conclusion
Google Domains Review
Summary: REVIEW OF GOOGLE DOMAINS
Google Domains is a leading domain registrar that offers value for money domain registration service. Advanced features like email and domain forwarding come free with every domain. You don't need a separate account to sign in to Google Domains. Pricing starts with just $9.
What Are Google Domains?
"Google Domains" is a Domain registrar service that helps you register new domains [All TLDs] and manage them. Google started this service in the year 2015.
It can be any domain extension, a TLD, SLD, gTLD, or ccTLD. The best part is that you don't need to purchase Google's Cloud hosting and hence, you can connect this newly purchased domain with any hosting account you want.
If you don't have a hosting service already, you can begin with Google's own BLOGSPOT.COM and connect your domain purchased from Google Domains.
Once a purchase is made using Google Domains, it is also possible to use "G-suite" for professional emails and "Google Search Console" for keyword performance tracking.
Is Google Domain still in beta? The answer is yes but you will not feel any restriction or disruption in service whatsoever.
How I Booked My Domain From Google Domains?
I bought a test domain myself for one of the projects from Google Domains and the experience was awesome.
It is "Google" after all and purchasing a domain from this registrar is highly recommended basis my own experience.
A Step By Step Tutorial To Buy A Domain From Google
Step 1. Visit Google Domains' registration page.
Step 2. Sign in using your Gmail ID.
Step 3. Click on "Find the perfect one".
In case you need ideas, visit our blog or domain name ideas tools.
Step 3. Click on "Find the perfect one".
Step 4. Enter the Domain name you want to search for and press Enter.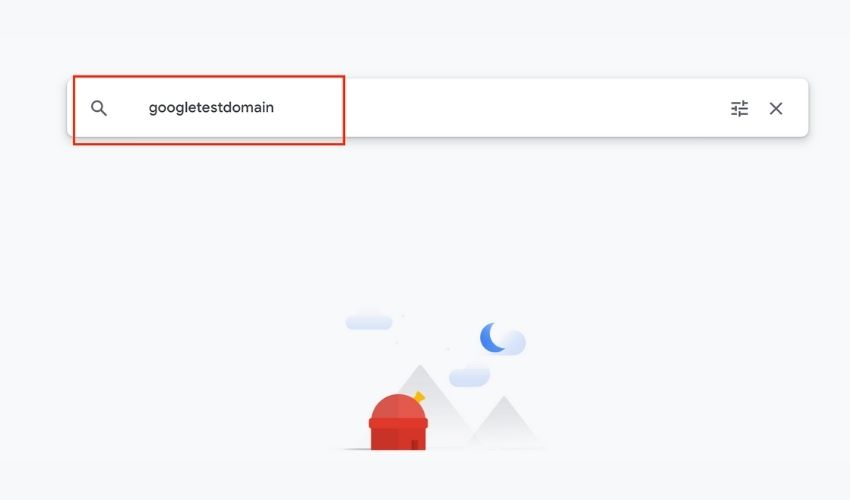 Step 5. Enter the Domain name you want to search for and press Enter.
Step 6. Choose the options you like and click the "Add to cart" button [as shown in "Gif tutorial" below].
Step 7. Finally, you will be asked to choose your currency, privacy protection, auto-renewal option, and custom email. Click on the "Check out" button at the last and make payment.
Congratulation, you have now learned the right way to get domains from Google.
Key Features Of Google Domains
I will now discuss the features that are available to you once you decide to buy a domain using "Google Domains".
Fastest DNS [The one used by Google itself]
Easy to use as no separate account is required [Buy using Gmail account].
Whois or Privacy protection that comes free with every new domain purchase.
Buy, renew and manage all your domains from one dashboard.
24×7 support is available over the phone, email, and chat.
Create 100 Email aliases and configure Email Forwarding.
Domain Forwarding
Premium domains – Both "After market premium domains" and "Registry premium domains" are available.
About security, while you get all basic features with Google Domains, you can also protect your site from the risk of SSL stripping there. You can either buy an HSTS enabled domain or add your site to the list.
As you can see from the list above, Google Domains offers competitive features offered by its competitors like "GoDaddy" and "NameCheap".
Pricing Of Google Domains
Google Domains is a pretty affordable service that starts from $9. I will now share the pricing of some popular domain extensions sold over Google Domain through a table below:
| Domain Extention | Price at Google Domains |
| --- | --- |
| .PW | $9 |
| .COM | $12 |
| .IN | $12 |
| .ORG | $12 |
| .NET | $12 |
| .CO.UK | $12 |
| .DEV | $12 |
| .ONLINE | $30 |
Note: There are over 200 domain extensions available today and the pricing of all of them is available here. 
Pros and Cons Of Google Domains
Why I prefer Google Domains over other registrars? I will now take you through the Pros and Cons of the Google Domains platform basis my own experience.
Pros:
Let's begin with the advantages of using the Google's Domain platform.
1. Access to Free and Paid Website Builders
Google is not just a domain registrar, It is in fact a great cloud platform powering millions of websites. As a Google Domains customer, you get access to all of them with quick integration. Free tools like Blogger.com and Google Sites are also some of the most popular site builders available today.
Can you add a custom domain to Google Sites or Blogger?
The answer is yes. Just visit the "Settings" and search for "Custom Domains". After that you will see "Start Setup" button, just click it and choose "Buy a Domain".
Here is the snapshot that helps you understand the process of adding a Google Domain with Blogger.com and Google Sites.
Free tools to build your website as suggested by Google:
If you don't want to spend money in building your website, you get Google Sites and Blogger as free coding less website builders.
Paid Website Builders for professional look:
If you are looking for more professional features, Google suggests you use WIX, SquareSpace, WordPress, Shopify and Weebly.
As you can see in the snapshot below, for WordPress, you should choose Bluehost as your web hosting.
Here are two important guides for you related to this: Bluehost Vs WordPress and Bluehost vs DreamHost comparison. For new blogger, I recommend my blog starter guide.
2. Same Renewal Cost
It is worth noting that Google Domains will not surprise you at the time of renewal. In most of the cases with GoDaddy and NameCheap, the renewal cost is almost 2x-3x.
But, if a domain is purchased with Google, you are absolutely worry free and certain about no extra cost when you renew it.
3. 24×7 Customer Service
Google Domain service is available with 24×7 service over email, chat and even call. Just in case you have queries related to domains, you can ask for help.
4. Advanced Toolkit
Google Domains provide you email forwarding, domain forwarding and world's fastest DNS. You can manage all of them as and when required.
5. Ease of Use
Once a Google Domain customer, you now need not to verify the domain while adding it to Google Search Console. Also, all domains can be managed from same dashboard. The best part is that you don't need to create a separate account for purchasing domains through Google platform.
Sign in using your Gmail Id and password and get going. This is super easy.
Right? Share your views using comments section below.
Cons:
In this Google Domains Review, I have tried to figure out some of the disadvantages also that you should be aware of. Before choosing this domain registrar, please be aware of these cons too.
1. No Deals and Discounts
I have been checking the new domain costs for last 1 year approx on Google. Till now, I have not seen any special deal or offer as it is the case with other registrars. For first year, I bought a new domain for just $7 with Namecheap as against $12.
However, I still feel happy as the renewal cost with Namecheap is higher as compared to Google Domains. In long run, I have no regrets what so ever.
2. Not Available in all the Countries
As per my research, I got the following list of countries from official page:
India, Japan, Australia, USA, UK, Phillippines, Indonesia, South Africa, Turkey, Vietnam, Brazil, Canada, France, Italy, Malaysia, Mexico, Netherlands, New Zealand, Poland, Singapore, Thailand, Sweden, and Spain. 
Residents of above mentioned countries can only purchase a domain from Google currently.
Google Domains' User Reviews [Actual Users On Leading Platforms]
My experience with Google was amazing when it comes to purchasing a new domain. However, for this review, I decided to have a look at the feedback of other Google Domains customers.
I checked back the same on G2 and TrustRadius.
Here are the reviews with actual snapshots on these review platforms.
G2 – User Reviews About Google Domains
I found impressive feedback about Google Domains on G2 review platform.
There are 124 reviews out of which 101 rated them 5 star and 16 rated them 4 star. Almost 99% happy customers.
Refer to the snapshot below:
TrustRadius – User Reviews About Google Domains
Now, I have a snapshot from another review platform that confirms that Google Domain is actually a reliable domain registrar.
There are overall 63 reviews on the platform where 38 users have rated it between 9-10. 19 customers rated Google Domains between 7-8. Overall, the score is 8.7 out of 10, which means excellent.
Top 5 Alternatives of Google Domain
Looking for Google Domains alternatives?
Here is the list of globally renowned names to register your Domain apart from Google:
I also have a small comparitive study of .COM domain price with all these domain registrars:
| Features | .COM Price | Free Email Forwarding | Domain Forwarding | Free Domain Privacy |
| --- | --- | --- | --- | --- |
| Google Domains | $12 | Yes | Yes | Yes |
| NameCheap | $8.88 | Yes | Yes | Yes |
| GoDaddy | $11.99 | No | Yes | No |
| Hostinger | $8.99 | No | Yes | No |
| HostGator | $12.95 | No | Yes | No |
| Domain.Com | $9.99 | Yes | Yes | No |
Google Domains Vs GoDaddy
Google Domains Vs GoDaddy
For your ease, let us now compare GoDaddy with Google Domains.
Google Domains, inaugurated in year 2015, is a domain registration service which helps you create new domains and manage them. But, unlike other domain registrars, they do not offer hosting, which means that it will have to be purchased separately. Google domains is convenient and safe as, firstly, it belongs to Google and, secondly, accessing other Google services becomes easier too. For example, Google Suite.
GoDaddy is a domain registrar that offers web and email hosting services. Founded in 1997, it also provides other services such as SSL certification, E-commerce solutions, website security etc.
Let's go over the differences between Google Domains and GoDaddy.
Privacy: Google Domains Vs GoDaddy
When you register a domain, your personal information is available to everyone through your website's WHOIS. Google takes privacy very seriously, unlike GoDaddy. Google replaces your info with a third-party provider's information, whereas GoDaddy does not unless you pay extra, which renders Google's services more cost effective.
Transparent Pricing: Google Domains Vs GoDaddy
GoDaddy gets a lot of customers initially as they charge $11.99 for the first year. The catch is that when you renew they charge $17.99 per year. With Google Domains, the price is always $12.
Email Services: Google Domains Vs GoDaddy
An advantage of owning a domain is having an email address for professional use. Google Domains allows users to create up to 100 aliases which will forward emails to one of your email addresses which already exists.
With GoDaddy, you receive an actual, professional email address for a fee. If you wish to have an email plan which separates your business emails from personal ones, and do not mind paying the extra fee, then opt for GoDaddy.
Customer Support: GoDaddy Vs Google Domains
Google Domains offers a worldwide, 24/7 customer service where it is easy to connect with an agent via chat or email. You could even request a call-back from a technician. Alternatively, there are many articles to troubleshoot Google Domain issues if you face any.
GoDaddy only operates in 50 countries. While they offer similar services like Google Domains, they do not operate 24/7 in all the countries. If one needs to live chat with an agent, it will have to be between 5 a.m. and 6 p.m. US Pacific time in a few locations.
In countries like HongKong and Singapore, they are available from Monday to Friday for chat. Check complete list here.
However in countries like India, they are available 24×7.
Verdict: GoDaddy or Google Domains – Which one is better?
Google Domains is good for those who need basic domain registration services. With their flat pricing, one does not need to worry about simple things like privacy, for example. Whereas, GoDaddy is great for beginners who wish to spend less on web hosting, at least for the first year. With hosting, you get a free domain with GoDaddy.
Namecheap Vs Google Domains
Namecheap is another popular domains registrar. Let us now compare it with Google Domains.
Founded in 2000, Namecheap offers similar services as Google Domains on the lines of domain hosting, website security, etc. Unlike Google Domains, Namecheap provides users with a comprehensive set of services that makes the process of creating a website much easier. You also get Hosting service and free domain with that.
Google Domains unlike other domain registrars, they do not provide hosting services, so it must be purchased separately. Google domains are simple and safe since they are owned by Google and, as a result, access to other Google services is simplified.
There are more differences between Google Domains and Namecheap.
Email Services: Namecheap Vs GoDaddy
As we discussed, Google Domains allows users to create up to 100 aliases, email forwarding and even Google suite which is a paid email service [beginner friendly].
With NameCheap, you can also create aliases, email forwarders etc for free. With their web hosting you get free professional email service to receive and send emails. Only email hosting service is also available with Namecheap.
Pricing: Namecheap Vs Google Domains
Through Google Domain, one can acquire a domain for $12 for the first year which comes up to $1 a month. After that, there is no renewal fee. Which means, in $12 you could use the same domain for even a decade if you wished to. As for Namecheap, users can buy domains for as cheap as 0.48$ a year. That is pretty cheap, but the catch is that it will not end in (.com). You can choose from multiple options such as (.site), (.io), (.press), etc.
Customer Support : Google Domains Vs Namecheap
Google Domains provides a global, 24/7 customer support centre where you can contact an agent by chat or email. You could even request a technician to call you back. If you are having difficulties with your Google Domain, there are also many helpful articles which would eliminate the need to get in touch with an agent. In regards to Namecheap, they are equivalent to Google in terms of customer support. Live support is their top priority as they take their customers very seriously.
Privacy: Namecheap Vs Google Domains
Google takes privacy very seriously. Hence, when you buy a domain from Google Domains, you can be assured that WhoIS will not display your information to people looking you up. Thus, one can be sure to not receive any sort of spam or unsolicited emails from strangers.
As for Namecheap, they do not require a user's personal information. The email address you provide will not be visible to strangers. In fact, it gets replaced with a unique anonymous email address.
Verdict: Namecheap or Google Domains – Who wins?
If you look solely at pricing, then Namecheap wins hands-down. Google provides only a domain at the price it offers, whereas, Namecheap not only gives you a domain, it also gives you hosting and other services as well.
FAQs About Google Domains
I will now answer a few obvious questions that must be in your mind regarding Domains by Google.
Is Google Domains Legit?
Google Domains is 100% legit as it is a brand that is owned by Google itself. It is for sure, the best place to buy a domain.
Is Google domains better than GoDaddy?
Google Domain is better than GoDaddy as it offers free domain privacy and email forwarding service. GoDaddy sounds lucrative only in terms of first-year pricing but renewal cost hurts.
Google's domain comes with straight forward renewal cost that is close to the first-year purchase price.
Are Google domains free?
Google Domains starts from $9 a year. Services like email forwarding and domain forwarding are free. You can also use free website builder provided by Google.
Does Google Domains come with SSL?
Let's Encrypt SSL is free and can be used with any hosting you choose today. Google's Blogger.com also provides SSL if you wish to choose this platform.
Conclusion: Google Domains
Do I recommend Google Domains? Yes, I would recommend you to choose Google Domains as your domain register whenever you wish to purchase a new domain. Be it pricing, features, or even a beginner-friendly environment, Google Domains has it all.
You may find lack of deals as GoDaddy or NameCheap will offer you most of the time, but what about the renewal price? You end up paying at least 2x price at the time of renewal.
With Google, the pricing is pretty simple and straightforward that allows you to renew at no extra cost.
Advanced security features like 2FA, and Privacy Protection comes built-in with this platform.
Free hosting is also possible with Google Domains as you can use their in-house website builders like Google Sites and Blogger.
Once you have purchased a domain, visit our best hosting and best managed WP hosting section to choose the right host for your website.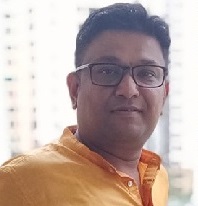 Seasoned Professional with 15 years of experience in Sales and Marketing. Entrepreneur, Consultant and Blogger helping people earn through jobs and blogging. Experienced Hosting Reviewer who likes to collect detailed info about existing players and share it with my audience. Previously worked with leading Banks and Telecom Companies.
I completed my Masters in Management with specialization in Finance and Marketing.
Visit our Hosting Review and Blogging Guide for more interesting articles.