Are you looking for the perfect Business Cloud Hosting company for your small enterprise or a startup? Then look no further. We have a list of Top 6 Cloud Business Hosting providers for 2023 that are ideal for business as well as personal blogs.
This article compiles all the know-how to choose the Top Cloud Hosting for all kinds of business websites.
For the success of your business website, an e-commerce store, or even a professional blog made for a startup, we recommend you to keep tabs on uptime, page loading time, storage space, bandwidth, etc.
Pro Tip: While choosing a cloud web hosting for your official site, please make sure that you give equal weightage to features and performance as well and not only to the pricing.
Most online businesses relying only on cheap hosting services finally end up suffering from financial loss that is caused due to network outages.
Keeping in mind how crucial web hosting is for every business, We have put together a list of the 6 best Cloud Business Hosting services, so you can sit, relax and compare them side-by-side and pick the one that suits you best.
[Top 6] Best Cloud Business Hosting service providers
ChemiCloud
HostGator
Hostinger
Dreamhost
HostArmada
LiquidWeb
Let us discuss each hosting now one by one. These are renowned web hosting companies offering complete solutions and not just file hosting or cloud storage.
1. ChemiCloud – Best Cloud Hosting for Small Business
Founded in July 2016 and based out of Delaware, United States, ChemiCloud quickly rose to fame due to the fact that it provided a very quick and competent customer support system.
ChemiCloud offer 4 fully-managed plans for Cloud Business Hosting which try to cater to all kinds of business big and small alike their pricing starts from:
Iron ($59.96), which is the cheapest of the bunch and aims to give users a taste of ChemiClouds service,
Bronze ($89.96) packs mid-range performance,
Silver ($149.96) is the third plan offered and it is a class apart from Iron and more focused towards users that need a lot of power at their disposal,
Gold ($269.96) offers you the best ChemiCloud has to offer in business cloud hosting.
They put customers first and it shows, from the offering:
Free migration service handled by experts with no downtime,
Back you up with a 15-day money-back guarantee, and
All your website includes Softaculous integration for 1-click installation of software like WordPress, Joomla, Drupal to name a few.
ChemiCloud partnered up with Cloudflare for CDN services so that the end-user experiences an industry-leading content delivery network, if your website is the source of lead generation for your business, load times and website uptime are the only two factors that make up a major part of customer experience provided by you.
Business professionals heavily rely on digital communication to get information across and decent email service is the backbone of professional communication. ChemiCloud collaborated with MailChannels for a fast, secure, and reliable mailing service, so that you never have to worry about email blacklisting.
ChemiCloud servers are located all over the world namely-
Dallas, US
London, UK
Sydney, Australia
Frankfurt, Germany
Bangalore, India
Bucharest, Romania
Singapore, Singapore
This vast global presence allows them to serve information to your user regardless of their location in the world, resulting in faster loading times for your website.
It is worth mentioning that customer support is very quick to respond. I submitted a query and it was responded to within seconds and the respondent was very knowledgeable and answered all my questions with easy-to-understand terminology.
I would recommend you ChemiCloud if you own a small business, as they are a small company themselves, they are just as ambitious as you are and understand your needs on a whole different level. We have a detailed ChemiCloud Review for in-depth speed and performance analysis.
Note– Pricing may differ by a dollar or two depending on your domain preferences.
2. HostGator – Recommend Business Cloud Hosting For Corporates
Founded in 2002 by Brent Oxley, one of the oldest names in the web hosting business, they claim to host over 10 million domains worldwide, which is a testament to their reliability as a web hosting provider.
They offer 3 options in cloud hosting services namely- Hatchling cloud, Baby cloud, Business cloud, and back you up with a 45-day money-back guarantee, you can choose to pay monthly or annually.
Hatchling Cloud costs you $250.20,
Baby Cloud can be purchased for $358.20, and
Business Cloud is priced at $538.20 for a duration of 3 years.
Claiming the ability to host unlimited Domains (except Hatchling plan), unlimited disk space, bandwidth and MySQL databases, combined with an uptime guarantee of 99.9% which is as good as it gets.
Data centers are located in Provo, Utah, and Houston, Texas.
Additionally, servers are not accessible to the public which reassures the physical security of your data.
Full support in all plans for every need of large e-commerce stores such as SSL certificate, shopping cart, and secure payment gateways, and also a premium email service to make sure your recipients always get your mail in a secure and timely manner.
The customer support, first of all, is voice-based or text (your choice), is available 24/7/365 you can talk to a person which is way more convenient than typing it out, my respondent was a guy named Ryan and responded within seconds as was expected
from a top-class web hosting company, the "happiness engineer" as they like to call the support representatives was very helpful and prompt in responding as had all answered my many questions within minutes and without any pauses in-between.
You get what you pay for, and it will never sound more true if you decide to give HostGator a try, sure you are paying more than most of the people that have the same set of services from other business cloud hosting providers, but you are looking at a name brand that has a glorious past and a promising future to host your business website.
I would recommend HostGator for large businesses and enterprises. Don't forget to read our HostGator Hosting Review.
3. Hostinger – Cheapest Cloud Hosting For Startups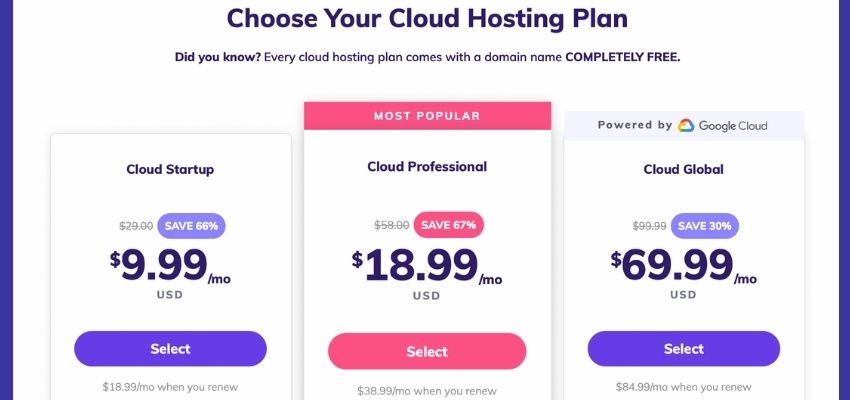 Established in 2013, it is no secret that Hostinger is arguably one of the best hosting services providers in the market, concerning price to performance ratio, it gives you the "best bang for your buck".
If you are looking for the cheapest cloud hosting solution for your small business, got with Hostinger.
Hostinger offers 3 different cloud hosting solutions namely-
Cloud startup ($479.52) is the cheapest of the bunch and offer an excellent mix of price and performance with 200GB SSD storage and a dual-core CPU performance,
Cloud professional ($911.52) is aimed at large enterprise and big business owners and gives you 250 GB SSD storage paired with 6 GB RAM and quad-core CPU performance, and finally,
Cloud global ($3359.52) which gives you the best of Hostinger experience a massive 300 GB SSD storage a whopping 16 GB of RAM and a cutting edge octa-core performing CPU. Checkout Hostinger Reviews for in-depth performance opinion
The server location is very dense across the world and it is very easy to understand that so many server locations and your access to them mean quick loading speed regardless of your client's location.
Cloud Startup and Cloud Professional share the same set of servers:
European servers– Netherlands, Lithuania, and United Kingdom
Asian server– Singapore
North American server– USA
Cloud Global has a different set of the server location to choose from:
European server– United Kingdom
Asian server– India
North American server– USA
South American server– Brazil
The uptime is remarkably good with a 99.9% uptime guarantee and customer support is text-based and is operational 24 X 7 throughout the whole year and the support representative I chatted with had complete knowledge regarding questions ranging from installing WordPress to explaining the importance of SSL certification, as you would expect from a top-tier hosting company.
With hundreds of templates to choose from in the e-commerce section and hundreds more available freely, an intuitive website builder with simple drag and drop functionality and easy-to-understand UI to help you build a business cloud hosting website in a matter of few clicks, creating an online shopping website or a business website feels like a breeze.
A historically reliable email service loved by millions, a free domain name till you are an active user of their services also, a 30-day money-back guarantee is offered by Hostinger to sweeten the deal even further.
I would strongly suggest Hostinger if you are looking for top-tier performance at an affordable price.
This month, Hostinger Black Friday 2022 deals are also launched, grab them and save upto 90%.
4. DreamHost – Best Cloud Hosting for Woo-Commerce Sites
For more than two decades, DreamHost has been the go-to name for excellent website performance and affordable prices. Established in 1997, currently holds more than 400,000 customers in 100+ countries worldwide.
The unique thing about DreamHost is that it is an environment-conscious company and while that will not affect the performance of your website in any way it is still a major thing to consider since most large corporations are busy making money while DreamHost is trying to give back to society.
DreamHost gives you the ability to scale your settings on-demand and it is billed monthly based on your usage and you have a maximum amount of money that you can get billed per month based on what resources you used. This is very nice to see since very few trusted brands (if any) offer this kind of flexible pricing.
With a standard 80GB SSD Disk space and 100 GB Block Storage included with every plan (you can purchase 100 GB Block Storage up to any limit you desire), they keep pricing simple to understand and clearly show what you miss and get in your plans.
The first category they offer is a 512MB RAM server priced at a max billing of $4.50/month, the second plan they offer is a 2 GB RAM server which can be billed $12.00/month at most, the third and their best pack is an 8 GB RAM server which may be billed at $48.00/month and gives you the best of their services.
DreamHost servers are housed in Ashburn and Virginia in the USA but can be accessed from anywhere, globally.
The cloud hosting option provided by DreamHost does not limit your OS software choice and you can have a Linux, BSD, or even an MS Windows-based server, this can prove to be a boon in disguise for any business person who prefers using a particular operating system over the other or if a person is more comfortable or familiar with one particular OS.
Free email service to make sure you can send your most important messages to your customers without any technical hiccups to avoid any lapse in communication, thousands of templates suitable for e-commerce and online shops which are perfect for anybody looking for a large scale business cloud hosting solution.
The customer care is best-in-class and the support rep I spoke to was very knowledgeable and quick to answer all my questions without any waiting time or voice issues, they claim 24/7 support with a few minutes of waiting time at most, but once you are connected the support associate will answer all your questions without any delay or paused in the middle.
I would highly suggest you choose DreamHost for its scalability i.e. the ability to quickly scale up your resources such as increased RAM and CPU processing power in case of unexpected visitor traffic for a time duration, and since it is billed monthly you can do this switching hassle-free.
Did you check Dreamhost Black Friday deals? If not already, time to visit the page.
5. HostArmada – Most Affordable Business Cloud Hosting
Launched in 2019 and the youngest website hosting provider on our list. HostArmada brings professionals with years of industry expertise together.
It is worth noting that HostArmada is giving away a 70% discount during their ongoing spring season sale, the prices included in this review are revised after applying a 70% discount.
HostArmada offers three options for hosting on the cloud, namely Start Dock, Web Warp, and Speed Reaper, and back you up with a 45-day money-back guarantee.
They also provide you the option for a tie-up as long as 10 years (it is up to you of course) but they do give you the option if you want to avoid paying the monthly renewal fee for a very long time.
There are three Cloud hosting plans by HostArmada:
Start Dock pack priced at $47.91 for a year that gives you 15 GB SSD cloud storage, dual-core and 2 GB RAM and 7 daily backups
Web Warp ($56.30) after discount gives you 30 GB cloud SSD storage along with 4 GB RAM and quad-core CPU performance,
SpeedReaper ($79.89) which is the top end plan [shared cloud hosting], is optimized for blazing-fast site speeds and performance.
You are backed by a money-back guarantee of 45 days and there are no hidden costs for cancellation of services, this shows that they really stand behind what they offer and are fully confident of their abilities to serve well.
HostArmada specializes in website optimization and goes as far as regularly optimizing every site(s) on their platform to ensure peak performance and this shows as their sites rarely go down and they claim 99.9% uptime, this is a testament to their optimization abilities and site loading and response times are a lot quicker than the competition.
Their servers are present all around the globe, which also helps them improve website load speeds and response time that much faster, the server locations are as follows:
North American Servers
Fremont, California, USA
Dallas, Texas, USA
Newark, New Jersey, USA
Toronto, Ontario, Canada
European Servers
London, United Kingdom
Frankfurt, Germany
Asian Servers
Bangalore, India
Singapore, Singapore
Australian Servers
Sydney City Datacenter
If you are looking for the perfect small business cloud hosting that offers a maximum choice of server locations, HostArmada is the best.
To my delight, the customer care executive was very warm and seemed to sense my needs very well, used easy-to-understand terminology, and was well-versed in all the aspects of business cloud hosting, any up and coming company is sure to leave a mark in the market with customer support like that.
Data backup and restore is another very important aspect for any growing or established business and HostArmada offers remotely stored daily backups for free on purchase of any web hosting package. We have a detailed review of HostArmada that you must visit.
The inclusion of a decent website builder paired with professional email service and industry-standard SSL encryption along with free domain registration and transfer make it a top contender for the best cloud business hosting platform in 2022.
If you are also new to online business and looking to explore the limitless horizons I would highly recommend HostArmada because it is new to the web hosting industry, ambitious, and brings a ton of exciting features to the table.
[Related – HostArmada Coupon Codes]
Pro tip: Save more using HostArmada Black Friday 2022 deals.
6. Liquid Web – Powerful Cloud Hosting Provider for Large Businesses
Matthew Hill embarked on a journey to reach the pinnacle of web hosting service and in 1997 he launched LiquidWeb with that vision and over two decades later Liquid Web is an elite in the business of web hosting, one of the best when it comes to power and performance, this is the kind of hosting service big corporations and large enterprises work with.
Pricing is definitely not one of their strong suits, but when you are in the market for the best cloud business hosting platform, chances are you are not worried too much about the prices, they offer three plans in cloud hosting:
The Standard pack costs you $265/month gives you a mind-boggling 960 GB SSD file storage,
The Professional pack sets you back about $500 a month and gives you the same 960 GB SSD storage but two web nodes and NFS replication,
The third and last pack LiquidWeb offer is named Premier ($740/month) and it is the best of the best, industry-leading cloud business hosting experience that technology can offer, it gives you 1440 GB SSD storage space so you can forget about storage space issues for life, 4 web nodes and NFS replication for improved site performance.
100% uptime guarantee, this shows that LiquidWeb is in a totally different league and uses next-gen hardware for maintenance of their servers.
When managing a business this large, security is paramount and it is often overlooked by major corporations and they face catastrophic losses, LiquidWeb does not compromise when it comes to security, all of their servers are SSAE-16 & HIPAA Complaint the locations are-
Lansing Data Centre, Michigan, the central USA with a capacity of 33,000 servers
Phoenix Data Centre, Arizona, US-West with a capacity of 2,000 servers
Amsterdam Data Centre, Netherlands, Europe Central holding an 8,000 server capacity.
Top-class professional email service and an exemplary website builder makes LiquidWeb, the gold standard in website hosting.
The website builder is super easy to use and if you look at the introductory video, you understand how to use your website builder to its full potential, the email service that looks after most of the technical aspects for you since it is fully managed by LiquidWeb.
Everything is managed by LiquidWeb for example, Spam detection, suggesting scalability of the mail service and the best of all 100% uptime guarantee.
In their own words "choose a host that treats you like a partner and not just another number" is very well put and very evident since the way they allow you total control and freedom over any service (at a cost of course), but the services and support you get makes it absolutely worth it.
Speaking of support, their voice and text support are available 24/7/365 with a tier-3 technician always available on-site, so that no matter the complexity of your trouble, it will get resolved in minutes, the support rep I spoke to over voice was very polite and made me feel at ease, was very supportive and exactly what you would expect from a world-class corporation like LiquidWeb.
I would suggest you go for LiquidWeb if you are a large enterprise or big business owner and tired of mediocre web hosting services, because LiquidWeb is, a class apart, and you will be very happy after you make the switch, even if you are a new and budding entrepreneur or online businessman who is not on a tight budget, LiquidWeb is the way to go.
Visit our LiquidWeb Promo Codes page for live deals.
Cloud Hosting Vs Shared Hosting: Which One Is Better For Business Sites
Understanding the difference between cloud hosting and shared hosting and what makes cloud hosting a better choice for business-centered websites.
While both are kinds of hosting service and are provided by most major web-hosting providers, they cater to a completely different set of customers, shared web hosting services primarily focus on bloggers and beginners whereas cloud hosting service focuses on security and scalability therefore a better choice for large enterprise or business owners, in other words, they are both hosting services that work on completely different processes. Visit our Vps vs Cloud vs Shared hosting for more details.
Big websites have a lot of traffic coming in from different parts of the world and shared hosting platforms only have a limited amount of resources for allocation, the result being slow loading times and an overall poor experience.
If your website is a major source of lead generation or sales for your company then you should without a doubt in your mind, pick cloud hosting over shared hosting.
To make differences clear, I have prepared a table discussing the differences in both these hosting services.
| | |
| --- | --- |
| Cloud Hosting | Shared Hosting |
| Allows your website to be hosted on multiple synced servers. | Multiple websites share resources and bandwidth on a single server. |
| It allows multiple machines to act as one system and hence is infinitely scalable. | Every physical machine has its limitations and once those are reached, the data needs to be moved elsewhere. |
| Failure of one server does not mean website downtime, since your website is hosted on multiple servers. | Your website faces downtime in case of server issues or maintenance. |
| Dedicated (virtual) servers, every single resource on your server is dedicated to a single person. | Several customers share one set of physical hardware. |
Next, I will discuss the things that should be kept in mind while choosing your cloud business web hosting service.
Features of Best Business Cloud Hosting Plans
As a business, there are certain features that you should consider while finalizing the best cloud hosting provider. Every business, be it a startup, medium-level, or even a large corporate, there are certain requirements that should be followed.
For a new business, the price can be a priority, on the other hand, for a large e-commerce businesses, stability, speed and uptime should be the priority.
Let us discuss all important features that every cloud hosting should have:
1. Pricing
Pricing is often the first noticed feature of any service. When you are picking a hosting plan, it can be a tricky situation since a pack too cheap may be slow and sluggish. On the other hand, buying an expensive plan will directly result in reduced profits.
You must choose a sweet spot between your needs and the services offered and once you find the perfect plan only then go ahead.
Pick any one of the 6 cloud hosts we discussed above, as they will surely meet your growing business demands.
2. Scalability
For catering to any kind of online business, a hosting service should be such that it provides you the ability add extra resources when your business grows.
Growing business websites may witness an unexpected surge in visitors and that will require you to upgrade your cloud plan as well.
If your platform is not scalable, then it can easily go down in case of sudden visitor fluctuation, and the last thing you want when visitors flock around your website is slow loading times.
3. Addons
Every website hosting platform offers a different set of features or addons to make their deal more likely to be picked when compared with competition side by side.
What a business owner should look for is the perfect mix of addons that fulfills their current needs and expectations. You must also keep in mind that with each addon the overall cost of website development is also increasing.
There may be a few add-ons that are free for the first year but you may have to pay for them during the renewal. So it is important to take into consideration what addons you want to choose.
4. Uptime and Speed
Uptime refers to the number of hours in a year your website is working. On the other hand, speed means page load time. Loading speed determines the time it took for your web page to fully load on any given device.
Frequently downtime or a slow-loading website will cause frustration in your customer and ultimately lead to an overall bad experience with your company.
5. Storage Space
Tired of "Low Storage Space" popping up on your screen? This is another major thing to be kept in mind because some hosting providers will cap the storage space to only a few GBs.
The last thing you want is to run out of storage capacity during an important task, meeting, presentation, etc.
Even if the storage space seems to suffice, don't forget to check the inode limit or limit of the number of files.
6. Bandwidth
Often confused with internet speed, bandwidth is the amount of information our server can transmit in a given amount of time. In simple words, the amount of data that can be transferred in a month.
The higher the better.
7. Customer Care
Last but not the least, good customer care is the backbone of any successful company or organization, if your customer care executives are incompetent or just plain unwilling to help, it won't matter what kind of services you provide in the web hosting business if your customer care is poor. I suggest that you check to see beforehand if the host you have chosen gives you the ability to call the support staff or text or both.
FAQs about Top Cloud Business Hosting Services
Let us now discuss some of the questions that our visitors have asked regarding cloud hosting services.
What is the best cloud services for small business?
There are the 6 best cloud servers for small businesses.
1. ChemiCloud
2. HostGator
3. Hostinger
4. DreamHost
5. HostArmada, and
6. LiquidWeb
Depending upon the budget, you can use any of them. They are being used by millions of customers across the globe and are reliable cloud hosting servers.
Is cloud hosting better than shared hosting?
Yes, Cloud hosting is better than shared hosting as the data is stored on the cloud. A cloud typically means a web of multiple interconnected servers. This means, if one server fails, another server on the cloud will handle the traffic.
What is the best web hosting for small businesses?
For Small businesses, we recommend ChemiCloud, HostGator, Hostinger, DreamHost, HostArmada, and Liquidweb. All these hosting services are affordable, reliable, and scalable.
Why is Hostinger so cheap?
Hostinger is cheap because it is operating on the principle of economies of scale. There are over 2.9 million visitors on their servers. Operations fixed expenses being the same, the benefit is passed on to the customers.
Conclusion: Business Cloud Hosting Providers for 2023
So, We discussed the 6 best web hosting for small businesses that are providing cloud services at affordable rates. Whether you are a small business or a large e-commerce website, you can choose between – ChemiCloud, Hostinger, DreamHost, HostArmada, HostGator, and LiquidWeb.
These web hosting companies are highly scalable, and affordable and are offering great service that every business needs today.
Grab the best cloud hosting deals now:
Check more options in the posts below: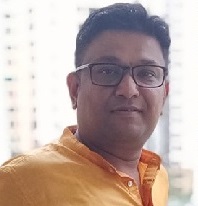 Seasoned Professional with 15 years of experience in Sales and Marketing. Entrepreneur, Consultant and Blogger helping people earn through jobs and blogging. Experienced Hosting Reviewer who likes to collect detailed info about existing players and share it with my audience. Previously worked with leading Banks and Telecom Companies.
I completed my Masters in Management with specialization in Finance and Marketing.
Visit our Hosting Review and Blogging Guide for more interesting articles.