Are you interested in online business and looking for the best online affiliate marketing courses for beginners. Learning is the key if you really want success in the affiliate marketing business. With this guide, we will help you identify the best course for affiliate marketing that is made for beginners.
We all love online shopping, what with the attractive discounts and choices offered. With the Covid19 effect, online shopping is not just a choice but a necessity. According to Statista, global retail e-commerce sales were a huge 4.28 trillion US dollars in 2020 and are forecasted to go up to 5.4 trillion US dollars in 2023!
With the rise in e-commerce, there has been a parallel boom in the area of affiliate marketing. While online shopping already offers cheaper rates than brick-and-mortar stores, the idea of getting cashback, rewards, and discount coupons is very alluring to consumers. Which is the reason most brands need affiliate marketing. Below are some interesting facts to convince you that affiliate marketing is booming:
Affiliate marketing spending is predicted to rise at a 10% growth rate in upcoming years.
The current worth of this sector is $12 billion and 15% of all digital media revenue.
When executed well, affiliate marketing programs can improve sales by a whopping 30%!
81% of brands employ affiliate marketing tactics to improve brand awareness to win over new customers and engage with existing customers.
1. The Authority Site System – Authority Hacker
Authority Hacker, owned by Mark Webster and Gael Breton, offers one of the best affiliate marketing courses out there, The Authority Site System (TASS). While the course is a tad expensive if you are just starting, it is highly recommended if you want to try affiliate marketing by building an authority website.
Also check out our best hosting affiliate programs.
Course highlights:
The course covers affiliate marketing in detail, including market and keyword research, tech site setup, design and branding, content creation, link building, hiring and outsourcing, monetization, analytics, and tracking.
The course takes a structured and very systematic approach.
Easy to follow pre-made copy/paste templates for a variety of blog posts.
Real-life case study for practice.
Strengths:
The course works well even if you are a beginner.
As an advanced affiliate marketer, it can help you become more organized and impactful with your strategies.
Very well-crafted and well-executed.
Access to a video library of 200+ lessons.
The site setup module helps you create an affiliate website that stands out from competitors
TASS sticks to gaining white hat links so you don't get penalized for grey hat links.
Access to the exclusive Facebook community.
Lifetime updates for a one-time fee.
Fee: $997
User Review:
"Becoming an Authority Site System member will probably be one of the best investments I'll ever make in my entire life."-Robert Botha
2. Affiliate Lab – Matt Diggity
Matt Diggity has designed Affiliate Lab as an excellent online course where you learn how to rank, earn from, and eventually, flip websites for a profit (flipping websites refers to buying a website or selling your own). The course works if you are a beginner, mid-level or advanced affiliate marketer, offering 160 videos to choose from, depending on your level.
Course highlights:
Select the perfect niche using the Niche Grading Tool.
Create both small niche sites and authority websites.
Find all keyword opportunities with the Recursive Keyword Research Process.
An Outreach bonus: a 50+ video course to learn email outreach for white hat links.
An email marketing course.
Learn the perfect site architecture.
Create content that ranks and makes sales.
Short course on penalties and core algorithm updates in case your site gets penalized for grey hat link strategies.
Strengths:
Teaches different link strategies and methods.
Off-page PDFs and spreadsheets available for off-page study.
Valuable on-page SEO and conversion rate optimization lessons.
Each stage of a site (Sandbox, Trustworthy, and Authority Stage) has its own strategy.
The Beginner's Lab bonus teaches how to create your website, your WordPress account, obtain a domain name, and select a host.
Access to the exclusive Facebook group for your SEO queries.
Fee: One-time fee of $997 which includes ongoing updates
User Review:
"You said it was the last course I'd need to take. You are right. The intro strategies and processes to take the guess work out and rely on empirical data to create action plans is perfect. After the first day of devouring the info, I'm pretty much speechless." –Paul Clukey .
Recommended read: Benefits Blogging for Small Business.
3. Complete Affiliate Marketing Online Training Course – Savage Affiliates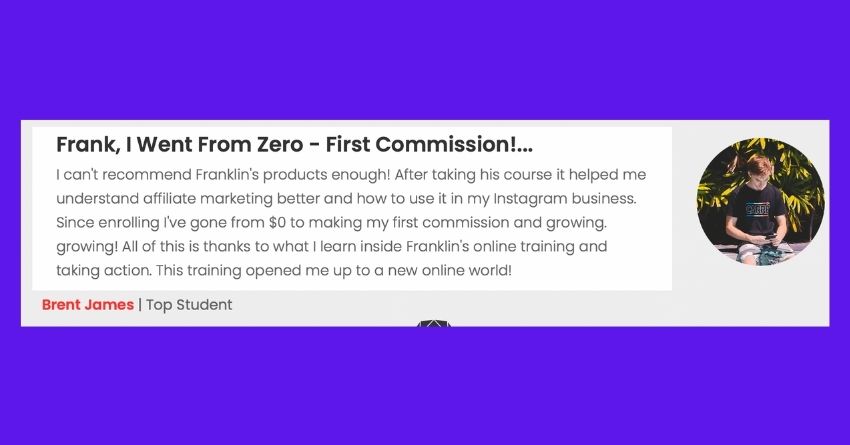 This is a complete affiliate marketing course created by Franklin Hatchett. It is a good idea if you are a beginner or intermediate-level affiliate marketer looking to expand your skillset with advanced marketing tools such as CRO and targeted affiliate techniques. The easy-to-follow training system includes weekly videos and exclusive case studies.
Course highlights:
Foundation module to introduce you to affiliate marketing.
Email Marketing
ClickBank use
Learn how to make commissions on Amazon.
Search engine optimization.
Learn paid traffic methods.
Learn free methods if you do not want to start with paid traffic straightaway.
Launch Jacking and Web Hosting Blueprint
Strengths:
Learn how to pick profitable niches.
Create the right affiliate marketing website or funnel.
Learn how to integrate your affiliate marketing business into funnels.
Different traffic methods
Lower fee than the previous two courses.
Fee: $197 for standard and $297 for full version
User Review:
"Frank, I Went From Zero – First Commission!…
I can't recommend Franklin's products enough! After taking his course it helped me understand affiliate marketing better and how to use it in my Instagram business. Since enrolling I've gone from $0 to making my first commission and growing. growing! All of this is thanks to what I learn inside Franklin's online training and taking action. This training opened me up to a new online world!" –Brent James
4. Super Affiliate System – John Crestani
Created by John Crestani, the Super Affiliate System (SAS) course centers around paid traffic through Facebook Ads, Google AdWords, and YouTube ads. It might be a good idea if you are a beginner/ mid-level and would rather focus on paid traffic methods instead of setting up a blog and waiting for Google to rank it.
Course highlights:
6 modules with a module each week with 50 hours' worth of videos that include how to:
Join affiliate networks such as Clickbank
Niche market research
Site setup
Facebook ads setup
Advanced Optimization Tactics
Google Adwords
Strengths:
Does not involve email list building
Relies more on simple landing pages
Includes copywriting knowledge
Complete information on building an advertising campaign
Fee: $997 one-time or 3 payments of $397 per month
User Review:
"Here's what I think about the Super Affiliate System its incredible. When I took the course, I was filled with theory and this course was all about implementation." – William Oliver
5. Commission Hero – Robbie Blanchard
Just like the Super Affiliate System, Commission Hero, created by Robby Blanchard, is a good choice if would rather not build a website. It focuses on using Facebook ads for traffic, so it works well if you are content to pick and promote a product on Facebook. The only downside is that you do need to have money to invest in Facebook ads.
Course highlights:
Learn to pick products that have good commissions.
Run Facebook ads that target buyers and earn commissions by selling affiliate products.
Learn Clickfunnels to make Clickbank commissions.
Strengths:
The creator of the course is a top Clickbank affiliate.
If your main goal is to promote Clickbank products, this course fits like a glove.
Fee: $997 one-time or two payments of $597
User Review:
"After just a few weeks in the course I've already had THREE $1k/days in a row!" – Matt
6. Project 24 – Income School
This is a very good beginner-level course designed by Jim Harmer and Ricky Tesler of Income School.
Course highlights:
Includes 220 videos, 75 lessons, and 79 Podcasts.
Teaches Google and YouTube affiliate training.
Provides trainees a list of 1,011 potential niches for niche selection and site-building.
WordPress website setup.
Latest SEO, marketing, and monetization strategies.
Social Media and Email Marketing.
Strengths:
Access to the active members-only community.
Niche list for easy niche site selection.
Relies solely on white-hat links so no chance of being penalized by Google.
Display ad monetization strategies come in handy.
Fee: $449 for a year
User Review:
"I'm in the program, and I love it. I'm ahead of schedule based on their results expectation page (I started late March 2018 and am getting increasing organic traffic). These guys know their stuff and want you to succeed." – Ecuador Abroad
Sean Bagheri has created this course for affiliate marketers wanting to expand their business and generate income from ClickBank and other affiliate networks.
Course highlights:
Step by step training in affiliate programs and the tools for developing them.
SEO and PPC
Pick good products to promote and identify the relevant strategy for each.
Weekly training and latest strategies.
Latest Aversity Partnership Programs.
Strengths:
Direct personalized mentorship with CEO and other coaches.
Access to the exclusive Facebook group.
Access to first-hand case studies by Sean with Clickbank products.
YouTube advertising domination course bonus.
Home business boot camp course bonus.
7-touch funnel email marketing strategy course bonus.
Fee: $297
User Review:
"Thanks to the Aversity team and my coach Alex, I was able to make first-ever commission online." – Kevin Kavanagh
8. Clickbank Success: Affiliate Marketing Without A Website – Udemy
Is ClickBank Success one of the most hyped affiliate marketing course?
Although this course covers the limited set of affiliate streams but still a powerful course to start with.
This course is the perfect choice for those on a budget or those who do not want to buy domains and host websites. This beginner-level course allows you to go inside ClickBank to pick profitable ClickBank products that you can sell and how to sell them quickly.
Creator KC Tan teaches students the basics of affiliate marketing and how they can become successful affiliate marketers. KC Tan is a master affiliate marketer, having taught over 65,000 students.
Course highlights:
In this course, you will learn how to:
Identify profitable ClickBank products.
Identify and eliminate useless products.
Track ad performance for each keyword and modify keywords when needed.
Promote ClickBank products on Facebook with no investment.
Create a squeeze page (a webpage designed for collecting email addresses from visitors) with subscriber opt-in.
Strengths
Very budget-friendly.
The lessons work well even for beginners.
Exercises, readings, tests, etc. help to retain the topics better.
Explore new concepts and marketing strategies applicable to non-ClickBank products.
SEO, Organic social media, and paid campaigns.
Fee: $9.99
User Review:
"The course is excellent for beginners and KC provides interesting and amazing knowledge. It is one of the best courses I would highly recommend." – Ardi LT
9. Affiliate Marketing Course – Skillshare
The "Affiliate Marketing Course" is a set of multiple courses available on the Skillshare platform. Founded by Michael Karnjanaprakorn, Skillshare is a powerful resource for beginners in the affiliate marketing world. There are over 50 classes on the various aspects of affiliate marketing to choose from, depending on whether you are a beginner, intermediate and advanced affiliate marketer.
Course highlights:
A huge collection of videos to choose from.
Introduction to affiliate marketing.
Learn affiliate link rules.
Collection of case studies.
Learn how to pick products and different promotion strategies for them.
Learn future trends in affiliate marketing.
Master the affiliate attraction hack.
Learn about ideas that generate huge traffic.
Strengths:
Budget-friendly.
Select lectures depending on what you need and your experience level.
Real-life case studies make it easier to follow the classes.
3 hands-on projects to practice the concepts taught in the classes.
Fee: $99
10. Complete Digital Marketing Course For Affiliate Marketing: 23 Courses In 1 – Udemy
The course is taught by Diego Davila and Phil Ebiner and includes 32.5 hours of training in affiliate marketing. It is a great idea if you are new to the field and want to get a comprehensive knowledge of digital and affiliate marketing all in one course.
Course highlights:
Access to 32.5 hours of on-demand video, 21 articles, and 28 supplemental resources.
The bundle includes courses that cover the fundamentals of digital and affiliate marketing.
How and where to pick affiliate products to promote.
How to create well-crafted ads.
Learn about different advertising platforms such as Facebook, Instagram, Twitter, Pinterest, Quora, Google Adwords, etc.
SEO
Launch Jacking
email Marketing
Strengths:
Budget-friendly.
Highly experienced trainers having trained over 600,000 students on different topics of digital marketing.
Learn all the tools of affiliate marketing from beginner to advanced level in one course.
Practice the lessons with quizzes and practicals.
Check real-time progress by taking action throughout the practical course.
Master the subject of boosting your email list, traffic, social media followers, and subscribers.
Fee: $39.99
User Review:
"Definitely worth every penny" – Nathan C.
That's it, folks, we've reached the end of the list. I hope it helps you decide which course will work best for you in terms of what type of affiliate marketing you want to do and your budget. And if you do not want to put money into a professional course upfront, there are plenty of YouTube videos where you can learn the basics of affiliate marketing. Do let us know what you think in the comments.
References:
Galov, N. (2021). 101 Affiliate Marketing Stats [Infographic] – Updated in 2021. Hostingtribunal.com
Sabanoglu, T. (2021). Global retail e-commerce sales 2014-2024. Statista.com
Why An Online Affiliate Marketing Course?
An affiliate marketing course will allow you to understand how affiliate marketing works, learn affiliate marketing tactics to drive up sales, and gain first-hand counseling from industry leaders. Post Covid19, institutes have been forced to move to virtual learning platforms which is why online learning is a great idea and there is no scarcity of online courses to choose from.
How To Choose A Best Online Affiliate Marketing Course?
Not every affiliate marketing course is good for you. While choosing a program, you must do basic research and take a few precautions as well. We run our own affiliate marketing websites and from personal experience, we recommend you to focus on acquiring the following skills to become a successful affiliate marketer:
a) Niche identification
b) Keyword research
c) Creating a WordPress website
d) Finding a money-making affiliate program
e) Search engine optimization
f) Promotion through social media
g) Search engine marketing
h) Funnel building and a lot more.
If your course covers all of the key skills mentioned above, you can pick a course for yourself.
What is Affiliate Marketing?
Simply put, affiliate marketing directs consumers to purchase a good or service from a site. Online merchants get into partnerships with website owners through affiliate programs.
These website owners, referred to as affiliates, generate revenue by promoting the goods and services and increasing leads and traffic for their partners. The merchant has an agreement with the affiliate where they will be paid a commission, either for each sale, lead or click.
Coming now to the main reason for this post, the online affiliate courses that we think are the best in the market. Let's dive straight in.
Conclusion: Best Online Affiliate Marketing Courses
You will learn affiliate marketing through a website or through social media. These handpicked courses will teach you to create an affiliate website step by step.
Every single course we have picked will be helpful for beginners as well as professionals to enhance their sales and affiliate marketing skills.
If you are looking forward to starting a new blog on WordPress, don't forget to visit our web hosting comparisons.
Recommended post: Jasper Affiliate program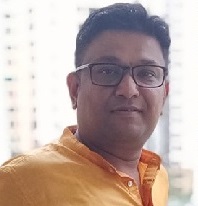 Seasoned Professional with 15 years of experience in Sales and Marketing. Entrepreneur, Consultant and Blogger helping people earn through jobs and blogging. Experienced Hosting Reviewer who likes to collect detailed info about existing players and share it with my audience. Previously worked with leading Banks and Telecom Companies.
I completed my Masters in Management with specialization in Finance and Marketing.
Visit our Hosting Review and Blogging Guide for more interesting articles.