If you are looking for an honest EasyWP Review, we have a detailed study for you. Basis our own experience when we signed up for this host and tested it for a few days, we are going to share our opinion about this managed WordPress hosting that claims to be better than its competitors.
So, EasyWP, is the future of WordPress? Let's explore.
According to Namecheap (Owner of EasyWP), it is a managed hosting service that aims to make the installation and integration of WordPress on your website easy and fast.
It is a website hosting service that offers solutions and products for all hosting-related needs.
BottomLine of EasyWP Review (If you are in hurry)
EasyWP is an affordable managed WordPress hosting that is built for beginners looking at super fast hosting. Everything is preconfigured at the server level and you don't even need cache plugins.
Two out of three plans offer free CDN making your site load quickly in any part of the world. You don't need to worry about the service part as it is available 24×7 over chat and email.
Taking backups and restoring is a breeze. If you are not a fan of traditional cPanel, EasyWP's simple and intuitive interface will make you say wow.
Overall, easy to use interface with pre-installed WordPress and server-side speed optimization gives you complete freedom of mind. Try for free for a month yourself and decide.
You deserve an unbiased review and in this one, I will aim to compare the strong points of EasyWP with other web hosting services and will help you determine if it is worth your time and money.
By the end of this review, you will have an understanding of EasyWP and all the different services and features it offers.
NOTE– A "managed" hosting service handles most of the technical aspects of hosting like setup, administration, management, support, etc. although it does not mean that you do not get to fine-tune your preferences.
Managed WP hosting is good for beginners and professionals who don't want to manage the technical stuff themselves. With this type of hosting you can focus on pushing out good content instead of having to worry about hosting technicalities.
About EasyWP
Since its inception in 2017, it was in the beta stage and after 2 years in 2019, it was officially launched to the public after being awaited for quite some time since EasyWP was being advertised as the radical way to launch a WordPress blog.
A solution to manage all the technical aspects of your website without any hassles like:
One-click WordPress installation,
Setting up SSL, to SFTP (they recommend FileZilla) for uploading large files on your website
Free CDN and
Backup and restore option for your websites on their cloud to avoid data loss.
When you go to their homepage you are greeted by a "try for free" offer that lets you try their services cost-free for a month and a quick introduction video to get you started within minutes.
They are proud of the hardware that they use and claim to be the fastest when it comes to load times and the most affordable hosting service out there and while pricing is one of their strong suits since they do not include the cost of the domain name (sold separately) you end up paying almost equal to the competition, so it is really important to understand its features and then evaluate if it fulfils your criteria and not just go for it because it is a cheap alternative (or so Namecheap claims).
Review Of EasyWP's Hosting Plans
Namecheap's EasyWP is currently offering three plans that suit the website of low to heavy traffic.
Starter plan offers 10GB SSD Storage and supports 50k visitors.
Turbo plan offers 50GB Storage, 1.5x Cpu, and RAM and offers Free CDN and Free SSL. This plan is ideal for WordPress blogs with up to 200k monthly traffic.
SuperSonic plans support up to 500k visitors a month. The right plan for the medium to heavy traffic websites. You get almost 2x RAM and CPU limits with a 99.99% uptime guarantee. Free CDN and Free SSL are also provided with this plan.
Note: Each plan allows you to host one website only. For each new site, you need a separate plan.
Pricing
Let us now have a look at their annual as well as monthly pricing.
| Plan Name | Monthly Pricing | Annual Pricing |
| --- | --- | --- |
| Starter | $4.88 | $24.88 |
| Turbo | $8.88 | $48.88 |
| SuperSonic | $13.88 | $54.88 |
So, as per my finding, I would say EasyWP as one of the best alternatives to Bluehost as it is fast and affordable.
Speed Test Result
As we know that the speed and overall core web vitals are critical ranking factors today, I decided to check the page load speed using popular tools.
Note: I am not hiding the name of the dummy site that is used like other reviewers. But I keep on moving the site to test various new hosting companies. Hence, the day you will check it, it might now be using EasyWP. However, the day on which the tests were performed, it was using Namecheap's starter plan.
Here are my review and finding of Namecheap's speed tests that were performed on a test site.
Test 1: Pingdom from the USA
We used Pingdom to check the speed of our dummy site and the server location was San Francisco.
Findings: The page was loaded in just 190ms and the performance grade was 97. That's brilliant.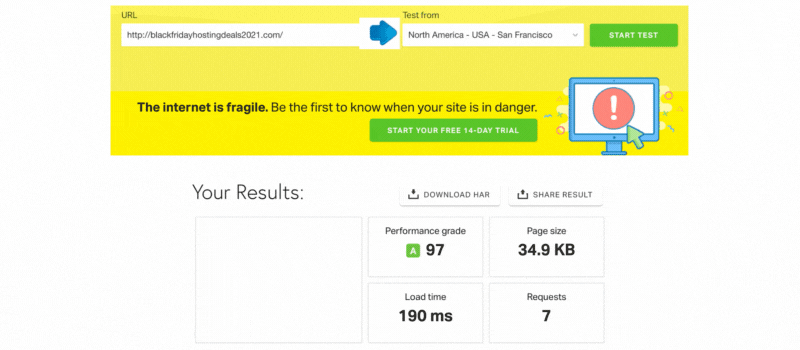 But, since our hosting server is located in the USA, I decided to check the same site using the same tool from different geography.
Test 2: Pingdom from the Tokyo, Asia
So, this time, the test was performed from a different part of the earth altogether, that is Tokyo, Asia.
Findings: I got amazing results again. The page was loaded in just 519ms with the same performance grade of 97.
Test 3: Google PageSpeed Insights
Google's speed test result is the ultimate tool that recommends a lot of improvement areas and shows the historic trends also. I trust this tool completely and hence decided to scan the same website with this tool before concluding my remarks on EasyWP's speed performance.
Findings: Nothing can be better than this. The score of 100 and the page was loaded in less than .4 seconds.
Basis these test results, I would recommend EasyWP for someone looking a fast web host without spending a lot of money.
Review Of EasyWP's Uptime
Do you ever want your website to go down? The answer must be No. We want our online product to be available to our visitors. Even a single minute of downtime can spoil your ranking and user experience which ultimately resulting in business loss.
After observing one of my test sites for almost 2 weeks now, I didn't observe any downtime. As you can see in the image above, I got 100% uptime. However, during the year, it is almost impossible to sustain these figures.
For normal server maintenance related tasks, .01% downtime is still acceptable.
The company guarantees up to 99.99% uptime on the Supersonic plan and 99.9% uptime on other plans, which is descent.
Till now, basis the observation, I am impressed with the uptime performance.
How To Get Started For EasyWP In 60 seconds?
Registration is fairly simple and only asks for basic information such as name and email address etc. Super quick if you already have a Namecheap account.
Yes, you have to create a Namecheap account to buy EasyWP, but on the plus side, your credentials will work on both websites and you can enjoy all the services seamlessly between the two.
Once you are done with the registration you have an option to go for a free trial period of 30 days on all plans and even after the first month if you opt to end your subscription for any reason you are backed by a 30-day money-back guarantee.
After you have successfully purchased a plan based on your need the next step is the website creation process this is easy and one-click and installs WordPress on your system as shown in the screenshot below.
Next, it will ask for a domain name, here you can either enter a domain name previously purchased from any other domain registrar or enter a domain name purchased on Namecheap, if you are unsure about a domain name it also gives you the option to make a temporary domain name via EasyWP and change it at a later time.
Next EasyWP asks if you want to pre-install some plugins you may be familiar with and shows a list of some of the most common plugins that users install, after picking out the plugins you want to pre-install (if any).
The screen now shows you a preview of all the options you just selected. Click Continue to Purchase.
After a little bit of background task as shown below you will be taken into the next step.
After some time it should turn green at this point, Namecheap emails your website credentials to your registered e-mail id which you can use to log into the database of your website.
While your website is being set up in the background you MAY see this warning message that says "Namecheap wants to make changes to YourDomainName.extension" this is normal, click continue to proceed.
Go ahead and check to see if your website is live on the world wide web.
If you don't see it or an error window shows up, don't worry as it takes some time to configure the DNS for a custom domain name, once EasyWP completes the process of DNS propagation (usually within an hour or two) you can access your website, I was able to immediately access it.
Note– DNS propagation is sometimes a long process that takes a maximum of 24 hours, after waiting, if you cannot access your website past that, contact your hosting provider (NameCheap).
Key Features of EasyWP WordPress Hosting
Let us now discuss some of the core features of Namecheap's EasyWP hosting.
PreInstalled WordPress
So, as EasyWP is only for WordPress, you don't need to install or configure it manually. When you will complete the signup process, you will find the WordPress installed automatically.
That saves both time and effort. Needless to say, the process suits best for beginners who are doing all this for the first time.
Server-Side Cache
We know that Cache helps you increase the page load time and decrease the load on the server. For this, most of the professionals use plugins like Cachify, WPRocket, etc. The biggest problems with these external plugins are related to configuration, compatibility, and also pricing. Free plugins don't work that great and for best performance, you need to upgrade to the pro version, which costs you annually.
But, EasyWP is different and helps you save money. This hosting offers you a server-side cache that is built on three layers – Varnish, Opcache & Redis object cache. With these advanced caching layers, you don't need a separate speed booster plugin.
Interface
The first thing that you will notice is the ease of use that is implemented throughout the EasyWP platform, you are presented with a list-view of your websites and you can manage all your websites here.
If you tap on the WordPress Admin icon on the right hand, it redirects you to the website builder, keep in mind that this website is resource heavy and may take a few minutes to load.
Once it is fully loaded you should see a lot of neatly arranged options on the left side of the page to fully customize your web page and take control over the core experience of your website this section is full of intuitive features and it takes a lot of usages to get familiar, don't get me wrong it has easy to use features as well.
But to make the most out of EasyWP it is best that you get really used to designing and re-designing your website as you see fit, the better you become at this the more visually appealing your website is going to look.
Taking a look inside EasyWP, a single click on the list entry of your domain name gives you a complete overview of your website with all the necessary information. The toggle between Files & Database, Backups, and Plugin Integration is seamless and neatly laid out as these are the major features. Let us take a quick look at each category.
Backups
As the name suggests, it safeguards a copy of your data. In case you made mistake or delete the files erroneously, the backup gives you an option to restore them to a particular date and time.
You can create and restore the backups with just one click without any separate plugin.
Since the backup is saved on Namecheap's cloud and occupies the space allocated to you. You must keep in mind that different plans offer different storage capacities and you must consider this factor when purchasing the EasyWP plan.
CDN
CDN or a content delivery system is a collection of servers around the world that helps minimize loading times for web pages by reducing the load on the "original server", to do this it mimics the information on the original server and fetches it upon a user's request, therefore, reducing the physical distance between the user and requested information.
It helps a great deal but only if your website is content-heavy for example – Shopping sites, Social Media websites, etc. But if your website represents more of a blog, index, informational, or another recreational website then it does not make much sense since their load times will already be negligible.
The link on the Integrations tab takes you to the homepage of Supersonic CDN (another Namecheap product) and it offers decent deals since it's a partner platform.
Files & Database
Now, EasyWP gives you two options to transfer files to your website for public use as shown below.
Option 1– SFTP Access gives you the power to edit your website's code and make changes in the core of your website and also allows you to add or transfer large files to upload.
Click on Access Files and it gives you a list of credentials such as server information, port address, a username, and a password that you need to input into an FTP client. EasyWP recommends FileZilla for a seamless experience since it is open source and cross-platform, available in many languages, and supports pause and resume features for files less than 4GB in size.
Option 2– phpMyAdmin is an open-source scripting language, one of the most popular MYSQL database management applications, and since PHP is a server-side scripting language that is embedded in HTML you need prior knowledge of coding languages like HTML, CSS, and JavaScript.
Only if you are an advanced user and confident in your coding abilities then go ahead with this option, otherwise do not edit or modify the source code or you may end up hurting your content, just like before it will provide you with all the essentials to edit, modify, copy, create whole MYSQL databases.
Note– You can adjust the amount of time you want the servers to remain active but remember that they will shut down even if you are editing your source code, making crucial changes to your content, or uploading an important file.
So you should pre-set the time that you want the server connection to remain open for.
It is set at 1 hour by default and you can raise this limit to your liking so that it does not interrupt you while focusing on content creation.
Alternatively, you can click on "revoke" at any time to kill the connection immediately, this can be especially beneficial if you need to leave your computer unsupervised in a hurry.
Integrations
This tab is solely responsible for managing add-on services that you may choose to purchase along with your current setup.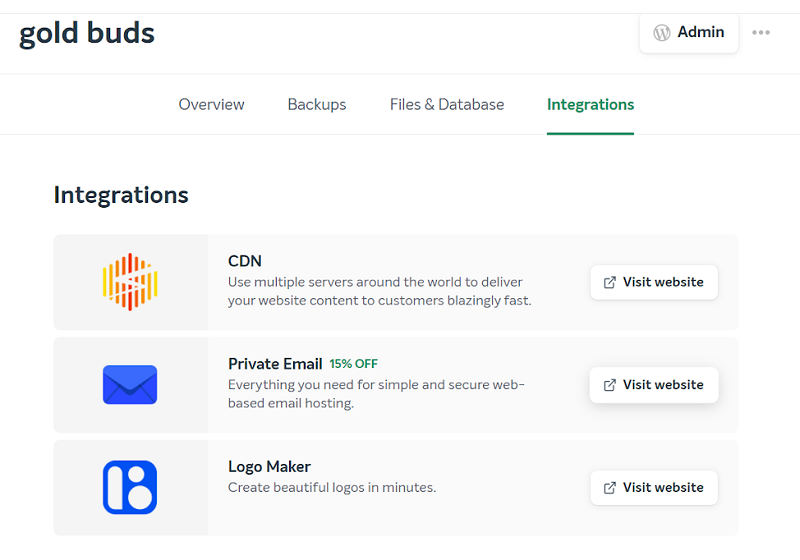 I will break these down one by one to avoid confusion
Private Email at 30% Discount
As the name suggests it is a service dedicated to email hosting for business professionals and creates a personalized email id for your website for example- [email protected]
Most sellers also offer common features like collaboration tools, anti-spam protection, and a dedicated amount of cloud storage.
Click on the private email tab to get redirected (or here) to another Namecheap collaborative that caters to the need for private emails.
Free Logo Maker
Clicking on this tab redirects you to create a free, unlimited, and fully customizable logo.
It runs you through a vast set of fonts, colour schemes, and icons to choose from and presents you with a huge selection of potential logos at the end that you can edit even more and fine-tune to your liking before using it.
In my opinion, this is the most useful and beautifully designed integration out of the 3 available and it is free to use.
Now that you have all the features analyzed let's find out if it is worth your hard-earned money.
Pros And Cons Of EasyWP WordPress Hosting
In our Namecheap EasyWP review, we found the following Pros and Cons of this hosting that are worth to be discussed.
| | |
| --- | --- |
| Pros | Cons |
| A 30-day money-back guarantee lets you try out the service risk-free but only if you remember to cancel in time. | The initial setup is not as quick as it needs to be, since you have to separately create a Namecheap account. |
| Surprisingly minimal, super easy to navigate, and bloatware-free interface. | Some plugins are blocked by EasyWP. You can see the list of blocked plugins here. |
| No pre-installed themes or plugins which lets the user choose to install whatever extra they need. | No option for automated backups after a predefined time. |
| You can add any number of WordPress websites to your dashboard for an extra cost per website and manage them all from a single place. | Email is an add-on while the majority of hosting companies offer it for free. |
| Namecheap claims 99.99% uptime and the use of SSD for their cloud storage and the advantage of an SSD over a standard HDD is well known. | Lacks the feature of automatic backups. |
| Free SSL (not available with the starter plan) is essential to make sure information exchanged between client and server is encrypted. | |
| Free CDN, a system that reduces the physical distance between server and client resulting in reduced loading time. | |
| Free backup and restore feature. | |
If you are having second thoughts, hold your horses till you hear about other WordPress-centric hosting websites and the services they offer.
Alternatives To EasyWP
If you do some research (which you must before making a big decision such as this) you might have come across multiple names that pop up frequently besides EasyWP such as
1- Bluehost– Its price starts from $2.75/mo and provides free CDN, free SSL, and free domain name for 1 year, even in the most basic plan which is unavailable EasyWP.
2- Flywheel– It also offers managed WordPress hosting that starts from $13/mo and free perks including CDN and SSL. By comparing with the market scenario, it is in the mid-price range.
3- Kinsta– Basic plan of Kinsta starts with 10 GB SSD space for $35 per month and provides free CDN and SSL. It is even more expensive than Flywheel.
4- WPHosting– It offers the hosting plans for 1, 5 and 10 WordPress instances. The most basic plan for 1 website costs $14.99 per month and comes with a free domain name for 1st year and most importantly it supports unlimited traffic.
And tons more if you start digging but these are the ones that rival EasyWP as they provide the same services. Feel free to go and check them out as well.
My Impression Of EasyWP
After extensively using EasyWP to manage my websites for a week I came to the following conclusions:
First and foremost I just want to appreciate the fact that any EasyWP website is clean and minimal and most importantly, no pre-installed themes or plugins, there is a very satisfying feeling of going to a website that does not throw flashy ads in your face and EasyWP does a great job of keeping your website looking sleek.
Talking about the user interface of the dashboard, it is my favourite part of EasyWP as it has a very clean and almost Android-like UI which makes it look very familiar even to a beginner.
It doesn't provide you with a traditional cPanel but since it is managed, you don't even need that.
Overall, EasyWP is a good choice when it comes to features because it offers a decent mix of high-end services at affordable costs.
Customer support is of top-notch quality (due to Namecheap backing) and is very happy to be of assistance. I believe that customer support is the backbone of any successful organization.
FAQs: EasyWP Review 2023
1. Is EasyWP same as WordPress?
No. EasyWP is a kind of hosting for WordPress based websites while WordPress is a content management system where you can write, edit and publish the content of your website.
2. Is EasyWP shared hosting?
It differs from shared hosting in the way that shared hosting allows users to use any kind of CMS like WordPress, Joomla, etc. But EasyWP is restricted to only WordPress CMS so it is a Managed WordPress hosting not shared hosting.
3. How many websites can you create with EasyWP?
EasyWP allows only 1 website per plan. If you want to host another website then you will have to subscribe to its plan separately for the new site.
4. Which is cheaper between EasyWP and Bluehost?
The most basic plan of EasyWP costs $4.88/mo while for Bluehost it is $2.75/mo. By looking at price we can say Bluehost is cheaper but wait there is a hidden point in this case. When you renew the service after a year EasyWP will have the same price but for Bluehost, it will be $9.99/mo. So, after considering all factors like free domain name, SSL, etc. we can say that for first-year Bluehost is cheaper and for further years EasyWP is cheaper than Bluehost.
Final Verdict: EasyWP Review
A "truly" managed hosting service since the user has very little to worry about since EasyWP does most of the heavy-lifting on the user's part right from installing WordPress for you to an easy to navigate and minimalistic UI. (so much improvement since I last saw it)
Given the current hosting scenario EasyWP seems like a good choice for the vast majority since it is very beginner-friendly and easy to operate.
WordPress-centric and is backed by a huge organization (Namecheap) so there is no risk of inconsistency from the server-side.
SSD instead of HDD storage is used for storing your website data (another perk of huge backing) which impressed me, given the cost.
I tried and tested out all the features available and most of them exceeded my expectations for all the tests but the one thing I found missing was the lack of backup automation.
If you are looking for an affordable managed WordPress hosting provider then EasyWP is the go-to.
Considering what you get for the price, it is accurate to say that EasyWP is one of the best hosting services out there in terms of price to performance ratio.
However, if you are less concerned with the prices and more with the performance, EasyWP doesn't quite cut it.
Remember to pen down your thoughts and opinions about EasyWP in the comment section.
This brings our review to an end.
I hope this review cleared all your doubts about what EasyWP is and how it works. If you appreciate the effort put into writing this review feel free to share this with anybody interested.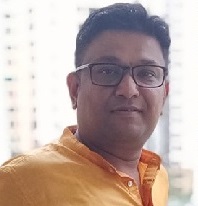 Seasoned Professional with 15 years of experience in Sales and Marketing. Entrepreneur, Consultant and Blogger helping people earn through jobs and blogging. Experienced Hosting Reviewer who likes to collect detailed info about existing players and share it with my audience. Previously worked with leading Banks and Telecom Companies.
I completed my Masters in Management with specialization in Finance and Marketing.
Visit our Hosting Review and Blogging Guide for more interesting articles.