If you are looking for HostArmada's Affiliate Program Review 2021, and if you are not sure which affiliate program to join among the different best alternatives of HostArmada, then you are at the right place.
We have answered following questions in detail –
How to Signup for HostArmada Affiliate Program?
How to earn $200 selling HostArmada web hosting?
What are the reviews of the Hostarmada affiliate program?
In this post, we are going to discuss HostArmada's Affiliate Program and how you can apply for that, and what are the best alternatives of HostArmada Affiliate Program that you can join.
So, without wasting any second of time, let's get into the article.
What is HostArmada Affiliate Program?
HostArmada Affiliate Program is one of the best hosting affiliate programs that any user can join and start earning with that. With every sale of the hosting plan, the affiliate partners are getting paid with a sustained commission.
When a user joins the affiliate program, he/she gets a special and unique affiliate link that can be shared with other internet users or customers.
When a user clicks on an affiliate link, then they get a unique cookie so that the affiliate program can know that who has sent that customer to their site.
Whenever the sale happens with the affiliate link, then the affiliate partners are getting paid with the fixed amount of commission as discussed.
[Read GrooveFunnels Review 2021]
HostArmada Affiliate Program
HostArmada Affiliate Program helps you to earn money with the sale of different hosting plans and they have there some rules and regulations that are known as Terms and Conditions.
Here we are going to discuss these two important sections of this review, so don't' do the mistake to skip this section.
Payment and Commission Structure
HostArmada is offering their affiliate programs on these three hosting plans, which are as follows: –
Cloud Shared Hosting
Cloud SSD VPS Hosting
Dedicated CPU Hosting
You get a higher commission with a high number of sales. All different hosting plans come with different commission packages.
Look at the below image as it shows the affiliate programs deals and commission structure.
Once the sale is done with your affiliate link, the payment comes directly to your PayPal account after 45 days, only when you have crossed $100 sales.
Terms & Conditions
The basic terms and conditions by HostArmada are as follows: –
You should sell a minimum of $100 to get paid.
Payment is paid after 45-Days of selling the product.
Payment can be received only by PayPal.
How to Apply for HostArmada Affiliate Program?
Applying for HostArmada's Affiliate Program is easier than creating an account on Facebook. Here we are going to discuss how you can apply for HostArmada's Affiliate Program.
So, without wasting any time, let's know how to apply for the HostArmada's Affiliate Program.
Step1: Visit HostArmada.com and scroll down to the footer of the homepage. Click on Affiliate Program. Or Click here for Quick Registration.
Step2: Now, will be redirected to the Affiliate Program's page. Click on Get Started, and continue.
Step3: Now, you will be asked for the personal information details, enter all the details, and scroll down below.
Step4: Now you have to enter some additional details like URL, your street, and others. Please enter your details and continue.
Step5: The final step to join HostArmada's Affiliate Program, You have to enter your PayPal email to receive payments, Enter it and don't forget to check the Terms & Conditions box, and then hit Sign UP.
Congratulations, you have successfully joined HostArmada's Affiliate Program.
What is the Payment method for the HostArmada Affiliate Program?
HostArmada pays its affiliate partners via PayPal. The payment comes after the free trial period of the hosting plan that is after 45-Days.
HostArmada only pays your commission if your affiliate wallet has more than $100, if you have more than that, you are eligible to get paid by HostArmada.
How to Promote HostArmada Affiliate Program?
Let's discuss some ways by which you can promote your affiliate link and engage more audience. So here are those: –
Promote on your Site
Promote your affiliate links on your blog or website by creating Ads, Banners, and others. Create a banner that promotes your HostArmada's affiliate program products and insert your affiliate link on it, so that the customer can redirect to that product page. Use those affiliate links on your sidebar, body of the page, and in the footer.
Publish Product Reviews
For promoting your affiliate link, you can start reviewing the products of your that website. Like you are going to start promoting your HostArmada's affiliate link, then you can start reviewing their hosting such as HostArmada Cloud VPS Hosting Review, HostArmada Review, etc.
Social Media is a Good Platform
Social media is one largest platforms to grow your business and engage more audiences or people across the world. Use your social media accounts to promote the affiliate links that will help you to reach more and a new audience across different cities and countries.
To get more audience and visitors to your link, you can publish paid ads offered by Facebook that will help you reach more audiences faster.
Take Advantage of your Subscribers
When you have a good number of audience or subscribers on your blog, then you can take advantage of that. You can create an email list of your subscribers and start promoting your affiliate link by sending them an email related to the Hosting Deals, Coupons, and Offers.
HostArmada Affiliate Program Alternatives
If you are not that satisfied with HostArmada Affiliate Program, then we are here with the best alternative of the HostArmada Affiliate Programs where you can get more commission. However, HostArmada is growing really fast and a fast-selling affiliate program.
Read – HostArmada Review 2021 | HostArmada Coupon Code
Just check out these alternatives here and check their affiliate programs from the links linked there.
Bluehost
Bluehost is a well known trusted brand. We can say for sure that you have heard this name before. Bluehost is one of the number one hosting-provides in the world. Bluehost offers a sustained commission of $65 when you sell their hosting with your affiliate link.
Bluehost paid over $5Million last year in Commission to their Affiliate Program Users.
Greengeeks
Greengeeks is a big brand in the hosting service providers. Their Hosting Affiliate Program is so interesting and profitable. Usually, you get $50 per sale, but when your sale more than hosting in a month, the commission gets increases.
Here is the image of their Affiliate Program Commission Structure.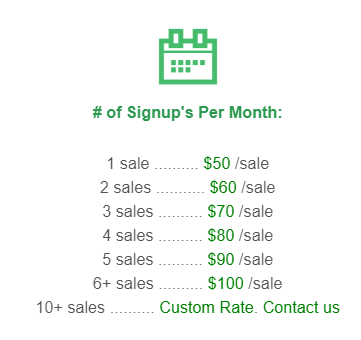 Rocket.net
Rocket.net is also a trusted web hosting provider. They are well known for their WordPress Hosting, as they are good at that. Now moving to their affiliate program. You get a $150 commission per sale. Yes, it is $150, sound good right. The only thing you have to do that join their affiliate program start selling their hosting with your affiliate link. Read our Rocket.Net Affiliate Program Review.
[Visit Rocket.net]
GoDaddy
GoDaddy is a well-known domain registrar and hosting provider company. The best thing about the GoDaddy affiliate program is that they give you 100% commission on almost all the products and services. The more you sell with GoDaddy, the more you earn from GoDaddy.
Conclusion
If you are a blogger and have a good audience, then you should join their affiliate program. But if you are already joined their affiliate program, then please share your experience with us. We will happy to read your comments and reviews below.
If you have any doubts or suggestions regarding this post and anything related to blogging and digital marketing, please give us a chance to help you, we will feel good and proud to help you all.
Visit – Hosting Performance Reviews | Web Hosting Coupons | Home
Did you know that traditional paper resumes might not be enough to make you stand…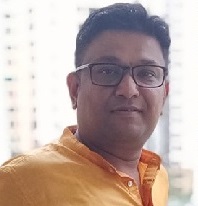 Seasoned Professional with 15 years of experience in Sales and Marketing. Entrepreneur, Consultant and Blogger helping people earn through jobs and blogging. Experienced Hosting Reviewer who likes to collect detailed info about existing players and share it with my audience. Previously worked with leading Banks and Telecom Companies.
I completed my Masters in Management with specialization in Finance and Marketing.
Visit our Hosting Review and Blogging Guide for more interesting articles.