Are you looking for an honest GrooveFunnels Review that covers its features, pricing, lifetime deal, bonus and everything else that you should know? If yes, this review article is for you.
I will share with you my experience and opinion on this All in One Page and Funnel Building suite that offers its lifetime free programs [both free and paid].
What is GrooveFunnels?
GrooveFunnels is a new-age sales funnel software with over 20 apps. Part of GrooveDigital, GrooveFunnels is emerging as one of the best alternatives to ClickFunnels today.
GrooveFunnels with its 20 powerful software, is a single alternative to multiple marketing products like Kajabi, Samkart, ClickFunnels, Shopify, Zendesk, ActiveCampaign, and many others.
Do you know that you can signup for its limited period free program that gives you access without any credit card?
It's right now one of the widely picked all-in-one lead management and sales funnel software that gives you Free cost products forever. As a Pro user, if you need advanced features then also, you don't need to pay a recurring cost.
For a limited period of time, you can own it for just $1397 one time or $497 in 5 easy installments. That's it, no payments thereafter.
I would recommend you activate its free membership today and test its claims yourself. Post that, you can upgrade to a one-time payment option that gives you lifetime access to all its premium products with 100% features and support.
Bottom line: Highlights of GrooveFunnels Review, Features Pricing, and Ease of Use:
GrooveFunnels Review 2022
GrooveFunnels Pricing

GrooveFunnels LifeTime Deal

GrooveFunnels Features

Ease of Use

Value for Money
GrooveFunnels Reviews
GrooveFunnels is a GrooveDigital brand that offers a bouquet of 20+ apps that enables you to increase and manage your online sales. You can signup for its Free plan as well as a Lifetime deal that is available for a limited period.
If you are looking for a cost-effective alternative to software like ClickFunnels and Samcart, you must try GrooveFunnels at least once.
We will discuss its Free Plans, Products, and everything about its Lifetime deals policy and pricing in this article.
Before that, let's have a quick snapshot of interesting stats and an introduction to the GrooveFunnels team.
Few GrooveFunnels Stats:
43000+ signups in last 30 days
12500+ GrooveDigital Youtube Subscribers
10000+ FB group members
GrooveFunnels Founders and Team
Since GrooveFunnels is comparatively a new brand in the market, it is important to understand who all are behind this company.
I will now share the details of Founders and other Team Managers as you would always like to know if your investment in this software is worth it or not?
Founders:
Mike Filsaime, CEO
He is a successful marketer with over and one of the brains behind Kartra, PayDotCom. By qualification, he is a software developer himself.
John Cornetta, President
John is an e-commerce expert generating over 6 figures revenue through his online stores. He and Mike started GrooveKart prior to the GrooveFunnels which is again a successful drop-shipping software today.
Matt Serralta, COO
Matt Serralta is a supply chain expert who managed PrestaShop as well previously. In his experience of over 12 years, he has managed P&L, sales and signed for new corporate partnerships [Including fortune 500 companies like Google].
Team Managers:
Donna Fox, CMO
Over 18 years of experience in marketing, projects, and CS management.
Joe Jablonski, VP, Business Development
Over 10 years of expertise in new business development and tie-ups, including affiliate relationship building.
Anuroop, Director of Technology
He is a SAAS software expert with great experience in creating new plugins and e-commerce software.
Finn Tessier-Lavigne, VP
As a VP of Technology, he is accountable for defining web-app architectures and streamlining new product feasibility and features testing. He ensures that the latest and flawless technology is used across the products.
GroovePages Products and Marketing Tools
GroovePages, as I mentioned above, is not just a funnel management program, in fact, it is an all-in-one suite with over 20 useful apps.
Company has launched approx 10 apps till now and 10 are scheduled to be launched this year.
Here is the list of all products, that are either launched or scheduled to be launched this year.
| GrooveFunnels Launched Products | GrooveFunnels Products In Pipeline |
| --- | --- |
| GroovePages | GrooveDesk |
| GrooveAffiliates | GrooveCalender |
| GrooveSell | GrooveWebinars Live |
| GrooveMail | GrooveWebinars Automated |
| GrooveMember | GrooveStreaming |
| GrooveVideo | GrooveSurvey |
| GrooveKart | GrooveQuiz |
| GrooveAutomations | GrooveFunnelMapping |
| GrooveBlog | GroovePipe CRM |
| GrooveProof | GrooveSDK |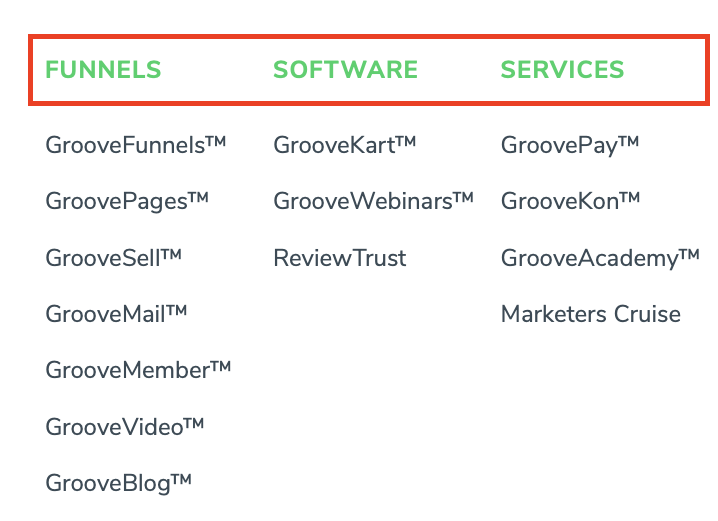 I will now discuss the products that are already launched now.
1. GroovePages
It is a fantastic website builder that offers you to create three sites for FREE. If you are a pro-customer, you can create an unlimited site.
It is more or less like a page builder in WordPress [Elementor Reviews]. It provides you with free templates that are easy to design.
If you don't know to code, you can still create a beautiful web page with a few clicks, drag, and drop.
For experts, it is also possible to customize the designs through a source code editor. You just need to know the trick on how coding works, else you can stick to the graphical edit mode.
GroovePages helps you select the best template basis your industry as you can see in the image above.
All templates are optimized for speed so that they can load really fast. Please note that speed is one of the ranking factors suggested by most search engines.
2. GrooveMail
GrooveMail is like ActiveCampaign or MailChimp that offers you advanced features like auto responding services, email analytics, and related stuff.
With GrooveMail, you can create email opt-in forms that help you grow your subscriber base. If you are using any other service for email, you can easily integrate that too.
There is a monthly limit of 25000 contact to which you can send an email even as a free subscriber..
It is easy to manage your subscriber base or leads by creating categories, tags, and segments.
3. GrooveSell
If you are an e-commerce store owner or sell your products online, you would have heard of SamCart for sure.
GrooveSell is a free alternative to SamCart and you save $49 every month [monthly cost of SamCart]. GrooveSell allows you to receive payments from customers through AuthNet, NMI, Stripe, PayPal, and a few more options.
Features like account management, invoice download, payment mode configuration, order cancellation, and refunds can also be managed by you or your customers.
Once you signup, register on GrooveFunnel's marketplace to get your products promoted by other affiliates as well.
4. GrooveAffiliates
If you are a company or an individual who chooses to sell products through affiliates, this GrooveAffiliates is for you. This service helps you enroll affiliates, decide and manage payouts and thereby complete affiliate management is possible.
5. GrooveKart
Do you know what is GrooveKart?
It is one of the best alternatives of Shopify that is launched by GrooveFunnels. Surprisingly, it is free for a limited time. If you want to add complex functionalities like Print on Demand, you can very well do that.
For every eCommerce or drop shipping business, adding a drop shipping functionality to the website is necessary, with GrooveKart, you won't face any problem doing that.
GrooveFunnels Features and Benefits:
No Cap on Products
Add Products with Single Click Upsells
Free Landing Pages or Brand Websites
Custom Domains are allowed
Bandwidth is Included
Zero Cost Hosting
Access to Affiliate Program
GrooveMail that offers automated, behavioral-based email marketing tools
GrooveMember offers Kajabi type Membership platform [As per product]
GrooveVideo also allows Video marketing as an extra feature
GrooveFunnels Pricing [Complete Cost and Price overview]
GrooveFunnels is just launched last year but still, most of its products are in the pre-launch phase.
How much does GrooveFunnels cost? So, GrooveFunnels offers 5 payment alternatives and here, is the list of pricing plans:
Lite- Priced for FREE
Silver- Priced for $99
Gold- Priced for $199
Platinum- Priced for $299
LifeTime Plan- $1397 onetime or $497 in 5 monthly instalments.
A free lifetime subscription is going to expire soon as per the company's website.
For the Platinum plan, as of today, When I checked to upgrade, I found the lifetime option that is available in two options, onetime and 5 installments.
[Note: As the company's few products are still in the beta stage and few new apps are yet to be launched, the detailed pricing overview is yet to be announced]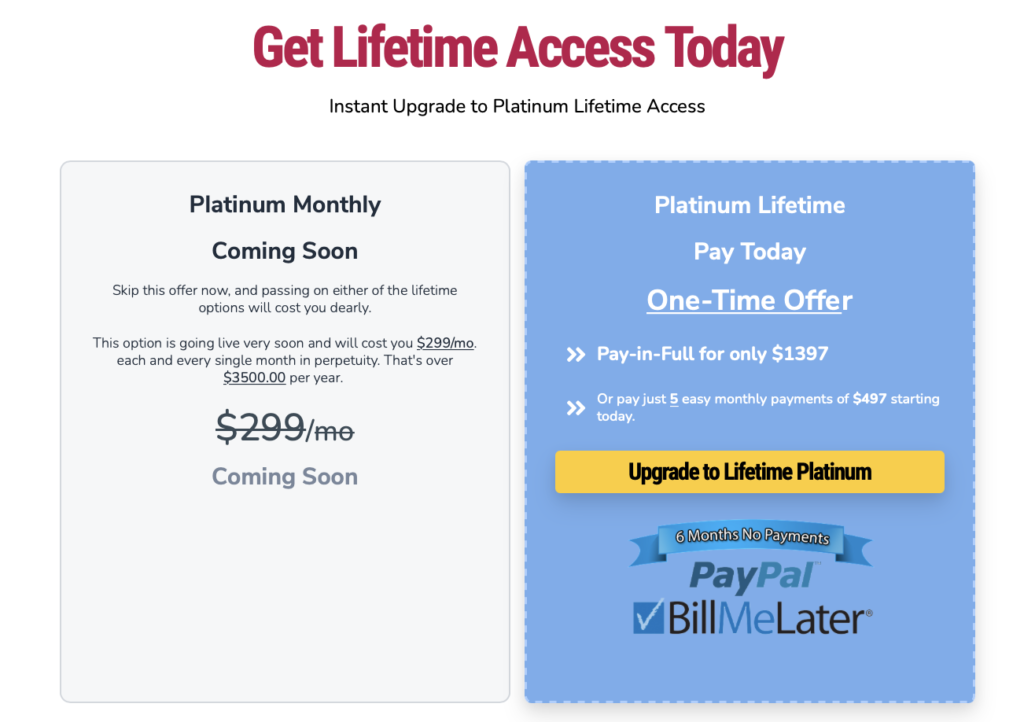 Who Should Go For GrooveFunnels?
Wondering Who GrooveFunnels is ideal for? Let me now share my views on who this GrooveFunnels is for and who should choose it.
I will recommend trying GrooveFunnels if you are:
Doing Affiliate Marketing
Managing an E-Commerce Website
A Content Creator that is also into Online Marketing of Products and Services
Looking for the suite to manage your Affiliates
An Email Marketer
Looking forward to avoiding the cost of 20 different tools
Not comfortable with heavy monthly or annual bills
In a nutshell, GrooveFunnels is a perfect choice for affiliate marketers or any form of marketers generating sales through online stores, affiliates, and leads.
Someone who is already incurring the cost in products like email marketing tools, landing page builders, e-commerce platforms like Shopify, and funnel management tools like ClickFunnels, will find GrooveFunnels extremely useful.
GrooveFunnels is an ideal product for beginners as well as professionals as it is easy to use and offers all necessary features to increase sales.
Who Should Avoid GrooveFunnels
I don't think someone should avoid the GrooveFunnels, especially its, Free comprehensive plan. Although GrooveFunnels is in the beta stage $1397 Platinum Lifetime Deal saves you a huge marketing cost.
If you don't like the product, you are at no risk, what so ever as the plan provides 30 days money-back guarantee.
Still, the following set of users should avoid it:
If you are already using products like ClickFunnels and ok with paying the recurring cost.
Someone who has no online product or an e-commerce store to sell.
Those who are not willing to try new products.
What is GrooveFunnels Lifetime Deal?
GrooveFunnels lifetime deal offers you unlimited access to all the products for a one-time payment of just $1397. In this lifetime deal, You will get a GrooveFunnels Platinum subscription that is priced at $299 currently.
If you are not comfortable paying the entire amount at once, you can choose an installment method where you have to pay $497 for 5 months to secure the GrooveFunnels' lifetime offer.
GrooveFunnels Support
GrooveFunnels is currently available through Live Chat 24×7. However, it may sometimes take about 30 minutes for them to respond. Once connected, the team will solve all your queries quickly without delaying it any further.
GrooveFunnels Upgrade Policy
As of today, the upgrade policy of GrooveFunnels is pretty clear. You can signup as a free customer and later on, as per your wish, you can upgrade to Lifetime membership. This seems to be a limited period offer or may till the time their few products are in beta stage.
For upgrade, you can choose between the two options, one time or 5 easy installments.
GrooveFunnels Bonus
If you signup now, you get a full bouquet of bonuses as a welcome gift. Let us now understand them one by one.
If you signup as a Free customer:
1) You get a lifetime free account.
2) 20% affiliate payout on each customer you refer
3) Access to powerful products like GrooveSell, GroovePages, GrooveAffiliates etc
4) Option to convert into PRO customer where you just have to pay once.
5) Free VIP Tickets to GrooveKon™ Free
6) LIVE IN-PERSON workshops throughout the year.
7) GrooveFunnels™ Academy
8) GrooveKart™ Academy
9) GrooveDigital™ Official Facebook Group
10) Free Live Webinar Training on Digital Marketing, Every Tuesday at 6 PM EST
11) Free Live Webinar Training on eCommerce Marketing, Every Thursday at 6 PM EST
Let us now look at what extra bonuses you get a Pro customer:
1) Platinum Plan just for $1397 one time, no recurring payments thereafter.
2) Premium Support Upgrade with Toll-Free Number.
3) Unlimited access to all 20+ apps without any restrictions.
Money-Back Guarantee
GrooveFunnels is available with 30 days money-back guarantee. You can choose any of their products and test them for almost a month. If you are not satisfied, simply ask for a refund within 30 days of purchase.
10 Pros and 3 Cons of GrooveFunnels
I have discussed almost everything in this GrooveFunnels review till now. It is now the perfect time to analyze GrooveFunnels' Pros and Cons:
10 Pros:
Free version with lots of premium features
No Credit card is required if you signup for the free version
All in one marketing tool with over 20 useful software
Pro plans are available at affordable lifetime and installment options
Up to 40% affiliate payout for customers referred by you
Hosting and Bandwidth is available for Free
Single Dashboard to manage all the GrooveFunnels apps
Easy and beginner-friendly tools that need no coding knowledge
Developer-friendly tools for easy integration
Experienced Management that knows the requirements of every marketer
3 Cons:
Lifetime deal may not be affordable for everyone [Check Installment method too]
A new entrant in the market [However the management is over a decade experienced]
Custom Domain option not available for Free users
Review of GrooveFunnels Affiliate Program
This is the best part that I liked about the GrooveFunnels. As a customer, if you are happy, you would like to refer it to your colleagues and customers.
Once you are registered as a customer, you are also registered as an affiliate, so that program is sort of pre approved, however company can cancel it if your are found spamming there.
Regarding commissions, the GrooveFunnels Affiliate program gives you a flat 20% off every sale if you are registered there as a free customer yourself. However, if you upgrade your plan, the commission will be 40% per closure. Also, you get paid for free sign-ups.
Every sales becomes eligible for commission after 37 days and an affiliate can expect the regular the payout every 7th day for new sales.
This is a Tier-2 Affiliate program that pays you upto 10% of sales generate by your customers. Means, if your customers are selling GrooveFunnels products, they will get upto 40% and you will get upto 10% for their sales.
One more exciting thing to note about this affiliate program is that your commissions are recurring. This means, if a referred customer continues the subscription, you will get paid every time.
5 Best GrooveFunnels Alternatives
If you are looking to explore more options, you can consider the below-mentioned brands as they all are one of the 5 best alternatives of GrooveFunnels.
Conclusion: Do I Recommend GrooveFunnels?
Yes, GrooveFunnels is not only a sales funnel builder but an all-in-one suite that combines over 20 apps that a business needs. GrooveFunnels is currently available for Free with all basic features. Advanced marketers should check out the LIFETIME deal that is available for just $1397 one time and in 5 installment options as well.
Not just that, if you are a good marketer, you will be able to cover this cost as well by referring GrooveFunnels to your clients as their affiliate program offer a recurring commission of up to 40%.
Check out this GrooveSell explainer video:
One thing worth to be noted is that it is still in Beta but all core functions are working well. Around 10 apps are launched now and have already started generating sales for customers. 10 more apps are in pipeline and expected to launch this year.
FAQs about GrooveFunnels
Is GrooveFunnels Free?
Yes, GrooveFunnels is offering a free subscription where you get all the basic features. You can signup without a credit card.
What is GrooveSell?
GrooveSell is one of the best alternatives to Samcart which helps you accept digital payments for all online sales. It also helps you create checkout pages for free.
What is Groove Digital?
Groove Digital is the founding company of popular Groove products like GrooveFunnels, GrooveSell, etc. All GrooveSell brands are managed by this company.
Is ClickFunnels Worth?
Yes, ClickFunnels is definitely a great tool that is available for free as well as a lifetime deal. While all other tools require you to pay on a recurring basis, with ClickFunnels, you can get away with just a one-time payment of $1397. Moreover, you get access to over 20+ apps at just one single cost.
Is GrooveFunnels a Pyramid Scheme?
GrooveFunnels is a funnel-building tool that provides you with overall 20 apps. It has a great affiliate program that provides tier 1 commission. But this is not a pyramid scheme.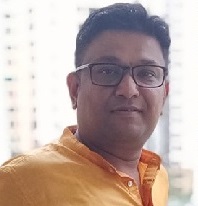 Seasoned Professional with 15 years of experience in Sales and Marketing. Entrepreneur, Consultant and Blogger helping people earn through jobs and blogging. Experienced Hosting Reviewer who likes to collect detailed info about existing players and share it with my audience. Previously worked with leading Banks and Telecom Companies.
I completed my Masters in Management with specialization in Finance and Marketing.
Visit our Hosting Review and Blogging Guide for more interesting articles.
Related: Hosting Affiliate Programs | Chemicloud Review | Doodly review | Google Domains