Are you looking for a detailed Doodly Reviews for 2021?
Not only a review of features, but we also have a detailed snapshot of Doodly Pricing and features so that you can compare them before choosing the right one.
Is it worth its price? Here is my opinion basis my research and experience related to this tool.
Introduction to Doodly
So, lets start with – what is Doodly?
Doodly [a Bryxen enterprise] is software that helps you create awesome whiteboards, blackboards and even glass board animations. Even if you want to create a Greenboard animation, that is also possible
If you are a newbie or a non techie guy looking to create animation videos for YouTube, own blogs or for clients, Doodly is for you.
No coding or animation course is required as entire interface is beginner friendly that helps you create world class animations with drag & drop options.
Do you get free images in Doodly library?
The answer is yes.
Can you create custom sketches with Doodly Online?
Yes, it is possible.
Can you add custom images to your animation videos?
Yes, you can.
Is it possible to add sound to your whiteboard presentations?
Sure, you can do that as well.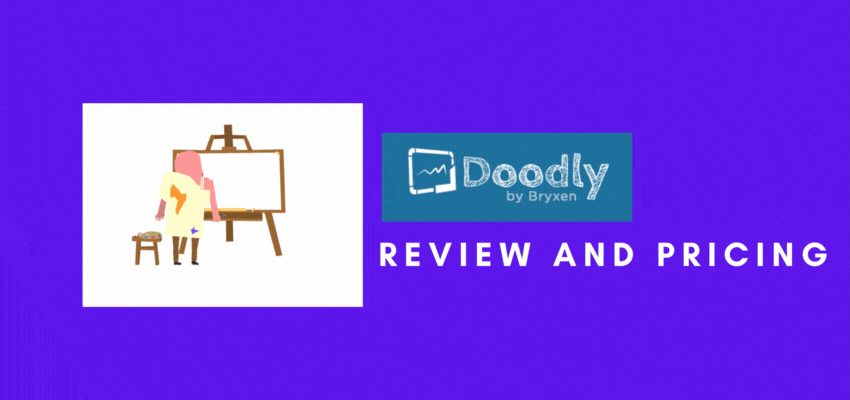 Doodly Examples
I will now take you through what you can exactly do with Doodly. Here are some Doodly examples and explainer videos that will help you understand the product better.
Let us now deep dive and discuss "Doodly" in detail.
Doodly Features [That I Like The Most]
I will now share some of the features that I like the most about Doodly animation tool.
Supports Multiple Languages
Do you know how many languages are supported by Doodly?
So, Doodly supports three languages – English, German and Spanish. This is one of the greatest features and advantages for someone who is looking forward to creating animations for global clients or visitors.
Multiple Boards and Designs
Doodly is one of the most innovative and creative animation tool that helps you create powerful videos on various boards and multiple design formats.
Whiteboard, Glass board, Black board and Green board formats are available right now.
Drag And Drop Animation Builder
If you are thinking that creating an animation requires years of training or an online course, you are wrong.
Products like Doodly are powerful Drag and Drop builders made for beginners. Well with beginner, I don't mean that you can create only basic videos.
I found it a fantastic tool that creates professional videos. If you are looking to start freelancing, you can create detailed explainer videos for your clients sitting at home and without spending money on any animation course.
Create Your Own Draw Path
If you add a picture, you are allowed to create a custom path that you feel is the best for your project. Left to right or up to down, customize the drawing in such a way that looks like an image is created right there on the board.
Here is an example of how an image is drawn:
Creative Hand Styles [Real And Animated]
Which hand you want? A black hand or a fair hand, male or female? With Doodly, you get multiple such options. You can choose between real and animated hand styles.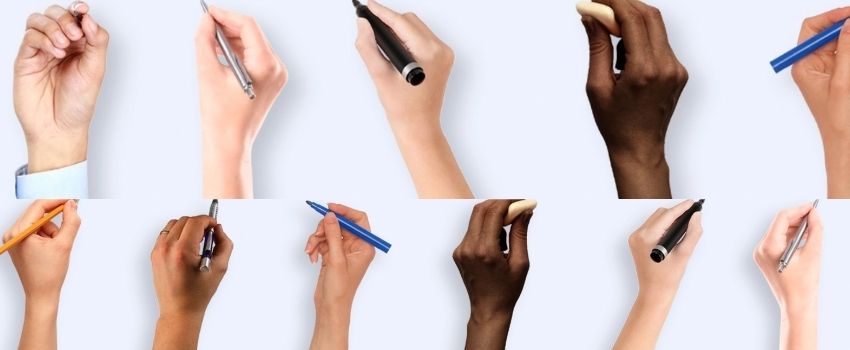 Supports Multiple Video Sizes And Resolutions [Web Ready]
This is something very important for someone like me who loves to set a custom resolution, FPS, and quality for my YouTube videos.
It's easy to create a video in your own fashion. Set file size by choosing a number of frames per second – 24 to 60. Not only that, but you can also choose the resolution while exporting the videos from 480p to HD size 1080p.
Set the quality you want low, medium, or the best. You will not find running out of options there.
Pros and Cons of Doodly
There are a few merits and demerits of using Doodly. No product is perfect and hence you should be aware of all these important points before you decide to purchase.
Pros:
1. Supports Multiple Devices
Once purchased, you can use Doodly on all your computers. There is no restriction whatsoever on the number of devices.
2. Custom Board Animations And Assets Library
Instead of regular stock images, you get in-house made whiteboard doodle arts which are designed by Doodly's team. That gives an edge over someone using pics from Pixabay or Pexels. That is also possible, however, to add your own images and customize the design.
Multiple backgrounds, props, and high-quality sketch images available to you in the gallery section.
3. Free Updates
Someone asked me a question about updates in case of the lifetime plan purchase. Currently, the company offers you lifetime updates as and when they are rolled out. This is creative software and basis the requirements and feedback, it keeps on changing.
You are covered with all such updates.
4. Quick Support
One time payment and lifetime support? Is it really possible? Yes in case of Doodly. They have a huge knowledge base that you can read for most of your queries.
You also can get access to their FB group and connect with other creative customers.
Last but not the least, you can connect with them over the email and chat also. I got an instant response even during the Covid times.
Cons:
There is only one thing that I didn't like about Doodly is its export speed. You need to wait at least half an hour to export 3-4 minutes of video. However that can be tweaked a little bit by adjusting the fps, quality, and resolution, but still, it is slow as compared to Renderforest or Filmora.
Doodly Plans and Pricing 2021
So, There are basically two plans right now:
Standard, which is priced at $20 per month when billed annually.
Enterprise, which is priced at $40 per month when billed annually
Let us understand both the plans and their features with this easy to understand table below-
| | | |
| --- | --- | --- |
| Features | Standard | Enterprise |
| Character Images | 1164 | 3959 |
| Prop Images | 1620 | 3341 |
| Royalty Free Music Tracks | 150 | 250 |
| Video Templates | 20 | 40 |
| Fonts | 35 | 70 |
| Scene Templates | 84 | 84 |
| Number of Videos | Unlimited | Unlimited |
| Multiple Computers | Yes | Yes |
| Premium Support | Yes | Yes |
| Invitation to Doodly Design Facebook Group | Yes | Yes |
| Access to doodly Club – Monthly Membership (Get New Characters & Images Monthly) | No | Yes |
Basis your requirement, you can compare both the plans and opt accordingly.
My recommendation: Standard is sufficient if you don't need a lot of customization options. Enterprise is an ideal choice for agencies and freelancers working for multiple clients and projects.
I will now discuss the plans and pricing of Doodly. Will try to figure out the value proposition for my readers here.
Doodly's Monthly Pricing:
If you choose a monthly payment mode, the "Standard" plan will cost $39 and "Enterprise" will cost you $69 per month.
Here is the snapshot when you choose monthly payment option.
Doodly's Annual Pricing:
Looking for Doodly discount? Choose annual deal that saves you almost 30-40% discount.
As per current pricing, if you decide to opt for an annual payment mode, the "Standard" plan will cost $20 and "Enterprise" will cost you $40 per month.
Checkout the snapshot below when you choose yearly payment option.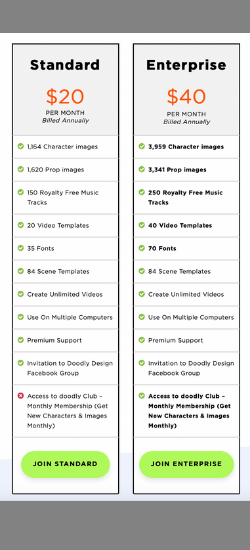 Doodly's LifeTime Deal:
Currently, you can also avail of a limited period – Doodly One Time Price Offer [Lifetime Scheme].
You can get a huge discount by availing of this one-time payment option. No recurring fees and regular updates are the key pricing feature.
If you choose this Doodly Lifetime Pricing offer you get a "Standard" plan for $67 and "Enterprise" for $167 only. Once purchased, you don't have to pay any recurring amount in the future.
Checkout the snapshot below when you choose yearly payment option.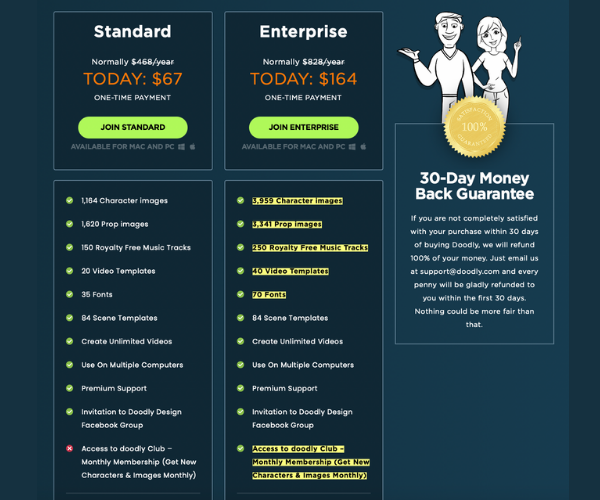 Money-Back Guarantee
If you are not satisfied with Doodly's product and features, you can ask for a refund within 30 days of purchase.
How To Download Doodly & Get Started?
Downloading Doodly and getting started is pretty easy. I have a detailed YouTube video for you to have a look and follow step by step instructions.
Frequently Asked Questions
Is Doodly any good?
Doodly is an affordable animated videos creator that offers great support as well. Best library of assets, customisation options, along with options to tweak the video quality makes it a best tool.
How much does Doodly really cost?
Doodly is available in three options, monthly, annually and lifetime payment.
When you choose monthly, the plan starts with $39. On annual mode, you get discount and have to pay @ $20 per month.
There is a lifetime deal also where you can avail Doodly for just $67 one time payment. No recurring fees after that.
Can I use Doodly for free?
No, You can try it for 30 days as there is a refund policy if you don't like it. Doodly is a paid software.
Conclusion: Doodly Reviews 2021
Do I recommend Doodly? Yes. In my Doodly Review, I found it a great animation tool made for whiteboard, green board, blackboard, and even glass board videos. Simple and straightforward pricing with monthly, annual, and lifetime deals make the product an even awesome purchase.
You get a lot of customisation options along with premade templates and images.
I will strongly recommend Doodly to:
YouTube Creators
Schools, Coaching Institutes and Online Course Creators
Companies looking forward to create explainer videos
Sales presentations
Graphical videos for occasions, and parties
Real Estate projects looking to create FB advertisements
Tours and Travel Industry to create itenaries
Not only this, Doodly is a universal tool applicable everywhere. Wherever you see a scope of creative videos, try Doodly's whiteboard animation once.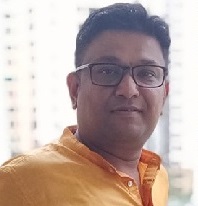 Seasoned Professional with 15 years of experience in Sales and Marketing. Entrepreneur, Consultant and Blogger helping people earn through jobs and blogging. Experienced Hosting Reviewer who likes to collect detailed info about existing players and share it with my audience. Previously worked with leading Banks and Telecom Companies.
I completed my Masters in Management with specialization in Finance and Marketing.
Visit our Hosting Review and Blogging Guide for more interesting articles.
Recommended reads: OTT platforms definition | Best Apps and Platforms for OTT | Review of Calendly
Doodly Reviews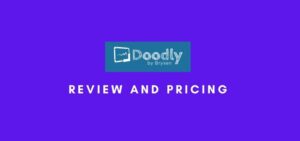 Review of Whiteboard animation software - Doodly along with pricing and lifetime offers.
Price: 20
Price Currency: USD
Operating System: windows, Mac
Application Category: animation