In this Semrush Review 2022, we will discuss how Semrush has improved its Brand and overall product-related features recently. These changes are made to give Semrush as a brand a completely new look.
Your brand's logo has a lot to do with its recall value and Semrush seems to have nailed it completely.
There is a lot of buzz around Semrush's price increase and a few will now identify Semrush as a costly tool to afford. But, here is the myth breaker for all of them in this article.
We will discuss the changes and new features that are added in recently to figure out how Semrush has broken its own record of excellence.
Few Stats before we start:
1. Keywords Database: 10x growth
2022 base size – 20 Billion
2018 base size – 2 Billion
2. Number of Domains: 2x growth
2022 base size – 825 Million
2018 base size – 419 Million
3. GeoDatabase: 1.25x growth
2022 base size – 142 GeoDatabase
2018 base size – 113 GeoDatabase
The figures are impressive and now it makes perfect sense to discover what else has changed in 2023
Let us move ahead and explore it more.
Semrush's New Brand Logo and Visual
Semrush has developed over 50 tools that are being used by SEOs and Marketers.
All these tools are widely popular as they help brands in SEO, content marketing, social media management, advertising, digital PR, and finally competitor's research.
While Semrush was creating and launching new products or improving the existing ones, they started realizing that somehow their visual identity became inconsistent.
All Semrush tools are now under one platform and one visual style giving them a complete Brand Makeover. A completely refreshing look of Semrush is here.
Semrush's Old Logo Vs New Logo
Semrush has changed its logo. As you can see below, we have a new logo that is compared with the previous avatar below. All new logo, fonts, and colors that are implemented all across the Semrush's product suite to give it a makeover.
---
SEMrush Is Now Semrush
It is not only the logo, for a brand, how you write it, spell it, pronounce it is also important. It's, plain and simple.
"SEMrush" has now changed to "Semrush" with its new logo all across.
We discussed how Semrush has improved its branding and got a new look altogether.
Now, As a customer, what has changed or rather improved for you?
---
Content Marketing Tools and Platform [New and Improved]
Semrush's Content Marketing Toolkit helps content marketers and creators to easily create and improve the content.
Here is all that you can do:
Find a Topic with Topic Research
Create a Plan
SEO Content Template to create a rankable content
SEO Writing Content helps you to optimize the blog post
Brand Monitoring
Post Tracking to Understand the Impact
Content Audit to bridge the gaps.
We will show you a glimpse of how useful the tools are, for example, Topic Research helps you to find out the content ideas through a mind-blowing mind map along with various headlines and questions.
The best part is that once you are done with you're research, you can click on "Order Content writing" to directly order the content.
Just imaging how easy it is now to plan your content calendar, tracking the post, and auditing the content with these powerful tools. Give it a try here.
Are you aware that Semrush has a marketplace where you have industry professionals who can write an article that can outrank your competitors easily?
Its easy, quick and highly recommended platform to hire Professional Writers without any contract terms.
Content is King, we all know this and hence, let the chef cook your food.
Creating content is like creating a property, a one-time investment that generates traffic continuously and helps you earn through ads and affiliate sales. We recommend trying Semrush's Content Market Place.
What has changed in 2023?
Impact Hero: An AI-driven tool that helps you with a performance-related suggestion to improve overall content strategy. It also enables you to create highly engaging content that gets you maximum conversion.
Launch of Monthly and Annual Subscription Plans: If you are a regular buyer and looking to save up to 20%, here is good news for you.
More Products are added like Product Descriptions, Press Releases, e-Books, and a few others. We will discuss them all in this article below.
Let's understand the features difference between free, monthly, and annual subscription below:
| | | | |
| --- | --- | --- | --- |
| Features | Free Plan | Monthly Subscription | Annual Subscription |
| Discount | No | 10% | 20% |
| Title and Meta Description | 3 times per order | No Cap | No Cap |
| Content Revision | 3 times per order | Unlimited | Unlimited |
| Team Collaboration | No | 3 additional members | 3 additional members |
| Same Writer | No | Yes | Yes |
| White-Label Content Approval Links | No | Yes | Yes |
| Express Order [2x Fast] | No | Yes | Yes |
| Brief Templates | No | Yes | Yes |
| Recurring Order | No | Yes | Yes |
| Bulk Payment | No | Yes | Yes |
---
Content Marketplace Subscription Cost:
| | | |
| --- | --- | --- |
| | Monthly | Annual |
| Price | $40 per month | $33 per month |
---
Content Marketplace Products and Pricing:
| | |
| --- | --- |
| Products | Pricing [Starting Price] |
| Article | $32 |
| Product Description | $24 |
| Website Copy | $48 |
| Email Newsletter | $20 |
| Press Release | $25 |
| Media Stock | Available with Pro |
| EBook | $360 |
| Infographic | Going to launch soon |
So, it is clear that with Premium plan, this platform is not just a Content marketplace, in fact it is a complete Content Management Platfrom where you can even invite your teams and collaborate.
---
Key Benefits: Why should you choose Semrush's Content Marketplace?
Semrush's platform is a kind of sorted marketplace that you must try at least once. It is affordable and offers quality that gets you maximum conversion and sales.
Hiring a content writer is easy and in fact, you can continue to order your favorite writer. You get guaranteed availability and revisions as per your plan.
Let us explore some more benefits now:
Fast Delivery [You can even choose 2X speed with subscriptions]
Unlimited Revisions [3 revisions with Free plan]
Free Header Image
On-time delivery guarantee
Easy Content Approval by Client using White Label Links with every subscription.
Unlimited Stock Images are available with monthly and annual subscriptions.
---
Semrush Review of Key SEO Updates in 2023 [New Products and Features]
Now, it is time for every Marketer and SEO to understand what all new features are added to the existing product line.
Digital Marketing is an ever-changing industry. With Covid-19 that the world saw last year and even till now, the entire industry is now witnessing a lot of challenges.
Let's figure out how?
The education industry is now shifting towards online app platforms.
Businesses have avoided face-to-face meetings and travel and started using apps like Zoom for conferences.
Restaurants are emphasizing more on home delivery and strengthening the online order process.
Companies that were dependent only on offline sales are moving towards online platforms.
All this has given a boost to capture untapped Local SEO opportunities as every business now wants a top rank on local SEO results.
And this is not all. It is the perfect time to capture this paradigm shift and start helping the businesses getting maximum ROI.
With Semrush, it is possible!
Let's discover the all New Semrush 2023, Here are the updates:
1. Keyword Overview Reports are improved
It is a perfect tool to analyze a keyword. You can use it to figure out the search volume, country-wise search, competition, and a lot more.
What's New?
The reports are further improved keeping in mind the ease of use and also the user feedbacks, for example:
A Global Volume results are added which shows you the search volumes that are bifurcated country-wise.
The all-new SERP-Analysis report shorts you the top 100 actual results displayed by Google for a particular keyword. This also includes traffic, backlinks, etc.
SERP Features, Questions, and Bulk Analysis are also added that further improves the research.
2. New Target URL Error feature added in Backlink Analytics
Do you know, Semrush crawls over 17.3 billion URLs every day and today its backlink's database has grown to 39.7 Trillion!
Backlink Analytics tool helps you to figure out backlinks of your as well as your competitor's site.
Now it's really easy to dig out even more meaningful opportunities that your competitors have left open for you.
What's New?
Semrush added a new feature:
"Target URL Error" – a report that helps you figure out broken pages on which a backlink is given by someone. Since these pages no longer existing, you can reach out to the referrer site owner and request to replace them with your link instead.
Getting a new link is now easy as you are only helping the referral's site owner to update the content with live and meaningful links [ that belongs to you 🙂 ].
3. Keyword Gap Tool is Introduced: Uncover Untapped Gems
An amazing tool that gives you a lot of ideas and understands the competitor's keyword strategy better. Unearth the keywords, (I call them hidden gems) as these opportunities if focused, can derive massive traffic.
What's New?
A powerful tool to discover great keywords and figure out the gaps:
You can compare domains, URLs, and even subfolders to find the keyword gaps.
Keyword overlap and Top opportunities sections
More filters and grouping options like – Missing, Weak, Tops, Volume, etc
The best part is that this tool is also integrated with Keywords Manager.
4. Domain Overview is now Global with the "WorldWide View"
We all were expecting this feature for a long and finally, it's here. Domain Overview helps you to figure out the key metrics related to your or your competitor's website, be it keywords, traffic, backlinks, and even positions, etc
What's New?
New report – "WorldWide View" is now added that helps you:
To understand the website's performance at the Global level
Understand the global traffic trends in the form of charts and numbers
Compare Mode that helps you compare the site with 4 other competitors to ascertain gaps in backlinks, organic keywords growth, and traffic, etc
Now you can also do subdomain and subfolder level analysis also just in case your project demands.
5. All-New "Target Pages Report" to Audit Backlinks Accurately
Semrush's Backlink Audit tools help you understand the quality of each backlink that you have earned.
Each backlink should serve the purpose of ranking improvement and should not take you close to Google penalties. For this, you can monitor your backlinks actively and act upon them timely, like disavow them if you don't like them.
This tool is now more advanced.
What's New?
Backlink Audit is now extra strong with:
"Target Pages Report"- A wonderful report that helps you figure out your active links, lost links, and even broken links. With each new link now you can analyze and check for its Toxic score.
Focusing on competitor's backlinks and making an effort to acquire them is one task.
But checking the quality of your existing links is something that is often ignored.
6. Site Audit now has a New Tool
We discussed the Backlinks audit above and why it is important. The same goes for the entire site. This tool helps you understand the issues that are critical for your site's ranking and fixing them.
Semrush's site audit is like seeing a doctor for regular checkups and following a custom diet plan to improve your health.
What's New?
Understanding your site's health is now more meaningful with:
"Markups Report"- That shows you how your site can improve on this key ranking and display result factor.
You get to see pages with markup, without markup, markup type, pages with invalid structured data and items.
Wrong schema and markups can degrade your rankings in Google or even delist your site on Bing.
Also, ensure each markup is accurate and relevant. Here are the few excerpts from Bing worth noting:
"Site with markups must be accurate and representative of the page that the tags are on. In particular, sites must not have markup which is irrelevant to the page it is on or is inaccurate or misleading."
7. Position Tracking: What happened to this awesome tool?
Position Tracking that helps you track your keyword performance in various geo locations is now more accurate with new reports and metrics.
What's New?
There are some new reports and metrics like:
"Cannibalization Report"- Helps you to figure out the internal competition that generally happens when you have multiple pages targeting similar kinds of keywords.
You can simply alter your content strategy and change the targetted keywords on each of these pages.
"SOV or Share Of Voice"- Helps you identify the market share for a particular keyword. A new thing, right?
With Position Tracking, you can track your keyword's performance in various geographies.
But with SOV that is a recently added metric, you can now figure out the percentage of traffic with keyword's search volume.
In simple words, if 100 people are searching for the keyword "SEO", how traffic [as per the estimate] actually your website is getting.
Semrush has also improved its "Devices and Location Report" that allows you to compare various geo locations and add an unlimited number of locations.
Comparing the data at country or even city level is now possible.
This is not all, finally, you can export all of these reports as per the frequency you want [daily, weekly, monthly] using "Export Scheduling"
8. New Countries and Directories in Local SEO Listing Management Tool
Local SEO is very important for your business and your client's success.
This tool helps you improve your business's presence by sharing relevant informations with various web directories.
What's New?
New Countries are added- Semrush has added France and Germany along with more directories on various existing locations.
There are three more reports and toolkit that has been added to your Local SEO listing tool, these are – "The Local Rankings Report", "Local Ranking Heatmap" and "Review Management"
You can now check your rankings as per Google Local Finder, respond to reviews, and a lot more.
---
SEMRUSH PLANS AND PRICING
In last year's updates, Semrush introduces its monthly and annual plans. Both subscriptions have different pricing and come with three different plans.
Before moving on to the plans and pricing, let's know what features Semrush serves under its plans. So, look at the features of the Semrush here:
Keyword Research
On-Page SEO
Content Marketing
Local SEO
Competitor Analysis
Social Media Management
Rank Tracking
Link Building
Competitor SEO Analysis
Content Optimization
Content Marketing Analysis
Content Creation and Distribution
Market Analysis
Paid Advertising
PPC Keyword Research
Website Monetization, and many more…
Have a look at the pricing of Semrush and the features in its monthly payment mode. Semrush provides you all the major features under every plan. You may see the advanced features under the paid plans.
There are three monthly plans comes under Semrush as shown in the image above:
Pro ($119.95/month)
Guru ($119.95/month)
Business ($119.95/month)
And if you want more and looking for the one-time payment for the whole year, then here are the yearly plans for you.
Yearly plans come with a great discount that can save a lot of money if we compared it to monthly billing.
Semrush Yearly Plans also brings you same three plans but with the different prices:
Pro ($99.95/month)
Guru ($191.62/month)
Business ($374.95/month)
So, these are the monthly and annual plans of Semrush, and it is up to your budget and project requirements, you can purchase yearly plans and can save your currency. Get Semrush Free Trial and Discount Coupon now.
---
Competitive Research Tools
Keeping a watch on your competitor's movement in the key strategy of every Marketer and SEO. We saw them getting more advanced in 2023.
"Audience Insights" helps you analyze up to 5 competitors and you can easily figure out the overlap in the audience with more helpful insights. Check out the snapshot below where we compared – Amazon.com, Searchengineland.com, Aliexpress.com, and Ebay.com.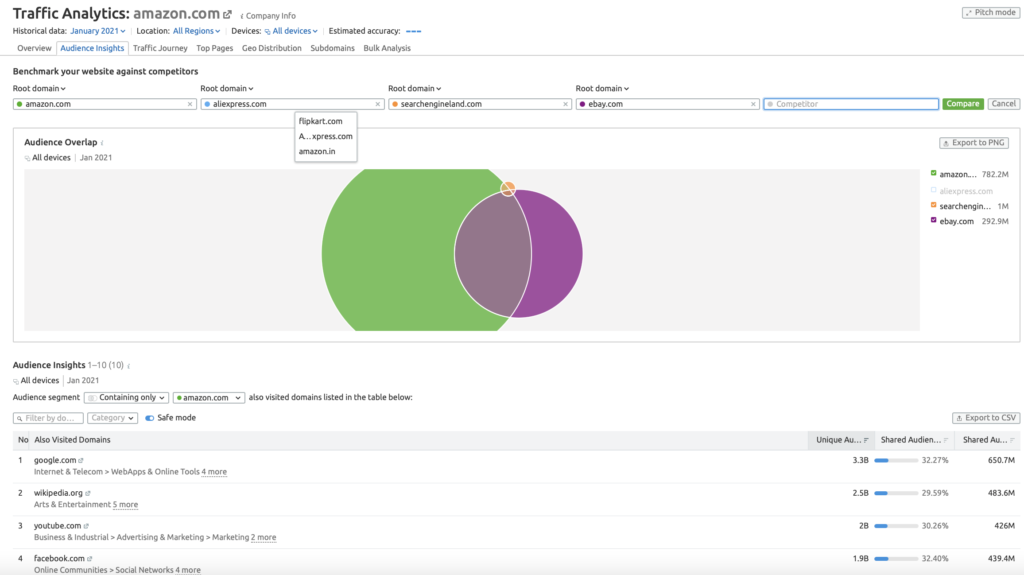 "Sub Domain" level analysis has given more depth to the Traffic analytics tool. Semrush's traffic estimation tool with give you more edge as you can now analyze the data even at the sub-domain level.
"Traffic Journey" Report helps you visualize the source and destination of the traffic. it tracks the user behavior like the source from which they are coming to the analyzed domain, both and after.
"Market Explorer" which helps you analyze the industry trends has now more arrows in its bow. Few additions like Growth Quadrants, the ability to create Custom Market, and innovative Benchmarking Report, now make Market Explorer tool really useful and unique.
---
Social Media Tools
Along with your website stats, you need to take care of your social media accounts. Semrush makes this easy for you.
Semrush has created a Social Media Tool that can manage and analyze the detailed statistics of your social media accounts like Facebook, Instagram, LinkedIn, and others.
For example, you can monitor your social growth through metrics like – gained followers, total reach. Not only this, you can also monitor special engagement metrics for various campaigns on social media platforms like Facebook and Instagram.
What's New?
You can analyze all your social account stats from one place.
Social Media Ads Management: Semrush now allows you to manage, create all your ads on Facebook, Instagram, Messenger, and other network platforms directly from Semrush.
---
New Acquisitions and More Insider News
Prowly which is a leading public relations startup is now acquired by Semrush. It is one of the fastest-growing Digital PR companies that caters to over 1 million journalists and influencers. Honestly and good news for the Semrush lovers.
2. Yoast and Semrush also announced digital support and integration so that Yoast users can now get the traffic insights and related keyphrases on the go.
3. Sellerly, a brand new product by Semrush for Amazon Sellers went on the prowl last year. This tool will help in listing protection, split testing, getting traffic insights, and even checking the quality of each listing.
4. Agency Growth Kit can now help you win new clients and manage them effectively. Agencies can now get various certifications on Semrush tools, get featured on the platform, and can generate more leads.
Conclusion
While most of us were unsure of what to do during the Covid 19 phase in 2021, Semrush knew that it has to grow and make things better.
Semrush is a king of SEO tools with expertise in various other niches like Local SEO, Content Management, Competitive research, Social Media, Marketing Strategy Tools, Ad Optimization Tools and a lot more.
New digital acquisitions, launches and partnerships are going to make it a one stop shop for all digital agencies and businesses.
Conclusion of Semrush Review 2023
In our Semrush Review, we found it a great SEO, Keyword and Competitive research tool that helps you understand the competitor's strategy really welly. Not only that, for every marketer, Semrush is helpful in getting the maximum ROI from ad campaigns.
If you are in content marketing space, Semrush has a great Content marketing toolkit that you must give a try today.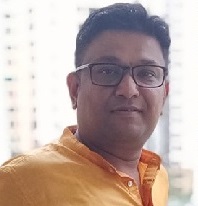 Seasoned Professional with 15 years of experience in Sales and Marketing. Entrepreneur, Consultant and Blogger helping people earn through jobs and blogging. Experienced Hosting Reviewer who likes to collect detailed info about existing players and share it with my audience. Previously worked with leading Banks and Telecom Companies.
I completed my Masters in Management with specialization in Finance and Marketing.
Visit our Hosting Review and Blogging Guide for more interesting articles.
Semrush Review 2022
Features

Pricing

Ease of Use
Semrush Review 2023 Summary
In our Semrush Review, we found that it is a great SEO and Marketing tool that helps you beat the competition. If you want to rank high on Google, you must use its Competitive research, Keyword research, and content marketing platform. Semrush is a pricy tool but worth every single penny.