Are you searching for the best and most budget-friendly Domain Extensions? Then your search ends here. We have brought you the best and cheapest BigRock Black Friday deals.
It is offering you a 40 to 96% discount on its domain extensions. And so many other offers and benefits during the BigRock Black Friday season.
Let's see how much you are saving on this season.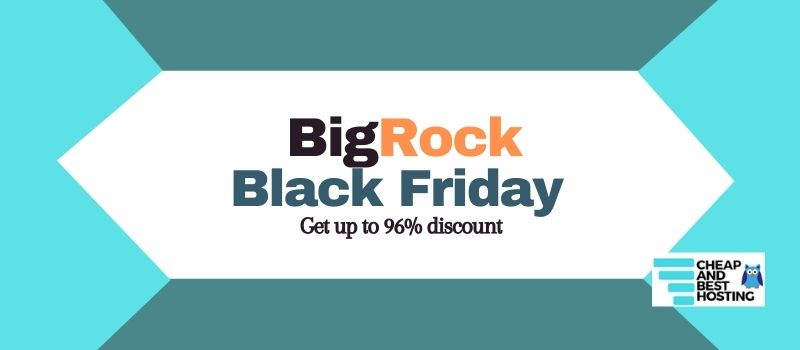 Better Deal Recommended By Editor:
Get Free Domain and Hosting Combo From Bluehost
70% OFF ($2.65 Only)
Superfast speed, CDN, Best Uptime, Security, and Control Panel.
How Much You Are Saving On BigRock Black Friday?
On this Black Friday, BigRock is providing up to 96% discount overall on domain extensions. and if you are a new user then you are getting up to 94% discount on fresh registration for a year, and it is offering up to 40 to 96% discount for exciting users in case you want to renew your plan.
It is also providing a free 1 Google workspace account with the purchase of a new Domain.
Let us discuss now how much you are saving in the purchase of domain names.
BigRock Regular Pricing Vs Black Friday Price For Domain Registration
The table below is showing the regular pricing of domain names with the Black Friday pricing and also we have mentioned how much you are saving on each plan.
| | | | |
| --- | --- | --- | --- |
| Domain Extensions | Regular Pricing | Black Friday Pricing | Savings |
| .ORG | $ 13.44 | $ 8.06 | 40% |
| .ONLINE | $ 32.82 | $1.33 | 96% |
| .LIVE | $ 24.48 | $2.68 | 89% |
| .STORE | $ 52.47 | $ 2.68 | 94% |
| .TECH | $ 46.01 | $1.47 | 96% |
| .LIFE | $ 33.09 | $ 2.68 | 92% |
| .EMAIL | $ 20.62 | $4.02 | 80% |
| .TODAY | $ 20.17 | $4.02 | 80% |
| .XYZ | $ 8.87 | $1.33 | 85% |
| .ICU | $ 9.41 | $2.41 | 74% |
| .ME | $ 16.13 | $2.68 | 83% |
Here is the comparison between regular pricing and Black Friday pricing of domain extensions of BigRock. Choose the plan according to your requirements and budget.
Extra Offers You Are Getting During The BigRock Black Friday
BigRock Black Friday is proving huge discount offers in their regular pricing but there are some extra benefits also you are getting in new domain registration and also with renewing your existing domain service.
It is offering up to 96% discount on Domain Extensions.
Free 1 Google workspace account with the purchase of a new Domain.
Up to 94% discount on new domain extensions.
Up to 40 to 96% discount on existing domains.
You can get free services approx worth $65 with every Domain.
Flat 40% off discount on Google workspace for existing customers.
2 Free email-id/accounts.
Quick Overview Of BigRock
BigRock is a leading company that provides Domains services, web hosting services, cloud hosting, and different server hosting and website builders with email hosting and SSL certificates.
BigRock provides easy three steps to set up your website- firstly choose a domain name then select a suitable hosting plan for you and then finally set up your website.
Why Should You Go For BigRock Black Friday?
We have mentioned above the pricing and discount offers you are getting on BigRock Black Friday, but the pricing discounts are not enough for purchasing any product. You should know that the product is fulfilling your requirements and is reliable for purchase.
Before moving ahead let me tell you why you should purchase the BigRock domain and other BigRock products.
BigRock is a secure and reliable domain and hosting provider platform and it provides a user-friendly and convenient website.
You get a keyword rich domain name and an instant boost to your SEO.
You can set up a personalized or customized email address that is different and easily noticeable.
It prevents your website and identity with their security products.
Easy and safe DNS management.
It provides you the option to lock your domain name and prevent it from theft protection.
You also get easy to use control panel.
Provides high-speed SSD storage and full root access for VPS hosting.
Features of BigRock
Let's have a look at BigRock's features.
Domain Theft Protection-It secures your domain name from forwarding or transferring by mistake.
Backups– You get the secure and acronics solution to backup data and recovery of data.
Upgrade Storage-you can extent your storage by adding an extra SSD volume up to 10 GB to 500 GB.
Instant Provisioning -get your server instantly set up and immediately working.
Management-Provides you instant server management, full root access, VNC quick access, and WHMCS.
Security- It provides you with DDOS protection with a private network setup.
Support– BigRock provides a 27×7 live active team for customer support.
Frequently Asked Questions
What do you mean by Domain name?
A domain name is a unique specific id, you get for your online platform. If you are showing your work digitally then you need a domain name.
Can I purchase More than one Domain Name at a time?
Yes, you can purchase unlimited domains at a time.
How much I can save during this BigRock Black Friday Deals?
During this sale, you can save up to 96% on domain names on the regular pricing.
Can I still register a domain name without having a website?
Yes, you don't need an existing website for domain purchase, you can separately purchase a domain anytime.
Conclusion: BigRocket Black Friday 2022 Sale
Looking for the best and pocket-friendly Domain extensions, then this is the perfect time to purchase them, as Black Friday is here and you are getting unbelievable discounts that are up to 96% discount, a very big saving offer on BigRock. This offer is only for the Black Friday and Cyber Monday deals.
Above we have mentioned all the plans and pricing with discounts and savings. Hurry go and grab the deals as soon as you can.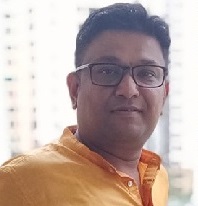 Seasoned Professional with 15 years of experience in Sales and Marketing. Entrepreneur, Consultant and Blogger helping people earn through jobs and blogging. Experienced Hosting Reviewer who likes to collect detailed info about existing players and share it with my audience. Previously worked with leading Banks and Telecom Companies.
I completed my Masters in Management with specialization in Finance and Marketing.
Visit our Hosting Review and Blogging Guide for more interesting articles.