Are you looking for the Elementor cloud website hosting review? If yes then you are at the right place, as we are going to give an in-depth analysis of Elementor hosting. Elementor is now providing end-to-end solutions for a website by launching its hosting plan.
Read the article till last to know the complete review of Elementor hosting, as there are very rare articles on Elementor hosting on the internet. You should keep in mind that this is not the review of the Elementor page builder, we are only focused on reviewing Elementor hosting in this article.
Summary: Elementor Cloud Hosting Review
If you are in hurry, then read this summary to know everything about Elementor hosting in short.
Elementor hosting is perfect if you want to host your single website.
Cost: $89 per year
Number of websites: Single website hosting
SSL: Free
Extra: Free Elementor page builder
If you want to know about Elementor in detail then keep reading the full article.
What Is Elementor?
Elementor is an Israel-based company that started working in 2016. Initially, it launched its first service as a WordPress website page builder. Now recently, they have launched a website hosting service thus making Elementor a complete solution for website owners.
In this article, we are only reviewing hosting service Elementor but not as a page builder. If you want to read the review of Elementor as a page builder then you should read this article "Is Pro a Good Page Builder for WordPress? [Pro Vs Free]".
Currently, Elementor has more than 10 million active installations globally, which is enough to know about its popularity.
Features Of Elementor Cloud Website
Since the hosting service of Elementor is very new, so, before going for it everyone is looking for its features. Prominent features and extras that you will get along with its hosting are listed below.
CDN By Cloudflare
A geographically distributed group of servers via Content Delivery Network (CDN) ensures that your website loads and responds quickly from any location of the world as Elementor claims that your contents of the website are stored in 200 different locations globally.
Storage
If you are planning to start your website then Elementor provides more than enough storage of 20GB. Basically, storage requirements depend on multiple factors like traffic of your website, size of the website, and its file. Ecommerce sites require more space while normal blogs work well in the range of 10 to 20GB of storage.
So if your website is new or medium-sized then 20 GB storage provided by Elementor is not going to be an issue for you.
Free SSL Certificate
SSL Certificate is the basic protection for your website and its visitors which is provided by Elementor for free. Elementor gives two options to clients, either you can use the built-in SSL of Let's Encrypt from Elementor for free or you can use your own SSL certificate from other sources.
Backup Website Data
Elementor provides the feature of both automatic and manual backups. Automatic backup occurs at the gap of every 14 days which can be restored anytime from the website management dashboard.
In addition to that, whenever you install any new plugin or updates there is a risk of mismanagement. To solve this issue, Elementor lets you backup your data manually also. There is no charge for any kind of backup.
Google Cloud Platform
Cloud computing services are used as the same which is used by Google for its products like Google search. This feature ensures the fast and secure transfer of the data of the website.
Premium Support
Once you host your site on Elementor you get premium support through your account dashboard. If you face any issue you can contact their team which is available 24/7 under the premium support feature.
Plans And Pricing Of Elementor Cloud Website
Elementor offers three plans, out of which only one plan (Elementor website plan) supports hosting other two plans are limited to Elementor page builder plugin only. All three plans are listed below.
1. Elementor Website
Includes both hosting and Elementor pro (without any additional charges).
Elementor plugin that you get, can be used for single website only.
Price: US $89 per year.
Free Elementor domain is provided.
2. Basic Plan
Includes only page builder plugin for WordPress.
5 website kits, 30 plus basic widgets and templates.
Price: Free
No premium services are provided.
3. Elementor Pro
Includes only page builder but with many premium features.
Different plans are available as per requirements of number of websites for which plugin is to be used.
60 plus website kits, premium support, popup builder, form builder, 300 plus pro templates are some additional feature that are available in pro plan of plugin.
Price: US $49/year for essential plan (plugin for 1 website), US $199/year for expert plan (plugin for 25 websites), US $499/year for studio plan(plugin for 100 websites), US $999/year for agency plan(plugin for 1000 websites).
Pros And Cons Of Elementor Cloud Hosting
Since hosting is one of the essential factors that determine the fate of your website hence, knowing its merits and demerits is equally important.
Pros Of Elementor Hosting
Can manage upto 25k traffic per month.
Money back guarantee for 30 days incase you are not satisfied with Elementor hosting.
Connect your own domain hassle free.
No restrictions on transfer of your website to other hosting providers.
Easy to use interface, which can be understood by a beginner also.
Preinstalled WordPress and hence one can instantly setup his websites.
Automatic backup in every 24 hours.
Includes all features of Elementor pro plugin.
Cons Of Elementor Hosting
Slightly expensive when compared to its alternatives.
No upgrade option for Elementor hosted subscription if you want to integrate it with multiple sites.
You can not change the plan if your website grows as there is only web hosting plan available with Elementor as of now. But in the near future there is higher possibility of upcoming and more advanced plans for web hostings.
No data of uptime has been provided.
Alternatives Of Elementor Hosting
Some of the top alternatives of Elementor hosting have been listed in the table below with the comparison of their features and prices.
Note: Only the shared WordPress hosting plans of alternatives have been put for comparison with hosting of Elementor because of the resemblance in features and services.
A2 Hosting, HostGator, and FastComet are the alternatives of Elementor hosting that we are reviewing below.
| | | | | |
| --- | --- | --- | --- | --- |
| | Elementor | A2 Hosting | HostGator | FastComet |
| Price | $89 per year | $83.88 per year | $33 per year | $35.4 |
| SSL Certificate | Free | Free | Free | Free |
| Email Accounts | No email | Unlimited free email | Free email | Unlimited free email |
| SSD Storage | 20 GB | 100 GB | Unmetered (with restrictions) | 15 GB |
| Money-Back Guarantee | 30 Days | 30 Days | 45 Days | 45 Days |
| Plans For Multiple Sites | Not available | Available | Available | Available |
FAQs: Elementor Hosting Review
1. What is the difference between Hosted Elementor Website and Elementor Pro?
Hosted Elementor Website is basically made for website hosting which is recently launched. In this plan along with hosting you get all the features of Elementor Pro which is a page builder plugin for WordPress.
On the other hand, Elementor Pro is a page builder only which can be used for 1 to 1000 websites and it does not include hosting.
2. What if I want to change my current hosting to Elementor?
You can easily change your current hosting to Elementor Hosting anytime also you can change your Elementor hosting to other hosting providers easily without any restrictions.
3. Can I select the data center location?
As of now, Elementor doesn't provide the option to select the location of the data center but your data is stored in many locations to ensure a fast and smooth experience for visitors.
4. Do I get a professional email?
No. Elementor does not give any free or paid professional email with its hosting.
5. Can I host more than one site on Elementor?
No, you can't host more than 1 website on Elementor. For hosting more than 1 site you need to get multiple subscriptions.
Conclusion: Elementor Cloud Hosting Review
This Elementor Hosting review was done by looking at the features that it is giving and also by comparing it with alternatives. If you are looking for one line review of Elementor Hosting then we will say, it is a very recent product of Elementor with which they are experimenting. In the future, many more hosting plans of Elementor would be there so if you want hostings along with page builder then you must go for it.
But if you are running a very big successful website then going with Elementor could be risky. In this Elementor Hosting review, if you find something doubtful then share your queries in the comment section, we will definitely help you.
Latest Post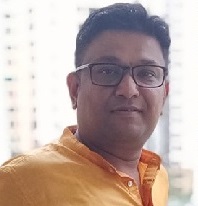 Seasoned Professional with 15 years of experience in Sales and Marketing. Entrepreneur, Consultant and Blogger helping people earn through jobs and blogging. Experienced Hosting Reviewer who likes to collect detailed info about existing players and share it with my audience. Previously worked with leading Banks and Telecom Companies.
I completed my Masters in Management with specialization in Finance and Marketing.
Visit our Hosting Review and Blogging Guide for more interesting articles.