Kinsta is considered the most preferred WordPress host. But if you are here reading this blog then you may be looking for better Kinsta alternatives and competitors in 2023. The reason could be anything: the price, experience, or performance. 
Most users complain about its high prices and plans. There could be any of these points that might be bothering you. The answer is just one, look for an alternative to Kinsta.
You may be an existing Kinsta customer who is not happy or someone who is looking for a popular managed WordPress hosting provider.
So, If your purpose for the search is to find an alternative then you have landed on the right page. In this blog, we will discuss some of the most efficient alternatives to the Kinsta.
Let's start.
7 Best Kinsta Alternatives that will solve your problem
We have carefully chosen some of the renowned WordPress hosting companies that are offering competitive products. Some of them are using ourselves and basis our experience, we are satisfied.
Our quick web hosting comparison will help you for sure.
All alternatives of Kinsta we have picked are offering better rates, features and performance as compared to Kinsta.
1. WPX Hosting : Affordable Replacement of Kinsta
WPX Hosting is founded by Terry Kyle. He is the founder as well as the CEO of this hosting company. It was founded in the year 2013.
WPX Hosting is the finest alternative to Kinsta. It is a perfect fit for all your website requirements. They are known for their thirst for faster websites and almost no loading time.
See this post: Save Up To $3000 "Without" Kinsta Discount Code 2023
When compared to the entry-level plan the access to 5 WordPress installations is higher than just one installation with the Kinsta. Also, much emphasis is given to security by providing free SSL. This reduces the downtime of your site.
The site is a win-win for someone who wants to host multiple websites with their entry-level plan. It is almost as fast in loading as the Kinsta. This gives it an upper hand over Kinsta because its entry-level cost is lesser when compared to it. Their billing system differs from most hosts because they don't charge their users for the extra visitors but only over the storage.
Features of WPX Hosting
With many different features that make it one of the highly preferred alternatives here we have jotted down some of the most useful features of WPX Hosting:
One of the simplest features of WPX is that it provides email hosting along with your plan. This might depend on the user preferences but it is an advantage for anyone who wants both the hosting from one source. 
The host has automatic and on-demand backup which has a storage tenure of 24 days, higher than its competitors.
You get the built-in CDN when using the WPX host which doesn't cost anything extra and is included in your regular plan.
The site speed is a key feature that definitely provides users a better experience and boosts the conversion rate.
The host gives free malware protection to its users.
The shifting of your website host from one to another is simpler, faster, and with absolutely no extra cost. 
Datacenter
WPX Hosting gives you the option of 3 data centers to choose from:
USA
UK
Australia
Product and Pricing
It has its own cloud with free SSL which gives encryption and security.
The entry-level plan for WPX starts at $24.99. This provides up to five websites. The data storage in this plan is 15 GB and the bandwidth is 200 GB. 
The next plan is $49.99 for up to 15 websites. The data storage is 30 GB and 400 GB bandwidth. 
The premium plan costs $99 and provides up to 35 websites. Its data storage is 60 GB and has unlimited bandwidth. 
We have WPX Hosting review and WPX coupons just in case you wish to check out.
2. Rocket.Net : Get More Bandwidth and Security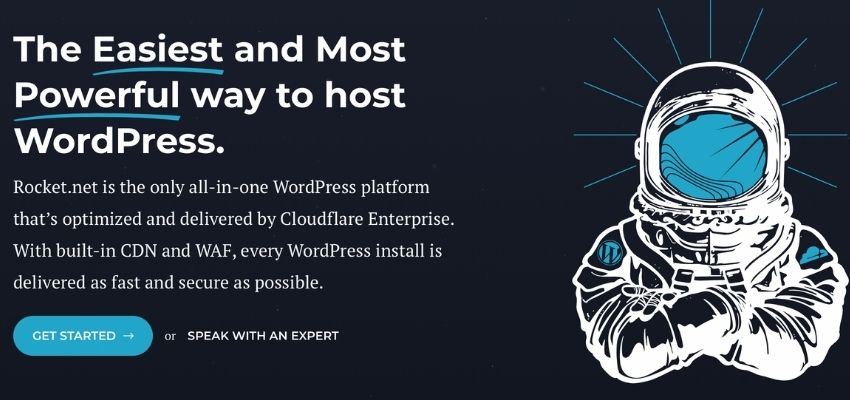 Rocket.net is a WordPress web host company that was founded in the year 2020 by Ben Gabler and Aaron Dewell Phillips. They are the founder and CEO of this web host enterprise. They have previous experience in the web host company which makes them an expert in this area.
We have been using Rocket.Net on our various projects and the speed is unmatched. It is hard to believe but we have received 99.99% + uptime since last 6 months.
You get built in Enterprise level Cloudflare infra for superb speed and security at no additional cost.
This web host is a package deal for your website. It can help your page load quicker, gives backups and security everything in their plans. This web host has helped many bloggers and new users' websites go viral faster when compared to other hosts. It has competitive pricing plans in which per-site cost reduces with every increasing site use.
Features of Rocket.Net
Their web application firewall is a permanent perk with all the packages that the web host provides.
Another no-cost advantage is CDN which enhances the security of the website and also makes it faster and performance-oriented. It is an Enterprise level CDN and not the free Cloudflare plan.
You will enjoy the feature of regular automatic and a required backup that protects your data and saves you from spending extra for this service.
The web host will give a faster and user-friendly site
DataCentre
Rocket.net has data centers in North America, Europe, Australia, and Asia.
Don't forget to checkout our Bluehost Alternatives, DigitalOcean Alternatives, Namecheap Alternatives and GoDaddy Alternatives.
Price and Product
This Web host provides super-fast servers with regular malware scans. With all the plans they offer free SSL, CDN, and WAF.
Rocket.net's starter plan costs you $30 and gives 250000 visits and 10 GB of storage. This plan works best for a single WordPress site.
The pro plan costs $60 and storage of 20 GB. It gives 1000000 visits and 3 WordPress installs. This plan will be a better choice for users who handle more than one site.
The next plan is business which is perfect for multiple installs, visits, and storage. Its pricing starts from $100 and provides 10 WordPress installs. They provide data storage of 40 GB and 2500000 visits.
The last plan by the web host company is $200 which provides data storage of 50 GB and 25 WordPress installs.
Note: We have a detailed Rocket.Net Review where you can explore its features in detail.
3. Flywheel
The Flywheel host was founded by Dusty Davidson, Tony Noecker, and Rick Knudston in the year 2012. It was created in Omaha, Nebraska, in the country of the USA. But it is now acquired by the legendary WordPress hosting company WP Engine. Together they have done wonders in the business. All the name and fame that this host has got in recent times proves its effectiveness. It is popular among its users and all for good reasons.
One of the major reasons for the grand success of this web hosting company is its abundance of features.
It is not just a shared hosting platform, in fact, it is based on Google's cloud. It has been applauded by some recognized bloggers and users. This makes it an even more popular choice among the hosting platforms.
Features of Flywheel hosting
Cloud Platform and built in CDN.
The host provides an automatic data backup at nighttime without disturbing anyone's processing.
It is simpler to find a billing transfer through this web host.
Flywheel is a lot affordable when compared to Kinsta which makes it a more convenient option for newcomers too.
The one-click staging sites and SSL certificates make the working quick and flawless.
The dashboard of the host is user-friendly with custom options.
The host provides you with migration to unlimited sites without costing you anything extra.
There is no extra cost for multi-staging.
Data Centre
The datacenters of Flywheel are in the USA, Asia, Europe, Australia, and Canada.
Product and price
Flywheel is based on a Cloud platform offered by Google. They use Fastly CDN. Also, Flywheel provides custom hosting solutions for agencies and corporates, that they are able to configure in the collaboration with the Google cloud.
The entry-level plan of flywheel starts from $15. This plan provides 5000 monthly visits and storage of 5 GB. Its bandwidth is 20 GB which is ideal for small-scale installation.
The starter plan is $30 and gives storage of 10 GB. This plan provides 25000 monthly visits and has a bandwidth of 50 GB. It is ideal for a single site plan.
The next plan is known as a freelance plan which gives 100000 monthly visits. The data storage provided in this plan is 20 GB with a bandwidth of 200 GB. The plan is considered right for growing a client list.
The last plan is known as agency. It starts from $290. This provides up to 400000 visits and data storage of 50 GB. Its bandwidth is 500 GB. This is perfect for an upscaling business.
Deepdive to learn about more FlyWheel features, Read our FlyWheel Review.
4. WP Bolt
WP Bolt was founded by Kevin Graham in 2021, and is part of the Site Arrow group of hosting companies.
WP Bolt is a great option if you're looking for a Kinsta alternative, as they have a range of 50 different data centers across the world from their 4 cloud providers (Vultr, DigitalOcean, Linode, and UpCloud).
This makes it a great choice as almost all countries are covered. Unlike Kinsta which has multiple different customer sites on each of its servers, WP Bolt offers a dedicated Virtual Private Server for your site, which means that your site has guaranteed resources and will likely load a lot faster than on a shared hosting server.
WP Bolt's plans also offer better value than Kinsta, with their entry plans starting at $11 per month which allows you to host up to 10 sites, less than a third of the $35 starter plan on Kinsta which only allows you to host 1 website.
Features of WP Bolt
You get your own server just for your sites which means faster load times and no noisy neighbors
Free migrations for your sites from your current hosting provider
Excellent value for money compared to Kinsta with plans starting at 1/3 of the cost of Kinsta
User-friendly dashboard for beginners but with access to powerful functionality for more technical users
Free staging sites
WP Bolt Datacenters
WP Bolt uses the data center networks of its four cloud hosting partners which are Vultr DigitalOcean Linode and UpCloud. This gives you access to your choice of 50 data centers around the world.
Product and Pricing
WP Bolt is based on the cloud hosting services of Vultr, DigitalOcean, Linode, and UpCloud. They use DirectAdmin to run their servers.
1. The entry-level plan starts from $11 per month on Vultr, which is 66% cheaper than Kinsta.
2. WP Bolt has a wide range of plans, which are based on the server specifications of your chosen server, with the ability to upgrade your server plan at any time.
5. ScalaHosting
The WordPress hosting platform Scalahosting was founded by Chris Rusev and Vlad who are also the CEO of the company. It was founded in the year 2007. This web host is especially suitable for WordPress users.
It is adequate for both small-scale websites as well as large-scale websites. The host is developer-friendly and can be used for businesses too. If you are someone who requires a substitute for the cPanel then this is the right choice for you.
ScalaHosting's Managed VPS is available for just $9.95, it's highly secured, scalable, and fast, thanks to LiteSpeed Servers + LSCache combination.
If you are someone who doesn't like any cap on the number of sites allowed and bandwidth, Choose ScalaHosting.
Features of Scala hosting
The Scala hosting has some amazing features like automated backup which makes the task easier and saves ample time for the user. 
It has self-developed products like

SPanel, SShield, and SWordPress Manager

, which makes it a user-friendly web host.
The affordable starting plans and free domain & SSL are the cherries on the cake. 
This web host has adequate resources like cPanel alternative which brings up the user experience 
Its high server speed which is a result of HTTP2 and 99.99% system reliability guarantee makes it a trusted host. This point boosts up your visitors' experience on the site. 
It has tools and technologies which are useful for a developer. 
The service is available 24/7 which is a plus when other web host's service takes longer to fix or even reply to the query. 
Datacenter
Scala hosting has its data centers in the USA and Europe.
Product and Pricing
The Scala hosting provides a shared hosting and cloud VPS server that are completely secure and managed.
The mini-plan of Scala hosting starts from $3.95 and provides SSD storage of 20 GB. The inode in this plan is 150000. It gives access to 1 website. This plan does not include Sshield security.
The start plan of Scala hosting starts from $5.95. The SSD storage in this plan is 50 GB and the inode is 300000. The plan gives access to unlimited websites. In this plan, you get Sshield security.
The advanced plan costs $9.95 and gives 100 GB SSD storage and Sshield security. The inode in this plan is 500000 and gives unlimited access to websites.
We recommend you to start with Managed VPS that offers excellent speed and costs just $9.95 a year. Get guaranteed CPU and Ram along with cloud platform and a lot of security features. As you can host unlimited sites there, you will find the perfect Kinsta alternative that is fast and affordable.
For more details about this hosting, visit our Scalahosting Review 2023.
6. BionicWP
BionicWP is a web host which is new in this series of WordPress hosts but has still managed to gain its part of name and popularity quite soon. It was co-founded by David S. Kidder Idan Ninyo who is also the CEO of the company. It was founded in the year 2013.
Being quite fresh in the business doesn't make them any lesser on the performance and features. Its style of pricing makes it an effective deal for the user because the initial pricing reduces every time you increase a site. It is a fully managed host which provides support to the initial level package and server.
Features of BionicWP
The first significant feature of BionicWP is its unlimited site edits which saves you a lot on your pocket. Though there are other hosts too which offer updates, BionicWP's unlimited editing feature is not offered by most. 
They regularly scan the malware which increases the security of your website. This step is just one click away. 
BionicWP has a premium high compute server which is hosted by Google C2 which gives impressive speed and fast performing server. 
With the high speed and fast servers, the host doesn't ignore the fact of security requirements. It provides non-blocking, hacks security, and frequent site backups. 
It is sometimes impossible to ignore hacks and many businesses are in this digital era facing this issue. But BionicWP considers this significant point and provides restoration of data with no downtime. 
If you are wondering if the web host provides the plugin, theme, or core updates or not then let me confirm all of these features are provided by the host. It actually provides all of these for no extra cost. 
They provide their users with staging areas that don't affect the user experience and all the tests are run successfully. 
Datacenter
BionicWP has its centers in the USA and Europe.
Price and product
BionicWP is a managed WP hosting backed by Google cloud platform.
The basic plan for BionicWP starts from $27.5 which includes unlimited free migration and it starts to fall with an increasing number of sites.
You can customize the cost as per the number of sites you choose. You only pay for the number of sites you host.
Want to know more? Read BionicWP Review.
7. Liquid Web
Another great web host on our list is Liquid Web. It was founded by Matthew Hill in 1997. They are well known for their high-performance servers which provide both speed and security to your website.
You can enjoy fully managed hosting with ample resources that support the proactive management of your hosting server. They provide technical advantages and great customer support to clear all the hassle from your website.
They can manage to host with servers like cloud hosting, VPS, and dedicated. There is no cap on visitors as long as you have resources like RAM and CPU intact.
Features of Liquid Web
Liquid Web has complete system reliability and they back up their guarantee of uptime with a credit ten times. 
Their most prominent feature is their immense support system. Their availability and solving skills improve the user experience. Their support
If you want your website page to load quickly with no time then they provide it with proven reviews.
They provide automatic backup and even one-click restoration. 
Apart from all the astonishing features they give SSL certificates and migration without any extra cost. 
Site staging feature with just one click adds to the list which makes this web host user-friendly. 
Liquid Web gives a fully managed host environment. They keep the server updated with enormous security which gives proactive availability and an unhindered network. 
With all its plans the user can find pre-installed WordPress which is helpful for any new user to this host. 
They provide custom solutions to their users and enterprises. 
The variety in the pricing and offers make their plan flexible. It is easier to choose among those as per the needs. Many features are free and available for all users. 
Datacenter
Liquid Web has its data centers in US Central, US West, and Europe Central.
Product and Pricing
With every plan, they provide access to unlimited visitors.
The managed WordPress plan for liquid Web starts at $12.67.
Its VPS server plan starts from $15 and gives high performance.
Reason For Switching To An Kinsta Alternative
First things first, there might be a solid reason that is making you shift from such a top-performing WordPress host. It could be your personal experience with this host or the extra cost for the overage use, or maybe the Kinsta pricing.
Possibly it would depend on the user's requirements.
You can find some affordable options that will give you a similar or even better experience that can provide you with a better availability set-up or cheaper staging space.
FAQs about Alternative and Competitors of Kinsta
Now we will discuss some facts and questions related to Kinsta's alternatives and competitors.
Which is the cheapest alternative to Kinsta?
Arguably the cheapest Kinsta alternative is EasyWP by Namecheap. However if budget is not the criteria, go with Rocket.Net or FlyWheel.
Is Kinsta any good?
Kinsta is good but not the best. There are a lot of limitations in their entry level plans. We found Rocket.Net, WPX and FlyWheel offering same or even better performance at lesser rates.
Conclusion: Which Kinsta Alternative One Should Choose In 2023?
In the above blog, we have discussed all the great alternatives that can replace the web host Kinsta. There are many options in this list that can be your final pick based on your requirements. If you need something really affordable then Flywheel is one of the best Kinsta competitors available for you. You can also select Scalahosting, using DigitalOcean and AWS platform, a good option to select for user-friendly and great customer support.
It can be difficult to select just one option from so many alternatives but if still, one was to be chosen I would pick WPX host. It is because they have all the essential features like built-in CDN, automatic back-up, site shifting, and malware protection at a competitive price. Before you go, don't forget to check Kinsta discount coupons.
Our latest articles: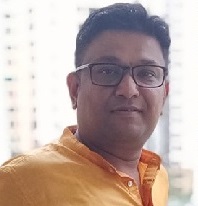 Seasoned Professional with 15 years of experience in Sales and Marketing. Entrepreneur, Consultant and Blogger helping people earn through jobs and blogging. Experienced Hosting Reviewer who likes to collect detailed info about existing players and share it with my audience. Previously worked with leading Banks and Telecom Companies.
I completed my Masters in Management with specialization in Finance and Marketing.
Visit our Hosting Review and Blogging Guide for more interesting articles.
Resources: Read this Google's study regarding Kinsta's platform.