If you are interested in hosting your website and are considering purchasing a new host, this ScalaHosting Review is for you! Discussed below are the crucial details you need to know if you're going to be making a decision.
About ScalaHosting
ScalaHosting caters to over 50000+ customers from across the globe and ensures their 700000+ websites are up and running. ScalaHosting is native to the United States but provides its own servers in the EU as well. If you choose their DO plan, you get global data center reach.
The company's internal R&D department focuses on building better products leading to the ultimate experience for users. They are able to add innovative products like SWordPress, SShield, and SPanel. A company with a focus on adding some unique features is changing the status quo in the web hosting industry.
Talking about the experience, ScalaHosting is a pretty tenured web-hosting service that was started in 2007, has taken up its mission to establish VPS hosting a resource that is affordable and manageable by anyone including beginners, agencies, corporate sites, and even students.
For new bloggers looking at WordPress-friendly platforms or businesses looking to build amazing things on the web, ScalaHosting aims at catering to all niches. That's why the company has worked hard to make the cloud secure, scalable, and easy to manage.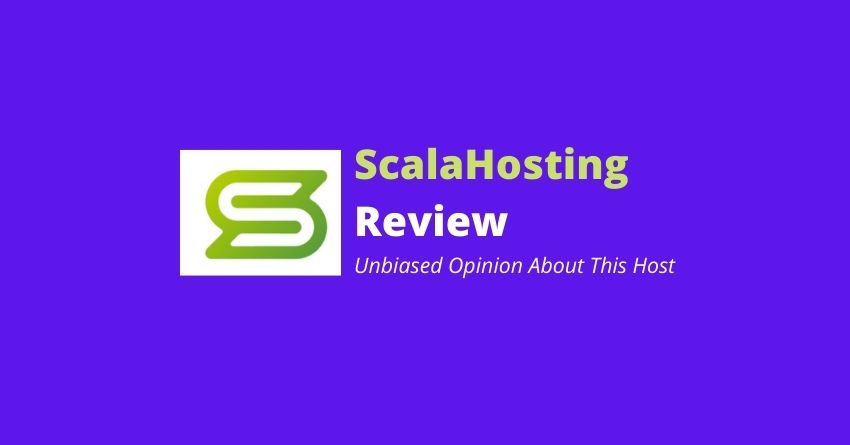 TL;DR: BottomLine of Scala Hosting Review 2023
ScalaHosting offers multiple server options and hosting plans for beginners as well as professional blogs and websites. Managed VPS is their unique plan that I didn't find anywhere at this rate. I experienced quick responses and a knowledgeable service team available round the clock.
Here is the ScalaHosting Review Score on each important parameter:
| Review Parameters | ScalaHosting Review Score (9.5 of 10) |
| --- | --- |
| ScalaHosting Service and Options | 10/10 |
| ScalaHosting Features | 9.5/10 |
| Ease of Use | 9/10 |
| ScalaHosting Pricing | 9.5/10 |
| Speed and Uptime | 9.5/10 |
Note: The company has recently started its VPS on AWS servers.
ScalaHosting Features: Are They Useful And Reliable?
I will now take you through the actual usability and reliability of some core features that ScalaHosting provides. Please note that these are some of the critical factors that you cannot ignore while choosing the best hosting companies for your projects.
Fast Speed
Is ScalaHosting Fast?
We checked them to make sure we have a perfect review of ScalaHosting that is based on facts.
With the help of a live site that is hosted on ScalaHosting's servers, we did multiple Speed tests and from different geographical locations.
Speed Test Findings from Asia: [We used Pingdom]
We have a snapshot below where you can see the site name as proof and the server location from where the test is conducted. On the date of the test, this site was using ScalaHosting's servers.
Test conditions: Homepage with page size around 500kb and total requests 31 was tested from Asia. The page is full of images and you can see that.
ScalaHosting speed test review from Asia: Good Speed
As per Pingdom, the performance grade is 87, which is honestly good. The entire page was loaded in just 1.46 seconds.
It is indeed better than many other web hosting companies like Bluehost and sometimes Hostgator as well.
I will now conduct another test from the USA's Washington server location. Let see how it performs.
Speed Test Findings from the USA: [We used Pingdom]
Another proof where you can see the same page was put on a test from North America's Washington location.
Test conditions: Homepage of a Live site, 500kb page size with requests 31 to process and location is Washington. Live site with natural Java, plugins, images, and everything that you have normally in your site.
ScalaHosting speed test review from the USA: Good Speed
This time Pingdom, the score confirmed was 88, and load time was 2.06 seconds. As per these two results, "ScalaHosting has passed the speed test".
What about ScalaHosting's mobile speed score as per Google Pagespeed Insights? As per Google's page experience report, you cannot ignore speed as well as mobile user experience.
I decided to test through Google's pagespeed insight.
Speed Test Findings Using GPSI
I have given a button link below for a site hosted on ScalaHosting and linked it with Google's page speed insight. Click here to conduct the speed test yourself [for the first time in any review you get that].
Test conditions: Live site, mobile speed test, same 500kb page with about 30+ page requests, the test server is not disclosed by the tool.
ScalaHosting mobile speed test review using GPSI: Excellent
I got amazing results, 90 score on the mobile speed test is simply amazing.
Note: The site can be shifted to other hosting's server in future, hence, snapshots taken above should be trusted.
My views on the speed of ScalaHosting's servers: Someone who is looking for fast page load speed should trust the Litespeed + LScache combination by ScalaHosting. You will get good speed, provided you use limited plugins and use lightweight themes like GeneratePress.
In case you need any assistance in configuring the cache plugin, their service team will not deny helping you.
Uptime [We checked SLA Vs Actuals]
Is ScalaHosting able to keep its uptime promise?
Here is the report of one full month and the snapshot is attached as proof.
What is the finding after sending an HTTP request every single minute for the complete month last year?
The results are amazing as ScalaHosting's reported uptime is 99.97%. Please note that the company promises you an uptime SLA of 99.9%.
My views on the Uptime of ScalaHosting: So, it is clear from the snapshot above that ScalaHosting keeps it uptime promise and aims at delivering even better performance. Actuals was 99.97% as against the SLA promise of 99.9%.
If you are looking for better uptime as against your current hosting, you can migrate here for free.
SShield Security + SSL + CloudFlare Protection
Is ScalaHosting focused on the security of your website?
Well, If you will see, most of the companies rely only on firewall and virus database that performs regular scanning. That is one way of doing it and is perfect too.
ScalaHosting on the other hand is one step ahead. How?
They have developed SShield that is AI-based that scans your code on certain predefined logic on regular basis. The company claims that as soon as your website gets hacked, the SSheild's automated system is able to notify the administrator with loopholes and recovery methods.
SShield is designed in such a way that it can block up to 99.998% of attacks.
Secondly, like other web hosting companies, you also get Free SSL and Cloudflare protection.
On one hand, where SSL ensures the encryption of the data that travels from one end to another, CloudFlare on the other hand ensures DDOS and Bruteforce protection.
If you enable Cloudflare on your website, it also helps you mask the server IP that protects your website in most cases. While this is available for free with other renowned hosting companies as well, I still see most of the users unaware of it.
Use cPanel or Spanel to activate the Cloudflare in just one click.
Regular Backups
One more security feature. Various renowned hosting companies like HostGator don't guarantee you the backup for free, ScalaHosting ensures it as a Free Security Feature.
What is the Backup policy of ScalaHosting?
So, the company provides you automatic backup on the remote server for the last 7 days. This is amazing.
I see a lot of companies adding the backup to the same server your site is hosted on. With ScalaHosting, getting the backup copies saved on the remote server means an extra layer of security.
Creating on-demand backup is also possible from your control panel and you can easily restore it as well. This is up to you and useful in case you are making some important changes that you may need to reverse.
Why Backup is important?
If you are a beginner, please note that backup helps you restore to working condition if your site is hacked. Not only that, if you have deleted any post or plugin due to an error, you can restore the previous day's backup and reverse the unforeseen event that just happened.
WordPress Staging and Cloning
Do you know why Staging or Cloning is required?
When you are installing or upgrading a plugin, theme, or any other coding-related changes are planned, your site can break down. So, with the Staging environment, you create a clone of your website and make changes in the cloned copy, not on the original site.
After making the changes, you checked if the cloned site is working properly or not. If everything works fine, you can put the staging site to "production mode" and all the changes will be implemented on your main site.
If you see something has broken, you can delete the staging site and get away with no issues on your live site.
With ScalaHosting, this feature is added even in the "Mini" hosting plan.
Free Email Accounts
There is no cap on Free Email accounts. You need emails for your business or your blog. Creating email IDs according to your domain name is not only a fashion but bare minimum expectations from a reliable brand these days.
In most cases, when you either don't have a Free Email account or they are capped to a certain number, you have to look out for services like Google WorkSpace.
Here, you don't have to pay anything, create as many email ids you want for your business.
Do ScalaHosting Migrate Your Site For Free?
If you are already a website owner and planning to migrate your site, you get free migration provided by ScalaHosting.
This feature, however, is common these days but not everyone provides free migration even today, Bluehost is one of them.
How this "Free Migration" works?
If you choose ScalaHosting, just purchase the plan and log the ticket with your credentials and website details. Within 24 hours, you can expect the transfer to happen.
Review of Customer Service? Is ScalaHosting's Support Team Helpful?
Every renowned web hosting provides 24×7 support. But are all of them really available or helpful?
You go to DreamHost, at least 1 out of 5 times, their chat team is either unavailable or responds after at least 30 minutes.
I had to check their actual service commitment as I wanted to document it here in this ScalaHosting review.
For that, I contact them three times between yesterday and today. Different times, morning, evening, and night.
My review or opinion about ScalaHosting's customer service: I found them available on the chat every time. Got a quick response and found them helpful.
Honestly speaking, when you ask a chat specialist to help in WordPress installation type of tasks, they through you some tutorials to read, kind of "do it yourself". But you see the proof below where the chat executive was all ready to do it for shared hosting and VPS customers.
What If You Are Not Satisfied With ScalaHosting?
Straight and Simple, Log a ticket for account cancellation within 30 days of purchase and get your money back.
This feature is again common with most of the hosting but not all of them return 100% of your money. Check this snapshot below that confirms their refund policy.
Pros: 12 Reasons to Choose ScalaHosting
The ultimate goal of a review is to analyze if the product is worth recommending or not. Even if we are recommending it, what are the merits and demerits of the product that users should be aware of?
I will start with the Pros:
Free Domain
Free SSL
30 Days Money Back Guarantee
SSD Drives
Fast Servers [We checked and documented above]
Exceeds the Uptime commitment
The service team is responsive and available
The company's focus on security, also provides free backups
Pricing is affordable as per the features
No Cap on Bandwidth and Databases
SSD storage [it is faster than HDD]
Price lock guarantee
Cons: What Is Missing In ScalaHosting?
I will now share some of the cons that you should be aware of before making a purchase. You have to decide if these "Cons" are a deal-breaker for you or not.
Limited Server locations of USA and UK only [If you are choosing Shared hosting, For VPS, more options are there]
One site allowed on the entry-level plan. All other plans allow you Unlimited sites.
ScalaHosting Products and Pricing Review
Want my honest feedback on their products and pricing?
ScalaHosting assures you of multiple hosting types under one roof.
For a WordPress blog that generates nil to low traffic or a large website that generates millions of traffic in a month, you are backed by ScalaHosting.
Other popular posts related: Do you get WordPress Free?
Do you know what all hosting types are available with ScalaHosting?
So, ScalaHosting provides you with Shared, Cloud VPS [Managed and UnManaged both], WordPress Hosting, and Reseller hosting solutions.
For types of user needs, seasonal and long term, the tenure available is 12/ 24 / 36 months. Someone looking at monthly hosting can also avail special monthly plan [cost however will be higher].
Let's discuss all the hosting types that you get with Scala.
Must read before you choose the right plan: Shared vs VPS vs Dedicated vs cloud hosting.
1. SHARED WEB HOSTING
Do we recommend Shared Hosting? Yes, it is the best fit for beginners and low-traffic websites. If you have never created a website before or are not sure of the blog's future, must choose Shared hosting with Free SSL.
But Shared hosting is also offered to you in multiple variants. For resource-hungry sites and for new sites, choose the plan that fits the best according to your needs.
I will now help you understand what these plans are what resources you get.
1. Mini ($3.95/month)
The entry-level plan is rightly named as "Mini". Allows you to host 1 website with no cap on bandwidth. You get 20 GB SSD storage and unlimited email accounts. Domain, SSL, and CDN are provided for free.
2. Start ($5.95/month)
If you are looking forward to hosting unlimited websites, choose this plan. You get extra storage touching 50 GB SSD storage and 2X CPU power to handle complex operations as well.
The SShield cyber security that I mentioned above is also included in this plan.
3. Advanced ($9.95/month)
The plan provides you enough resources to handle medium to high traffic with its 4X CPU power. Regarding storage, you get a 100 GB SSD. Apart from that, Pro-Spam and priority support are also provided.
But I will not recommend you to choose "Advanced" Shared hosting plan. Instead of this plan, I would recommend Managed VPS by ScalaHosting. See the next one.
4. Managed VPS ($14.95/month)
My favorite plan offers SPanel, SWordPress Manager, and SShield with 8X CPU power. Faster than Shared hosting, Speed that is driven by LiteSpeed server + LScache and guaranteed RAM and CPU that comes built-in with this plan.
Sufficient 20GB storage that most of the sites are not able to use in the entire life cycle. You also get Dedicated IP which means no blacklisting ever by any search engine and spam protection servers.
I will also discuss this plan in the VPS section below.
Important finding: Free Domain will be one only, however you get CDN and SSL for unlimited websites.
2. CLOUD VPS WEB HOSTING
Is VPS hosting the right fit for you?
Certainly yes if you do not stick to the budget of around $2-$5. Someone looking for an upgrade from Shared hosting must try VPS. If your site breaches the Shared hosting limits often, this is now the time to book a Managed VPS plan and ask for free migration.
With current offers, after getting a 50% discount, you get Managed VPS just for $9.95. It is one of the cheapest VPS that actually works [and never sucks!].
Note: ScalaHosting offers Managed and Unmanaged Cloud VPS on their own servers as well as DigitalOcean.
Some Cool differentiators of Scala's Managed Cloud VPS plan are:
More Server Locations
Priority Support
Full Management [as in Shared hosting],
Free Migration, Free Domain [Yes, Most of the VPS don't provide]
Highly Intuitive SPanel Control Panel,
SShield Security Protection,
Daily Disaster Recovery Backups,
Free Snapshots
Dedicated IP Address
Guaranteed Resources
HTTP/3 Support.
What is the difference between ScalaHosting's Managed and Self Managed VPS?
Managed VPS, is for beginners and non-techies who wish to focus more on the website and less on the backend. For someone like me, who is lazy enough to forget server administration tasks, I think, Managed is the best one.
The hosting company's backend team will ensure all server maintenance-related tasks like regular updates, backups, hardware replacement to ensure your server is up and running. In short, managed VPS is just like shared hosting in terms of "Ease of Use" but up to 10X powerful.
What about Self Managed?
If you have chosen and "Self Managed" VPS, you have to manage the entire server operations, except for physical server availability that is ensured by the hosting team.
Managed Cloud VPS
ScalaHosting offers power-packed hardware and features that help you manage the traffic with best-in-class speed.
1. Start ($9.95/month)
Cloud-based SSD VPS platform, 1 Core CPU core, 2GB RAM, and 20GB SSD.
2. Advanced ($21.95/month)
In the next version, get 2 CPU cores, 4GB RAM, and 30 GB of SSD storage.
3. Business ($41.95/month)
This is a very powerful pack for heavy traffic sites, 4 CPU cores, 6GB RAM, and 50 GB SSD.
4. Enterprise ($63.95/month)
The best and top-of-the-line pack allots customers 6 CPU cores, 8GB RAM, and an enormous 80GB of SSD storage.
Do you know? ScalaHosting also provides you DigitalOcean's Cloud Servers?
Self-Managed VPS Cloud.
With this plan, you are allowed to manage cloud hosting servers hassle-free from the client area round the clock.
Their servers are powerful that works on dual CPU E5 Intel Xeon machines, 256GB RAM, redundant network uplinks, and a lot more.
As it is on the cloud, the company ensures the account facing hardware failure is migrated to working nodes, thereby ensuring the best-in-class availability.
They are also fast in terms of making your server available. Once purchased and the transaction is completed, within few seconds, you get your server ready.
Available server locations are Dallas, New York, and Europe.
Let's have a quick overview of specifications and pricing.
1. Start ($26.00/month)
Entry-level VPS that offers 2 CPU Cores, and mammoth 8 GB RAM, and 80GB SSD space.
2. Advanced ($30.00/month)
You get 2 Core CPUs and 6GB RAM, Storage is now 120GB of SSD space.
3. Business ($42.00/month)
Next available plan with 4 CPU Cores and 160 GB SSD Storage. RAM is 8GB.
4. Enterprise ($68.00/month)
Best Plan in VPS category where you get 8 CPU Cores and 200 GB SSD with 12GB RAM.
3. RESELLER HOSTING
If you are planning to start a White-Label web hosting business, ScalaHosting provides you affordable plans starting at $14.95. Within just this cost, they offer 20 cPanel, 25GB storage, and 1TB bandwidth.
This is sufficient for new businesses, however, there is more option as well.
FAQs about ScalaHosting Hosting Review
Some of the questions that may be in your mind regarding ScalaHosting, I have answered below.
Is ScalaHosting any good?
ScalaHosting is the USA's renowned web hosting company that provides affordable solutions and innovative products. They are fast and scalable. We tested them.
Which is the best plan by ScalaHosting?
If you are looking for the cheapest option, shared hosting's Mini plan is the best. However, with a little budget stretch, Managed VPS plan is recommended
Conclusion: ScalaHosting Review
As per our ScalaHosting Review, we found it a perfect web host that offers superb speed at affordable rates. They have developed in-house innovative products like Spanel, SShield, and SWordPress. ScalaHosting's plans are available for just $3.95.
For anyone who is looking for cheap options or high-performance servers including DigitalOcean's products, ScalaHosting provides you all.
Our important reviews: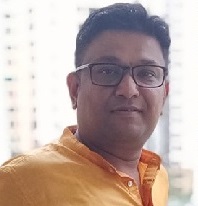 Seasoned Professional with 15 years of experience in Sales and Marketing. Entrepreneur, Consultant and Blogger helping people earn through jobs and blogging. Experienced Hosting Reviewer who likes to collect detailed info about existing players and share it with my audience. Previously worked with leading Banks and Telecom Companies.
I completed my Masters in Management with specialization in Finance and Marketing.
Visit our Hosting Review and Blogging Guide for more interesting articles.
Must Read: WebFlow Vs WordPress Comparison.
ScalaHosting Review 2022
Features

Pricing

Ease of Use

Service
Summary
ScalaHosting is amazingly fast and meets its uptime promise of 99.9%. The quick-service team is the cherry on the cake. They have developed multiple products to improve security, speed and ease of use.
Get started with just $3.95