DigitalOcean is one of the most used and popular Cloud hosting services among developers and web development projects. There is hardly anything to complain about its service and performance. But still, everything has its drawback depending upon the type of users. If you are here looking for some DigitalOcean alternatives then there has to be some reason.
But let me first explain the DigitalOcean cloud hosting to everyone who doesn't have the idea of the service. It is a cloud hosting service that is legendary and has quite affordable plans and pricing.
Most users suffer from a lack of customer support. In DigitalOcean they do not have a live chat box or calling options which upset some of its users. It is also a developer-friendly hosting service that does not provide cPanel service which upsets some of its users. If you are also someone who is looking for DigitalOcean alternatives then you have landed on the right page.
In this article, we will be discussing some of the best substitutes for this hosting service.
Quick Summary: Top 6 Best DigitalOcean Alternatives
Note: We have not discussed all plans and the pricing of any particular hosting listed below. Only those hosting plans of a company are discussed in detail that can be used as a perfect DigitalOcean alternative.
1. ScalaHosting Cloud VPS – Managed And Unmanaged Cloud Hosting
Scala hosting cloud solution is a great alternative for DigitalOcean because of its 24/7 customer support and fast loading time. In this article let's understand its cloud hosting services and plans better. They have self-developed and DigitalOcean's managed VPS service.
Plans
All the plans in the Scala cloud hosting include the services of free domain, migration, and snapshots.
It includes mainly 5 kinds of hosting plans which are managed cloud VPS, self-managed cloud VPS, web hosting, WordPress hosting and reseller hosting.
Its plans also provide dedicated IP addresses, guaranteed resources, and higher rankings in Google.
The one-click installer and daily disaster recovery backups make the task easier.
Pricing
The basic Cloud plan starts at $14.95. In this plan, the hosting provides 50GB SSD storage and unmetered bandwidth. It also includes SPanel control and free migration. Some host services charge extra for this.
The advanced plan of ScalaHosting costs $32.95. It includes 80 GB SSD storage and unmetered width. It consists of 2 CPU cores.
The business plan of the ScalaHosting will cost you $72.95 and has SSD storage of 160 GB. This pricing plan has unmetered width and 4 CPU covers.
The last pricing is the enterprise plan in which you get 8 CPU covers and costs you $152.95. It has 320 GB of SSD storage. All the pricing listed till now in this section was of managed cloud VPS hosting.
Self-managed Cloud VPS plans price start from $59 per month.
Web hosting plans start at $3.5 per month and WordPress hosting has the same plans and pricing as web hosting.
Pros Of ScalaHosting
1. 24/7 customer support
To get more insight into their Cloud hosting service I initiated a chat with customer support which provided me with a lot of useful information about it. The replies were instant and informative. They promise a 30-day money-back guarantee and a user-friendly server.
2. High speed
The most highlighting feature of ScalaHosting Cloud Hosting is its high-speed performance. Currently, it is known to every developer that your website's loading speed will affect the bounce rate.
If you will compare it with DigitalOcean, you will find it at the same level.
3. Ease of access
Scala's Cloud is managed also, which means, it is beginner-friendly. Also, here, you get more features with Spanel. Managing the cloud VPS yourself and by the experts of ScalaHosting, makes it an awesome experience. In short, you are not alone here.
4. SPanel version
If we talk about the SPanel version there you are offered extra security and more management options with cloud hosting. SPanel is one of the best alternatives to cPanel that helps you manage LiteSpeed, Apache, and Nginx servers.
It is also equipped with SWordPress Manager which is a powerful tool to manage your WordPress website.
5. Hassle-Free Migration
With Scala Hosting cloud hosting you receive additional perks which are usually provided in the cloud hosting plans. Transferring your current data to Scala hosting makes it an even easier task.
You also get Free Domain, Daily backups, snapshots, SShield protection, and Dedicated IP.
Cons Of ScalaHosting
1. Limited Datacenters
If you are looking for servers in the USA and Europe, you don't need to worry about it. However, if you are looking for more server locations like Asia, Australia, etc, you won't get it with ScalaHosting. You can choose DO's managed cloud version with ScalaHosting and that works like a charm.
2. Price Hike on Renewal
Like most companies, you have to pay regular costs while renewing. The good part is that you can lock in the deal of $9.95 for 3 years and this duration, you get the price lock guarantee.
DataCenters
ScalaHosting has its data centres in:
What Makes ScalaHosting A Perfect Alternative To DigitalOcean?
ScalaHosting's Cloud is a great alternative to DigitalOcean's cloud hosting service, especially when you are looking for easy to you managed service for WordPress.
Malware scanning, SSheild, SWordPress manager, Spanel, Dedicated IP, 24×7 support and various other features that are built to ease your day to tasks without compromise on performance.
In case you don't want fully managed Cloud VPS, choose its unmanaged service.
Who ScalaHosting's Cloud Is Recommended For?
ScalaHosting's Cloud web hosting is recommended for anyone who wants guaranteed RAM and CPU along with dedicated IP that comes with "Managed" features.
SWordPress manager that you get with each plan helps you manage your cloud hosting like a simple shared hosting plan, for everything else, you have customer service right behind you.
2. CloudWays – Multiple Cloud Platforms Fully Managed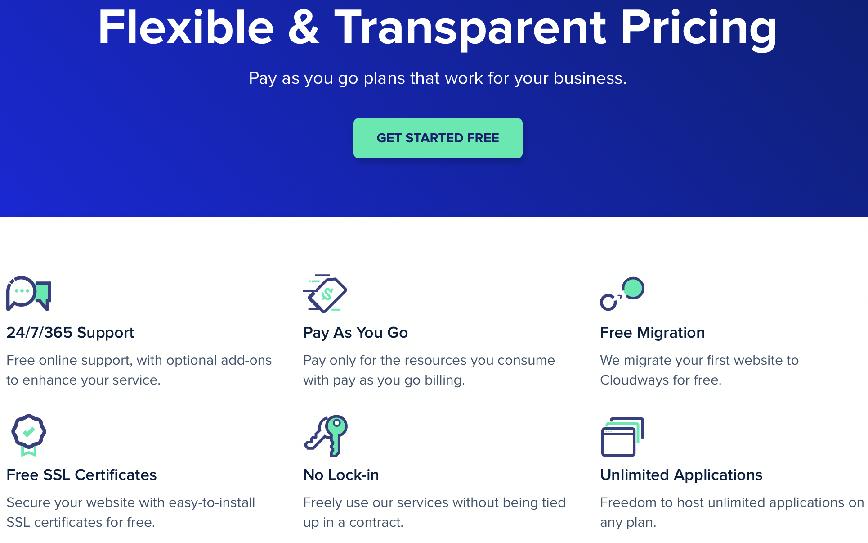 Cloudways is a Cloud hosting service with multiple data centers which belong to leading cloud platforms like AWS, Linode, Vultr etc.
If you are looking for the best DigitalOcean alternatives that provide managed cloud platform with multiple service providers, choose Cloudways.
Yes, this hosting offers its services through data centers of renowned cloud hosting companies like AWS, Linode, Vultr, and a few more.
It provides remarkably good service. Its services and products are simple [including pay as you go] which makes it perfect for newbies.
Plans
In this hosting, you are provided with more than 50 plans which gives great choice to its users. All the plans of Cloudways include free website migration and SSL certificates.
If you are looking for DigitalOcean's droplets' alternative, choose Cloudways.
Pricing
It's a plan with DO1GB and has a 25GB disk which starts at $12 and provides unlimited apps and a 1TB transfer.
If you prefer Google's Cloud, they have GCE Small which costs $33.18 and provides 20GB of storage. This plan doesn't have unlimited bandwidth and it is capped at 2GB.
The Amazon cloud plan starts at $36.51 per month which is quite high compared to other hosting plans. This plan has 2GB RAM and 20 GB storage.
It's a plan with the web host Vultr, starts at $13, and provides 1CPU, 1 TB bandwidth, and 1GB of RAM. This plan is quite a deal because of the low pricing and great features.
Linode 1GB RAM plan for Cloudways starts at $12 and gives 1 CPU core. It includes 1 TB data transfer and 25GB of storage.
Pros Of Cloudways
Infrastructure
Cloudways works with the infrastructure of some of the leading hosting companies which enhance its service. It also has infrastructure offered by DigitalOcean itself.
Features
Cloudways has many features that come along with its plans. These features make your experience delightful with this cloud hosting company.
You get access to many data centers which doesn't limit your location coverage. Also, the 24/7 customer support proves to be helpful in times of need.
The interface of Cloudways has robust management features and SSH.
Cons Of Cloudways
Extra pricing
The drawback of its multiple infrastructures is that it costs you extra to use it because you are not directly using that company's web hosting service.
No eMail feature
Cloudways hosting doesn't provide eMail. You are required to pay exceptionally for this service which is available in most cloud hosting plans.
Problems with migration
Its plans provide free website migration but it includes a lot of bugs. This point makes this service a bit unreliable.
DataCenters
Due to being connected and working through so many web hosting services, there are many data centers for Cloudways. Some of them are:
USA
France
Germany
Singapore
Ireland
England
India
Brazil
Canada
Netherlands
Japan
Korea
Australia
China
Belgium
Sweden
The availability of these data centers will depend upon your cloud host server selection.
What Makes Cloudways A Perfect DigitalOcean Alternative?
Cloudways will be proven as a great DigitalOcean alternative, in fact, a company better than DigitalOcean because it provides cloud plans of all leading services like Google, AWS, Vultr and Linode.
You get excellent website performance and multiple data centers which cut back the problem of location coverage.
If you are unhappy with one cloud hosting, you can migrate to another easily, within Cloudways.
Who Is Cloudways Recommended For?
Anyone whose interest is more in developing, blogging, or e-commerce businesses can easily use this hosting.
3. DreamHost – Cloud Computing With OpenStack

Dreamhost is an experienced hosting company that has been in the business for a long time now. The unlimited cloud resources and experience make it a perfect DigitalOcean alternative.
Plans
Dreamhost's plan includes free transfer for WordPress sites and unmetered bandwidth. After leaving out its basic plan all the other plans of Dreamhost include unlimited email accounts.
Particularly it provides 5 types of hosting which are shared hosting (similar to basic WordPress hosting), VPS hosting, managed WordPress (similar to DreamPress and WordPress WooCommerce hosting), dedicated server and cloud hosting. But since not all of these plans are the alternatives to DigitalOcean, so we are discussing the pricing of Cloud hosting only which is a perfect alternative.
Pricing
The Dreamcompute plan of Dreamhost cloud hosting is an open stack hosting that provides automatic server change and backs the standard APIs. The plans of this company include everything a user might need and take care of all the services which leave the developer with focus and time on their work.
512MB RAM server – This plan costs $4.5 and provides an 80GB SSD Disk, 1 CPU support, and 100 GB storage. This plan is right for new users.
2 GB RAM server – The 2GB plan starts at $12 and provides storage of 100GB, 80 GB SSD Disk and 1 CPU support. The owner of websites will benefit from this plan.
8GB server – The cost of this plan is $48 which provides 80 GB SSD Disk and 100GB block storage. This plan is a fit for Databases.
Another Dreamhost plan is DreamObjects which is a budget option for backups, and development. It is a trustworthy source that has great customer and email support. With its plan, you can get automatic WordPress backup, file storage, and web app development.
Its basic plan starts at $0.95 and provides 40GB of storage. As you go to the more premium plan your per GB price will decrease and you will be able to benefit from the larger storage.
Another plan is for WordPress development. This will make your website hassle-free and increase performance. The cost of the basic plan is $16.95 per month and provides 1 website. It also gives 30GB storage and unlimited email accounts. The DreamPress Plus plan starts at $24.95 and provides 1 website with 60GB of storage. In this plan, you get unlimited CDN and eMail accounts. The last one is the most premium plan of Dreamhost which charges you $71.95 and provides one website. You will receive 120 GB of storage along with unlimited CDN, email accounts, and priority support.
Pros Of DreamHost
Nothing hidden
Unlike many company services, Dreamhost doesn't hide any of its costs. It provides information on all the charges to maintain transparency. You may require to pay for extra services which are not included for free.
Money-back guarantee
Though there are very few things in DreamHost's services that might upset anyone even if you still face any issues or you want to stop its services then you can have your money back. It has a policy of 97 days of the money-back guarantee.
WordPress migration with absolutely no cost
Unlike earlier, Dreamhost now offers free website migration in all their plans. This service is provided without causing any downtime because they value it more than anything.
Features
Dreamhost along with so many services provides unlimited disk space and bandwidth. They provide services like email and SQL but that is not included in the unlimited category. They also have a custom-made control panel that helps in databases, WordPress editing, and mailing.
Cons Of DreamHost
Live chat support
Dreamhost guarantees 24/7 live chat support but sometimes takes more than 15 minutes to respond. Unfortunately, this becomes a big drawback because some of the web hosting companies like WPX and FastComet provide instant support during all the hours which is helpful for its users.
DataCenters
The DataCenters of DreamHost are located in:
Ashburn Virginia
Hillsboro Oregon
What Makes DreamHost A perfect Alternative To DigitalOcean?
The 100% uptime guarantee and low-cost plans make it a worthy DigitalOcean alternative. Dreamhost's plans have unlimited disk space, free website migration, and bandwidth.
Who DreamHost Is Recommended For?
For anyone who wants to enjoy free services and unlimited resource options but can suffer from the limitations of customer support service can opt for this web hosting company.
4. FlyWheel – Google Cloud Based WordPress Hosting

FlyWheel is hosted on Google's cloud that offers blazing fast speed to your WordPress site and includes FREE CDN.
FlyWheel Cloud hosting is a perfectly designed cloud hosting server which is known for its amazing features and performance. Below we will discuss it in depth.
Plans
Flywheel has many effective plans for all its users. But if you can't find something that suits you, you can also ask them to create a custom plan for you.
Under Google Cloud-based managed WordPress hosting it provides 4 plans that are Tiny, Starter, Freelance and Agency.
Pricing
Tiny – This plan is perfect for someone who has a small-scale business. It costs you $15 and in return provides 5GB storage, 20GB bandwidth, and 5000 monthly visits. You receive access to 1 WordPress site
Starter – The starter plan is ideal for a single site plan. You will be charged $30 and it provides you 10 GB storage, 25000 monthly visits, and 50GB bandwidth. Along with this you also get to manage 1 WordPress site.
Freelance – Just as the name suggests the plan is a right fit for someone whose business has just started growing. It will cost you $115 and you will receive 100000 monthly visits with 20GB storage and 200 GB bandwidth. This plan provides you access to 10 WordPress sites.
Agency – For your high-level business this plan is the most ideal deal for you for which you will pay $290 and get 50GB storage, 500GB bandwidth and 400000 monthly visits. In this plan, you can manage 30 WordPress sites.
For other WooCommerce or custom plans, click here.
The pricing of these plans reduces if you opt for an annual pack where you will get 2 months of hosting for free.
Pros Of FlyWheel
Almost no downtime
One of the greatest benefits of using cloud hosting is that you don't have to experience downtime. Due to the availability of multiple servers, during the downtime of one server, the other will be active and your site will face no harm.
Infrastructure
With the tie-up with Google, there has been progress in many other features of Flywheel too. One is caching technology and it's the infrastructure that helps in better management of sites and databases.
Instant customer service
They stand by their promise of helping you 24/7. We had a little chat with the customer support and they replied in no time and were also very helpful throughout the conversation. They guided me through their pricing and explained what would be the right fit for my business and helped me find which plan will be right for my business. We have an in-depth FlyWheel Review for more information.
Website features
Since FlyWheel is using the Google cloud platform which provides most resources for your website. This feature gives you multiple benefits like virtual servers.
Loading time
With the upgrade to the Cloud platform, the loading time has decreased and this boosts traffic to your site. The growth in visitors results in a better profit margin.
Cons Of FlyWheel
The plans of FlyWheel are not too expensive but cost higher when compared to DigitalOcean's pricing.
There are not many things to complain about the FlyWheel cloud host but it still lacks behind in some areas like its loading time is good but falls back a little. But this difference is minor and can always be ignored.
DataCenters
Does FlyWheel offer more server locations as compared to DigitalOcean? Yes.
The datacenters of FlyWheel are located in:
USA
Asia
Europe
Australia
Canada
What Makes FlyWheel One of the Best alternative to DigitalOcean?
All the amazing benefits of using these cloud hosting services make it the perfect substitute for DigitalOcean. It has 100% uptime and full 24/7 customer support. Especially its Google cloud platform upgrade which had some wonders for this web host server.
Who FlyWheel Is Recommended For?
The FlyWheel would be suitable for most kinds of users because of its various planning and pricing offers. From someone who is using it for fun to a business owner, every user will benefit from this. It is a premium plan which means you get to experience great performance and user time. The only issue some people might face would be cost, which is not unfair anyway because of its features.
5. Hostinger Cloud Hosting- Cheapest Cloud Hosting
Hostinger cloud hosting is a DigitalOcean standard cloud web hosting that provides abundant features at competitive prices. Its DataCenters are located at the right locations to get better functioning.
Plans
Hostinger has 3 types of plans ideal for different kinds of users but the common feature among all these plans is that they provide daily backups, unlimited database, and bandwidth. Managed WordPress and its acceleration make the site hassle-free. Features like free CDN, Email, SSL, and website migration are essential and cost nothing to any of its users.
Pricing
The start-up plan of Hostinger starts at $9.99 per month and provides 300 websites, 3 GB RAM, and 200 GB SSD storage. It includes 2 CPU cores and a dedicated IP.
The next plan is said to be perfect for the professional which costs you around $14.99 per month and provides 250 GB SSD storage. In this plan, they also offer dedicated resources, IP address, 3 CPU cores, and 6GB RAM.
The last plan that starts at $29.99 per month is a Cloud Enterprise plan and gives you 300 websites, 300GB storage, and 8 CPU cores. Along with this you also receive 16 GB RAM and free CDN.
Save an extra 15% using our Hostinger Coupon.
Pros Of Hostinger Cloud
Control panel
In the Cloud hosting of the Hostinger, you can experience the custom-made control panel which is not similar to company standards and gives better results.
Speed
Any website needs to have a quick loading which directly affects its performance. They have almost 365ms page loading time. This might have decreased in the passing time but it still gives faster results than most servers.
Money back
The facility of money back is a great offer because this gives you the leverage of using the product and cancelling it if you did not like the experience of using it. But make sure that you apply for a refund within 30 days of registration. Along with a refund, you also get the availability of different payment methods that makes the transaction easier for everyone.
Customer support
Customer support is one of the most essential features of web hosting companies. We have read all the good reviews about the chat feature of this web host. It also offers the chat in multiple languages which makes it accessible for many users who speak different languages.
We thought of trying the live chat but found out that this is only accessible for the customers who log in to their accounts. The rest of the people are not allowed access to it. This should have been accessible to everyone so that they could get insight into the plans. But this is not at all a downside considering their service reviews.
You should not miss our best Hostinger Review with some real test analysis. A study was done by us when we used their servers.
Cons Of Hostinger Cloud
Cost of Renewal
One drawback that hurts someone who is focused more on cost rather than service is the renewal price hike.
Uptime
Though the Hostinger has a great uptime when compared to most of its competitors. It gives them all a great fight. But the uptime has been going down for a while now which seems like bad news but they are still managing with it. This issue does not affect your business much.
DataCenters
Hostinger cloud hosting has its DataCenters deployed in the following countries
UK
USA
Brazil
Netherlands
Singapore
Indonesia
What Makes Hostinger A Perfect DigitalOcean Alternative?
Hostinger Cloud hosting gives a strong competition to DigitalOcean in all terms. It has great performance, speed,
Who Hostinger Is Recommended For?
Anyone who wants the premium features of Cloud hosting at competitive prices should go for this web hosting. They have great service and 24/7 service support which is also informative.
6. HostGator Cloud Hosting – Scalable Managed Cloud Hosting
HostGator has been serving for more than a decade now which makes them an experienced competitor.
Plans
All the plans of the HostGator Cloud hosting include unlimited email accounts, databases, Disk space, and transfer. They also provide a free SSL certificate, cPanel, and 1 click installation which makes the tasks easier.
Pricing
The HostGator Cloud hosting is quite affordable and can be afforded by most users.
Here are the details of their pricing:
Hatchling – Their first plan for cloud hosting is $4.95. This provides you with 2 CPU cores and 2GB RAM. There is no dedicated IP address included in this plan.
Baby – The baby plan of Hostinger cloud hosting is $6.57 and gives 4 CPU cores and 4 GB storage. In this plan, you receive unlimited domain access.
Business – This is the last plan for Hostinger cloud hosting and starts at $9.95 which provides access to unlimited domains and disk space.
Pros Of HostGator
Customer support
For any web hosting their priority is customer support. In situations like downtime of your website, you would need someone to listen to your problem and start working on it instantly. They have the callback option as well which is helpful.
Loading time
The HostGator cloud hosting guarantees a 99.95% uptime which is high and the best part is that they are capable of meeting for most of the time. You can see fluctuations in some of the ones in their loading time or uptime but there is hardly any situation that will frustrate you. So overall it is a fast server.
Unlimited features
With the HostGator plans you get access to many free and unlimited features which makes it a great deal when you are also getting cloud hosting. Some of these include integrated caching, managed cloud resources, free SSL, and unlimited bandwidth.
Inexpensive
Unlike most cloud hosting plans for which you have to pay a fortune, you can afford them easily. This gives it an upper hand over many other web hosting companies.
Cons Of HostGator
Though every server has its part of cons which they need to work on. It is also quite obvious to have disadvantages when you provide so many services but here we barely found anything to complain about. Except for
The loading time is fast but not the fastest of them all.
The feature of unlimited bandwidth and storage only applies if you are only using 25% of HostGator resources exceeding the time of 1.5 minutes.
DataCenters
HostGator Web hosting has its DataCenters deployed in:
What Makes HostGator One Of The Perfect DigitalOcean Alternatives?
HostGator Cloud hosting has an industry standard and popularity. Mostly its competitive prices in cloud hosting and various pricing plans are a reason to switch to this hosting from DigitalOcean. Read our HostGator Review.
Who HostGator Is Recommended For?
I will recommend the HostGator cloud hosting to anyone who wants to shift from their shared or VPS server to the cloud and are not ready to empty their pockets just to buy the plan.
What You Should Look For While Choosing DigitalOcean Alternatives?
To help you through the selection, I would suggest you first consider your most essential requirements for cloud hosting and then proceed to only those servers which provide all those features at the right pricing.
The main concerns should be the features. Many web hosts provide unlimited and free features which makes their plans the best. The uptime and page loading time is the most important features that can affect your ranking and bounce rate. It is also advised to look for hosts that have unconditional customer support so you don't have to face any downtime for long.
Our epic posts that can save your money:
FAQs: DigitalOcean Alternatives & Competitors 2023
1. What is DigitalOcean?
DigitalOcean is a company that provides cloud hosting to developers and website owners. It is known for its superior quality of cloud computing services.
2. Why go for DigitalOcean Alternatives?
DigitalOcean lacks a few important features like quality customer support including live chat, the absence of cPanel and others makes people go for its alternatives that have these important functionalities.
3. What are the best alternatives to DigitalOcean?
Below are the 6 best DigitalOcean alternatives that have already been discussed in this article.
1. ScalaHosting.
2. CloudWays.
3. DreamHost.
4. FlyWheel.
5. Hostinger
6. Hostgator.
4. Which are the cheapest alternatives to DigitalOcean?
Hostgator and DreamHost are the cheapest DigitalOcean alternatives.
Conclusion: DigitalOcean Alternatives In 2023
The above-mentioned article consists of so many DigitalOcean alternatives that it might be difficult for some of you to choose one amongst them. Most options provide the same standard features at a more competitive price or some at a higher cost. It would depend on your requirement which company's plan is ideal for your business, startup, or even the blogging career and you can select any of these Cloud hostings.
Also, read our Best cloud hosting for business.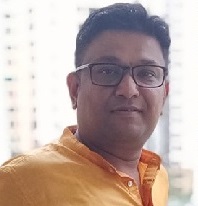 Seasoned Professional with 15 years of experience in Sales and Marketing. Entrepreneur, Consultant and Blogger helping people earn through jobs and blogging. Experienced Hosting Reviewer who likes to collect detailed info about existing players and share it with my audience. Previously worked with leading Banks and Telecom Companies.
I completed my Masters in Management with specialization in Finance and Marketing.
Visit our Hosting Review and Blogging Guide for more interesting articles.