NameCheap has been one of the most legendary domain registrars for decades now. It is an effective registrar which provides wonderful features at affordable rates. This does not bring down the quality of service that it provides, but still, we have Namecheap alternatives for you.
But even after all these, there can be many things that a user might not like about this service provider for which they are searching the NameCheap Alternatives. Some users have complained about its service experience, some users think that they provide the domain free for a year only.
No matter what is your reason for switching to another web host or domain registrar we have got it all for you in this article. In this article, you will find the best alternatives to NameCheap for a domain registrar, shared hosting, VPS hosting, WordPress hosting, or even the replacement to SuperSonic CDN. It is not advisable to use the same service for domain and web host though.
Let's start with the article and help you in finding some great replacements for NameCheap.
Also, check out Namecheap's EasyWP Review.
9 NameCheap Competitors & Alternatives
Here are the great competitors of Namecheap that you can pick as the alternative according to the products we have suggested.
1. GoDaddy
GoDaddy is the perfect alternative to NameCheap for both the services, web host as well as a domain registrar. It handles millions of domains and is considered the biggest competitor to NameCheap. It offers similar services and products to NameCheap at competitive prices which start at $11.99.
Here is our GoDaddy's review.
Pros
It is simpler to find all the domain extensions at GoDaddy at the same price.
Availability of multiple products and services makes them a big competition to NameCheap.
You will find email, web hosting, and obviously many types of domain extensions.
It is easier to find timely discount offers which will help you to find new domains at cheaper rates.
Cons
The upsells while finding or purchasing some other products is annoying for many of its users.
Their customer support service is not satisfactory which is prioritized by many users.
Is there any free migration?
No, you won't find free migration in GoDaddy's plans. It is essential that you know if you are switching to any other domain or hosting to get migration easy and free of cost.
They charge you for the migration. But they offer great service of migration which they guarantee with the return of a free 1 year of service.
Why is GoDaddy the best alternative for NameCheap?
GoDaddy is a big name in the industry which is proven by its number of users. It is a highly reliable host and the domain registrar. It offers discounts for domains from time to time to cope with its competition and also has different varieties of domains that can help many users. You can also explore some renowned GoDaddy competitors & alternatives.
Don't miss our GoDaddy Coupon Codes, GoDaddy Vs Bluehost and GoDaddy Vs HostGator. 
2. GreenGeeks
GreenGeeks is exactly what its name suggests, they care for nature. We can call them an aware and conscious web hosting provider who keeps their services away from harming the ecosystem.
It might not be the cheapest alternative to NameCheap because its plan's cost exceeds its cost. But it does provide a high-level service with advanced technologies.
Pros
They have a big advantage over NameCheap because they guarantee the highest customer satisfaction.
They offer highly optimized software that helps in achieving faster loading pages which directly affects your bounce rate and conversions.
As per their guarantee of eco-friendly services they fulfill it by using wind energy which saves a big amount of electricity.
Cons
When they say that their customer satisfaction is great they do it by their features and service but they lack the 24/7 support system which can be a drawback. In case of emergencies, your website might have to face downtime because of these issues.
They have competitive pricing plans which start at $2.49 but the truth behind this is that to avail of the service at that price you will need to subscribe for 3 years otherwise you will have to pay higher prices.
Is there any free migration?
Yes, in GreenGeek you can find freebies like migration at no cost which is a big benefit for an existing user or owner of some other web hosting plan.
Why is GreenGeeks the best right competition for NameCheap?
If you are looking for a replacement for NameCheap for the web hosting service like shared, VPS, and dedicated then you must sign up for its plan because it offers all these at one host. Check GreenGeeks review for products and pricing.
3. BlueHost
Established in the year 2003, the BlueHost web hosting company is one of the most trusted of all its competitors. To date, they offer the best web hosting service and are highly appreciated by many bloggers or developers too. It is simpler and easier for the newbies who are fresher to this service.
Pros
If you pick their hosting plan you will receive a 30 days money-back guarantee. This ensures users of their trust.
They also offer free domain name registration which is not available at NameCheap. This point makes it a great substitute for NameCheap.
They offer all the hosting services but are best at WordPress hosting advanced features and also offer free SSL certificates.
Cons
Their plan is best when you are buying multiple domains but while considering just one it might seem a bit expensive to you. Though their renewal charges are lesser than others.
Connecting it after purchasing the service is a little complicated that might confuse any new users.
Is there any free migration?
Yes, they offer free migration for WordPress hosts which is simple and considers the issues of downtime.
Why is BlueHost the perfect substitute for NameCheap?
BlueHost offers more advanced WordPress hosting than any other NameCheap and it gives it an upper hand over the competition. You can even find a CDN that boosts the performance of your site. It also offers free domain registration along with hosting which is absent in the Namecheap. We also have some best Bluehost alternatives on this site.
Important resources: Bluehost Coupon, Bluehost Review, DreamHost Vs Bluehost, and Bluehost vs WordPress.
4. Google Domains
Google Domains is the domain service that is provided by Google. With its name comes the legacy and trust of google. So if you are also a fan of Google's services and performance you might like GoogleDomain as well. They provide service for domain registration which starts at $12 annually and not for web hosting services.
Pros
You will find advertisements and upsell free websites and purchasing which is a big relief for many people. This seems annoying for so many users that due to this they even switch their services to other domain providers.
GoogleDomains provides custom email and 100 email aliases with G Suite.
You won't face any problems while integrating with Google apps.
Check all the details in our Google Domains Vs Namecheap Review.
Cons
Though they provide 24/7 customer support chat and mailing, it is difficult to reach them with your problems which can be an issue for many people. They are available for calls only during business hours.
Is there any migration free?
No, migration to GoogleDomain is not free. It charges its users a one-year subscription first.
Why is GoogleDomains a great substitute for NameCheap?
GoogleDomains offers great services of domain registration with privacy protection which is a key feature of google. It offers simpler services at competitive prices and can be a great replacement for NameCheap.
5. HostGator
HostGator is one of the few web hosting services which provides excellent high-performing features at a budget cost. If you are a new user who wants to start with a more affordable pricing plan then HostGator offers that. This property of this provider makes it a big competitor of NameCheap.
Pros
The biggest advantage that it has over NameCheap is that its plans are right for many new users and it starts from $2.75.
You can find many different types of hosting services that give the user a choice and upgrades become simpler.
Cons
You receive the plans at HostGator services for less pricing which is only available to you if you subscribe to their plan for 3 years which is pretty convenient for industries to do these days.
They provide very few freebies. Access to Gmail, backups, and SEO tools are not included in those plans.
Is migration free?
Yes, HostGator offers free migrations to all its new users which is a plus point to all its services and plans. This point makes this web hosting even more affordable.
Why is HostGator the best alternative to NameCheap?
HostGator is a perfect alternative to NameCheap because of its abundance of features and free templates which makes generating sites easy. It is a user-friendly host that gives services of all three shared, VPS, and dedicated.
We have a detailed HostGator review for all the info.
6. FastComet
Established in 2013, FastComet has made its name in the market quite well now. For a while, this server was not known to many people but now it has many clients and users which is remarkable in such a short time. It has pretty affordable pricing which starts at $3.95.
Pros
FastComet has an uptime of up to 99.95% which is great for a web hosting company. It is necessary for your site because slow sites will increase your bounce rates which ultimately affect your ranking.
Transferring a domain name is free at FastComet. If you already own a domain name then you won't be charged for transferring it.
Cons
In a lot of web hosting companies, you are offered free domain name registration which is missing from FastComet's features and could be a turnoff for many users.
The renewal prices are also not the same for long after the notice period ends the renewal prices rise.
Is there any free migration?
YES and NO. It does provide free transfer but is only limited to 3. After using all your free transfers you will have to use the paid feature for it.
Why is FastComet the best alternative to NameCheap?
Fast Comet has great uptime and speed which helps in bringing up the performance of the site. You can easily find amazing features like free domain transfer and other handy features which make it a decent NameCheap alternative.
If you haven't checked till now, you must check the review of FastComet. Save big using our FastComet discount coupons.
Recommended articles: Best Free hosting for 2022, Best Hosting with Free Domain 
7. ScalaHosting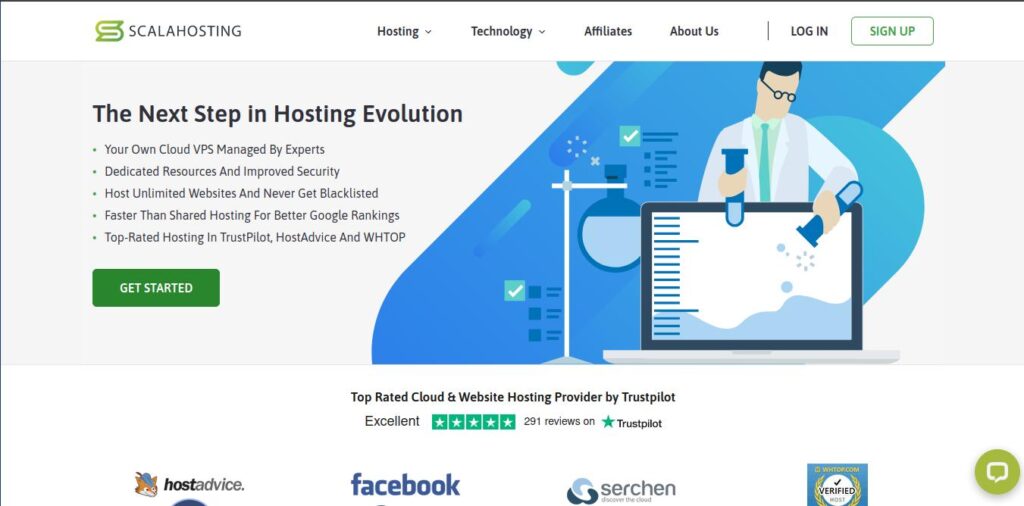 With such high competition all around the web hosting companies ScalaHosting still manages to make high sales because of its abundant features. With this you get useful. Effective and affordable host all three at once.
Pros
You can enjoy high speed and 99.95% uptime for your site which is always the top necessity.
The freebies like domain name, SSL are a great plus on their features.
It has a far-reaching VPS server which is its biggest advantage over NameCheap.
Your site will be developer-friendly which can be beneficial for most users.
Cons
The biggest issue with ScalaHosting is that it sets the industry standard pricing which means that the plan price increases during renewal and the user will have to pay more for it.
Is there any free migration?
Yes, ScalaHosting provides free migration to its users.
Why is ScalaHosting the best alternative to NameCheap?
When compared to NameCheap we can't say it's the cheapest and far better but it provides service for all three web hosting with abundant features and freebies. These facilities do not affect its performance which is stellar and can beat many competitors.
We have detailed the products in our Scala Hosting Reviews.
8. ChemiCloud
ChemiCloud is a hosting company that was established in 2016. It was founded and run by experts who have deep knowledge of web hosting. This makes their server more effective. You can find shared, cloud VPS, WordPress, and reseller hosting with them.
Pros
They offer a 45 days money-back guarantee which means that you can give their service a try and ask for a refund if it is not liked.
Very few hosting companies offer the benefit of a free domain for life but ChemiCloud offers it which makes it exceptional.
Cons
Another company is playing its industry trick for pricing. They are promoting less pricing which is valid for 3-year prepaid plans only.
You are charged additionally for malware and email support.
Is there any free migration?
Yes, it offers free migration to your previous site's data.
Why is ChemiCloud the best alternative to NameCheap?
Apart from its pricing and plans issues, it is alright for use. It has high-security free migration for the site and cPanel which gives users ease of working. The money-back-guarantee and customer support are satisfactory features for users which makes it a good competition to Name Check.
Don't forget to check ChemiCloud Reviews and Coupons of ChemiCloud.
9. Cloudflare
CloudFare is a perfect alternative to NameCheap when it comes to the CDN. You can enjoy the protection and speed of your site with one provider's service only. It is a cloud-based web performance server that helps in your site's protection for both public and private networks. They have a free plan which offers limited security and protection but their plan starts at $20.
Pros
The processing and working on this platform is easy and simple which a new user can also operate easily.
This web company's main feature is that it boosts the speed of the website server making the site smoother.
Their service also optimizes the company's website content.
Cons
The biggest disadvantage of this popular service provider is that it is not as secure and protected as the company guarantees it to be. There have been complaints about spamming and insecurity on the website server.
Poor customer support is another issue that you might face because you will only receive email support which can take longer for resolving any query or problem.
Is there any free migration ?
No, the migration is not free at Cloudflare. But they charge their customers the least possible amount which costs them for the process.
Why is CloudFlare the best alternative to NameCheap?
With its amazing services that improve the speed and performance of the site, this can be a competitive alternative to NameCheap in terms of SuperSonic CDN.
In this article, we have discussed some of the renowned alternatives of NameCheap in all the sections like web hosting, CDN, or domain registrar. But most of you might still be confused about your selection and requirements. So as per the facility and feature, we have shortlisted a few service-providing companies to help you through this.
Also read Namecheap Reviews and EasyWP review 2022.
Conclusion: Namecheap Alternatives and Competitors
Let us now summarise the product-wise Namecheap's alternatives for 2022.
Which is the best alternative to NameCheap for domain registrar?
Google Domains is the winner here because it specializes in this section and offers great features which are competitive when compared to NameCheap. The major reason Google Domains is the substitute is its high security and privacy policies along with the integration to Google apps.
In case you are interested, you can think of availing Namecheap black Friday 2022 deals that will help you save a good amount on your next purchase.
Choose a perfect domain or hosting, Try our Jarvis AI trial and start preparing awesome content on your website.
Which is the best alternative to NameCheap for web hosting?
BlueHost can be the perfect alternative for Namecheap's WordPress hosting but when it comes to all the hosting servers you can also opt for Scala hosting. It has many freebies, a more comprehensive VPS server, and user-friendly technology.
Which is the best alternative to NameCheap for Super Sonic CDN?
The clear alternative which fits right for the Super Sonic CDN and can replace NameCheap with many features is Cloudflare. It boosts your site's performance with speed and also optimizes your content. You won't find much difficulty while using it because it is simple and straightforward.
More at Namecheap PromoCodes Renewal.
We also have some money-saving deals by Namecheap competitors: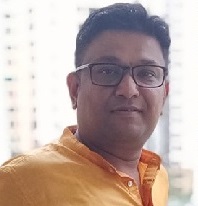 Seasoned Professional with 15 years of experience in Sales and Marketing. Entrepreneur, Consultant and Blogger helping people earn through jobs and blogging. Experienced Hosting Reviewer who likes to collect detailed info about existing players and share it with my audience. Previously worked with leading Banks and Telecom Companies.
I completed my Masters in Management with specialization in Finance and Marketing.
Visit our Hosting Review and Blogging Guide for more interesting articles.