Are you looking for an SMTP Host? Or do you want to know how the SMTP process works? Or you may be looking for how email works. So if you are looking for these types of questions, then this article is for you and will help you a lot.
In this article, we will discuss What is SMTP host? What is an SMTP server? How SMTP works? How the process of email works?
So by not wasting any more time let's jump into this article and know all these interesting topics that we are going to cover in this article.
Also Read: WordPress Theme Detector | Best Blogs to Read from India | How to write SEO Optimized Content
Definition of SMTP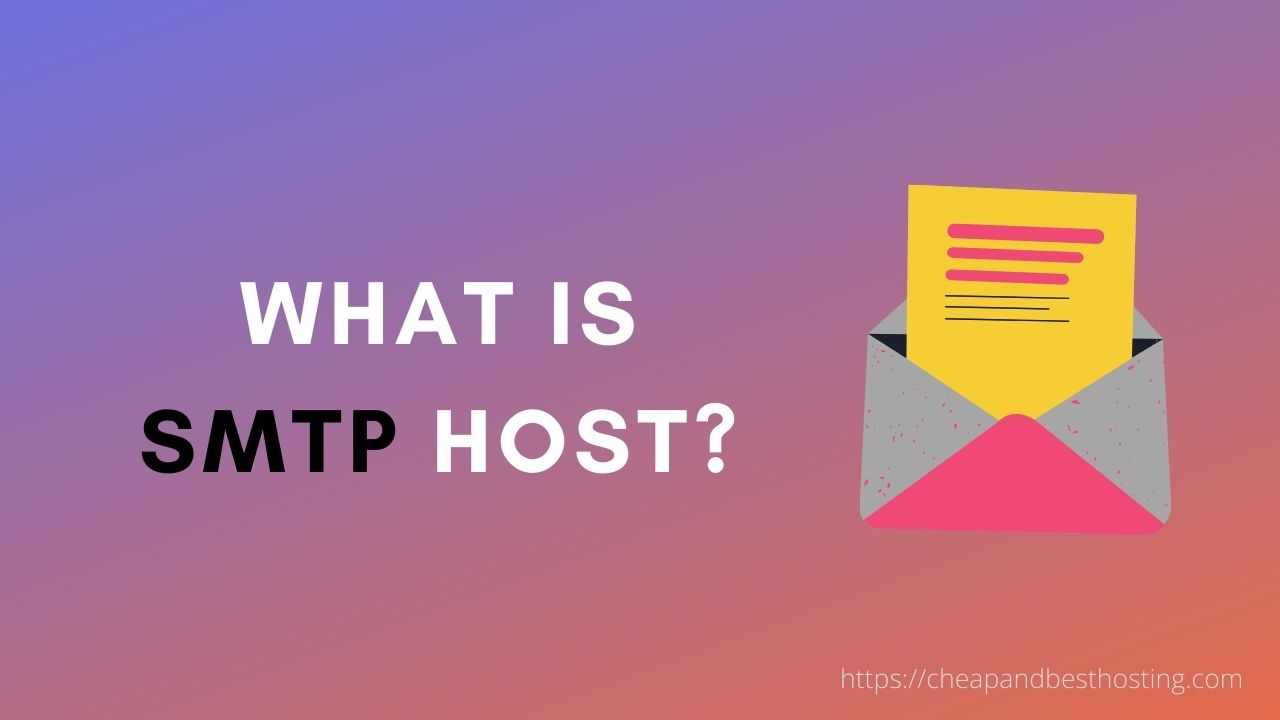 Simple Mail Transfer Protocol (also known as SMTP) host is an application that's primary objective is to deliver, receive, and/or relay outgoing mail between email senders and receivers.
An SMTP server has an address that can be placed by the mail client or application that you are using and is formatted as smtp.serveraddress.com.
Let's take an example of Gmail, The SMTP server address of Gmail is smtp.gmail.com, and the Twilio SendGrid's is smtp.sendgrid.com. You can find your SMTP server address under the account or settings section.
Whenever you send an email, the SMTP server prepares your email and then decides which server to send the message to, and when it's done, then delivers the message to that server.
The recipient's email service provider, such as Gmail, then downloads the message and aligns it in the recipient's email inbox.
SMTP is a push protocol and is used to transfer or deliver emails, whereas POP (Post Office Protocol) or IMAP (Internet Message Access Protocol) is used to access those emails at the recipient's side.
Learn : What is Cpanel in WordPress
How SMTP works?
Here we are going to discuss how SMTP works when you send an email from your computer and what is the complete journey of the SMTP from your computer to the receiver's computer. Let's discuss this below: –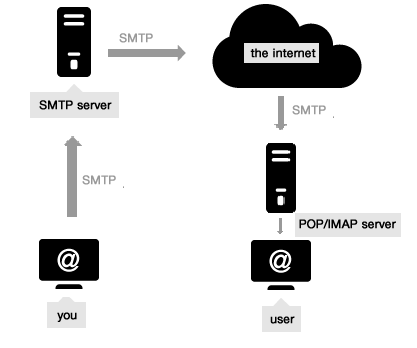 When you send an email with your mail client from your email address (e.g. [email protected]) to the recipient's mail address (e.g. [email protected]). In other words, the webmail is called MUA (Message User-Agent).
The email is delivered ordinarily using port 25 to an SMTP server, that is given to your client.
After all, this is completed, if the domain is directly connected to the server where the receiver or client has his account, then the email is delivered instantly. If it's not connected, then the SMTP delivers it to another nearest server.
Now the question is what will happen if the receiver's server is down or busy? So, in this type of situation, the server sent the mail to queued and it waits until the server goes up, free, and ready to deliver the mail to the receiver. If the processing time takes a longer time, the mail doesn't send and marked as unsent mail.
If no issues and problems come during the process of sending mass emails then, however, the final section is processed by POP, which is the next protocol that picks the email from the receiving server and delivers it into the recipient's email inbox.
Features of Good SMTP
Up to here, we know what is SMTP and How SMTP works, and here we are going to discuss the features of a good SMTP host. So here are the features of a good SMTP server host, are as follows: –
Strong Security and Privacy (Learn about Spf Dkim and Dmarc before choosing a service)
Mail Relaying
Mail Gatewaying
Mail Forwarding
Mailing List Expansion
Address Debugging
Online Technical Support
Flexible Service Plans
Reliability
So these are some of the best features that should be provided by a good SMTP host to their clients.
Is There Is Any Difference Between an SMTP server and a Normal Server?
This is one of the most asked questions is there any difference between an SMTP server and a Normal server? So the answer is, technically No. Both the normal server and the SMTP server has the same work which is to send data from one server to another server.
Some Best SMTP Hosts
Now, it's time to discuss what are some of the best SMTP Hosts available to provide you the best services and features under their SMTP plans. So, here we are going to discuss some best SMTP hosts. So by not wasting any more seconds of time, let's discuss them below.
People Also Searches For: –
SMTP
SMTP.com is a platform that caters to all your transaction, email relay, and email delivery needs at a very affordable price. With decades of experience, SMTP.com is regarded as the most trusted sender in the industry by ISPs. SMTP.com had been trusted by over 100,000 customers over the years.
SMTP.com is extremely intuitive and easy to set up. It can be integrated seamlessly into your current business system. If you need to migrate from another provider, SMTP.com make it effortless.
Features of SMTP
Dedicated IP
Email API: Integrating SMTP.com with your business can be easy with the email API feature. They have complete API documentation on their website that can help you integrate your business in just 5 minutes.
24×7 Customer Support: The round-the-clock support is one of the best features of SMTP.com. Support is available both on the website and also for paid customers. 24×7, all human support is available for all customers across all plans. No third party is involved and solutions are provided fast for easy implementation. Online chat support is also available for those who are looking for more information about SMTP.com
High Volume Sending Solutions: This newly launched feature is great for those businesses who want to send more than 250 million emails a month. Customized quotations and solutions are available.
Reputation Defender: This is an add-on feature that helps clean up your email lists. It doesn't need any integration but actively monitors your lists and provides a report.
Pricing
SMTP.com offers affordable delivery services and caters to all kinds of businesses. Their plans range from $25 to $500 and above. The best part about this platform is that all the features are available in all the plans.
The prices change only based on the volume of emails sent monthly. Even with the
lowest price pack, users can get access to 24×7 customer support and all the SMTP tools. The Reputation Defender for list cleaning is an add-on feature available for all users.
SendGrid
SendGrid is the best SMTP host that offers you different SMTP plans and provides you amazing features under its plans. SendGrid also offers you its free plan so that you can check out and experience its basic features and services.
Features of SendGrid: –
Here are the features of SendGrid, are as follows: –
SMTP and API
Technical Support
Knowledge Center
Mail Transfer Agent (MTA)
Email Address Validation API
Dedicated IP Address
Link Branding
Reverse DNS
Universal Links
Real-Time Analytics
Advanced Statistics and many more…
Pricing of SendGrid: –
SendGrid offers you four different plans and offers you a variety of features under them, which are below: –
| | | | | |
| --- | --- | --- | --- | --- |
| Features | Free | Essential | Pro | Premier |
| Price | $0/m | $14.95/m | $89.95/m | Custom Pricing |
| SMTP & API | Yes | Yes | Yes | Yes |
| API Docs | Yes | Yes | Yes | Yes |
| Technical Support | Yes | Yes | Yes | Yes |
| Email Address Validation API | No | No | Yes | Yes |
See all the features here.
SendPulse
SendPulse is the next best SMTP host that provides you the best services and features under their SMTP Email plans. SendPulse is also recommended as its main focus is to provide the best service to its customer. The company is providing these services since 2015, and till now, they build a number of customers all across the world.
Features of SendPulse: –
Now, it is time to discuss the features of SMTP and here they are: –
UpTo 4 Dedicated IP Address
SPF and DKIM Records
Servers with SSL Connection
Advanced Statistics
Downloadable SMTP Reports
Unsubscribers List
Pricing of SendPulse: –
SendPulse offers you three types of SMTP email plans that we are going to discuss below. You can also purchase a custom plan where you can get features according to your purchase.
So here are the plans that are offered by SendPulse: –
Basic ($0/month) – 12000 Emails
Pro ($59.88/month) – 100,000 Emails
Enterprise ($219.88/month) – 500,000 Emails
So these are the plans and pricing of the SendPulse SMTP EMail plans. For more information, click here.
Wrapping Up
Before we wrap up with this article we hope you like this article and this article goes helpful for you. If you have any doubts or suggestions regarding this article, then please let us know via your comments in the comments section below.
Thank You.
FAQs
How do I find my SMTP host's name?

If you are using windows then here are the steps to check your SMTP host's name, are as follows: –
1- Open command prompt (cmd.exe)
2- The second you have to do is, type nslookup and click enter. 
3- After this, you have to type, set type=MX, and click enter. 
4- Next, you need to type your domain name(like google.com) and click enter. 
5- Once you have done this, you will get the list of hostnames that are set up for hosted SMTP.

What does SMTP host mean?

SMTP hosting or you say Simple Mail Transfer Protocol server, is a program whose main objective is to deliver, collect, and relay outgoing mail among email senders and receivers.

How do I get a free SMTP server?

You can use SendGrid and SendPulse email SMTP services, as both of them provide you the free SMTP service under their SMTP plans where you can get a minimum of 12000 secure emails.

How much does SMTP cost?

SMTP server or host can cost you from $11 to $1000, depending upon the plan and services you are purchasing from your SMTP host. Many of the SMTP hosts offer you to select custom plans where you can choose the custom prices and get the features and services according to that price.