This is our detailed article to uncover Profreehost Review – Features, Alternatives & Price. ProFreeHost is a web hosting company that offers free web hosting for all kinds of users. They are offering to host with eye-catching features that are attracting free users.
But, for professional blogs, Profreehost is not recommended and hence we recommend choosing paid hosting services. Try black Friday hosting 2021 deals and save huge on premium hosting services. Our favorite deal is Hostinger Black Friday 2021.
But, in our opinion, The server of the company is incorporated with lots of problems. With free web hosting, you will not be able to expect too much from the company. The service has been active for more than 3 years, good for learning or noncommercial purpose only.
The technical performance of the hosting is below average. It has become a non-profit organization, and they aren't supervising the servers regularly. This company is a free host, obviously cannot afford to sustain the quality of the servers.
In the forthcoming paragraphs, we are going to discuss important information about ProFreeHost. For finding other web hosts, visit Home Page.
What is Profreehost?
Profreehost is a Free Hosting Platform that is offering unlimited Bandwidth and Diskspace. They provide essential features to manage, develop & extend the website.
Every hosting plan is powered with MySQL 5.6, PHP version up to 7.0, and cron jobs. These are important features that will enable you to host your favorite website.
They are spreading a load of websites across different kinds of servers using antique cluster technology. A particular combination of multiple servers is offering 99.9% uptime.
If you don't have a budget for expensive hosting, then you should consider ProFreeHost. You will be able to install any of more than 300 famous scripts like Drupal, Joomla, and WordPress.
Check : HOSTARMADA REVIEW | HOSTINGER REVIEW | NAMECHEAP REVIEW
Profreehost performance
The majority of the folks are using Profreehost because they offer easy-to-use control panels and a one-click installer.
It is one of the famous hosting service providers that offer free servers & tools that will be helpful for the beginner user. However, being popular doesn't guarantee reliability.
While the list of features is impressive, ProFreeHost has already failed to impress its users in terms of performance.
Once you will host with them, you will notice frequent problems with the server. They are already overloaded because the company isn't optimizing the server properly.
Profreehost is a non-profit organization, good for students and learners, but for professional websites, it is a complete waste of time.
About the support options, Profreehost isn't offering any support tickets. You have one option left and that is the forum.
So, If you are expecting good traffic, you should use premium hosting because Profreehost will negatively impact the performance of the site.
The infographic below will help you understand all its features.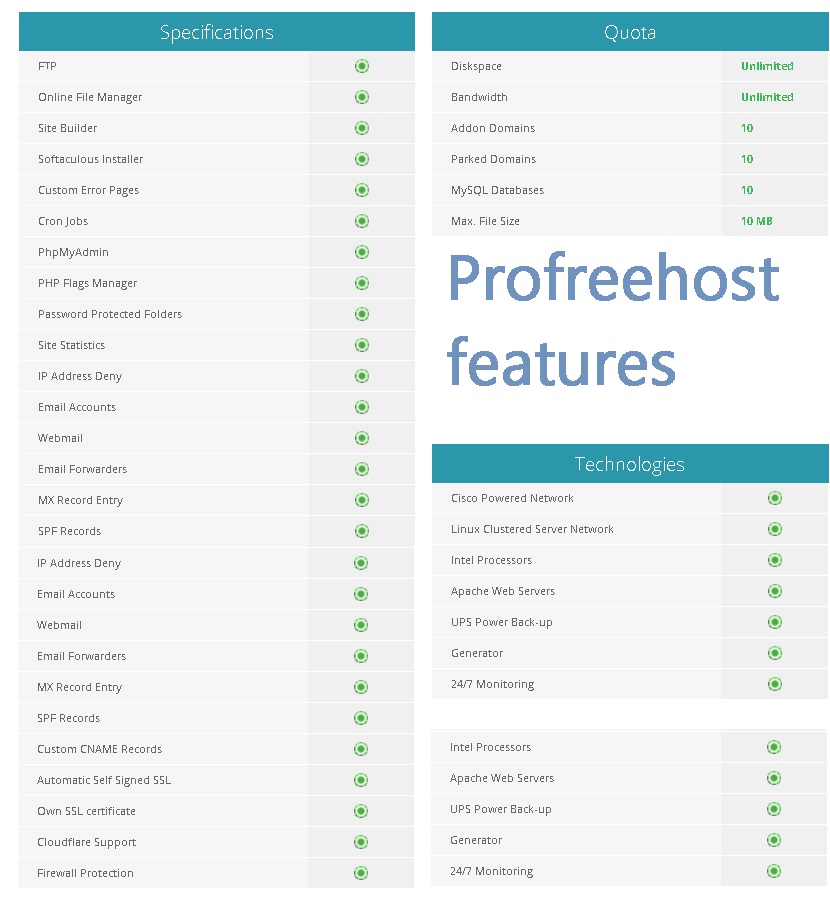 Pros & Cons of ProFreeHost
ProFreeHost is one hosting platform that is offering free web hosting with bandwidth and unlimited disk space.
When you are using the hosting of ProFreeHost, then you must know its pros and cons.
Pros
ProFreeHost is offering professional, free hosting with unlimited bandwidth and disk space. When you are using the ProFreeHost, then you will not have to spend a penny. You can also get access to a genuine website builder and Easy Control panel. You will not have to pay any hidden charges to ProFreeHost. You will be able to get professional, free hosting for your whole life.
Cons
If you are using the ProFreeHost, you will not be able to access a variety of important things offered by the premium hosting like one-click auto-installers, SMTP email, edit DNS settings, access to root directory & software scripts. If you are using the free web hosting of ProFreeHost and uploading large files, then you will surely find your website suddenly offline. They will surely suspend your account with or without notice.
Moreover, plenty of web hosting is ad-supported. If you want to run your website without facing any complications or issues, then it is your responsibility to opt for the premium plan of the hosting that will enable you to take your website to the next level.
Service is also an issue with Profreehost as you can get support through the forum but no dedicated support.
Profreehost Alternative [10 Competitors]
GoogieHost
When it comes to the best alternative of the ProFreeHost, GoogieHost is the first name in our mind. A professional Indian blogger founds this company. The main aim of the company is to offer free hosting to the required users. Sometimes solutions came to the reality when lots of hosting companies failed to impress the beginner blogger. This particular hosting service is proven to be decent because they offer the essential functions and features in the hosting that have become quite important for every person to start a website.
You will be able to learn more about it on the official website. Suppose you have created an account at GoogieHost. In that case, you will surely be able to get cPanel hosting, which means you can access prominent features that are already offered by premium hosting providers.
The key strength of GoogieHost is that they are offering the SSD Based Cloud Web Hosting service without charging a penny.
The servers of the GoogieHost are optimized to run a website effectively. They are supervising the servers and delivering a decent quality server without charging a penny.
They are also offering premium plans that have become the main source of income for the company. Therefore, if you don't have a budget for the premium plan, then you should start with a free one.
You will also get the SSL certification that will surely work on the domain until you use GoogieHost paid or free to host the account.
FreeHosting.com
If you are searching for the best alternative to the ProFreeHost, then you should consider FreeHosting.com.
One drawback is that you will not be able to host free domains like .tk.
They are offering a genuine hosting plan that comes with better uptime. However, like every other free host, reliability still remains a challenge.
It is observed to notice a downtime-related issue at least once a day.
Freehosting.com also offers paid plans and you can also purchase unlimited multi-site web hosting that is packed with prominent features which is suitable for any kind of project.
There you also get a 30-day money-back guarantee on all purchases.
Recommended – You must go for Hostinger as it is more reliable and its plans start at just $.99. They also offer Free Domain.
HelioHost
HelioHost is a non-profit organization that is offering full-featured web hosting free of cost. They are offering web hosting services to the community for almost 12 years. The main aim of HelioHost is to make the customers happy with full-featured web hosting. The HelioNet's Moderators support them. They have already affiliated with the Free-Web hosts. The majority of the folks are choosing HelioHost because they are providing free web hosting. This platform runs solely by the community.
They are growing hosting and free alternative for most people. HelioHost is offering self-sustaining web hosting that will be able to host thousands of websites. If you want to run multiple sites for free, then you should consider HelioHost. They are offering the three servers that are collocated at Hurricane Electric datacentres like Sparkie, Charlie, Stevie, and Eddie
000WebHost
Nothing is better than 000webHost that will enable you to host websites at zero cost with MySQL, PHP, cPanel & no ads. They are offering free web hosting to those platforms that are receiving the minimum traffic. In case you are investing money in the premium version, then you will be able to get access to the following things-
Unlimited Disk Space
Free Domain
Unlimited Bandwidth
They have already started with a free hosting offer. If you want to enjoy the premium features, you should invest money in the premium plan to take your website to the next level. They are also offering unlimited hardware resources like SSL, free domain. It is a good Profreehost replacement and competitor sponsored by Hostinger. Read 000WebHost Review.
Gandi.net
It is one free web hosting provider that is offering scalable, simple, and secure hosting. They are offering a variety of hosting packages like WordPress hosting, shared hosting & cloud hosting. Ensure that you are investing money in genuine web hosting that will improve your website's efficiency and productivity.
Related – Hosting Reviews | Hosting Coupons
1FreeHosting
Nothing is better than 1FreeHosting because they are offering high-end quality web hosting solutions since 2000. If you are using such hosting, you will host the website for free with unlimited & free PHP, MySQL No ads& free online templates & site builder. They are providing the free website &hosting with 1 free hosting feature. You will surely get access to expanded and fastest pro-free website hosting. They are offering proper stability and security.
InfinityFree
InfinityFree was created in 2016. The owner of InfinityFree is offering free hosting since 2011. They are providing web hosting for free. They are featuring free hosting by upselling iFastNet's premium plans. This platform is working on the freemium model. In case you want to host a website with text-based pages, then you should opt for InfinityFree. This platform is helpful for beginners.
5GBFree
Whether you are starting a WordPress blog or e-commerce website, then you should consider 5GBFree. This free hosting will allow you to start your website without spending a dime. It is a worthwhile platform that is offering top-notch quality services without charging anything. The premium plans for 5GBFree starts at $2.95. If you are using the free plan then you will be able to get storage up to 5GB.
Dreamnix
If you are searching for the best web hosting site, then you should consider Dreamnix. They are offering affordable and simple hosting plans. If you are investing money in the hosting plan of Dreamnix, then you will surely be able to get the instant setup with everything that you require to get your website started today. They are also offering almost 60 Days of Free Hosting Trial.
100WebSpace
100WebSpace is the best hosting platform that is offering a genuine hosting plan at nominal worth. They are already featuring powerful hosting that will be able to improve the speed and efficiency of your business or personal website. If you are getting the Free hosting of the 100WebSpace, you will surely be able to get 100MB Disk space. To purchase the personal package of 100WebSpace, then you will have to pay $2.95monthly. It has become the best option for beginners because they can run the website without making any investment.
These are some great alternatives to the Profreehost. Ensure that you choose the right hosting that will improve the efficiency and rank of your website.
PAID ALTERNATIVES- Renowned Web Hosts offering cheapest plans
a) Hostinger
b) Namecheap
c) GreenGeeks
How to activate Profreehost hosting?
So, you want to create a website on Profreehost? If you want to create a blog/website with ProFreeHost, then note down the following important steps.
Create Account
Visit Profreehost.com and create an account.
Access the script installer
Next, you need to make access to cPanel from the Profreehost account. After that, you should launch the Softaculous installer from cPanel.
Choose the script
If Softaculous opened, you would have to choose the right script from 300 scripts. You will surely find a variety of scripts like blogging scripts, eCommerce scripts, forum software. Make sure that you are choosing the desired script and tap on the install. You need to select the right directory where you want to be installed. You must set the right admin username & password and then click on proceed. In case you want to install it on the directory, then you should always keep it in a directory in the empty field.
Customize and Finalize everything
If the installation has been completed, then you will surely be presented with complete installation results. You will have to save important information. Now, you have the right working site, customization. It is according to the requirements.
ProFreeHost is a web hosting service aimed at providing tools and free servers to its beloved members for commercial and personal use, although we recommend it only to students or non-commercial projects.
If you are looking for cheap and best hosting services, try these Black Friday deals for digital marketers: