Satisfactory is a complex yet tricky construction game bursting with life and loaded with various machines.
In factory-building simulation games, Satisfactory is unquestionably one of the best in the market. It can be challenging at times, but it's also well-designed and will often leave you fascinated.
Today we will look at the top-performing and best 'Satisfactory dedicated server' hosting for all the speed, performance, security, and control you need to enjoy this game.
---
Satisfactory Game: A Brief Introduction
Developed by Coffee Stain Studios, 'Satisfactory' is a first-person industrial construction and automation game using Unreal Engine 4, It offers both single-player and co-op multiplayer modes.
Satisfactory was made available for early access on the Epic Games Store and Steam in 2019 and 2020, respectively, It has been likened to a first-person and 3D version of Factorio for industrial construction.
The Game is set in a pre-generated world, where players, as FICSIT Inc. employees, explore resources and craft machines to produce components, it also features cross-platform multiplayer, allowing for collaborative industrial development in an open 3D environment. 
The players start on an alien planet, gathering resources to build increasingly complex factories to meet various demands, supplied by FICSIT Inc.'s space elevator.
---
Top 10 Satisfactory Dedicated Server Hosting
If you are a Pro gamer, you will seek quality, and quality comes with a professional hosting setup. We evaluated over 50 server providers and picked the best and top 10 server hosting for Satisfactory.
Check out our top 3 recommendations:
| | | | | |
| --- | --- | --- | --- | --- |
| Service | Price per slot | Price | DDoS Protection | Money Back Guarantee |
| Shockbyte | $0.83 per slot | $ 7.99 | Yes | 3 Days |
| Apex | Unlimited slots | $20.23 | Yes | 7 Days |
| Bisect | Unlimited slots | $17.99 | Yes | 3 Days |
1) Shockbyte
Features:
Shockbyte is a renowned Satisfactory dedicated server that is committed to ensuring that your server is always up and running. It keeps an eye on the health of your servers so that you may go to sleep with the knowledge that your server is still up and functioning.
A high level of redundancy is maintained and low latency via the utilization of only the best data centers with the best bandwidth and technology.
After you place a purchase, a server is automatically created and sent to you, so you can go on and begin playing within minutes.
Pricing:
There are three pricing plans offered by Shockbyte for Satisfactory dedicated server hosting. The plans are explained below:
Biomass Burner: $7.99/Month or $2.00 per slot.
Fuel Generator: $12.99/Month or $1.08 per slot.
Nuclear Power Plant: $19.99/Month $0.83 per slot.
Number of Players:
The number of players depends upon the plan you subscribe to. The plans are as follows:
Biomass Burner: 4 Player Slots.
Fuel Generator: 12 Player Slots.
Nuclear Power Plant: 24+ Player Slots
RAM:
Biomass Burner: 4GB memory.
Fuel Generator: 6GB memory.
Nuclear Power Plant: 10GB+ memory.
Key Details:
Your server may be configured in any manner you like, thanks to the administration panel's built-in interface, which gives you immediate access to all of its data. In addition, the shopper area allows you to downgrade and upgrade your current plan at any time.
This makes Shockbyte one of the best Satisfactory dedicated server hosting, You may also update the settings, add or remove modifications, and perform other operations at any moment.
My Experience With ShockByte
My experience with ShockByte has been 'Satisfactory', they have a smart and knowledgeable customer support team available 24/7 if you run into any problems.
Speaking of problems, I did face an issue with some modpacks, but they were resolved by customer support on the same day.
Follow the link to buy Shockbyte.
Also Read: Best 7 Days to Die Dedicated Server Hosting, Best Valheim Server Hosting
2) Apex
Features:
Apex Hosting, one of the industry's most skilled and experienced server providers, can provide you with a top-notch Satisfactory Dedicated Server.
Your Satisfactory is ready to go within minutes of purchase thanks to an industry-leading support staff and servers that are up and running in less than an hour.
No matter where in the globe the server is situated, you'll never experience lag or latency while using your Satisfactory because of the top-of-the-line dedicated server hardware.
Pricing and RAM:
Apex Hosting offers three plans which are discussed below:
| | | |
| --- | --- | --- |
| RAM | Monthly | Quarterly |
| 6 GB RAM | $22.49 first month Recurring Price $29.99 Billed Monthly | $20.23 for 3 months Recurring Price $26.97 Billed Quarterly |
| 8GB RAM | $29.99 first month Recurring Price $39.99 Billed Monthly | $26.97 for 3 months Recurring Price $35.96 Billed Quarterly |
| 10 GB RAM | $37.49 first month Recurring Price $49.99 Billed Monthly | $33.71 for 3 months Recurring Price $44.95 Billed Quarterly |
| 16 GB RAM | $44.99 first month Recurring Price $59.99 Billed Monthly | $40.46 for 3 months Recurring Price $53.94 Billed Quarterly |
Number of Players:
Apex Hosting provides unlimited slots for any number of players irrespective of the plan you choose.
Key Details:
As a factory owner, you may decorate your building with a wide range of materials and structures. Preparation is essential if you want to stay alive and carry out your responsibilities as a FICSIT employee in this hostile environment full of weird items and hazardous creatures.
It's much easier to have the best dedicated Satisfactory server when you have access to the server's settings and data with Apex Hosting.
My Experience with Apex
Apex Hosting is great, they offer some of the best hardware in their servers, so naturally, I didn't face any issues with the performance and found the server to be stable with 24/7 uptime.
However, it's best to go for their large servers, as the small ones can be a tad expensive.
Follow the link to buy Apex Hosting.
3) Bisect
Features:
By using Bisect Hosting, which is one of the best Satisfactory server hostings, you can be certain that your server is always up to date and ready to go when you are.
In order to submit your own saves and changes to the server, you must have Full FTP access.
When you connect to one of our servers, you'll be able to immediately play with your pals.
Pricing:
Bisect Hosting offers a single plan for Satisfactory Dedicated Server which costs $17.99/month.
Number of Players:
The above-mentioned plan provides unlimited slots for unlimited players.
RAM:
You get 12GB RAM per month upon subscribing to Satisfactory Dedicated Server.
Key Details:
To manage your server as much as possible, Bisect Hosting provides complete control over the files on your server, including the ability to install any worlds you currently have.
Before any problems arise, Bisect provides you with 7 days of data backups, so you may recover the data and avoid losing all of your efforts.
My Experience With Bisect Hosting
Everything works well and performance is decent, it was easy to set up, and there are no issues or lag spikes while playing on the server.
However, I believe it would be nice to make it easier to change specific mods.
Follow the link to get Bisect.
4) 1GServerhost
Features:
With 1gserverhost's dedicated server hosting, the users enjoy free world migration services and a wealth of experience in hosting games making it a great option for those who want to move from a different host or simply get started.
The staff at 1GServerhost.com ensures that clients get only the best service, which includes 24/7 worldwide support and remarkable hardware endurance while running heavy content, such as raids against bosses on live worlds. 1GServerhost.com's customers.
The new user-friendly management panel makes it simpler than ever to get the best Satisfactory server hosting service online. As a result, less time is spent on things that aren't very interesting or rewarding.
Pricing:
There are 4 different billing cycles available:
Monthly: $20.00/month
Quarterly: $57.00 for 3 months, you save 5%
Semi-Annually: $108.00 for 6 months, you save 10%
Annually: $204.00 for 1 year, you save 15%
Number of Players:
You can buy an unlimited number of slots by purchasing any plan.
RAM:
The memory allocation is 5 GB RAM.
Key Details:
Automated onboarding procedures are in place. Once you've paid your first bill, your server will be ready for use. Use the game-switching option to save yourself time and hassle. You may switch to another game throughout your renting. Enterprise-class security safeguards your dedicated server at 1Gserverhost's cutting-edge data centers.
My Experience With 1GServerHost
I had an overall awesome experience with 1GServerHost, while there were a few issues setting up the server at first, it ended up being a learning experience for me. 
The customer service was a highlight of my experience with 1GServerHost, they were super kind in helping me resolve my issues. Would definitely recommend them!
You can get 1gserverhost by following the link.
5) Southnode
Features:
Southnode.net is one of the safest Satisfactory server hostings which keeps a close eye on your website and notifies you immediately if any malware is found.
Using Southnode.net, preventing malware from infecting your site is made easier by running regular scans regularly.
You don't have to worry about installing anything since the setup is completely automated and takes less than a minute.
It ensures that your apps are up-to-date and protected from known vulnerabilities.
Pricing:
Sothnode.net offers one single plan priced at $13.14/month for Satisfactory Server hosting.
You can save 4% and 9% off your order on quarterly and semi-annual billing.
Number of Players:
Southnode offers 4+ slots for players as standard.
RAM:
Southnode.net provides 8 GB of RAM when you subscribe to the above-mentioned plan. You can also upgrade the RAM to 12 GB by paying $13.80
Key Details:
With Southnode, you can't go wrong when it comes to big player-count gaming servers that provide excellent assistance. There is no limit to what they can do for you, whether it's a private server for you and your pals or a public server that everyone envies.
My Experience With Southnode
Setting up the server was a quick and easy process, it has been stable and I haven't encountered any performance issues so far. The pricing is also pretty competitive. 
However, I do have one complaint with Southnode, the control panel's load times can be inconsistent at times.
Follow the link to buy Southnode.
6) Epicgames.Net
Features:
The Epicgames Dedicated Server feature allows gamers to establish their own dedicated servers, allowing them to continue constructing their factories even when their buddies aren't online.
These tools are still considered experimental since they are always working to correct errors and respond to player input.
Pricing:
With Epicgames, you'll get a Satisfactory server as a free add-on. For Satisfactory dedicated game hosting, you just have to purchase the game whose cost is $29.99.
Number of Players:
The number of slots available is the same as the standard 4+ for the players.
RAM:
It provides 8 GB RAM.
Key Details:
The Multiplayer mode requires an internet connection. Because the game is still in early access, the system requirements may vary with time. It is also a cheap Satisfactory server hosting when compared with its competitors.
Follow the link to get EpicGames.net.
7) Nodecraft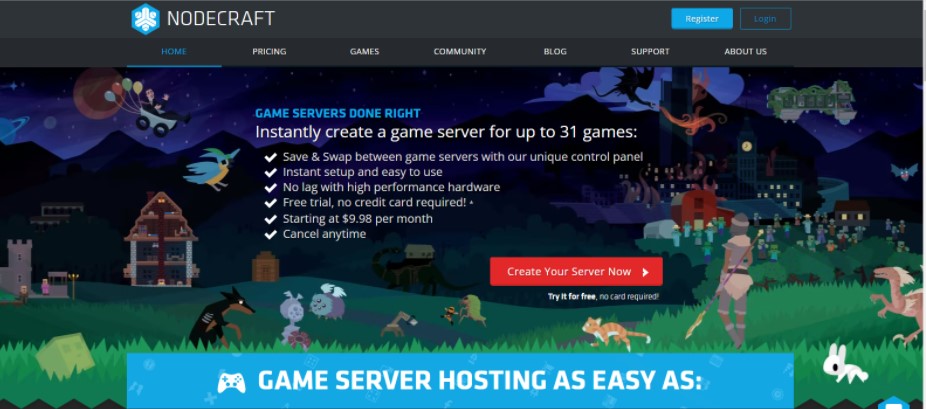 Features:
It is one of the best Satisfactory dedicated servers that will be up and ready for games in seconds thanks to Nodecraft's unique interface. NodePanel offers you complete control over your server, allowing you to alter game settings and configure them.
The Nodecraft server hosting system is easy enough for anybody to set up and maintain a server, yet it has the reliability and performance to please even the most seasoned player.
Pricing:
Nodecraft offers four pricing plans:
Nano: $4.99 first month then $9.98/month
Keelo: $9.99 first month then $19.98/month
Megs: $14.99 first month then $29.98/month
Omega: $19.99 first month then $39.98/month
Number of Players:
Irrespective of the plan you buy, Nodecraft provides unlimited slots for the players.
RAM:
Nodecraft offers four 2 GB, 4 GB, 6 GB, and 8 GB RAM for Nano, Keelo, Megs, and Omega respectively.
Key Details:
Unlike other Satisfactory server hosting companies, Nodecraft ensures that the servers are not overburdened, which means that each device has an average of just 12 clients.
This gives your server extra CPU cores, disc IOs, and RAM to work with. More processing power per user implies your server will be more resistant to latency and crashes.
My Experience With Nodecraft
It works really well. I haven't noticed any lag, at least no longer than half a second (every 3-40 minutes or so), also, I love the simple but useful controls. The 4 available plans are also priced fairly with very good and fast customer support.
The only little nitpick I have is that it would be nice to have the ability to customize the plans more.
Follow the link to buy Nodecraft.
8) LogicServers
Features:
All hosting plans by LogicServers include automatic anti-hacker security, ensuring that the best Satisfactory server hosting is never compromised.
For gaming hosting, Logic Servers exclusively employs the greatest technology, including fast CPUs, gigabit uplinks, and SSD storage.
The game servers are run by TCAdmin, which provides a quick and simple experience.
Pricing:
Logic Servers offers one single plan for Satisfactory dedicated server hosting that costs $16.42/month.
Number of Players:
It provides a 15-slot server for the players.
RAM:
Logic Servers offer a memory of 4GB RAM.
Key Details:
The dedicated Satisfactory servers from Logic Servers are highly configurable and have automated backups and FTP file access. All of the servers are equipped with incredibly powerful hardware, ensuring that your services work smoothly and without interruption.
My Experience With LogicServers
Every time I needed adjustments or wanted to make customizations that were beyond me, the customer service was quick and sorted me out in no time.
It's also priced fairly, offering 15 slots at $16/mo compared to G-portal with its 10 slots at the same price. 
I also have to update my Steam whenever I do mod updates, that's the only issue I have.
Follow the link to get Logic Servers.
9) ServerFlex
Features:
Serverflex is one of the most powerful dedicated Satisfactory servers available to gamers. It takes advantage of high-performance CPUs, DDR4 ECC RAM, and NVME SSDs.
DDoS protection at the network level protects its services which makes it one of the best Satisfactory dedicated servers.
You can quickly grow your server to match the needs of your players. Everything is controlled via a single control panel.
Pricing:
Serverflex offers two plans:
Quartz: $54/month
Uranium: $73/month
Number of Players:
Serverflex provides unlimited slots for the players irrespective of the plan you choose.
RAM:
Key Details:
Serverflex provides professional server hosting that is simple to set up and simple to use. It comes with standard enterprise technology, hourly or monthly price flexibility, and development by gamers for gamers.
My Experience With ServerFlex
I love that ServerFlex gives you full control where you need it, the renting experience is smooth, servers are quick, stable and do not cost too much. 
One problem I encountered during my time with ServerFlex was a server disconnect, however, it was sorted out by customer service.
For buying Serverflex, follow the link.
10) ZapHosting
Features:
ZAP-Satisfactory Hosting's server may be yours in a matter of minutes. It is one of the fastest server hosts available in the said category. Pre-ordering isn't necessary in this case. If you're using Epic Games Launcher or Steam, you can get started right now with Satisfactory Server.
This service is compatible with both Windows and Mac.
With your own group of pals or in your own clan, you'll have the greatest fun playing a game like "Satisfactory." Renting a Satisfactory server is now easier than ever.
It's obvious that the Satisfactory server is protected from DDoS threats, has an intuitive web interface, and provides complete mod support through FTP.
Pricing:
It offers a single plan priced at $3.92/ Month.
Number of Players:
ZAP Hosting's Dedicated Server for Satisfactory provides 4-128 slots for the players.
RAM:
It provides 3 GB RAM as standard, you can increase it up to 32GB with an additional fee.
Key Details:
Renting a dedicated server from ZAP-Hosting.com comes in a variety of sizes and configurations. All the hardware you need to run a dedicated server is provided to you in one package. Neither a virtual server nor a loud neighbor is allowed to operate on a host system alongside other virtualized servers.
Fast Intel Xeon E5v2 server CPUs, up to 256 GB of RAM, up to 2x2TB SSD hard drives, and a 10 Gbit/s SFP+ network card are included in the pre-configured dedicated servers. Rental of the whole system rather than just a portion of it, as with a virtual server.
My Experience With ZapHosting
ZapHosting has a good price-to-performance ratio on their game servers, the uptime is good and the in-game performance is smooth. The customer support was a little slow but helpful.
Do keep in mind, that their dedicated servers are great but their shared cloud-based servers can have some performance issues down the line.
To get ZAP Hosting, follow the link.
---
How To Play A Satisfactory Game Like A Pro?
Satisfactory encourages exploration. To get minerals and wells for their upcoming complex, players often traverse the planet. Occasionally, the player may encounter cliffs that prevent them from progressing.
By building stackable conveyor supports with ladders on the side, they may be ascended (just be careful not to fall). It is also possible to employ storage containers, which are more expensive to build, but they are safer in the long run.
Satisfactory's primary goal is to create a factory. Careful usage of foundations is one of the easiest methods to attain this aim.
Placing foundations saves time by allowing additional buildings to be snapped into place. Foundations are crucial in determining the size of a facility and the locations of key machinery.
Foundations may also be used to ensure that constructions are aligned in a straight line or at an angle. The foundations of a clean factory are, as the name implies, the building blocks.
---
Benefits of a Satisfactory Dedicated Gaming Server
Fast Gaming:
With the best dedicated Satisfactory server, you'll be able to run your game in the most advanced data centers. They'll also allow you to choose the place of your choice. As a result of the closer proximity to the data center, you may expect quicker load times and a more enjoyable gaming experience overall.
Zero Downtime:
With the help of the server provider, you won't have to worry about any downtimes or delays. Because of this, no matter how long you play or how many people are present, you will always be able to enjoy the best possible performance.
Top Convenience:
Innovative and user-friendly control panels are provided by Dedicated Satisfactory server hosting, allowing you to better manage your gaming experience. To make it more convenient for you, you may tailor it to your specific needs.
More And More:
Besides that, you may use it in conjunction with other tools, such as player rating software, forums, and so on. You don't have to worry about anything since the server will take care of it all for you.
---
How To Setup A Satisfactory Server Hosting?
Installing the server is as simple as selecting it from your Steam library and following the on-screen instructions. Other than that, the method is the same as with any other game. You may have to alter your steam library filters to add tools.
Working with Valve, Coffee Stain is presently allowing Steam accounts that don't currently have the Satisfactory game client access into the Dedicated Server. To download and install the files, you don't need a Steam account.
If you wish to utilize the experimental branch of the Dedicated Server instead of the mainstream Early Access version, go to the Properties of the item in your Library and check that the Experimental beta branch is chosen. Reverse this procedure to go back to the original release.
Also Read: Best 7 Days to Die Dedicated Server Hosting, Best Valheim Server Hosting, ARK server hosting for gamers, Best Rust server hosting for gamers, Minecraft server hosting
---
FAQS/More About Satisfactory Game
Can you host a Satisfactory server?
The Satisfactory gaming server may be built and shared with your friends, allowing everyone to make use of the finest hosting at a low cost.
Are Satisfactory servers free?
Yes. There are a few Satisfactory servers that are available for free.
What is the point of Satisfactory game?
The ultimate aim of this game is to develop a fully automated factory that can produce any item without the player's human interference and transport all essential project elements to the Space Elevator.
What do you do in Satisfactory?
A first-person open-world industrial construction game with some exploration and fighting thrown in, Satisfactory is a blast. Conveyor belt paradise awaits those who play alone or with a group of buddies in an unknown world.
Is "Satisfactory" game difficult?
Satisfactory is a complex game that may be learned in a short period of time. Easy to play, yet difficult to master, it is one of those games.
Is Satisfactory a multiplayer game?
---
Final Thoughts
Dedicated Satisfactory server hosting can allow you to play the game at a higher level of speed, performance, security, and control if you choose the right service. By using these features and tools, you may enhance your overall gaming experience and have more fun.
Latest Post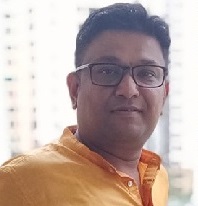 Seasoned Professional with 15 years of experience in Sales and Marketing. Entrepreneur, Consultant and Blogger helping people earn through jobs and blogging. Experienced Hosting Reviewer who likes to collect detailed info about existing players and share it with my audience. Previously worked with leading Banks and Telecom Companies.
I completed my Masters in Management with specialization in Finance and Marketing.
Visit our Hosting Review and Blogging Guide for more interesting articles.