Interested in SEOQuake Chrome extension download? Read the most accurate SEOquake extension review first along with its alternatives.
In this post, we are reviewing one of the most popular SEO analytic extensions for browsers which is SEOquake that provides almost all SEO-related information of any website or for any webpage.
What Is SEOquake?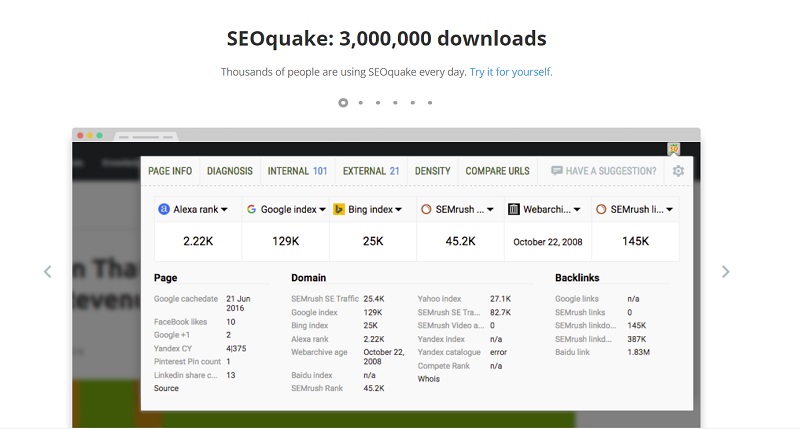 SEOquake or SEO quake is an easy-to-use SEO browser extension that works really well with almost all popular browsers like Chrome, Safari, and others. SEOquake has multiple on-page SEO features for any single page or the whole website.
The thing that separates it from its alternatives is the speed and accuracy of the metrics shown for any website or page. To know more about SEOquake see the features below.
If you are serious about SEO, We RECOMMEND two lifetime free offers.
Keyword Surfer is a highly recommended SEO Tool that is easy and with more accurate data.
Semrush is currently offering a free lifetime account.
Features Of SEOquake
Till now you must have got the basic idea about SEOquake extension and now it's time to know more by exploring its amazing features.
SEO Bar
SEO bar is present at the top of the browser's window which has a key set of SEO tools that show the SERP and SEO analysis for any webpage within a second. This SEO bar can be customized also as per the need of the users.
There is also the option to change the position of the SEO bar, by default it is top horizontal with some selected parameters that can be adjusted through the setting icon on the right side of the bar.
Analysis Of Keyword
Whenever you open a webpage, by clicking on the information icon from the SEO bar you can easily get the keyword analysis like keyword densities for different keywords. Keywords used in the meta description are also shown.
Rank Monitoring
SEOquake quickly shows the ranking of any webpage. Various rankings are shown like Alexa ranking, Google-based ranking, Semrush rank, etc.
Once you have the indication about your ranks, now you have to improve your content. To improve your content, grab a Grammarly coupon and start using the app.
Even Artificial intelligence helps you to write and modify the content. Take a free Jarvis.AI trial and create automated content.
Link Examiner
One can easily examine the number of external and internal backlinks using SEOquake at a glance. To get this feature enabled for in-depth analysis, you will have to connect SEOquake with your free Semrush account which is very easy and after doing so, other important metrics will also be unlocked.
SERP Overlay
Search anything on any search engine and you will get instant SEO analysis of all results that includes keyword difficulty, ads, various ranks, Semrush backlinks, and other data.
Vast Data Analysis
Besides the above-mentioned features, SEOquake has a vast range of data like page audit, display ads, Yahoo and Bing index, free 100 URL comparer, social media counts, etc. making SEOquake a major SEO analysis extension.
Print And Export
SEOquake allows exporting the SERP and other data to be exported. You can export your data anytime from SEOquake into CSV format and print it whenever you want.
If you are serious about SEO, We RECOMMEND two lifetime free offers.
Keyword Surfer is a highly

recommended

SEO Tool that is easy and with more accurate data.
Semrush is currently offering a free lifetime account.
How To Download And Install SEOquake?
SEOquake is compatible with several popular browsers like Chrome, Firefox, and Opera.
In this post, you will get to see the detailed steps for downloading the SEOquake extension on the Chrome browser.
Step 1: Click on the link here or tap the following button.
Step 2: Click on the "Add to Chrome" button.
Step 3: A pop-up will appear on the screen, click on add extension option there.
Step 4: Activate the extension by clicking on the extension icon available at the top right corner of the screen and then selecting the SEOquake icon.
Congrats! You have successfully downloaded and installed the SEOquake extension.
For downloading SEOquake for other browsers click here or on the following button.
After doing so, you will get to see the options to download it for other browsers as shown in the image above.
Pros And Cons
It is time to look for the merits and demerits of SEOquake.
Pros Of SEOquake
Compatible with many browsers that are used by everyone like Chrome, Safari, Firefox and Opera.
It is also compatible to mobile phones and works properly there.
No fee is charged for any information as SEOquake is free and can be used by anyone.
Provides information within seconds or just in one click.
Eliminates the requirement of multiple SEO tools as it gives vast data analysis which is rare to get from any single tool.
Easily get to know the SERPs and compare it to plan your content through the data you got from SEOquake.
Export option is available for free which is highly useful for content marketing.
Supports multiple languages, available in 8 most used languages worldwide.
Cons Of SEOquake
Too much of data which are irrelevant makes it hectic and ultimately distracts the person to focus on the useful data only.
Poor accuracy of analysis. Many of the times the data shown are not accurate and thus leads to wrong conclusion.
Tutorials or guides are not available in proper details to use the extension, and hence, beginners find it difficult to understand its features.
SEOquake only provides the info and analytics of the webpage and does not show or suggest the points and scopes of improvement to perform better.
Pricing Of SEOquake
SEOquake is an extension for fast SEO analysis of web pages. This extension can be used from the web stores or directly from its official site and can be used by anyone without spending a single penny.
SEOquake is a completely free extension and doesn't charge any amount from its users' pocket. Although it is being developed and being enhanced continuously with its new features so there is a possibility that a few features of SEOquake would be available on premium mode.
Alternatives Of SEOquake
We learned about the content writing software above. Now we will highlight the best SEO tools that help you in monitoring and optimizing the latest and demanding keywords.
Many alternatives of SEOquake are available in the market that offers more or fewer features similar to that of SEOquake. Here we have listed the 10 best alternatives of SEOquake that we found. Check the alternatives below.
Surfer SEO (Take Surfer SEO free trial)
Jarvis AI (Learn about Jarvis or Jasper AI copywriting)
Similar Web
Moz Pro
Rank Tracker
OnPage Champ
Ahrefs
SE Ranking
Quick SEO
MLM Solution Hub
Hubspot CRM
See all AI based tools to improve your SEO.
FAQs: Review Of SEOquake Extension
1. What is SEOquake?
SEOquake is a free browser extension used for the SEO analysis of web pages without doing the research manually. It is being used by more than 3 million users.
2. How do I add SEOquake?
If you are using Chrome browser then go to its web store and search SEOquake and install it. For installing on other browsers visit the web store of the respective browsers and install from there.
3. What is the price of SEOquake extension?
SEOquake is a completely free plugin. It does not require you to pay anything.
4. Who should use SEOquake?
People involved in any of the mentioned areas should try SEOquake, content marketers, website owners, content writers, SEO experts, freelancers, bloggers, and small or big businesses operating digitally.
Note: we also recommend visiting Rytr.Me coupon and Closerscopy lifetime deals.
Conclusion Of SEOquake Extension Review
All the information related to SEOquake including features, pros, and cons has been discussed in this post. Our review is based on the personal experience after using SEOquake.
If you find any difficulty in using SEOquake extension or find it difficult to install it, comment us your problem we will solve try solving it for you.
For SEOs, we also recommend checking out other content writing tools and AI writing software.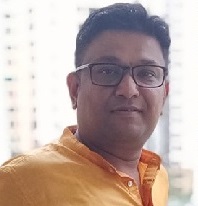 Seasoned Professional with 15 years of experience in Sales and Marketing. Entrepreneur, Consultant and Blogger helping people earn through jobs and blogging. Experienced Hosting Reviewer who likes to collect detailed info about existing players and share it with my audience. Previously worked with leading Banks and Telecom Companies.
I completed my Masters in Management with specialization in Finance and Marketing.
Visit our Hosting Review and Blogging Guide for more interesting articles.