Grammarly chrome extension is a web tool that reviews and diagnoses mistakes. It also checks for plagiarism. It helps students improve their mistakes and start work on an essay before they submit it.
Grammarly chrome extension is a great tool for students. It saves them time and helps them avoid spelling and grammar mistakes.
Grammarly is the leading grammar checking platform used by over 10 million people. The software's interface is simple, giving users the ability to manage their grammar on the go.
Grammarly has a Chrome extension that can be downloaded from the Chrome app store. This blog will look at how to download the Grammarly Chrome extension.
Direct Link For Free Grammarly Chrome Extension
Get started for Free. Use this link, signup for free, and add Grammarly to your Chrome.
If you are a beginner, we have detailed snapshots and step-by-step processes for adding the Chrome extension of Grammarly to your browser. We have also shared the basic configuration and correct way of using it below.
Let's see the whole process and steps of how can you add Grammarly extension.
Note: We recommend visiting our money-saving posts where you find black Friday deals by Jasper and also Grammarly's black Friday discount.
How to Download Grammarly Chrome Extension?
Here are steps, in detail that will easily help you to add and use Grammarly to your browser.
Step1- Go to Grammarly or direct click on the button below.
Step 2- With this link, you will go to Grammarly's main page.
There you will find an option for logging in, click on that option.
Step3- After clicking on login, you will get two options- sign up and sign in/ log in.
But if you are new here then you must have to sign up first with the same link.
Fill out the signup form in case you are new here, and if you already have an account then click on the option that is at the top of the snapshot above. (I have an account)
Step4- Now you will get a login form, directly:
After that fill up your details, id, and password, and you are logged in successfully.
Step5-Now after you enter Grammarly, you will find an option on the screen for adding Grammarly to chrome, as shown in the image below. Click on that button.
You will directly reach another window, where you will find the Grammarly chrome extension,
Step 6- Click on the add to chrome button, then it will show a popup.
Step 7- Click on add extension button, and Grammarly will start adding its extension to your browser.
Step8- You will get a message, saying the "process completed", as shown in the snapshot below.
Basic Grammarly Chrome Extension Settings
After successfully adding Grammarly it's time to manage some settings for our chrome so that it works accordingly.
1 . Click on the extension icon present on the top left of your screen.
2. Then the extension bar will open, now pin Grammarly by clicking on the pin option.
3. You will get Grammarly pinned on your browser, which means it has access to your site.
You have successfully added the Grammarly extension to your chrome browser.
By following the same process you can add Grammarly extensions to any of your browsers.
Now, let's focus on how you can use Grammarly on your different web pages and documents.
How to Use Grammarly Chrome Extension?
Finally, it's time to learn how you can use Grammarly on your different web pages and on different documents. There is just a simple step of doing that-
Step 1-Go to that, tab or window where you want to use Grammarly.
Step 2-Click on the Grammarly pinned extension present on the left side of that page.
Step 3. Now you will get option bar, as I am adding Grammarly to my Google docs,
So you have to enable each option that you want Grammarly works.
and select your language from the options.
Step 4. I have selected the options that I required, with the language,
Now following the same steps, you can also enable Free Grammarly to your document and other web pages.
Congratulations! you have successfully added a Grammarly extension to your Chrome and started working with Grammarly's features.
Pros of Grammarly
Grammarly is a handy tool for writers who want to improve their writing. Not only writers, but top websites are also using it regularly.
It can help you find and fix errors before you submit your work.
It is a free extension for Chrome that's compatible with Microsoft Edge and Firefox as well.
Writers can use the Chrome extension to get a grammar and spelling checker on their screen when they're typing.
It's also helpful for proofreading, editing, and proofreading.
Writers often want to make sure that their work is a good representation of themselves. With Grammarly, it's easy to make sure that you are presenting yourself in the best possible light.
Cons of Grammarly
One of the cons of Grammarly is the cost. Just like any other website, Grammarly has to make money. It is not free, and it will cost you a couple of dollars a month.
Another con is that you have to create an account. You are not able to use Grammarly without an account.
Grammarly Free vs Premium
Grammarly is a free product that allows you to correct your grammar and spelling mistakes from within a browser tab.
It can also suggest improvements that you can implement in your writing. If you want to see the best and most accurate grammar and spelling corrections, you can upgrade to the premium version.
You get multiple services with the free plan but they are just some basic features
The premium version allows you to edit, organize, and save your writing in a grammar library. This allows you to produce your work in a professional manner that your readers will appreciate.
If are already using Grammarly's free plan now it's time to upgrade to more premium and advanced features.
Try Grammarly's premium plan here, with us you are getting extra discounts on the regular pricing.
Benefits of Grammarly
Grammarly is a paid online grammar-checking tool that is used by millions of people around the world.
With Grammarly, there are a variety of features that make it easy to use:
It helps you improve your spelling, punctuation, word choice, grammar, and sentence structure.
With a quick and easy installation, Grammarly is used by people for a variety of tasks, such as writing an email, a social media post, or a blog posts.
It is used by students, professionals, and non-native English speakers.
It can also be used as a social media platform that you can use to communicate with friends.
These features also include automatic corrections, spelling suggestions, word predictions, and word count.
You can also software for content writing, to automate the task as they curate original content without any grammatical mistakes.
What is Grammarly Plagiarism Checker?
Grammarly is also providing a plagiarism checker, which means it can detect if your work or someone else's work is plagiarized. It is an internet browser plug-in for Microsoft Office and Google Chrome, and it also has a desktop program.
It can check for plagiarism on the internet, in Microsoft Office documents, MS Word, PowerPoint, PDF, Open Office, Google docs, and more.
It is a great tool to use to ensure you are not plagiarizing, and it also has a plagiarism report that you can use to create a paper or essay.
To start using the plagiarism checker, upgrade your plan using our Grammarly Coupon code.
If you are from educational background, we have a special Grammarly discount for students and teachers.
Why Do You Need a Grammar Checker?
Using a grammar checker avoids multiple spelling and grammar errors and saves you from a big embracement with your writing.
When it comes to grammar, it's important to read the rules. If you don't know the rules, you might make a mistake that you'll regret. That's why it's important to have a grammar checker on hand.
A grammar checker will help you avoid making mistakes. If you're writing a paper, you can use the grammar checker to make sure that your writing is correct and that you don't make any mistakes.
If you're writing in an essay, you can use the grammar checker to make sure that you don't misspell any words or use the wrong word.
If you're writing a blog post, using a grammar checker will ensure that you don't make any errors in your writing.
There are many grammar checkers to choose from, such as Grammarly, Hemingway, and Microsoft Word Grammar Checker.
Grammarly is a text editor that has a plugin that automatically detects grammar errors. It is also a complete proofreader. It can help you with punctuation, spelling, and grammar.
It is a great tool for students. It is also a good tool for writers who are worried about how they are going to be seen.
It's great for editing documents, emails, and social media posts.
It can help you with uppercase and lowercase letters, and can also help you with capitalization.
It is a good tool for checking your writing. It is a good tool for checking your grammar. It can help you with words that are commonly misused. It can help you with phrases that are commonly misused.
You can use Grammarly on your Android phones as well.
FAQs on Grammarly Chrome Extension
Do Grammarly also offers a chrome extension?
Yes, Grammarly offers a browser extension, that you can add to any of your browsers.
How much do I have to pay for adding Grammarly extension to my Chrome?
It is totally free to add a Grammarly extension to your browser that provides you with basic corrections and suggestions. If you want to upgrade the features then you have to take the subscription.
It is secure to use the Grammarly extension to my browser?
Yes, Grammarly is fully secure to add as an extension, as this extension can't see or change the data present in that site.
How can I enable Grammarly to my Google Docs?
Enable Grammarly with easy three steps-
Step1- Download the extension,
Step2-Click the Extension icon in the toolbar, and enable Grammarly by pinning that.
Step3- Check all options and turn on them, and also select the language for your writing.
These steps are briefly described in the article above for further go there and check out step-wise.
Final Words on Grammarly Chrome Extension
In this article, we have brought you a complete guide about how can you download, add and use the Grammarly extension to your Chrome or browsers, with steps and snapshots.
The download link for the Grammarly Chrome extension was recently changed, a lot of users were not able to download it. We did the proper research and shared the actual working link here on this page.
Using the link shared on this page, you will be able to access both free and paid Grammarly versions.
We have structured the whole process in simple steps that will be easily get understood by you, follow these easy steps and add Grammarly extension to your Chrome browser free and safely.
Use this and give your feedback regarding this best free grammar checker app, and help us to improve.
For writers, we also have AI writers like Jarvis and ShortlyAI. If you have not explored them yet, visit Jarvis AI Review 2022 and create plagiarism-free content.
Recommended Apps to improve your writing: SEO Quake extension and Keyword Surfer extension for Chrome.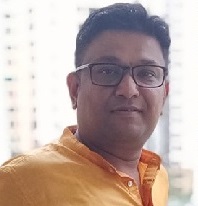 Seasoned Professional with 15 years of experience in Sales and Marketing. Entrepreneur, Consultant and Blogger helping people earn through jobs and blogging. Experienced Hosting Reviewer who likes to collect detailed info about existing players and share it with my audience. Previously worked with leading Banks and Telecom Companies.
I completed my Masters in Management with specialization in Finance and Marketing.
Visit our Hosting Review and Blogging Guide for more interesting articles.