Do you want to turn around your SEO game by generating professional videos in 2023? Then it's time for you to try some AI-powered video generator tools!
Without a shadow of a doubt, Artificial intelligence is at the frontier of every industrial domain.
With a text-to-video generator, you can create high-quality videos and present them with an AI avatar within just a few minutes! Let's take a look at my top 10 AI video generators that you must try out!
What are AI Video Generators?
AI video generators use the fundamentals of artificial intelligence to create encompassing videos from a variety of data sources. However, you'd still need some human input to polish the generated videos and provide the necessary direction.
Top 10 AI Video Generators That Actually Work in 2023
We will now discuss our tested AI powered text to Video tools that are useful for creators.
1. InVideo.io
This is currently one of the best text-to-video converters on the market that gives you more bang for your buck! InVideo is an intuitive platform that helps you transform textual content into encompassing videos!
Features of InVideo.io
A powerful tool that allows you to create engaging videos within just 5 minutes!
Create professional videos with over 5000+ templates to choose from.
Pick and choose from over 9M+ photos, stock videos, and music tracks.
Add your teams and create your own brand kit!
Enjoy more than 40 fluid animation options!
Pros
Create a spectrum of videos including – promos, ads, YouTube videos, etc.
You can create a video of up to 40 minutes with the help of the free plan.
You get exclusive access to 50+ AI Powered themes.
There are no language barriers!
Cons
The cloud storage of InVideo.io is pretty disappointing. Even if you end up purchasing the premium model, you can get a maximum of 100GB of cloud storage.
Pricing Details:
InVideo.io currently offers its customers three pricing plans – Free, Business, and Unlimited. Here are the features of each:
Free Plan:

Watermark of InVideo
More than 5000 templates
Media library of more than 3 million
Automatic text to video converter
Maximum duration of 40 minutes for each video
Business Plan:

Costs $17 per month
All features of the free plan
Watermark-free videos
Exclusive access to 1M+ premium media
Filmr Pro access
Exports of up to 60 videos per month
Unlimited Plan:

$34 per month on annual billing.
All features of the free plan
Exclusive access to 1M+ premium media
Filmr Pro access
Export Unlimited videos every month
An iStock Media of 120 images every month
My Experience: I recently purchased the business plan of this tool after hearing rave reviews about it. What I loved about this tool is that it perfectly fits my business requirements. Also, the tool gets constantly updated as per your feedback.
2. GliaCloud
As a content creator, I understand how inserting engaging videos in your articles and blogs can enhance their online outreach. This is where GliaCloud comes into the picture. With GliaCloud, you can turn your thoughts into reality and truly make your content rank at the top of SERPs!
Features of GliaCloud:
Excellent transition effect that guides your videos eloquently.
Relevant audio background to make your videos even more interesting.
With an automatic generator of voice, your texts can speak too!
Position the texts as per your desires and access a manual voice recorder.
Create a video for your article within just a few seconds by directly posting the article URL.
Pros:
Enhanced language analysis capacity.
Improve the media exposure of your blogs in a cost-efficient manner.
Simple user interface.
Support for multiple international languages like Japanese, English, Korean, and much more!
AI-assisted layout for site designing.
Cons:
Does not support animated presenters as of now.
Price Details:
There are three pricing models that you can choose from:
Enterprise:

Custom quotation for enterprises.
1080 p resolution videos.
Customized upload storage.
Access to branded themes.

Business:

Costs $550 per month.
Video upload storage of 60 GB.
1080 p resolution videos
Create up to 100 engaging videos.
No cap on media assets.
Customized themes.

Pro:

Costs $300 per month
780 p resolution videos
Video upload storage of 20GB
Customized themes.
My Experience: If you don't currently have access to a video production team, then this is the tool that you must go for! However, compared to the latest AI advancements I feel the pricing is a bit too steep
3. Hour One
Video content can sometimes feel too dry and informative. How do you spice things up in such a case? Yup, you guessed it right – by introducing a familiar to present it and this is exactly what Hour One does. It gives you access to over 100 hyper-realistic video presenters with an option to also add your own.
Features:
A character library of 100+ characters.
A dedicated voice library with a multitude of tones and accents.
The facility of importing your text and converting it into a video.
Create humanized videos by uploading your existing PowerPoint slides and videos.
An exclusive brand kit to help define your brand.
Pros:
Generate engaging content for thousands of hours at once!
Easy to scale.
Does not require any video production, editing, or coding skills.
Swanky upgrade to traditional text-to-video generators.
Price details:
As of today, the company is offering a steal deal free trial to all its users. However, the pricing might change in the future.
My Review:
I took up the trial version of this AI tool and I feel that it's perfect for enterprises who don't want to invest in a custom video production team but want to quickly expand at a large scale.
4. Lumen5
This is an AI-Powered video content creation platform that offers you a unique way to create video content on the go! Over 400,000 businesses have taken advantage of the user-friendly drag-and-drop interface and improved their content marketing by miles!
Features:
Drag-and-drop interface to create captivating videos.
Customizable Lumen5 template for every brand under the hood.
A rich content library featuring millions of iStock photos and videos.
Addition of musical score to videos that can be changed later on.
Create customized brand presets to enjoy special features.
Pros:
A mind-blowing collection of royalty-free iStock photos and videos.
Enhanced automatic features for video creation.
An intuitive drag-and-drop interface.
Promising and engaging beta features.
Text-based video editing service.
Cons:
Lacks sound and image editing features.
Price details:
You can choose one out of the following 5 modes:
Community:

Free mode
Access to Unlimited video content.
Presence of Lumen5 Watermark.
Video resolution of 720 pixels.
Basic:

Costs $19 per month.
Create unbranded videos.
Exclusive access to icons.
Starter:

Costs $54 per month.
50M + stock videos and photos.
Customized range of styles and colors.
Video Resolution of 1080 pixels.
Professional:

Costs $149 per month.
Customizable watermarks and fonts.
Stock media library of 500M + photos and videos.
Multitude of brand kits and saved templates.
Enterprise:

Customizable rate quote
Branded templates and access to Lumen5 professional team.
Dedicated to the success of the customers.
My Review:
When I first heard about this AI video generator, I decided to put its community plan to a test. It is my favorite tool out there for content creation because not only does it generate amazing videos but there's very little need to edit them. Moreover, with a diverse pricing range, you can find the option that best suits your needs.
5. Muse.AI
Unlike all the AI text-to-video generators listed above that simply convert text to video, Muse.AI is a comprehensive platform that provides streaming and hosting services as well. It is a modern platform for AI analysis and a unique video search.
Features:
Host, stream, and access your videos from any corner of the world hassle-free.
Based on an intuitive HTML5 player that can be customized with your own logo.
Option to search the video for texts, objects, people, and much more.
Adaptive streaming with 4K support.
Create your own team and manage it as per geographical locations.
Pros:
Set up a free ad service.
Provides streaming and video hosting services.
A dedicated indexing and search tool for videos.
Competitive pricing with a free trial available.
Cons:
The platform focuses more on delivering video content rather than helping you realize your creative ideas. Therefore, you'd probably need to use third-party tools to fully customize your video.
Price details:
The company is currently offering a massive discount on its subscription packs. Here they are:
Visionary:

Costs $5 per month.
Get access to 100GB storage with unlimited embeds.
Basic support.
1 account seat.
4k playback speed.
Venture:

Costs $20 per month
3 account seats and 500 GB storage.
Ability to store any original files.
CTA and advanced customizations.
Enterprise:

Customized price quotation.
Access to all the venture features.
Unlimited account seats.
Priority customer support.
My Review: I bought the Visionary version of this text-to-video generator after looking at its killer price! What I liked is that even the most basic version of the tool does not have any watermarks or ads. Moreover, the customer support team is always on its toes to help you out.
6. Rephrase.AI
If you want to create video content for your brand with a hint of personalization, then you must check out Rephrase. AI. This text-to-video generator can truly help you promote your brand, goods, and services in an engaging manner.
Features:
Create unique videos on a large scale with textual commands.
Customize your video background as per the content requirement.
Pros:
Security feature that helps limit who can view your content and videos.
A plethora of human actors as your content presenter.
Cons:
The model is still in its initial phase of development and has a long way to go in terms of features.
Price details:
The AI software currently works on a credit-based system. Here are the subscription plans available:
Plans for Rephrase Studio:

Starter:

Costs $25 for 10 credit points.
Customer support via Email
Access to 20s stock models and voices.
Video editing suite.
Enterprise:

All features of the starter plan.
Customer support on priority.
API integration for bulk video creation.
Addition of custom actors.
A dedicated manager for your account.
Plans for Rephrased Personalized Videos:

Starter:

Costs $100 for 300 credits and 10 campaigns per month.
Customer support via Email
Access to 20s stock models and voices.
Customized landing page.
CRM integration.
Expert:

Costs $500 for 2000 credits and 50 campaigns per month.
All features of the starter plan.
Automatable workflows
Addition of custom actors.
Embeddable landing page option.
Enterprise:

Contact the company for a quotation.
Creative support for video content creation.
Customization of sales pages
Addition of custom actors.
API integration
My Review:
Without a shadow of a doubt, it is clear that the product still needs a lot of improvisations in terms of its features. However, I'm hopeful that the company will work on the feedback of the customers.
7. Veed.io
The next text-to-video AI generator on my lens has a simple user interface that can help you generate high-quality professional videos within just a few minutes. You can use Veed.io as a text-to-video AI generator or use it to edit – crop, cut, and add subtitles to your video, or both!
Features:
The software has a built-in video editor which can be used to crop, cut, and add subtitles to your videos.
No cap on file upload size.
No cap on project creation.
Remove any type of background noise in your videos.
Create a variety of videos including – outro, intro, text to videos, and videos for ads.
Pros:
Offers a free plan that allows you to create and download a 10-minute-long video.
All of the paid plans include a set of video editing features.
There is no limit on the number of projects.
A plethora of video creation templates are available.
Can be used to generate videos for Instagram, YouTube, Facebook, etc.
Cons:
The only con about the software that I could encounter was a glitchy feature for adding subtitles to the audio.
Price details:
There are currently three types of subscriptions available for Veed.io. These are:
Free Plan

A video export length of 10 minutes.
A maximum file upload size of 250 MB.
No cap on the number of projects.
Total storage available = 2 GB.
Video export quality of 720 pixels.
Basic Plan

Costs $12 per month.
No limit on file upload size.
No cap on the number of projects.
Total storage available = 20 GB.
Video export quality of 1080 pixels.
Pro Plan

Costs $24 per month.
No limit on file upload size.
No cap on the number of projects available.
Total storage available = 100 GB
Video export quality of 4K resolution.
My Review:
Even though I am a content creator, my video editing skills aren't that great. I took up the free plan of this video generator to test out its video editing options, and I can't stop raving about it enough!
8. Designs.AI
This is an AI powered video generator platform that can generate interesting videos to make your blog posts look more engaging and interesting. Not just this, you can also generate banners, logos, and much more with this tool.
Features:
No cap on the number of projects and logos that can be created.
No cap on video generation.
Choose from an array of 20,000 video templates.
Get exclusive access to over 170 million images and 10 million clips.
Also, get access to over 50 voices and 500k audio files.
Pros:
Create AI-powered logos.
Create encompassing videos.
Generate brand banners and mock-ups.
You can export your logo in PDF, JPEG, SVG, and PNG.
You can do a voiceover in about 20+ languages.
Cons:
It takes a bit of time for the AI to process the information that you feed it.
Price details:
There are 2 paid subscription plans available for this video generator:
Basic Plan

Costs $29 per month.
No cap on project creation and 1 account user seat.
10 voiceover types.
Access to 10 premium images per month.
Unlimited use of 15 million video clips and images within the tools.
Access to over 20 languages and a full set of premium templates.
No cap on logo and video generation.
You can download the created files in – SVG, JPG, PDF, and PNG format.
Pro Plan

Costs $69 per month.
No limit on projects, video generation, and logo generation.
Exclusive access to over 20 languages, 30 types of voiceovers, and 5 account user seats.
Unlimited use of 15 million video clips and images within the tools.
Access to 15 premium images per month.
Access to premium voiceovers.
An exclusive social media and branding kit.
Ability to download the draft videos.
My Review: I feel that Designs.ai is a great alternative to online graphic designing platforms like Canva. It stands apart from such tools because it doesn't only focus on creating graphics but also offers other options like video makers, social media kits, etc.
9. Synthesia
This AI text-to-video generator utilizes natural language processing to create superior quality videos from textual information. It's a great tool for small businesses who want to create great content on a tight budget!
Features:
AI avatars to present your generated content.
Access voiceovers in over 60 languages.
Follow brand guidelines with dedicated video templates.
Download any closed caption with just a click of the mouse.
Access to over 1M+ brand assets.
Pros:
Creates high-definition videos.
24/7 customer support over live chat.
Select your language, accent, and voice.
Offers customized playlists to add background scores to any video.
Helps you to save your time and money.
Cons:
You cannot use videos with built-in avatars for paid promotions.
Price details:
Personal

Costs $30 per month.
Get access to 10 credits per month to generate video from the text.
Use over 60+ languages, 59+ templates, 65+ built-in and avatars.
Customized backgrounds and background music.
Built-in screen recorded.
Unlimited free stock videos and images.
A paid add-on service of customized avatars.
Corporate

Customized pricing
Includes all the features of a personal plan
Enjoy adding up to 50 slides in every video
Exclusive access to customized avatars, 10+ built-in premium avatars, and premium Shutterstock assets.
Customized background music and fonts.
Priority customer support.
My Review:
I feel that if you're a small organization then you can save a lot of time and money by purchasing the personal plan of this tool. That said, you'll still need to hire a professional to hone the generated videos.
10. Pictory
If you're looking to convert long forms of textual content into crisp and shareable social media videos, then Pictory is the tool that you should go for!
Features:
Create videos from scripts within just a few minutes.
Works with any cloud computing platform.
Great narrative skills.
Can generate videos from lengthy blogs in just a flash.
Excellent editing features using text.
Pros:
Enjoy a consistent social media presence with the help of this tool.
Simple to use interface.
Save time while editing lengthy dialogues or clips.
Transcriptions are a bonus.
Cons:
Can add more languages to create a higher variety of videos,
Price details:
Free Trial Plan

Create up to 3 video projects.
Each project can be 10 minutes long.
Standard

Costs $19 per month.
Enjoy creating up to 30 videos and 10 hours of video transcription per month.
Customizable 3 branded templates.
Video resolution of 720 pixels and 5000+ music tracks.
25+ AI voices.
A 1-hour video upload length.
Premium

Costs $39 per month.
Generate up to 60 videos and 20 hours of video transcription every month.
Customizable 10 branded templates.
A 3-hour video upload length.
Option to create both 1080 pixels and 720-pixel resolution videos.
42 AI voiceovers.
Enterprise

Customized pricing
Customized video generation, transcription, and upload time.
Customized aspect ratios with a maximum resolution of 4K
42 AI voiceovers and access to 15,000 musical tracks.
Branded outro and intro.
Hootsuite integration.
Payments based on invoices.
A dedicated manager.
My Review:
I tried the free version of this video generator for my YouTube channel and loved the AI voiceovers personally. If you're looking not just for a video generator but a comprehensive content generator, then this is the tool for you!
Conclusion: My Recommended AI Text To Video Creation Software 
Every AI text-to-video generator included in this list has its own set of unique features and use cases. I believe that this list has an AI video generator for every user preference out there! Here are my top recommendations based on your requirements:
Best for YouTubers and social media content creators: Pictory
Best for small organizations: Synthesia
Best for blog post writers: Lumen5
Best budget-friendly option for businesses: Veed.io
Best overall software: InVideo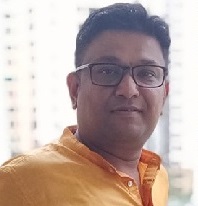 Seasoned Professional with 15 years of experience in Sales and Marketing. Entrepreneur, Consultant and Blogger helping people earn through jobs and blogging. Experienced Hosting Reviewer who likes to collect detailed info about existing players and share it with my audience. Previously worked with leading Banks and Telecom Companies.
I completed my Masters in Management with specialization in Finance and Marketing.
Visit our Hosting Review and Blogging Guide for more interesting articles.