Are you looking for Article Forge Review? And planning to purchase this writing tool subscription & services?
Then this article may be helpful for you as I have shared my experience of using Article Forge 3.0 with you.
This article is a complete review of the Article Forge content writing system, which provides you with tons of options and features that are reliable. We have also discussed Article Forge pricing.
In this Article Forge 3.0 Review, You will get:
Complete information about Article Forge Plans
Pricing of Article Forge 3.0
How to signup for free trial
How to use Article Forge
List of key features
Pros and Cons of Article Forge 3.0
Customer Reviews
Support
As a customer, you must evaluate all of the points above before purchasing any of its plans.
I am also sharing my point of view basis my personal observation during the trial period.
Learn about the features, pricing, pros, and cons of this AI writing tool.
Article Forge Review Summary
Before moving ahead let us give you a rapid introduction of Article Forge with the help of a summary table below.
| | |
| --- | --- |
| Name | Article Forge 3.0 |
| Work as | AI Content Writing & Text Generating Tool |
| Plans | Standard and Unlimited Plan |
| Pricing | Starting From $ 27/ month |
| Money Back Policy | 30- Days 100% money-back guarantee. |
| Free Trial | 5- Days Free Trial |
This is showing a small intro of this product, you have surely got a small description idea about today's review.
Now let's move ahead with the overview of the Article Forge with its plans, pricing, and features.
---
What is Article Forge 3.0?
What is Article Forge? It is an AI-based writing and content generation tool. It uses Artificial intelligence to perform all the tasks, like analysis, scanning the topics, and regenerating that content uniquely.
It is a single Ai-based system for making a huge quantity of good content just in 60 seconds.
You just need to give your title or keyword and it automatically writes for you in less than 1 minute or for long articles it takes 1 to 2 minutes.
That's so cool, like getting all the benefits in a single application or software. And the most important thing is this tool is very simple to use on your device.
Basically, it digs out data from the web and then observes that content and writes it uniquely using paras and different words.
Article Forge provides you with paid as well as free trials and money-back policies.
You can log in and use it for free for some days or you can pay for a particular plan for 30 days, and if you still don't understand its service then cancel it within 30-days and get your 100% money back without spending any cancellation fee.
Can any AI writing tool replace human writers completely?
The answer is simple, no AI tool is as perfect as a human writer but can surely assist. These AI tools helps in brainstorming, speeding up the task and thus saving 80% of your time.
I strongly recommend manual intervention, proofreading and editing to make it perfect.
Let's have a look at its plans and pricing.
---
Article Forge Pricing and Plans Details
Article Forge provides two plans. Let us understand the plans and Article Forge pricing:
Standard plan: Standard plan provides you 250K words per month with two billing options monthly and yearly.
The unlimited plan: Unlimited plan provides you unlimited words per month with two billing modes monthly & yearly.
Let's better understand the pricing with the help of the table below:
Standard Plan
Unlimited Plan
Monthly Billed (billed monthly)
$57/ mo
cost $684 yearly
$117 / mo
costs $1404 yearly
Yearly Billed (billed annually)
$27/ mo
pay $324 yearly
$57/ mo
pay $684 yearly
Article Forge pricing is simple and straightforward that starts with $57. Currently, you get 6 months free with annual subscription, which means approx 50% discount.
Each plan with both the billing modes offers you several benefits like:
Powerful tools and writer fully automatic based on Artificial Intelligence.
Original and plagiarism-free content that you can check with Copyscape.
You get bulk article generations
Automatically blog posts with API access.
Article Forge delivers you revolutionary content with the latest & updated writing process.
---
Article Forge Free Trial or Money Back Policy
Do you get a free trial to test Article Forge? Yes, Article Forge offers you a 5 day free trial, that you can use without paying any money for 5 days. In case you don't like their service then cancel that within 5 days.
Apart from a free trial you also get a money-back policy here, Article Forge offers you a 30-Day No-Risk Money Back Guarantee.
I think this is the perfect way for you to test this tool. Try for 30-days and in case you are not satisfied then instantly within this time period get your all money back without any cancellation fee.
Now, let's move to the features and benefits, it is offering you.
---
How Article Forge Works?
Article Forge basically works on three steps, or I can say you get your content written ready just in three steps-
Enter your keyword: Give your title or keyword, sub-keywords, describe your article length, and a small description about your requirements related to the article in the Article Forge System.
Wait for a minute: After giving out all the requirements to the system you just have to wait for 60 seconds, it must be preparing high-quality fully unique content for you.
Get the Result: Finally, you have got you finished the writing part, you are ready to post that.
Just in easy three steps, you are ready to go with your written part completed now you can implement that by editing or using it as it delivers to you.
---
Features of Article Forge
Here I have brought you some features of Article Forge-
Article Forge is an AI tool so it is surely trained by experts, you just need to provide it with a keyword phrase and it gives out a unique, relevant, high-quality article that is free of spelling & grammar errors. 
For grammar, we also have the best tools to check grammar for free. You can avail deals like Grammarly education discount and Grammarly coupon codes.
Any kind of article you want you will get in 60 seconds and every time you will get different and unique content.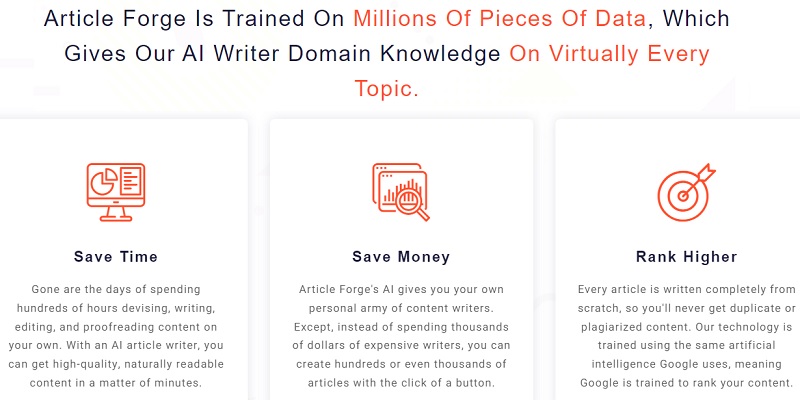 It saves time, which is precious for every writer. It saves money, which is also important, especially for freelancers and individual startups.
As you get plagiarism-free articles, they will easily get ranked on google.
You can specify server locations, customize & control article tone & emotions.
It allows you to generate long-tail content and long-form content.
This tool automatically adds relevant titles, headings, videos, images, and links to make your blog more useful and informative.
Article Forge writes in seven foreign languages.
---
How to SignUp for a Free Trial in Article Forge?
To use the free trial you need to log in or sign up. Here are the steps you can follow to sign up, if you are a new user and if are already signed up then I have also mentioned some steps for login for you.
Step1: Go to Article Forge, or go through the button below.
Step2: A front page will open, then click on the " start my free trial" button at the bottom of the page.
( Follow these instructions if you are new here, for fresh sign up)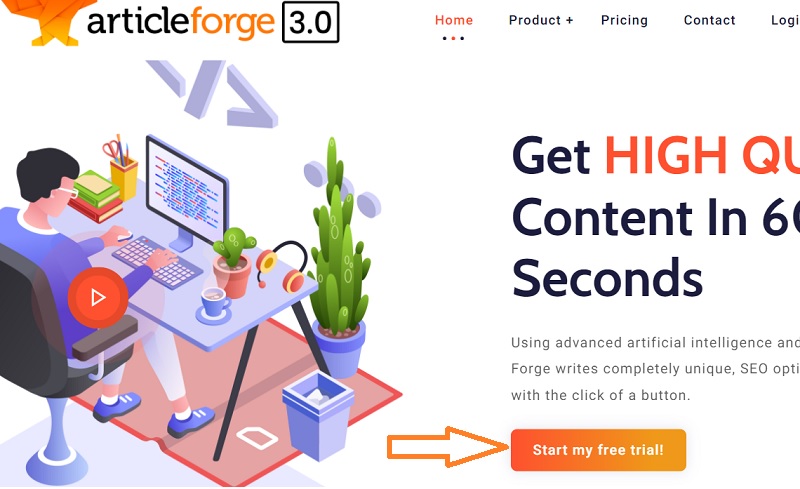 Step3: Then it will ask you about the plan, for which plan you want to take the trial version. Select your plan and click on the "Start my free trial" button.

Step4: Then you will get a sign-up form, with blank options for filling out your details, and generating a password.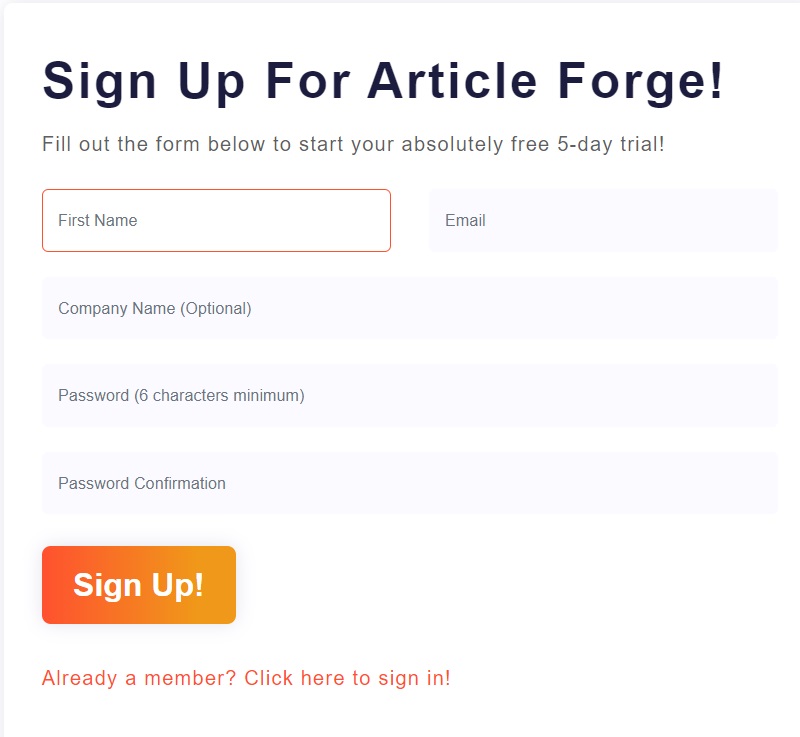 Step5: Fill in the required details in the form and click the "sign up!" button.
You have signed up successfully now you have your email id and password that you can use for login anytime.
OR
Follow these steps to directly log in:
Step6: If you are already a customer then, go to Article Forge and directly click on the log-in option.
Step7: A login form will appear, fill up the email id and password and click the " let me in" button.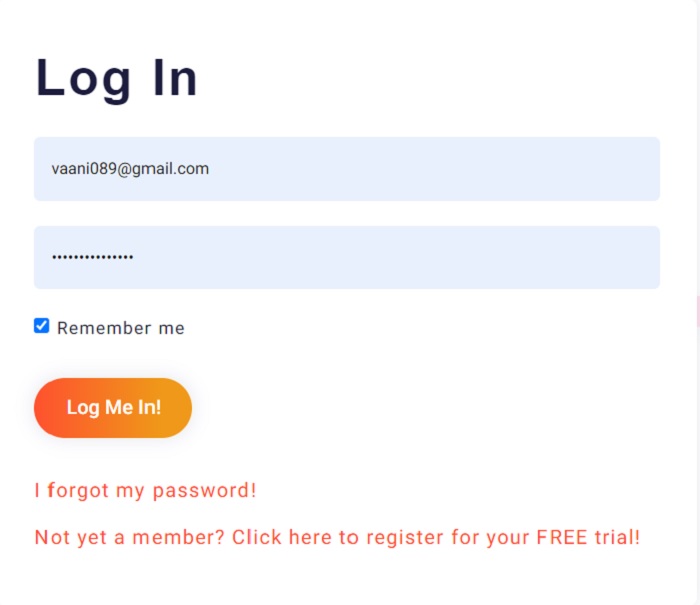 You are successfully logged in and it will show you a welcome screen.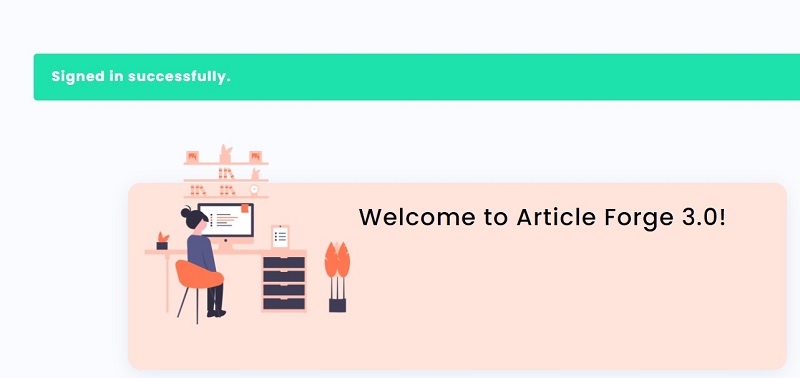 Now you can easily use the Article forge for creating your content.
---
How to Create Content Using Article Forge?
After logging in, now it's time to test this tool. But you have to provide your credit card details for its free trial,
Step 1: Select the "new article" option from the list, at the side of your screen.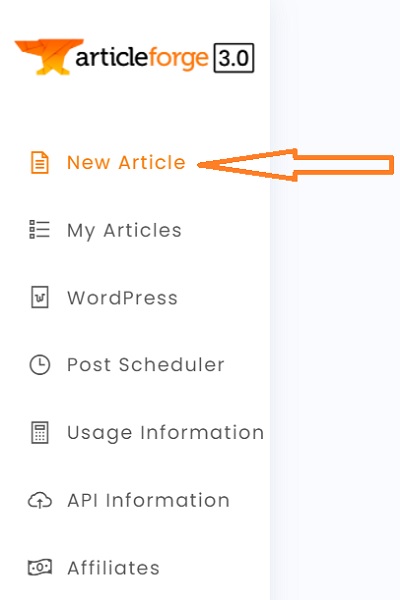 Then, a page will open that will ask you about your keyword, sub-keywords, and select the language in which you want your article to be written.
Step 2: Enter all things here (take an idea from the snapshot below), After that-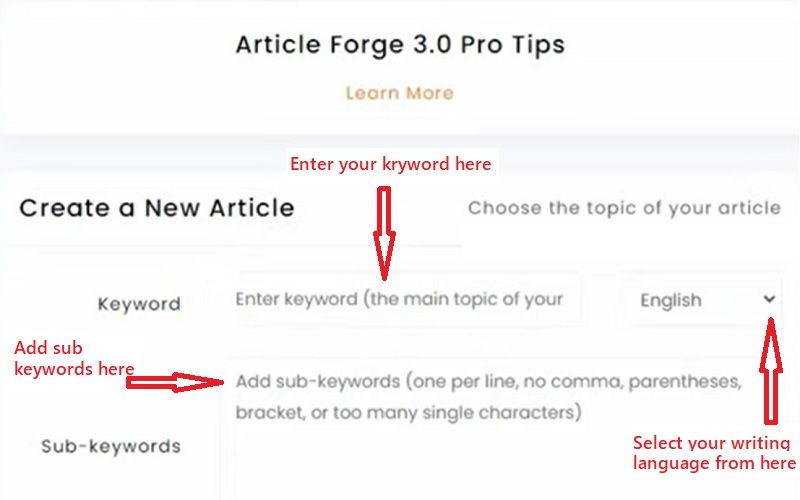 Step 3: You will get options, that you can customize your article's length and other options( have a look at the snapshot below), you can let it add images, titles, videos links, and other options that will help your article to get ranked.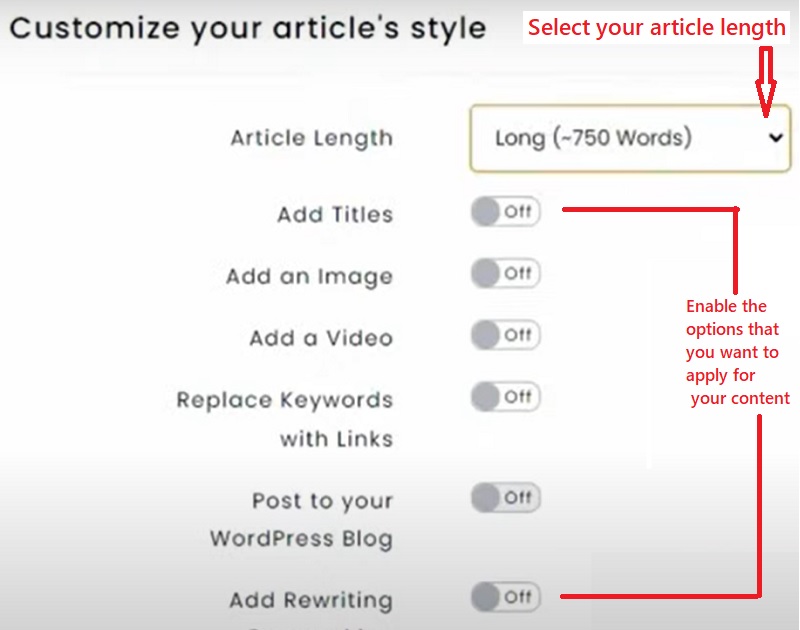 You get options for writing a short article(-250 words), very short(-50 words), medium(-500 words) and long articles(-750 words).
Click on the button below that says "Create new article", below your screen.
Step 4: Now it will show you the keywords, titles, and article description as a demo or review of your main article.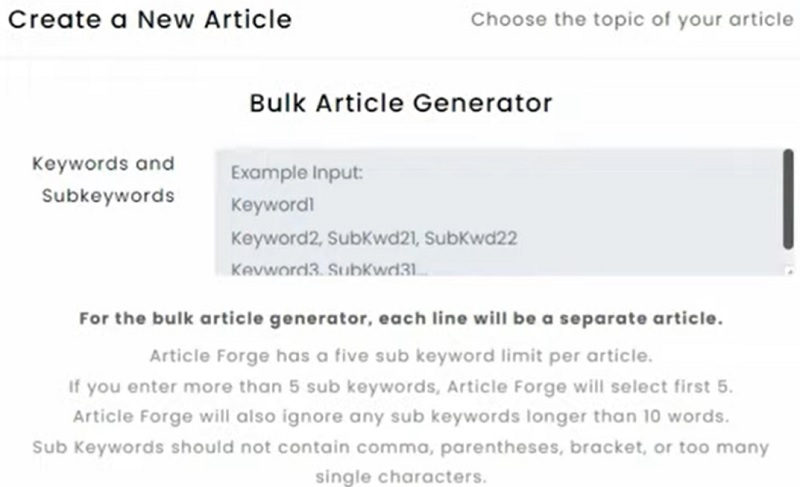 Step 5: After that, you will get the basic info of your article like word count, and article count.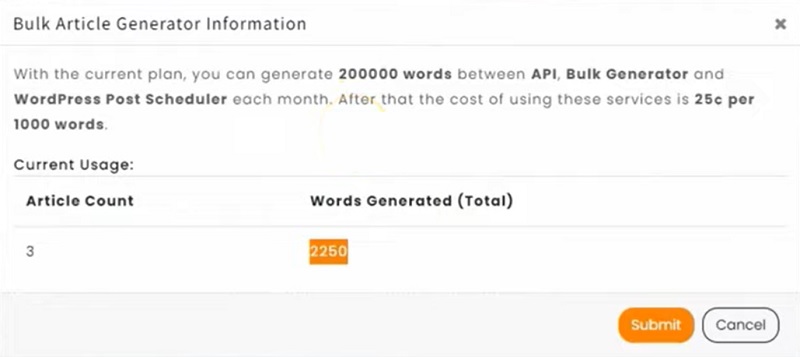 Step 6: Then it's time for processing your article, this is the time when this system is generating.
After giving out all the requirements to the system you just have to wait for 60 seconds, it must be preparing high-quality fully unique content for you.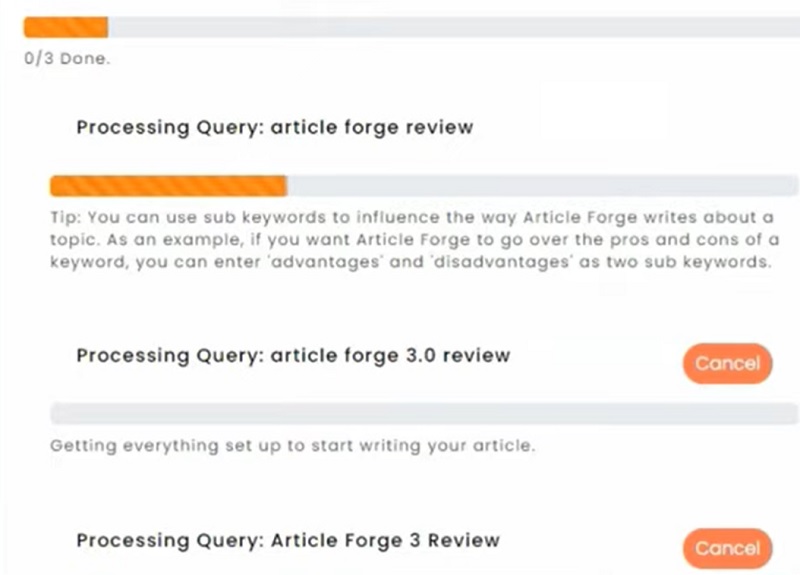 Step 7: And here is your final article with words and with the required images.
Finally, you got your finished article with each and every para 100% original and unique with zero errors. You can edit that or can use it as it is.
---
Who should use Article Forge?
Article Forge is an Ai automatic writing and content generation tool that automates and makes content writing 10 times faster than a human writer.
It also increases the quantity and delivers quality content with full originality.
So the question arises who can use this or the professions that will find this tool useful.
As this is an AI writing tool anyone can use this person or profession related to writing jobs.
Digital Marketing Agencies– Digital marketers or marketing agencies who deliver digital services for different clients, should use Article Forge as it generates content according to users' desire, it gives almost completed written part, they can edit or correct later by themself.
Freelancers– Freelancers and startups can use this tool for generating high-quality content while saving lots of time and most importantly money. And if you have a startup both the elements are most important for you.
Bloggers- This tool is a boon for bloggers and content writers, it also improves writing ideas and skills as a blogger, you can also get ideas about keywords interlinkages and ranking keywords.
Content Creators- It is easy for content creators to create original and error-free content through AI. AI tools also suggest them ranking titles that are fully SEO optimized and popular.
I've mentioned some professions and persons above but anyone can use this tool whose job is writing or who is associated with the writing profession like Writers, Youtubers, software agencies, novel & story writers.
These kinds of tools are available for making content writing and text generation easy, reliable, and affordable.
---
Why Article Forge?
We have gone through the steps so that you can easily sign up or login into Article Forge, but are you curious about why You should go for or use this tool?
AI writing tools allow the user to create content without actually typing anything. These writing tools can be used for various purposes, including essay-writing, articles, and even blog posts.
So, with my personal experience, I have created this review, and I will explain to you this in detail.
Well, there are thousands of reasons to use Article Forge, but I have mentioned some common benefits you are getting here.
Have a look at them-
It delivers high-quality content in just one minute. As it uses advanced Artificial Intelligence automation technology and deep learning, it generates 100% unique and original, SEO-optimized articles.
It saves lots of time and money and also human efforts and gives out the result with the same quality as a human mind.
You can write content for any type of article and I also found that it also increases productivity, like if you are writing an article in 24 hours or more with a human writer, here you can generate an article 10 times faster, and get content written in 60 seconds and take rest half-hour for editing and making it a finished product.
Article Forge provides you fully SEO optimized content, it filters the quality and relevancy of content.
You can generate articles for multiple fields that include- marketing articles, entertainment articles, local articles (as news articles and headlines), health-related articles & finance articles, and many more.
Apart from these reasons, there are hundreds of more, this provides you 100% uniqueness, with reliability and 0 duplicate content.
You also get a free trial, if you are not satisfied with the free trial then try it for a month with the 1- month money-back policy then decide your next step.
---
Pros & Cons
Now, let's have an eye on the advantages and disadvantages of Article Forge.
This article is a full review of the Article Forge AI writing tool and it contains all the features and benefits it is providing to customers or writers.
But it has some demerits also, that enable it to fulfill the user's need and fails to make it the best result.
Merits
Demerits
You get content in minutes.
It has a limit of a maximum of 750 words.
Generate unlimited articles at a time.
It can take more time for writing long-form content.
Create any type of article including marketing, health, and finance-related articles.
For using it's a free trial you have to provide the credit card details.
You get 100% unique and plagiarism-free content.
Sometimes it fails to generate the related content according to the title.
Fully SEO optimized content with high-ranking keywords.
It gives you the content that is already inserted in it or the popular topics and keywords.
It might find difficult in finding any new or latest topic.
It saves lots of time and money and gives you results of the same quality as a human mind.
You can add images, videos, links, replace keywords, and many other options.
---
Article Forge Alternative Tools & Softwares
Article Forge is not the only AI writer in the market but there are many more AI tools that work just like Article Forge and have similar features like this.
Also, these tools may be somehow more advanced than Article Forge. Here I have brought the top 3 alternatives of Article Forge.
1. Jarvis or Jasper AI Writing Tool
Jarvis or Jasper is one of the best Ai writing tools, it also generates and writes content and texts. It is not just for writing blogs, also provides other writings like headlines, descriptions, small or big posts, social media captions and stories, poems, novels, and frictions.
Know more about Jarvis or Jasper tool, with plans- pricing, features.
Also go through Jasper's review with Jarvis AI review: Is This Copywriting Assistant Worth Your Money.
2. Shortly AI Writing Tool
ShortlyAI is an AI writing assistant that makes your writing easy, it helps you to give lives to your imaginations and ideas. Shortly also improves your writing and observing skills. You get powerful commands with Shortly AI.
Want to know about more such tools then you can visit: Best AI writer tools & content generators.
3. Rytr AI Writing Tool

Rytr AI is an AI tool designed to write emails, blogs, youtube intros & descriptions, facebooks ads, landing pages, product descriptions, story plots, taglines & headlines, and interview questions and answers.
We have also brought a detailed Rytr review for you, to know more about this you can visit that.
---
Article Forge Reviews
Article Forge G2 reviews
Article Forge is rated 3.5 stars out of 5 on G2.
Article Forge is rated 4 stars out of 5 on Capterra.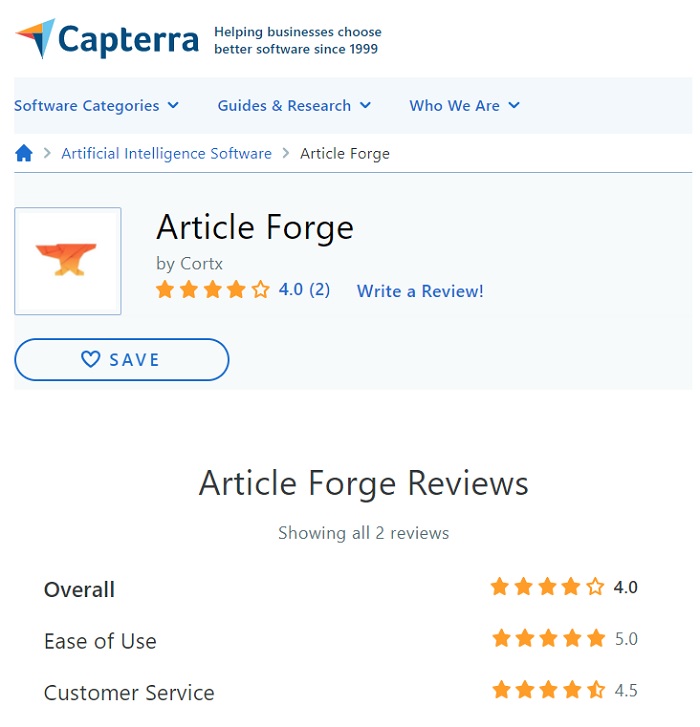 ---
Article Forge Customer Support
You also get a 24×7 active customer support team for solving your queries and questions related to their products, plans, and free trials.
You get the contact us form, fill that in by providing the details like your mail-id and enter your query there and send your message and get a reply within minutes.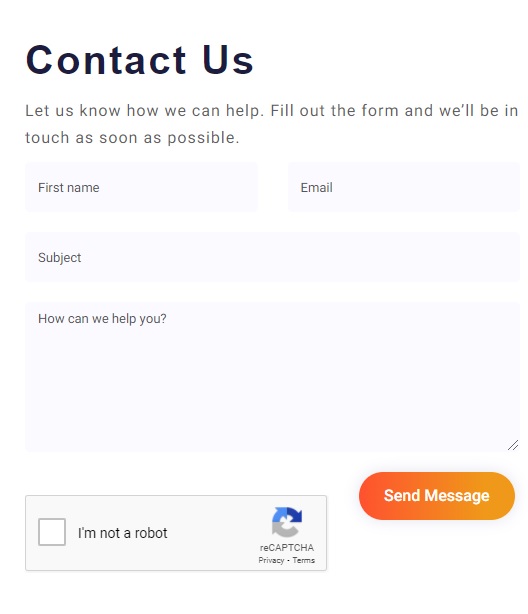 There is only this way you can communicate with them about your query and problems regarding their services.
---
FAQs on Article Forge Review
Is Article Forge free?
Article Forge is an AI writing assistant tool, it is not really free but you get free trials and a money-back policy with each plan subscription.
Is the Article Forge reliable or fully secure?
Yes, you can use it worry-free, it is fully secure and your data will remain safe with it.
Final Words: Is Article Forge 3.0 Recommended?
We have reached to end of this article, so you have surely gone through it. In this article, here I have reviewed the whole Article Forge software or writing assistant Ai tool.
I have covered the overview, plans, pricing, and features of article forge with pros & cons. With my experience, I can be sure that you won't regret using this AI tool.
As per my understanding, Article Forge is good but Jasper AI is better and more accurate. If you need perfection, go with Jasper or Jarvis.
It is better, more reliable, and more affordable than any regular AI writing tool.
Our Latest Articles on AI tools: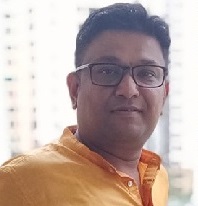 Seasoned Professional with 15 years of experience in Sales and Marketing. Entrepreneur, Consultant and Blogger helping people earn through jobs and blogging. Experienced Hosting Reviewer who likes to collect detailed info about existing players and share it with my audience. Previously worked with leading Banks and Telecom Companies.
I completed my Masters in Management with specialization in Finance and Marketing.
Visit our Hosting Review and Blogging Guide for more interesting articles.