Want to learn about Rytr, a new-age AI writing tool? Great, we have a detailed Rytr Review with the demo (we tested this AI tool for over 15 months).
We used this product ourselves and created 8-10 different versions of content and after a detailed study, we created this review of Rytr for you all.
In this review of the Rytr AI writing tool, we will walk you through our experience, the type of content that you can create, the pros and cons, plans, pricing, and also the technology behind it.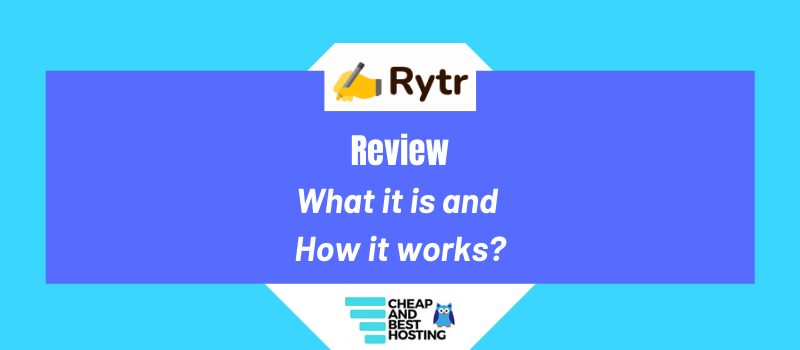 Rytr Review 2023
Our findings after genuinely using this AI writing tool.
Grammar and Plagiarism-Free
Rytr Review Summary
We used Rytr AI for almost 15 months for our various writing projects. We initially bought their $9 plans and later upgraded to $29. As per our experience, Rytr is one of the best AI tools suitable to write engaging, informative, and creative content. Be it a short or a long-form, Rytr writes it all.
The output is plagiarism-free and without grammatical mistakes. They have a forever-free plan too to test drive.
My Experience with Rytr (Live Demo)
To create this Rytr.Me review, we used various features and created several content. My experience with Rytr was pretty convincing.
See, a human writer also makes mistakes, still, the cost is high. If a human writer has to write 2000 words, it would easily take two days.
But using the AI tool by Rytr was cost and time-saving both. Yes, a few errors were there, but I was able to tweak them quickly.
After all, you can not publish content without proofreading, be it content written by AI or humans.
See the output that I have got by Rytr.
1st snapshot is of Blog Idea and Outline. I decided to use Rytr.Me to create an outline and idea on the topic "Intermittent Fasting Benefits".
Within just 15-20 seconds, I got various Ideas including the first heading "What is Intermittent Fasting".
As the tool helped me to brainstorm a few heading ideas, I decided to expand each of them one by one.
I used Blog Section Writing. This use case helps you create detailed paragraphs.
For this, I entered the headline along with a few keywords that I wanted and the output was amazing. 100+ words and that too in a few seconds.
Isn't it amazing?
What Rytr Can Do For You?
While the list of use cases is long, in this unbiased Rytr Review, we will try to find the usability of Rytr in a nutshell.
New Content or Copy Writing
Rytr is AI-based content writing software that serves as the one-stop shop for short as well as long blog posts.
Short content like SEO titles, AIDA/PAS marketing frameworks, Blog titles, Blog outlines, emails, questions, answers, social media bio, advertisement copies, and a lot more can be written easily.
Long-form content like blogs, books, landing pages, and website content.
Creative content like songs and stories.
Not only this, you can use Rytr for post caption ideas, brand name or product name ideas, and even a product description that attracts a visitor.
So, if you are looking forward to creating new content of any type, Rytr is worth trying.
Rephrasing or Rewrite
If you want to rephrase or rewrite existing content, Rytr has a dedicated one-click solution for that.
You can see the "Rephrase" button below, just select a paragraph and click that, your job is done.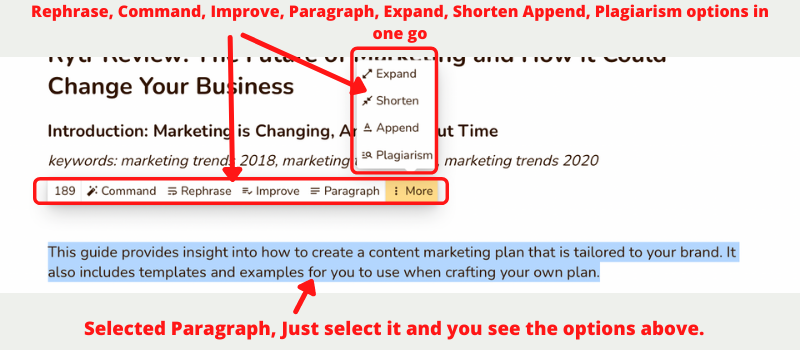 Shorten Existing Content
Want to shorten existing content? This is mostly required by students. You just need to paste the content that you want to shorten, the word length will be reduced.
The best part is that the meaning of the entire paragraph will still be the same.
Append or Expand Existing Content
Again, content that you have written and you want it to be appended or expanded, again a one-click task here.
Maybe sometimes due to writer's block, you are out of words, but Rytr can be used in such scenarios.
One more command "Paragraph" as you can see in the image above helps you to write a complete paragraph for the heading you have selected.
Improve Existing Content (Grammar etc)
Can you see the "Improve" option above? This is required when you created content but you are somehow not very convinced.
It also acts as a Grammarly alternative because if you want to improve the grammar part, the "Improve" option will make it happen.
Let us discuss what else can be done using Rytr.Me below.
What All Rytr.Me Can Write?
Do you know the real-life scenarios where the Rytr AI writing tool can be of use?
We found it useful and a versatile tool. Here is our finding:
Rytr can write full-length blogs (Long Form)
Write Landing Page text that is creative and converting.
Create SEO and Blog Titles
Create Business or Brand name ideas
Supports AIDA and PAS copywriting frameworks
AD copies for FB, Twitter, Google, and even LinkedIn
Create Job Descriptions and even Interview Questions
Quora Answers (Can find answers to most of the questions)
Story and Song (I am yet to try but sounds amazing)
Text Editing (Shorten, Rephrase, Append or Expand existing content)
YouTube channel description, video descriptions, headings etc.
Create Emails and replies
Others like Social bio, Call to action, etc.
Create SMS templates
As you can see above, the list is really long.
If you are a marketer, a copywriter, a content creator, or even a lyricist, this tool helps in brainstorming.
My honest finding is that Rytr.Me write at least 80% of the content without any mistakes. I had to tweak it manually for a few corrections, but still, Rytr saved a lot of time.
How to use Rytr? See a detailed video below to see Rytr AI writing tool in action. This will help you understand how exactly the Rytr works.
Key Benefits of Rytr That We Noticed Personally
Doesn't matter the type of content, be it long or short, a headline or a complete story, Rytr helps you with it.
Let us know and discuss how Rytr is beneficial for writers.
Helpful in Brainstorming
If you are doing topic research, you need to read multiple articles in 2023. Still, to make your content unique, you need to brainstorm something that is not there in top-ranking articles.
You want to brainstorm headings, subheadings, what keywords need to be included, etc.
Now, this is the biggest benefit of Rytr that not only in writing, in fact, "What to write" is also figured out by Rytr.
You can brainstorm blog post ideas, titles, paragraphs, keywords to be included, product descriptions, SEO meta titles, and descriptions.
In short, it is also helpful in creating the content structure.
Creative and Engaging
The content (short or long) written by Rytr is readable, creative, and also engaging. While reading it, you will never feel like written by software.
The output created by Rytr sounds exactly like a human writer.
You can also select the tone of output, like candid, appreciative, formal, funny, informative, factual, urgent, etc.
Time-Saving
The first draft of 2000 words article is practically completed in 30 minutes. We changed a few lines, improved, expanded, and even deleted, all this took another hour.
When the final output was ready, we added a few internal links, external links, images, and a few manual paragraphs.
Bingo, the entire article was proofread, edited, and published within 3 hours. Look at the speed, we didn't rely only on AI written content, we did a manual addition to it as well.
We recommend you to do that, take AI as your assistant, and use a little manual intervention too.
Our team of writers takes approx a day (sometimes two days) to write this with proper research and final editing.
A 10 hours job we did in only 3 hours. If you have content that doesn't require any human intervention, manual editing, or addition, Rytr can write it for you in just 15-20 minutes.
Cost Saving
Time = Money and this is a no-brainer!
When the output increases, your cost decreases. A writer all alone completes 2000 words article in a day (this is the best speed). With the help of AI, the same writer can write 3-4 articles per day.
Same salary and 4 times output, all this simply results in saving the cost.
Who Should Use Rytr AI Writing Tool?
As we discussed above, Rytr is immensely useful for:
Bloggers
SEOs
AD experts or copywriters
Video or Script makers, including YouTubers
Professional content writing agencies
Job consultants (create JD, emailers, and prepare interview questions)
Lyricists and story writers (It can write stories, poems, and songs)
Anything and everything that involves writing, this AI writing tool, known as Rytr can be of use.
Rytr.Me Plans & Pricing Review: Is It Worth The Cost?
We discussed the use case and benefits above. Now we will walk you through the plans and pricing of Rytr.
Rytr or Rytr.ME offers three plans:
Free
Saver
Unlimited
Free Plan
Free plan is just to test the product. This plan offers you 10000 characters per month which are sufficient to write a few headings or paragraphs (may discontinue in 2023).
Even in the free plan, you get access to all the features like:
30 plus use case
30+ languages
Built-in plagiarism checker
Access to the premium community.
If you are a newbie and want to test this product, get the Rytr free trial now.
Free Plan as the name suggests, comes forever free and gives access to all the features. If you are a writer, 10000 characters will be of no use to you. I suggest you to upgrade once you are convinced.
Saver Plan
This plan is better as compared to Free. This plan offers you 50000 characters per month. In this plan you get:
Everything in the free plan
50k characters
Custom use case (create your own)
The pricing of Rytr's Saver plan is really worth every single penny. Saver plan makes Rytr one of the most affordable AI writing tools ever.
Saver is priced at $9 per month and $90 in annual mode (2 months free when purchased annually).
Someone looking to create a few sets of content or maybe short-form content can try this product.
Unlimited Plan
Are you an agency or someone who needs unlimited words? If yes, this plan is for you.
An unlimited plan provides you with unlimited writing capacity (No Cap).
Here is what you get with Rytr Unlimited Plan.
Everything in the Saver plan
Unlimited words
Dedicated account manager
Priority email or chat support
Unlimited is priced at $29 per month and $290 in annual mode (again, get 2 months' subscription-free, pay for 10 months, use for 12 months).
Which Rytr plan do we recommend?
We create approx 4k to 6k word content every day. If your requirement is massive, choose Unlimited. If you are a beginner with few content orders a month, start with Saver.
On What Technology Does Rytr Work?
Wondering how Rytr creates content for you? In this Rytr review, we have shared the secret behind automated writing.
So, the answer is simple. Rytr is backed by date's most powerful technology known as GPT-3. Developed by Open.AI, this technology is capable of creating and improving on its own.
GPT 3 is a 175-billion parameter deep learning model that can predict the next word and thus can write human-like content that is usually plagiarism-free.
Is The Content Written By Rytr Plagiarism Free?
We found a few words matching with other content, but it just took a minute to correct that.
Rytr is also equipped with an inbuilt plagiarism checker, Copyscape. Like Grammarly plagiarism checker, Copyscape is a renowned tool to find duplicate content.
How to check the plagiarism using Rytr?
Just select the output, and you will see a ribbon emerging on the top. Click on three vertical dots and click "plagiarism".
Check this image tutorial to understand how you can use an inbuilt plagiarism checker.
The first arrow will show you the exact place where there is an option to check the plagiarism. The second arrow is showing the place where the result is displayed.
In our case, the selected output was plagiarism-free. Please note that this facility again helps in saving the additional cost of purchasing a plagiarism checker.
Even in the case of content written by a human writer, we run it through Copyscape before accepting it. In case of Rytr, all this was done from the dashboard itself and at a cost that is already included.
How Many Languages Does Rytr.Me Supports?
As of today, Rytr can write content in 34 languages and it is increasing every month.
Arabica
Chinese
Czech
Danish
Dutch
English
Finnish
French
German
Greek
Hebrew
Hindi
Indonesian
Italian
Japanese
Korean
Norwegian
Polish
Portuguese
Romanian
Russian
Spanish
Swedish
Thai, etc
In the list of the top 24 languages shared above, apart from that, there are 10 more, making it 34 in totality.
What does this mean? It means, you may get a client from anywhere in the world, and even if you do not know a particular language, still, Rytr can help you start with it.
You can go global with this language feature.
Top 10 Reasons To Choose Rytr: The Pros
We will now share the 10 reasons to pick Rytr as your AI writing assistant. These are basically the merits of Rytr.
1. Clean UI and UX that is easy to understand and use. The interface is beginner-friendly and even a first-timer can operate it.
2. Approx 34 languages that are supported by Rytr today, help you to serve your global client list. If you are on platforms like Fiverr, you may get content writing assignments from anywhere in the world.
3. Comes with a lifetime free plan, you don't need to buy if you are not sure. Signup, try it, and upgrade later.
4. Affordability is another reason to choose Rytr. While other AI writers start at around $25 or above, Rytr starts for just $9.
5. Inbuilt Grammar and Plagiarism checker helps you get the optimized output that need not be checked on any other tool. Everything is built-in and native.
6. SEO-optimized article as it helps you find keywords while creating an outline. Also, you can write SEO titles, and SEO meta descriptions as per the keywords easily.
7. Advanced features like Mobile-friendliness make it awesome and unique. The tool can write for you over the mobile as well.
8. Browser extension is also available to ease your tasks.
9. Community access and customer supports help you get the solution whenever you feel stuck. Community access is available to everyone while chat support is for premium customers.
10. Versatile as it is good for long-form, short-form, and ad copies everything. From marketing frameworks like AIDA or PAS to songs, blogs, and even stories, it can write everything.
Rytr Affiliate Program
Do you know you can also earn from Rytr? Yes, you heard it right. If you have a good audience base then you can recommend Rytr to your audience and you will get a 30% recurring commission lifetime for each user.
To join Rytr's affiliate program: sign up on Rytr ⇒ click on the 'account' button ⇒ select the affiliate section on the left sidebar ⇒ Tap the join the program button ⇒ Sign up again on the Rytr affiliate program.
Rytr Integration
Rytr offers integration with Semrush. You can connect your Semrush account to Rytr through the integration section on the dashboard.
Rytr API
Only a few AI writers offer API (Application Programming Interface) and Rytr is one of them. Basically, API provides you with a medium to integrate Rytr directly into your own app or another platform.
Basically, this feature is meant for developers mainly. But in the case of Rytr's API, you do not need too much coding knowledge, Rytr gives the code of 3 lines that will integrate Rytr into your app or platform.
Improvement Areas: The Cons
Here are a few things that I didn't like about Rytr. These are the improvement areas where the Rytr team is lagging behind.
Team collaboration: You can add your team but they will only get a 5k character limit in a month. Even if you are on an unlimited plan, the team has to pay an extra $19 per seat.
No Lifetime Plan: Although most the AI writing software is not getting away with lifetime plans, still, if you are someone looking at lifetime deals, Rytr is not for you.
Apart from this, you will sometimes notice incorrect or inconsistent output. But that is okay, Rytr is still better than other AI writers that we have tested.
We found Rytr as good as Jasper AI. For professional writing, I would still recommend Jasper over Rytr (if budget is not a constraint).
FAQs About Rytr
There are various queries regarding Rytr on social media that users are confused about. Don't worry, we will answer them now.
Is Rytr a rephrasing tool?
Rytr is an all-in-one AI-based content creation tool that basically generates content on its own. It is, however, equipped with a few commands like "Rephrase", "Shorten" and "Expand" that can work like a rephrasing tool.
Does Rytr plagiarize?
No, Rytr comes with the best plagiarism checker "Copyscape" which ensures the output is unique. You can also manually check the plagiarism in the "Dashboard" section.
Is Rytr free to use?
Yes, currently, you get a lifetime deal by Rytr, in which you get 5000 characters free every month. You can anytime upgrade or degrade your plans.
Rytr.Me Alternatives
Rytr is a great AI writing tool, but we still have more options for you.
Jasper AI, Jasper is priced at $29 (Get Trial of Jasper AI now).
ShortlyAI, Try ShortlyAI free.
Both these options are great content writing tools that will never disappoint you, we have tested them.
We also recommend you to read Rytr vs Jasper Vs Writesonic as it helps you understand the top AI tools and their features.
Final Words: Rytr AI Review 2023
So, finally, it is clear that AI tool like Rytr is creative, cost-effective, fast, and helpful in any kind of content that you want.
We also have gathered the Rytr user reviews on various popular platforms, see the snapshot below.

The Rytr customer reviews are impressive:
4.9/5 stars on Trustpilot,
4.9/5 stars on G2, and
4.9/5 on Appsumo.
Do we recommend Rytr? Yes, The reasons for recommending Rytr are affordable pricing, multiple use cases, great output quality, and the option of multiple languages.
Rytr is also one of the best apps for writers that is capable of writing a book, novels, articles, headings, stories, etc. With Rytr, you can easily create high-quality AI content for websites, scripts for YouTube, Ads, and even social media.
AI writing is the future where automating content will lead you to success. Try Rytr now.
We also recommend other AI tools: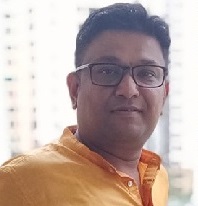 Seasoned Professional with 15 years of experience in Sales and Marketing. Entrepreneur, Consultant and Blogger helping people earn through jobs and blogging. Experienced Hosting Reviewer who likes to collect detailed info about existing players and share it with my audience. Previously worked with leading Banks and Telecom Companies.
I completed my Masters in Management with specialization in Finance and Marketing.
Visit our Hosting Review and Blogging Guide for more interesting articles.