Are you one of those Minecraft addicts who want to play the game with friends?
If yes, then you need a good server to play. Therefore, we have brought the 10 best free Minecraft server hosting for 2023.
Minecraft is a very popular game and for this reason, demand for Minecraft servers is also high hence there are hundreds of hosting companies that offer Minecraft servers. But only some of them provide the specifications which are required to play the game smoothly.
Paid or premium server hosting offers powerful features over free ones. But if you are just starting out playing on a server, then we are sure you will not require that powerful features. Hence free server for Minecraft will be able to manage your needs.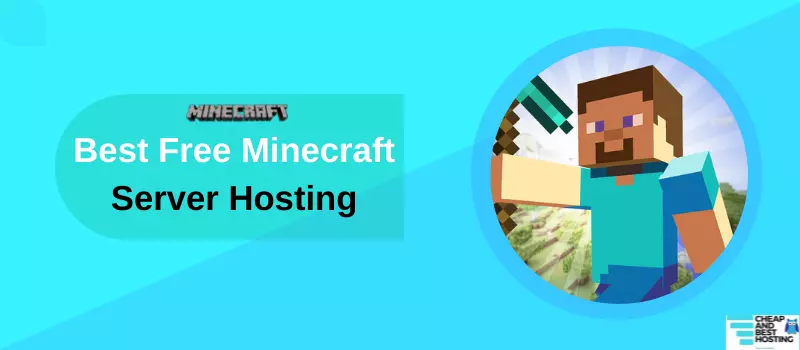 What Is A Minecraft Server?
A Minecraft server allows playing the Minecraft game in multiplayer mode online. The server can be made public or private.
It means players do not need to download the game on their computer, they can play it via a server that may be rented or available for free.
All the controls of the game are available with the host. The host is a computer that has actually downloaded the game on the device and lets other players join and play it online.
---
Top 10 Free Minecraft Server Hosting
Read the 10 best free servers for Minecraft recommended below.
1. ScalaCube
Announcement: All Mods and super fast speed: get G-Portal's 2GB (10% OFF Today), for the Guaranteed best gaming experience.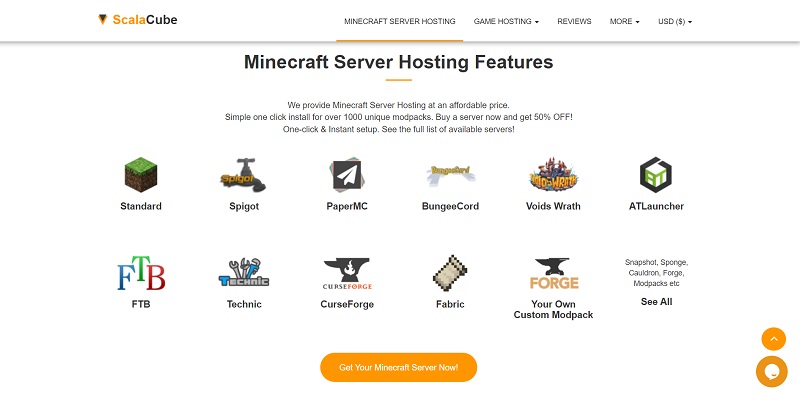 Only looking for free? ScalaCube is a highly reputed Minecraft server hosting provider in the market. It offers free Minecraft server hosting with all the functionalities of a paid server. This server is free forever.
However, the premium plans of Minecraft for more ordered configurations are also available, starting from $2.50 to $96 per month.
Features of free hosting of ScalaCube, Minecraft 6G are discussed below.
Key Features
The free version offers 6 GB RAM and 30 GB SSD storage.
24/7 Uptime which ensures low pings.
If players switch to premium plans, then all the gaming data are automatically transferred to the new server.
Protection against DDoS attacks.
The free plan supports mods and plugins.
No slot limits.
Have servers on various locations that include America, Europe, the United Kingdom, Australia, and Asia.
Free Subdomain and MySQL.
Read our complete review of Scalacube Minecraft hosting.
Before you go for Free, We would like to ask, are you looking at an ultimate gaming experience? Performance is not free, Yes, it's cheap now. Get the deal below.
We recommend G-Portal's 2GB (10% OFF Today) super-fast server for an actual gaming experience.
Bonus:
---
2. Minefort
Minefort lets you create a server for Minecraft within a matter of a few seconds that too for free. It only requires the player to register and then he can easily get access to the dashboard of the Minefort server which is very user-friendly.
Plans of Minefort server come with the credit system. The free plan comes with zero credit for getting any additional specifications.
Let us have a look at the features of Minefort's free server hosting.
Key Features
The free version offers 1 GB RAM.
Allows a maximum of 10 players.
The server can be easily upgraded to premium plans anytime.
Provides full access to FTP.
All servers are hosted on SSD servers that ensure lightning-fast speed.
The introduction of '/start serverName command' let's start your favorite server automatically without waiting for its owner.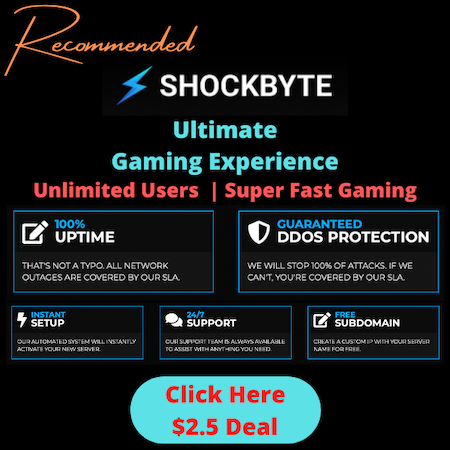 Don't miss out on the real fun, get the best 24×7 service, instant setup, and unlimited users Choose the deal and click above.
---
Are you a Project Zomboid player? If yes, then visit: 10 Best Project Zomboid Dedicated Server Hosting For Everyone.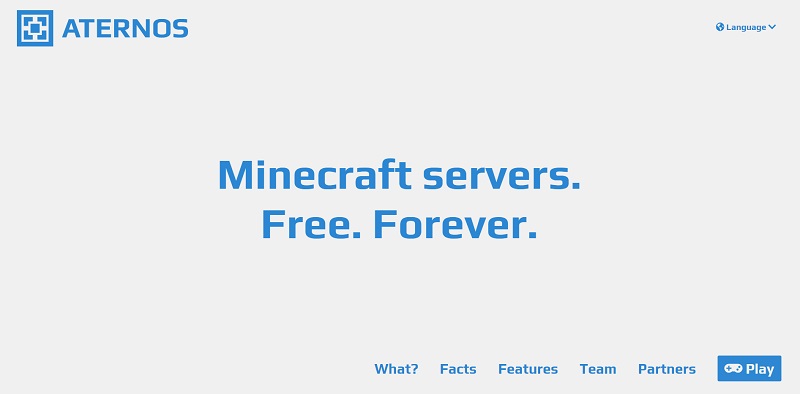 Aternos is the most popular and reliable Minecraft server hosting provider among all the listed ones in this article. It gives a lifetime free server for Minecraft.
Aternos has no hidden charges and neither does it have any paid plans. It gives everything for free that you get in paid plans of other hosting providers. Aternos gets its revenue from advertisements.
Key Features
Fully customizable servers.
Supports mods and plugins for Minecraft, and even it has preconfigured mod packs also that can be used in the game.
DDoS protection.
Automatic backups.
Allows uploading of all Minecraft worlds.
24/7 customer support.
Allows sharing the access of your server with friends and both can manage it together.
No limitation of slots.
Supports easy drag and drop uploads for Bedrock add-ons and data packs.
It is one of the best Minecraft server hosting with the best stability in free options.
Recommended Deal:
---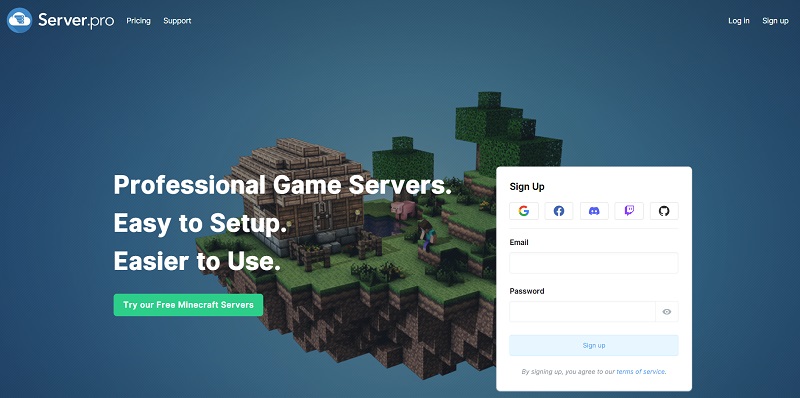 Server Pro is also a renowned Minecraft server hosting company. It has a free server for Minecraft but that has a few limitations which can be eliminated by getting a subscription to premium plans. Paid plans start with 2 GB RAM costing $5 to 12 GB RAM plan costing $40 per month.
The free version lacks some features like multi-admins, daily backups, and MySQL server with root access.
Features of the free plan are mentioned below.
Key Features
9 Global data centers that include Canada, France, Germany, the UK, the US, Poland, Australia, and Singapore.
Offers 1 GB RAM.
5 GB NVMe SSD disk space.
DDoS protection.
Full access to files via both FTP and file manager.
Limit of 10 players.
A maximum of 10 plugins can be installed.
---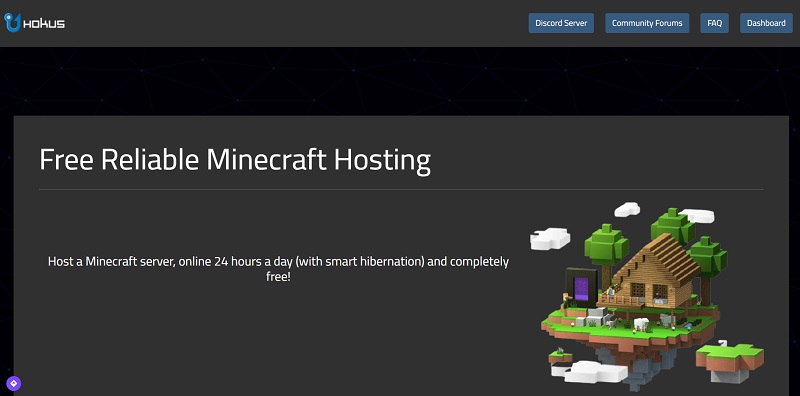 Only a few Minecraft server hosting servers are entirely free and one of them is Hokus. Hokus is quite an underrated server hosting company that remains online 24 hours a day which is rare in free servers.
Hokus is a very new company that started in mid of 2021 with the aim to provide Minecraft servers of premium quality for totally free.
There are very less restrictions on the server of Hokus. Following are the awesome features of Hokus.
Key Features
100% free, forever.
Free of any lags or very low latency.
Uptime of 24 hours a day and has a smart hibernation system.
Experienced and very helpful customer service.
Custom plugins and server JARs.
Uses fast SSDs for storage.
---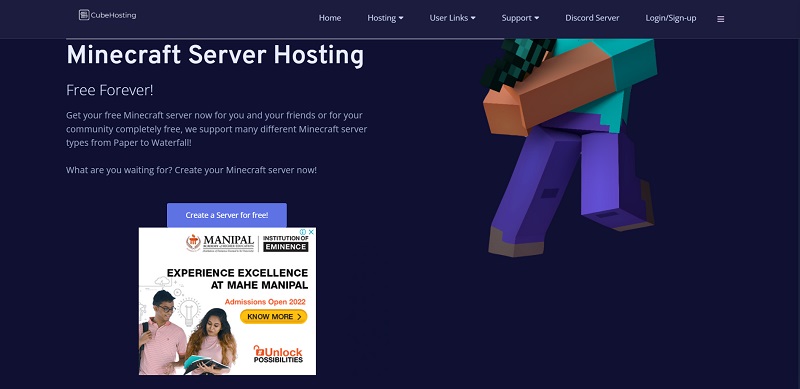 From paper to waterfall, various Minecraft servers are supported in CubeHosting and the best part is, it is completely free, forever.
The free plan is good to start playing with your friends and it takes only a few minutes to create your Minecraft server in CubeHosting.
Also, if you want more advanced features then you can easily upgrade to premium plans which are very affordable.
Features that you get in the free plan are mentioned below.
Key Features
2 GB RAM is available.
SSD storage of 2 GB.
1 subdomain is available for free.
70% CPU is available.
99% server uptime.
Free DDoS protection.
No limits are set on the maximum plugins and the number of slots you can have.
Full FTP access that lets you upload, edit, and delete files without any hassle.
For gamers, we also have various well-researched articles on:
---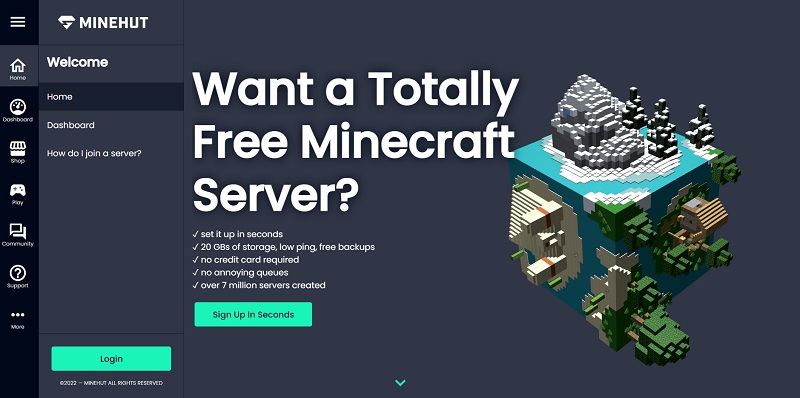 Minehut is a totally free Minecraft server hosting company that gives some of the best features in its free servers.
Minehut is also considered best for beginners who don't know how to create servers. Supports and tutorials are available in Minehut that help you in creating servers within a few minutes of signup.
The servers have in-game credit systems for premium plans. Credits can also be purchased through the site.
The free plan of Minehut is perfect for those playing with friends and just getting started. Otherwise, many more popular premium plans are available which are embedded with top-class features.
Key Features
Up to 10 players are allowed.
1 GB RAM is allocated.
No limit to the number of plugins.
DDoS protection.
1 Backup slot.
Low latency.
---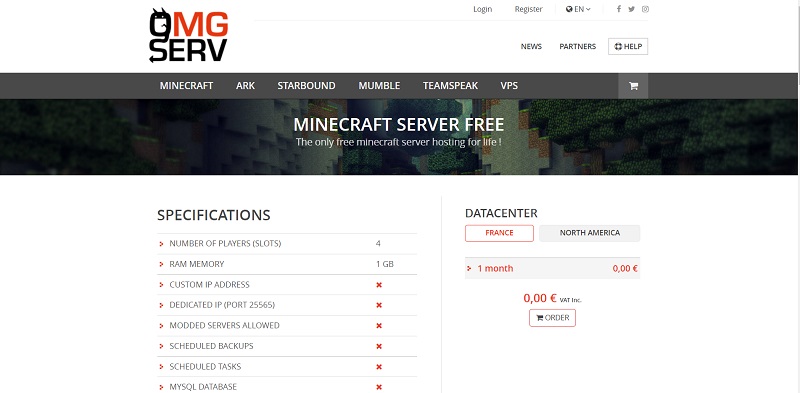 OmgServ is the next best free Minecraft server hosting provider on our list. It provides you with a free server for Minecraft for one month.
It gives you the best experience and amazing features which can be unlocked in premium plans if you like their services after using it free for 1 month.
Want to play more games like Minecraft? Try:
Let us check the key features of OmgServ's free Minecraft server hosting.
Key Features
It has two data centers, one in France and the other in North America.
The number of slots is limited to 4.
1 GB RAM is allocated.
Unlimited SSD storage.
DDoS protection.
Powerful intel xenon processors.
Web FTP lets you explore and edit without any software.
250 versions and preconfigured mods are available that can be installed in 1 click.
---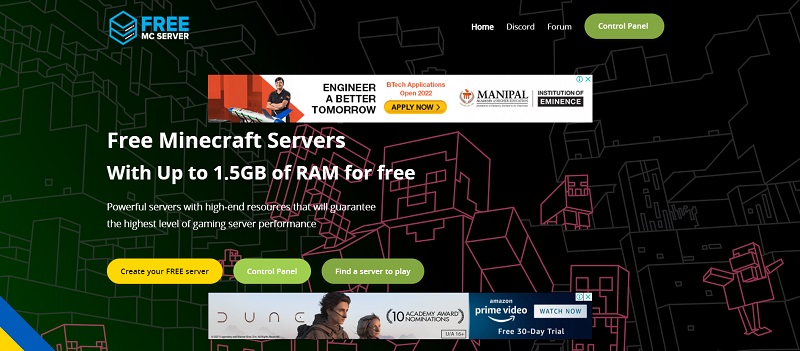 Free MC Server offers you powerful servers that provide the next-level gaming experience among the free Minecraft server segment.
It has two free servers for Minecraft. One is high memory (1.5 GB RAM) based and the other is always online that comes with 384 MB RAM which is upgradable up to 4 GB for free.
The first plan (High Memory) has a renewal period of 4 hours and the other plan has a renewal period of 2 days.
Key Features
DDoS protection.
Unlimited slots.
All versions of Minecraft are supported.
Mods are supported in High memory servers while it is not supported in always online servers.
Automatic backups.
The disk space is 10 GB which can be upgraded up to unlimited in always online servers.
---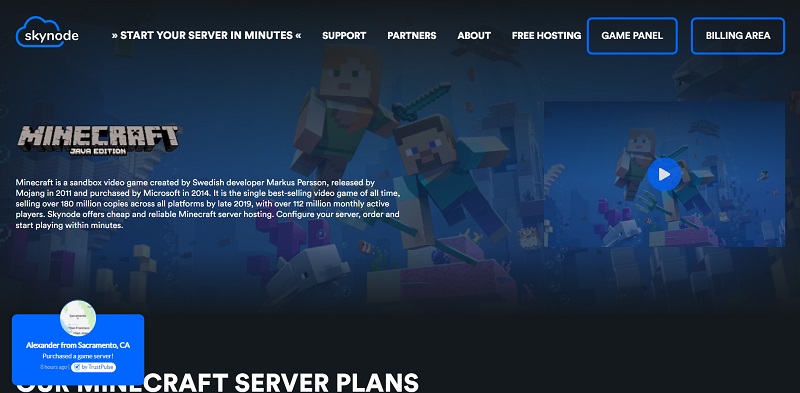 Skynode offers medium-quality hosting servers for Minecraft. Although it is not so popular as compared to the other listed Minecraft server hosting companies as it is not so fast and sometimes the waiting time is too much.
These all drawbacks are only observed in the free plan. Premium plans of Skynode are similar to any other Minecraft server hosting company.
Skynode's free Minecraft server hosting is the least recommended among all the 10 listed free Minecraft server hosting in this article as it has many drawbacks like no technical support, less performance, etc.
The major features of Skynode free Minecraft server hosting are listed below.
Key Features
Recommended slots are 4.
Only 1 location worldwide.
5 GB storage is provided.
FAQs: Free Minecraft Server Hosting
Are free Minecraft servers safe?
Always check for DDoS protection in the servers before using it. Generally both free and paid Minecraft servers are less at risk of any kind of attacks.
Which is the best free Minecraft server?
You can choose any of the 10 listed free Minecraft servers. But by reviewing all the features like uptime, integration, limitations, and performance Aternos and ScalaCube are the best.
How much RAM do Minecraft servers need?
The amount of RAM required to play Minecraft depends on several factors like the number of players, the number of plugins being used, etc.
In general, a minimum of 1 GB RAM is required for 4 players and if you want to use mods and plugins then more RAM is required in the same number of players.
Which is better between Aternos and Minehut?
If you are a player who uses too many or multiple plugins and mods then Minehut gives a more powerful performance than Aternos with very low latency.
Why is my Minecraft server lagging?
There can be many reasons for the lagging of Minecraft servers but the prominent ones are low RAM, more number of players, the server which is too far from your location, and a less powerful CPU.
Which Minecraft hosting provides the best DDOS protection?
As per our research, G-Portal provides 3 layer DDOS protection which is the best in class. If you are looking for safety, G-portal is the best bet.
Conclusion: Free Minecraft Hosting
These were the 10 best 24/7 free Minecraft server hosting that you can use to play the game with your friends. You must always have a point in your mind that these free Minecraft servers can not compete with the regular premium servers in terms of quality.
Free servers are suggested for the players who are just starting out playing on servers that too with few friends.
Which one is your favorite server for Minecraft? Tell us in the comment section.
Latest post: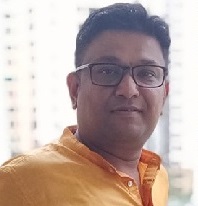 Seasoned Professional with 15 years of experience in Sales and Marketing. Entrepreneur, Consultant and Blogger helping people earn through jobs and blogging. Experienced Hosting Reviewer who likes to collect detailed info about existing players and share it with my audience. Previously worked with leading Banks and Telecom Companies.
I completed my Masters in Management with specialization in Finance and Marketing.
Visit our Hosting Review and Blogging Guide for more interesting articles.